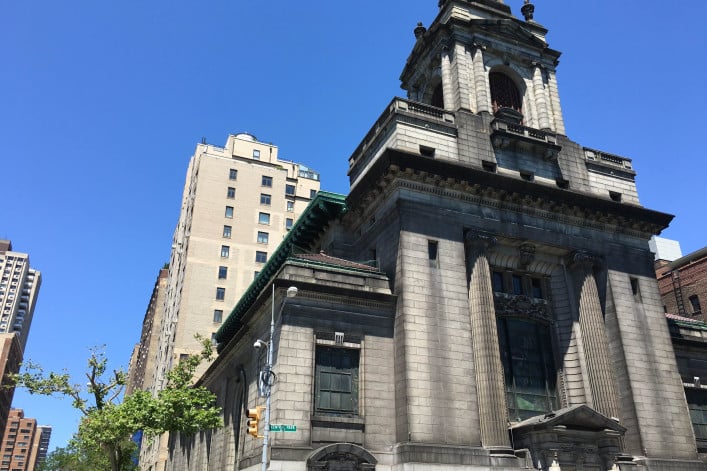 By this point, New Yorkers are rarely surprised to hear that some of their favorite old buildings are being torn down or completely redone to make way for high-end condos. But to hear that a developer's plans have been foiled? Now that's surprising.
Yet it has happened a couple of times recently, as the New York Times points out. Last Thursday, plans to turn the First Church of Christ, Scientist on Central Park West and 96th Street into a 34-unit luxury apartment building were thwarted after developers ran up against zoning problems, says Kate Wood, of Landmark West, a preservation group that advocates for landmarked buildings. The city's Board of Standards and Appeals, an independent group that grants "relief" from the zoning code, turned down the developer's current plans.
The plans wouldn't have complied with zoning laws, says Wood. "Landmarks are adaptively reused all the time, without special exemptions from the [zoning] rules." She didn't see why the developer of the building at 361 Central Park West should be any different. 
A few weeks earlier, BSA also "made life more difficult for a proposal by Congregation Shearith Israel to build a community house and condominium behind its landmark synagogue on Central Park West" and 70th Street, reports the Times. Wood says the synagogue had originally wanted to demolish their building and rebuild as a result of needing more community rooms. When the plans were unveiled, they didn't include as many community rooms as they'd said they needed, so the BSA wants them to make a change. There's a stop-work order on that project, says Wood.
Wood says it's no coincidence that these rulings are coming at the same time that pay-to-play scandals are rocking the city government (according to reports, developers with ties to the mayor allegedly snagged big condo deals thanks to their political support). "The timing is such that people's eyes are open to how developers do business in the city," says Wood, who says she isn't against development but that it must remain within certain guidelines.
"We want to make sure appropriate development happens on these sites. Preservation and development aren't opposing sides," she says. "But it's not fair when individual property owners are given free passes," adding that when rules of land use are followed, it keeps the playing field leveled.
Brick Underground articles occasionally include the expertise of, or information about, advertising partners when relevant to the story. We will never promote an advertiser's product without making the relationship clear to our readers.