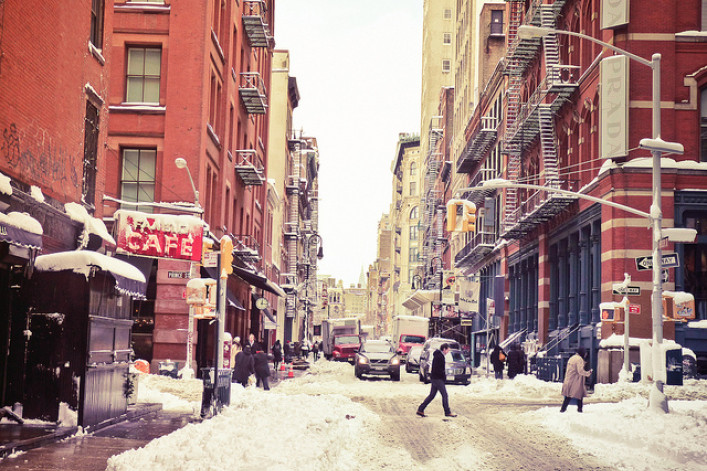 The city's Landmarks Preservation Commission turned 50 on Sunday, an era in which, according to the Wall Street Journal, it has been responsible for preserving 135 historic districts across the boroughs. Nonetheless, Capital New York reports (via The Real Deal) that  incomes are higher and racial diversity is actually lower in landmarked neighborhoods compared to their non-landmarked counterparts.
A study from the Real Estate Board of New York from 2013 points out that  in Manhattan the median household income overall is $63,832, but in landmarked neighborhoods it's $123,800. REBNY also says the racial diversity index (the probability that two randomly chosen people in an area will be of a different race) is about two and a half times higher in non-landmarked neighborhoods.
Andrew Berman of the Greenwich Village Society for Historic Preservation has been a vocal critic of REBNY's criticism of landmarking. "The idea that REBNY has any actual interest in affordability and diversity in New York is mind-boggling," he says. "What they want is the unfettered ability to build luxury market-rate housing whenever and wherever they want to."
Berman agrees that the lack of affordability in landmarked and historic neighborhoods is worth discussing, but rejects the idea that landmarked buildings are the cause. "If you speak to people who know, like housing advocates and builders, government officials, and academics, none of them say landmarking and historical preservation are the enemy of affordability and diversity. If anything landmarking is helpful, because it stops construction that would just force long-time tenants out."
And, he adds, "if you look in our neighborhoods across the city, it's the areas that are lacking in landmarks preservation that you're seeing the fewest affordable housing options."
Landmarked neighborhoods may very well have tenants with higher incomes, on average, but that has nothing to do with landmarking, he says. "These are beautiful, historic neighborhoods that will be attractive regardless. But  what landmarking  does is it keeps their historic character, and allows long-term residents — who are often the least well off in the neighborhoods — to stay there."
Related:
7 things to consider before buying in a landmarked building
5 New York homes where you can live in a landmark
A landmarked home is quaint, but not so practical
Ask an Expert: Renovating in an about-to-be landmarked building
Brick Underground articles occasionally include the expertise of, or information about, advertising partners when relevant to the story. We will never promote an advertiser's product without making the relationship clear to our readers.