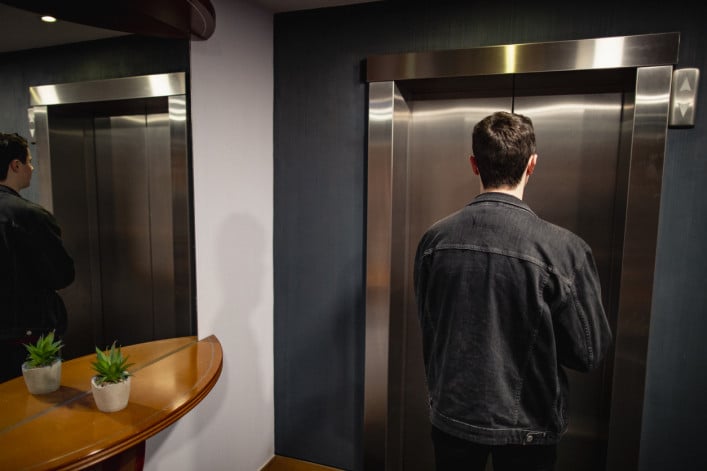 New York City elevator etiquette usually involves a certain routine: If there are people already in the elevator when the doors open, they will make room for you. Your job is to step inside, turn around, and face the door (small talk not recommended).
It's a little social dance that accommodates the masses and keeps things moving. But now that New Yorkers need to practice social distance to slow the spread of the coronavirus pandemic, it may be time to rethink that behavior.
Building managers are already nudging residents toward new ways of doing the same old things with signs and memos, for example, that prompt residents to take the next elevator if there are already two people onboard. (Family members can take the elevator together, as you are presumably practicing social distancing as a family unit).
---
Editor's note: Click here for more of Brick Underground's coronavirus coverage.
---
Peter von Simson, chief executive of New Bedford Management Corp., a NYC building management company, says the goal is to keep your distance, even if it seems like you are being impolite.
"The important message for all to remember is that it is not rude to not get on an elevator or if you are already on, to ask people getting on behind you to take the next elevator or even to please wait for you to leave the mail room before entering," Simson says.  
Pro Tip:
Your home is your emotional and physical sanctuary, and right now, it's probably doing double or even triple duty. With Zoom meetings, home schooling, virtual happy hours, and other distractions, accidents can happen, like cooking fires, sink overflows, floods from broken dishwashers and other mishaps that could cost you thousands. Now more than ever, protecting your home, possessions and finances with insurance is an affordable necessity, not a luxury. Click here for a quick quote from the apartment insurance experts at Gotham Brokerage. >>
Spreading out is the new normal
New Yorkers hate to wait, even for an elevator, but that may be the new normal now.
Peter Grech, a superintendent of a large Midtown residential building, says his building instituted a new rule last week that allows no more than two people per elevator at a time.
"We have 700 people that live in our building so this is more than an inconvenience," he says. The building has three elevators total.
Grech says the elevators are getting a lot of attention these days as part of an intense cleaning effort. Elevator buttons and handrails are being wiped down every hour from 7 a.m. to midnight, and the outside elevator call button is being sanitized about four times a day.
Buildings are ramping up cleaning efforts in part because the coronavirus can live for several hours in air particles and for days on surfaces, according to a new study published in the New England Journal of Medicine. It can last for up to three days on plastic and stainless steel, the report found, although the amount decreases over time.
Changing elevator etiquette is important but don't expect building staff to police the elevators, says J'Nell Simmons, CEO of LandlordsNY.com, a social network for owners and property managers. She recommends sending out an email and posting signs on coronavirus building etiquette, and suggests residents need to do their part too.
Owners want "people will use common sense to avoid getting into an elevator with more than two people," she says
Alex Kalajian, chief executive officer of the Solstice Residential Group, which manages 80 apartment buildings in Manhattan, Brooklyn, and Queens, shared a detailed memo in regards to the pandemic that includes new instructions for taking the elevator.
The memo states: "Do not get into a crowded elevator, which while a subjective statement pre-Covid-19, may now mean no more than two people facing opposite directions. Please encourage and do not be offended by this practice—this is our current reality." 
Brick Underground articles occasionally include the expertise of, or information about, advertising partners when relevant to the story. We will never promote an advertiser's product without making the relationship clear to our readers.