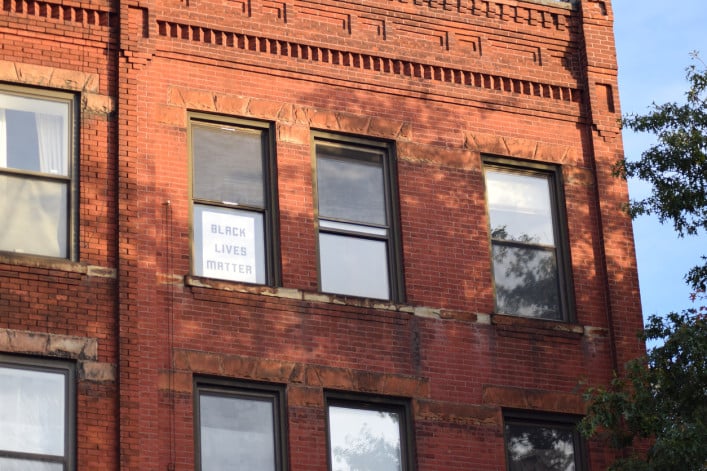 You probably noticed more signs and flags in New York City apartment windows in the past few years—political campaign signs from recent elections, Black Lives Matter flags, and even Cancel Rent banners. Can there be consequences if you hang flags or signs with these messages in your apartment window? For example: Can your building ask you to take it down? 
It really depends on what the message is and where it's hung. That's because most residential buildings—rentals, co-ops, and condos—have their own house rules on what you can and cannot do, including in common areas and even your apartment windows.
For example, in 2018, a Manhattan judge ruled that a Midtown condo resident had to take down an American flag hanging out of his window, according to the New York Post. The ruling was based on the fact that he was violating his building's rules on putting anything in common areas.  
Steven Wagner, a partner at the Manhattan law firm Wagner, Berkow & Brandt (a Brick sponsor) worked with a co-op resident in a similar situation. The ground-floor resident drilled and installed an American flag and two lights on the facade of the building. The co-op requested it to be removed because it was on their property, Wagner says. The resident vowed not to take it down until every American soldier returned from overseas—but eventually he had to remove it because it was considered damaging to the property.
Here's what else you should consider when hanging flags or signs in your apartment windows—and when your building can rightfully ask for it to come down.
Let the flag fly 
Hanging flags or signs is determined on a case-by-case basis based on your lease and building's rules. There's no specific law that gives you the right to hang anything—but you have some legal protections.
You have broader rights when it comes to hanging a sign with political speech, says Steven Kirkpatrick, a partner at the law firm Romer Debbas. However when it comes to signage with commercial speech, you're more limited. So you're probably not going to be able to hang a sign out of your window advertising your business.
When it comes to a political sign or flag, the First Amendment comes into play, Kirkpatrick says. You have the right to express your beliefs—religious, political, or otherwise. So if your building asks you to take down a campaign sign with political or religious context, there's an argument that they're infringing on your First Amendment rights.
If you're asked to take down a Pride flag, and you think it's solely based on discrimination, you might be protected by the city's Human Rights Law, Kirkpatrick says. 
However if your building has specific rules about what you can or cannot display in your windows, you're limited. Many buildings, especially co-ops or condos, have rules that restrict you from even hanging a rug out of your window to dry, Wagner says. So they are within their rights when it comes to anything in your windows if it's outlined in your lease or house rules—especially if public safety is an issue, he says.
The same goes for signs that most consider to be offensive. Kirkpatrick says that a few years ago an East Village landlord tried to bring a case against one of their tenants for hanging Confederate flags in his apartment window—but it never got to litigation, he says. (There is a New York law banning Confederate or other offensive imagery from being sold or displayed on state property—but that doesn't apply to residential buildings.) 
So if the flag or sign is actually displayed in your window—opposed to being installed on the building facade or hanging out of the window where it could fall and injure someone—you should be fine as long as it is within your building's rules.
When you're the one offended 
What happens if you're the one who is offended by your neighbor's sign or flag? The general consensus is that even if you're offended by a sign or flag in someone's window, like an opposing political party's campaign sign, you might not have much luck getting it taken down.
The same goes if you're looking for a potential apartment: Confidence Stimpson, a broker at Warburg Realty, says she had an appointment to show a client an apartment in a building that had the name of a political figure prominently displayed. Stimpson thought the name had been removed, but when the client arrived before she did and saw the sign, she was furious and refused to go into the lobby. 
If you really do feel offended or uncomfortable, you can go directly to the person responsible, Stimpson says. If that doesn't work, try building management, the board, or your landlord.
However, Kirkpatrick says getting someone to take down something in their window just because you're offended would be "an uphill battle."
Brick Underground articles occasionally include the expertise of, or information about, advertising partners when relevant to the story. We will never promote an advertiser's product without making the relationship clear to our readers.