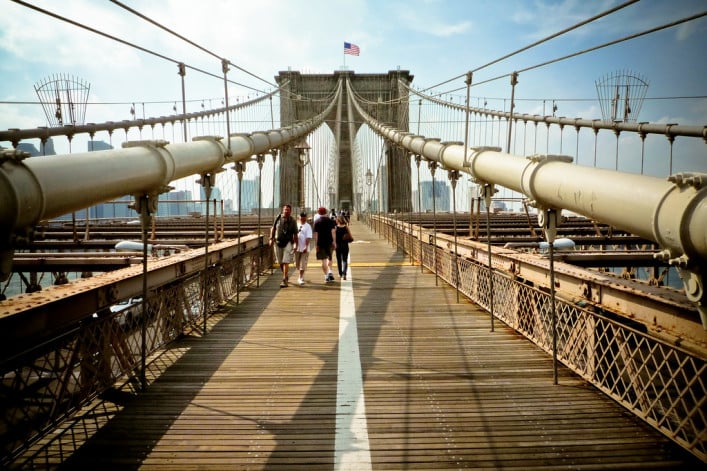 A long walk through the city has always been one of New York's greatest free attractions. But few of us take this beloved pastime as seriously as author Bill Helmreich, who has walked every single block in the city. Yes, all of them.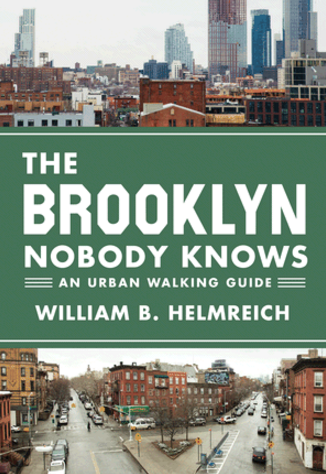 He first started hoofing it for his book 
The New York Nobody Knows
, for which he walked 6,000 miles in all five boroughs. Now he's revisiting the project, re-walking and writing a book for each borough, starting with
The Brooklyn Nobody Knows: An Urban Walking Guide
, which covers 44 neigbhorhoods and 816 miles in the county of Kings, with neighborhood-by-neighborhood guides and maps.
We spoke with Helmreich, an Upper West Side native who now resides in Queens, about his walking strategy, what makes Brooklyn unique, and how to approach getting to know your neighborhood a whole lot better:
On plotting your route:
"Get yourself a map and walk every single block—that's the only way you can really understand a neighborhood," says Helmreich. "Do not walk in a haphazard fashion, or you'll miss some of the most interesting areas."
And don't get complacent about your own neck of the woods. "In most cases, even people who have lived in their neighborhood their whole lives don't know the whole neighborhood," Helmreich tells us. "They know the block they went to school on, their church or temple, their deli, their friend's apartments, and the same route they always take to the train."
On chatting up the locals:
If you're hoping to get intel from the residents of a given neighborhood, a word of advice: Skip the small talk.
"I don't do an introduction, it's a waste of time—if you're doing interviews, just start talking to people right away," says Helmreich. "I asked a man in Gerritsen Beach, 'What's that horse doing in your backyard,' and before he knew it he was into the conversation."
And don't just count on one person's version of a neighborhood's history. "To get an understanding of a neighborhood, you have to treat it like a project," he adds. "Don't just talk to three people, talk to 25 people, and when you start hearing the same stories repeat, that's how you know you've got the right version."
On the ideal weekend activity for kids:
The way Helmreich first fell in love with exploring the city on foot also happens to be a genius idea for parents of stir-crazy kids.
"When I was seven years old, my father and I played a game called 'The Last Stop,' where every weekend we'd take the subway to the last stop on a subway line, then walk around that neighborhood," he tells us. "Then when we ran out of last stops, we'd go to the second to last, third to last, and so on. In this way, I learned to really understand and get to know the city."
On walking as meditation:
"Walking slows you down, it forces you to look and observe," he says. "If you're running through the city, then the object is to get to your goal. But to me, the goal is the journey."
Even in boring stretches of a neigbhorhood, Helmreich says, "you sublimate, just think about other things until you see something interesting."
"The city is the world's greatest outdoor museum," he adds.
On finding an unexpected gem in East New York:
"I found East New York to be fascinating," Helmreich says. "There's a bakery called Mrs. Maxwell's that's been around since 1928, and has lines that go around the block on holidays. It's very classic, the chefs all wear tall, white hats."
"The only thing that's not classic about it is that Mrs. Maxwell didn't exist," he adds. "They wanted to create the image that this little old lady was making pies in the kitchen."
On Brooklyn's shape-shifting neighborhoods:
"The two things that all of Brooklyn's neighborhoods have in common is that they're diverse," says Helmreich. "[Brooklyn] is constantly changing, with waves of people moving to the borough, and moving within the borough."
And even in neighborhoods were there's tension over gentrification, this means getting to know your neighbors. "You can't live totally isolated in Brooklyn. It's too crowded and dense," says Helmreich. "People have to engage with each other, whether it's at the park, the supermarket, or on the street. And sometimes it's superficial, but relationships develop."
Brick Underground articles occasionally include the expertise of, or information about, advertising partners when relevant to the story. We will never promote an advertiser's product without making the relationship clear to our readers.