Due Diligence
NY1's Roger Clark dishes on his love for the Rockaways, his old haunted apartment, and more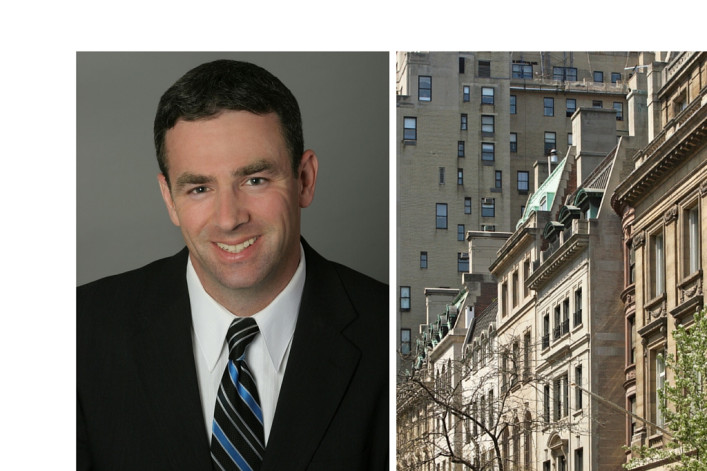 As a native New Yorker (born in the Bronx, raised in Forest Hills) and a longtime reporter exploring the city for NY1, few people can say they know NYC better than Roger Clark. 
And even off-camera, Clark—who's also in a three-person rock band—makes a point of taking in all five boroughs, hopping on the Staten Island ferry, noshing Italian food in the Bronx, and catching Cyclones games in Coney Island. We caught up with Clark about his current digs in Yorkville, his old Astoria apartment next door to a graveyard, and more:
1. What neighborhood do you live in?
I live in Yorkville, Upper East Side. I usually say Yorkville because that's what the long-time residents I know call it.
2. Is this your dream neighborhood or is there someplace else in NYC you'd prefer to settle in?
I confess that doing most of my growing up in Queens, I never thought I would live in Manhattan. But I have come to love the area and don't see us going anywhere anytime soon.
3. Do you own or rent?
We rent, but my wife Jenny is on a constant quest to buy, though nothing has popped up yet that we love.
4. How'd you find it?
We used a broker. We were trying to avoid fees but nothing was coming through without them. We knew we wanted to stay in the neighborhood and didn't find a lot of no-broker/no-fee situations.
5. What's the one thing you love the most about it?
We love the convenience to transit and proximity to outdoor spaces like Central Park and Carl Schurz Park and even Randall's Island which we can walk to—I take my son there to play mini-golf when the weather is warm. I also found a neighborhood bar called Reif's Tavern which is a comfortable place to watch sports and put too much money in the jukebox.
6. If there's one thing you could change about your apartment, what would it be?
I know this is a common one in NYC, but more closet space would be great. My son has a lot of stuff. Our living room has a lot of toys in it so I step on a lot of Hot Wheels cars. Ouch.
7. In three words, describe the first apartment you've ever lived in.
Cozy. Tiny. Chilly.
8. Do you dream of old New York or prefer the current version?
It makes me sad when some of the old places I have frequented over the years close because of skyrocketing rents and multiple chain stores, etc. Big residential towers are popping up everywhere and construction is non-stop. On the positive side, some parts of the city had the potential to be scary places when I was growing up in the late 70s and 80s. Things have changed and there is something to be said about a safer and cleaner city, especially when you are raising a child here.
9. Tell us about the favorite apartment you've ever had.
Me and my wife first moved into a place on 91st and York Avenue—it was a studio and, believe it or not, had a small backyard. We really loved it there and it was cheap. But when my wife was expecting, we knew we had to get a two-bedroom; it would have been tight with a baby in there, too. We may have considered a heated tent in the backyard as a second room, but that was a fleeting thought.
10. And the worst?
I had a studio on 58th between 1st and 2nd Avenues, and I didn't realize when I moved in how loud the traffic on the Queensboro/Ed Koch/59th Street Bridge was at night. Close second was a place in Astoria where my bedroom window view was a graveyard. That was a little creepy... and I'm pretty sure I had ghosts. Friendly ghosts, though.
11. Name one NYC service you couldn't live without.
I think it's the subways. We don't have a car and we like to do things all over town—museums, restaurants, visiting friends and family (my Dad lives on Staten Island so add the ferry for that one). It's great when it works. When it doesn't, we just grin and bear it.
12. What's your favorite spot in the city?
I'm a beach guy, so it's a toss-up between the Rockaways and Coney Island. People I know from out of town are always amazed how great the ocean is at Rockaway Beach. And Coney Island is pretty magical with the rides, places to eat and drink, and the Cyclones baseball games.
13. Which would you rather: Brooklyn brownstone or a penthouse in a shiny, new condo?
We would be happy in a brownstone. Sometimes we take walks around Brooklyn Heights just to gawk at the beautiful homes. Plus, many have outdoor spaces which would be amazing and I could improve my grilling skills.
14. If you could live elsewhere, where would it be?
I visit a lot of neighborhoods with NY1 and often I look around and say, 'Wow, this area is nice.' Carroll Gardens strikes me as a great neighborhood. I was in Jackson Heights recently and thought the same thing. Of course every time I am in my old neighborhood of Forest Hills the idea of moving back creeps into my brain, too.
15. Any advice for a recent New York transplant?
I would say explore the entire city. Don't just stick to where you live. Go to Arthur Avenue in the Bronx for Italian food and pastries. Venture to Staten Island for Pizza at Joe and Pats or Denino's and Italian ices at Ralph's. Or, grab ices in Queens at Lemon Ice King of Corona in Queens, or a knish at the Knish Nosh in Forest Hills. It's a big town—get out of your neighborhood and experience it.
Brick Underground articles occasionally include the expertise of, or information about, advertising partners when relevant to the story. We will never promote an advertiser's product without making the relationship clear to our readers.