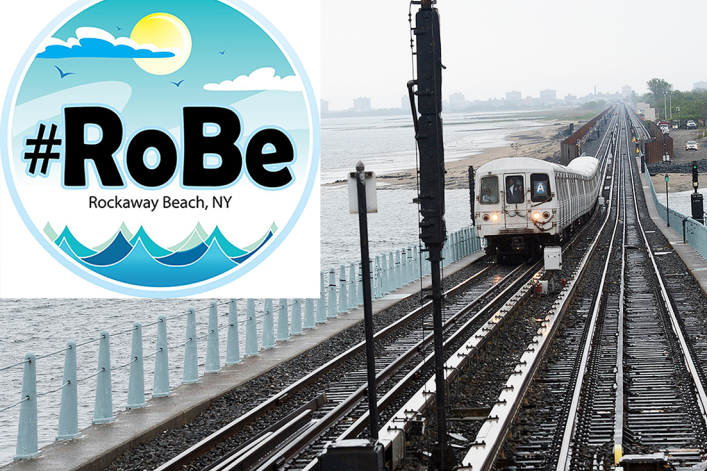 One of the best ways to get a feel for a place is by reading a neighborhood's blog. In our Confessions of a Neighborhood Blogger series, we speak to the writers who chronicle the controversies, preoccupations and happenings of their chosen slice of the city. 
Updated 3/26/15, 5:00pm. 
The Rockaways have not been far from the headlines in the past several years, as the area has come to symbolize both the hipster small business boom (hello, Rockaway Taco and Rippers) and the long-term destruction wrought by Hurricane Sandy. [Update: Gothamist has reported that Rockaway Taco is no more.]  Having launched just a few months before Sandy, Rockawayist (whose author prefers to keep up some semblance of anonymity and goes simply by "Vince") has been chronicling the neighborhood's ups and downs, highlighting the neighborhood's long history, mapping its manifold bars, and everything in between.
We chatted with Vince, a lifelong area resident, for the inside scoop on real estate deals, the surprising preponderance of Irish pubs in the area, and more:
What is one of the biggest misconceptions about the Rockaways?
There's a perception that the community is resistant to change. Over the past 10 years, we have watched the radical makeover of Brooklyn and Manhattan with both envy and apprehension. Residents want the improved amenities—shopping, dining, and transportation. But no one wants to lose the small-town feel that makes this peninsula so special. But nearly everyone I talk to welcomes the increased summer tourism. The surfers, bikers and beachgoers who are now discovering Rockaway are bringing commerce and vitality with them, and at some point may choose to settle down here.
What would you tell someone moving in?
Any location in Rockaway is walking distance to the ocean and/or the bay. Even if you never venture to the beach itself, prepare for sand. The wind blows it everywhere, and it accumulates in the oddest places.
Where are the best deals in the neighborhood in terms of real estate?
The real gems are in the older, smaller co-ops west of Beach 117th Street. Many of these buildings front the beach and have stunning, unobstructed ocean views. I've seen a few one- and two-bedrooms that are currently listed for under $200,000. These are no-frills buildings, and that is reflected in the relatively low maintenance charges. The real amenity is the ocean, and that's free, and just steps away. So it is possible to buy a home in New York City, in walking distance to the subway, for under $250 per square foot. These apartments are a find for anyone who needs to work in New York but also needs some space and easy access to outdoor activities.
What about in terms of dining/entertainment?
Rockaway is known for quality Irish pub food. We have a number of reliable, very reasonably priced venues where you can choose from your basic steaks and seafood menu. Dalton's Seaside Grill and Bungalow Bar come to mind. In the past few years, the dining options have diversified, and we now have a burgeoning restaurant row. These new additions include wine bars (Sayra's, The Rock NYC), Rockaway's first proper Mexican restaurant (Pico RBNY), and of course, the beloved "Pizza Nazi." I can't think of a restaurant that isn't owned by a local. That is one thing that sets Rockaway apart from the rest of the city: most of the business investment and entrepreneurship comes from within the community.
There are also the popular seasonal establishments such as Connolly's and Rockaway Beach Surf Club. As far as entertainment, there is live music to be found in the bars on most evenings.
What's the most coveted location within the neighborhood to live?
Rockaway is home to a number of diverse, somewhat distinct neighborhoods, and that's reflected in the real estate prices. Most younger people would prefer to be in what we call downtown, which is around Rockaway Beach Boulevard from the Beach 90s to the Beach 110s. That area has a decent housing stock of apartments and two- and three-family homes. It is also within walking distance to the A train, and a number of the more popular bars and restaurants.
Growing families may prefer Belle Harbor and Neponsit, in the Beach 130s and 140s. The area is populated almost entirely by large, single family homes on spacious lots (by New York City standards), and is really quite bucolic. The larger, renovated homes in this area typically list for one to two million dollars. However, the street parking rules uptown are very restrictive, which may be one reason why that area is so quiet.
In between those two neighborhoods, from the Beach 110s up, there is a mix of apartment buildings, older co-ops along the beach streets and private homes.
Are there buildings that feel out of place with the feel of the neighborhood?
Any new private home construction since Hurricane Sandy is changing the feel of the community. A lot of residents reacted to that storm—rightfully so—by replacing ranch-style houses with structures that are elevated eight feet off the ground. That type of elevation makes the homes and their residents seem disconnected from their neighbors. Unfortunately, with flood insurance premiums continuing to soar, this type of construction is becoming the norm.  
Is any real estate-related controversy brewing or currently happening in the neighborhood?
We just want our boardwalk back. It was our seven-mile long Main Street, the one artery that connected all the neighborhoods and residents. After the beach, it was our most cherished amenity. Hurricane Sandy destroyed almost all of it, and the city has been abysmally slow in replacing it. We need it for recreational purposes as well the commerce it draws to the peninsula. This will be our third summer without it, and it's anyone's guess when it will be completed.
How has the neighborhood changed in the past five years? Any projections on how it will change in the next five?
In many respects, we are still recovering from Hurricane Sandy, and that may continue for several more years. While our recovery is still being lived every day, regardless of the outcome, that storm will be known as the defining event of Rockaway's 21st century history.
Many residents now define their lives pre- and post-Sandy. Hundreds of homes were completely destroyed by flood or fire, and thousands more suffered damage. A lot of residents are still struggling for a new normalcy, and some may never return. But the storm served to correct real estate prices in the area, and people are starting to see the value. Younger families who had been priced out of the area may now be able to put down roots. The storm was catastrophic, from a physical, financial, and psychological perspective, and it quite literally cleaned the slate. In that tragedy, there is opportunity, and we have seen quite a few new businesses open up in the past two years.
What new places in the neighborhood should we check out?
There is a great new coffee shop, Rockaway Roasters, which has just opened up on Beach 92nd Street. And a few blocks away, the brand-new Chicks to Go is serving Peruvian roasted chicken. 
What are the Rockaways missing—is there any service or amenity you'd like to see?
Besides the boardwalk, transportation to and from Manhattan is a huge issue, and probably the single biggest impediment to further development. 
Our only direct link to Manhattan is the A train, and it can easily take over an hour just to get to the Financial District. We had a ferry running (after Hurricane Sandy, when the A train was totally out of service for six months) but ridership was low and the city cut funding last fall. Mayor de Blasio has promised to restore the ferry (a direct connection to Wall Street in under an hour), but not until 2017. The ferry was very popular with summer visitors, and its absence this year will be felt by local businesses and the very vocal ferry advocates. 
Reliable, rapid A train service would be a godsend, but what will really open up the community is the reactivation of the Rockaway Beach Branch of the LIRR. The tracks for this dormant line run parallel to Woodhaven Boulevard and would vastly improve the commutes of everyone from Rockaway north to Rego Park. Imagine a 30 minute commute to Penn Station for thousands of commuters at the mercy of buses and cars in an area that is under served by the subway. Our local politicians have made the reactivation a priority, and hopefully someday soon it will come to fruition. 
Related: 
The 24 best NYC neighborhood blogs: 2015 edition
I'm looking to buy a summer place in the Rockaways. What do I need to know?
Brick Underground articles occasionally include the expertise of, or information about, advertising partners when relevant to the story. We will never promote an advertiser's product without making the relationship clear to our readers.