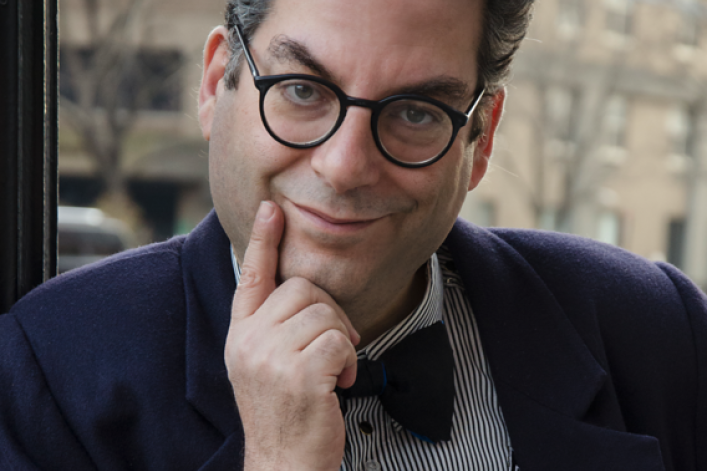 In nearly 30 years of covering the downtown party scene for The Village Voice, Michael Musto became an icon of the city—part chronicler, part gossip columnist. Now, the prolific author writes a regular weekly column for Out.com.
Brooklyn-born Musto can often be spotted around time riding his bike and/or party-hopping, but when he's not doing either of those things, he's probably out visiting museums, or getting in some much-needed downtime in his postwar, one-bedroom co-op that surprisingly isn't found downtown.

1.  What neighborhood do you live in?
Murray Hill.

2. Is this your dream neighborhood or is there someplace else in NYC you'd prefer to settle in?
Murray Hill isn't overly trendy, which makes it more of a nesting neighborhood than a nightlife destination. The West Village and Hell's Kitchen are my fun going-out nabes, but they're not necessarily where you'd want to live.

3. Do you own or rent?
Own.

4. How'd you find it?
Through an agent.

5. What's the one thing you love the most about it?
As with everything, I've given it my personal style.

6. If there's one thing you could change about your apartment, what would it be?
Let me give a glib answer and say I would get back that wonderful piece of yarn art I donated to a Goodwill store.

7. In three words, describe the first apartment you've ever lived in.
Ratty, dumpy, cheap. 

8. Do you prefer old NYC or this NYC?
I prefer old everything, but I'm also fascinated with the new, live in the new, and enjoy the new.

9. Tell us about the favorite apartment you've ever had.
I rented a roomy one-bedroom on the 15th floor of an East 29th Street building. But the rent jumped a huge amount one year, which prompted me to get out and buy.

10. And the worst?
Ratty, dumpy, cheap. It was grungy looking, with two tiny bedrooms, and it wasn't anything to be very proud of. But it was  so cheap that there are times I wish I'd stayed there.

11. Name one NYC service you couldn't live without.
Bike stores to repair my vehicle.

12. What's your favorite spot in the city?
MoMA and the Metropolitan Museum.

13. Which would you rather: Brooklyn brownstone or a penthouse in a shiny, new condo?
The penthouse. Charming as a brownstone is, I don't like climbing steps.

14. If you could live elsewhere, where would it be?
Miami or Philadelphia.

15. Any advice for a recent New York transplant?
Dive in and enjoy. But make sure you have a backup plan.
Related:
LuckyRice Festival Founder and Cookbook author Danielle Chang loves her proximity to Chinatown, but could use a little space (of course)
Brick Underground articles occasionally include the expertise of, or information about, advertising partners when relevant to the story. We will never promote an advertiser's product without making the relationship clear to our readers.