In spite of rising rents and a widespread anxiety that the city is slowly losing its artistic fabric, new artists and projects are still cropping up all the time. A prime example is FogoAzul NYC, a women-only community band that bills itself as a "drumline, marching band, samba band, [and] Brazilian band," and welcomes new members regardless of their experience level.
Ahead of FogoAzul's upcoming performances at the New York Botanical Gardens on April 22nd and 23rd (more details here), we caught up with the group's director, Stacy Kovacs, on how the city has changed since the early 2000s, why New York feels even more like home after the election, and why the dream of a creaky old brownstone isn't all it's cracked up to be:
1. What neighborhood do you live in?
I currently live in a bustling neighborhood at the cusp of Gramercy, Murray Hill, and Flatiron. 
2. Is this your dream neighborhood or is there someplace else in NYC you'd prefer to settle in?
I am not sure if it's my dream neighborhood. It's definitely a great neighborhood with great subway access and restaurants.  It's rather central and everything in Manhattan seems "20 minutes away." I do walk to work now, so that makes it slightly dreamy.  
3. Do you own or rent?
Rent.  
4. How'd you find it?
Online. I think it was on StreetEasy? I honestly can't remember, but it was under "no fee."
5. What's the one thing you love most about it?
I love my terrace. I can see south, and I'm on a pretty high floor so seeing rooftops of buildings and watching the traffic is always mesmerizing from such a height.  
6. If there's one thing you could change about your apartment, what would it be?
I would love to double its size! It's a large studio, it's actually great, but would love it to be bigger! Oh, and add another closet.   
7. In three words, describe the first apartment you've ever lived in.
College student parties.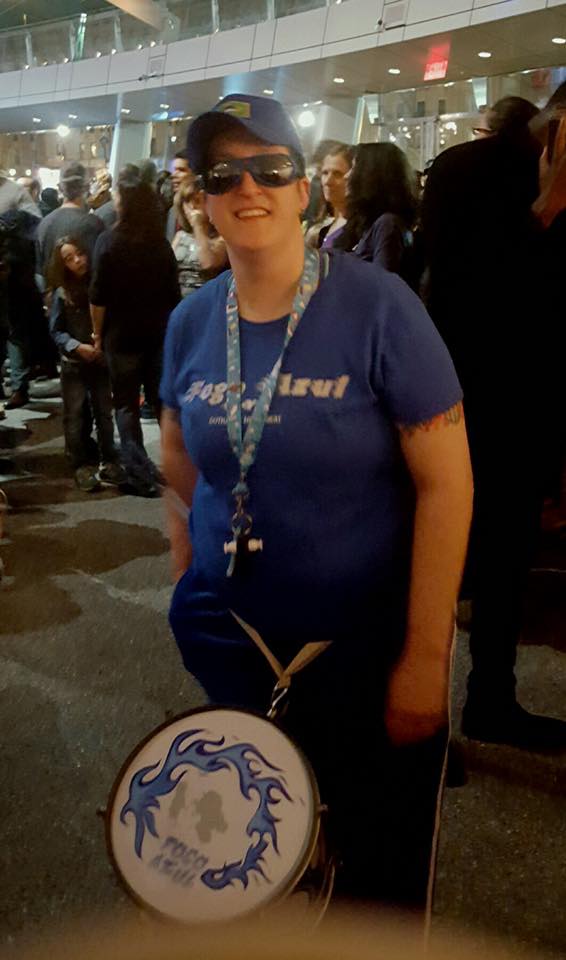 8. Do you prefer old NYC or this NYC?
I moved to NYC in 2005. I definitely do notice changes since then. I didn't know "old NYC," which to me means pre-9/11. However, that may not be the definition. But in terms of NYC now, I am disappointed in seeing restaurants and businesses closing due to there being no rent control on commercial leases. I see more and more chains popping up, and it is honestly making things a little more boring and dull. I wish I would have experienced NYC in the 80s and 90s. My friends now who were here at that time have great stories.  
9. Tell us about your favorite apartment you've ever had.
I don't think I have a favorite. I do have a favorite memory of an apartment in Buffalo, New York. I was living with six friends and our neighbors used to complain so much about us that one wrote us a letter saying we were "the devil" and "demons," and pigs with rats in the backyard.  I think the rats were living there before we moved in. We only lived there for 10 months and then we all moved out, but I can't remember why!  
10. And the worst?
Again, I don't think there was a "worst." I have never had many issues with apartments. Landlords have always been good, locations always good for my life at the time.  
11. Name one NYC service you couldn't live without.
The subway.
12. What's your favorite spot in the city?
Any coffee shop. I love to sit and watch the city go by. I also love sitting in Union Square on warm summer nights and watching people. 
13. Which would you rather: Brooklyn brownstone or a penthouse in a shiny, new condo?
I lived in a Brooklyn Brownstone, it's not that exciting. They're old houses with personality, warped floors, doors that don't fit in the frames, etcetera. They look good and are generally really big, but I would prefer a shiny new penthouse condo at this point in my life. 
14. If you could live elsewhere, where would it be?
I really can't imagine leaving NYC right now. Given the state of the country and our political leaders, other parts of the country scare me! NYC is so open to differences and cultures, and I love the diversity. 
15. Any advice for a recent New York transplant?
Go out and walk around. Walk up and down the streets, the avenues, take the trains to the end and get out and walk around.   
Brick Underground articles occasionally include the expertise of, or information about, advertising partners when relevant to the story. We will never promote an advertiser's product without making the relationship clear to our readers.