Anyone who has passed through Queensboro Plaza lately won't be surprised to hear that a development boom is afoot in this part of Queens. The area surrounding the elevated train station in Long Island City is a sea of cranes and residential high-rises, which have been sprouting up ever since a 2001 rezoning of the neighborhood. 
And lately, developers have been pushing farther along the 7 train corridor into Queens, adding towers to the skylines of areas like Jackson Heights and Flushing. Last year, a report from Ariel Property Advisors predicted that growth would continue, eventually even mirroring Brooklyn's L train corridor in the changes to come, based on the area's (relative) affordability, transit and increasingly hip reputation. Even Anthony Bourdain, bad boy celebrity chef meets CNN anchor, recently featured Queens in an episode of his travel show, Parts Unknown. 
[This story was originally published in July 2017.]
The word is definitely already out in northwest Queens, home to Long Island City, Astoria, Sunnyside and Woodside. According to the most recent Douglas Elliman market reports, median rents have actually exceeded those of Brooklyn and the number of new leases grew by over 50 percent from last year. 
But some Queens locals say that they're concerned about population growth along the 7 line, which isn't really free from the issues ailing the rest of NYC's subway network. (In fact, Brick previously covered how weekend subway shutdowns of the 7 hurt Queens neighborhoods.) A development boom could end up exacerbating overcrowding and delays that are already plaguing the train, these residents say, making a bad situation worse. 
What's drawing developers to the 7 train corridor--and new residents to developments
Developers are counting on this phenomenon moving eastward due in part to convenient transportation. Dave Brickman of ONEX, which is behind the Grand at Sky View Parc in Flushing, says the presence of the 7 train and the Long Island Rail Road, as well as easy access to the Van Wyck Expressway and Grand Central Parkway, has proven enticing. 
"Like any other neighborhood along the 7 line, having access to that subway is highly beneficial," Brickman says. (The 7 is regularly ranked the best line in the city by the Straphangers Campaign.) "Flushing has always had transit advantages that draw people here, and over the past decade the neighborhood has evolved with both new rental and condo options, great new restaurants, bars and hotels, into a place where young people are looking to move because of the amenities it offers." 
The Sky View Park development, which offers studios to three-bedroom condos, will include three towers upon completion and has sold out the first one already, Brickman says. While he doesn't expect Flushing to become the next Williamsburg, he does anticipate it will continue to grow. 
Curbed has a rundown of the several other new properties rising in Flushing, and in Jackson Heights, a rent-regulated rental complex is getting a high-end co-op makeover. Closer to the city, the development scene is even livelier, with 30 new constructions underway in Long Island City alone, 6sqft reports. 
Eric Benaim, founder of the LIC-based Modern Spaces, says that the area's transit options play a major role in the amount of construction taking place.
"It's a big factor with the L train shutting down," he says. He points to projects like The Harrison, a 120-unit condominium in Court Square, and the 12-story Huis24 rental complex in Queens Plaza, as indicators of Queens' growing popularity with New Yorkers who previously would only consider living in Manhattan or Brooklyn. The properties place the kind of emphasis on lifestyle one finds in high-end Manhattan condos, with plentiful amenities and conveniences, plus a quick jaunt into the city. 
Benaim says he sees several Queens neighborhoods as analogous to popular--and for now, more expensive--Brooklyn ones. Forest Hills, for instance, has large Tudor homes, the kind of housing stock that might appeal to Brooklyn Heights residents seeking greater affordability. And Jackson Heights, he adds, has an inventory of large co-ops and pre-war buildings, like Park Slope. 
"Other parts of Queens are slowly starting to develop and benefit from the subways," Benaim says. "People are looking for alternatives." 
Can the 7 train support an influx of new residents? 
In addition to the concerns about gentrification and displacement that often arise in tandem with gleaming luxury towers, one Queens group is voicing worries that the 7 train isn't all it's cracked up to be--and that it won't be able to handle all the people who will snap up units in the new developments. 
Brandon Mosley of Access Queens, an advocacy group dedicated to strengthening transit in the borough, argues that during rush hour, the 7 train is already at capacity, and crowding is an issue that predates the recent development boom. The group created the graphic below to reveal how ridership has already increased at each stop along the train line: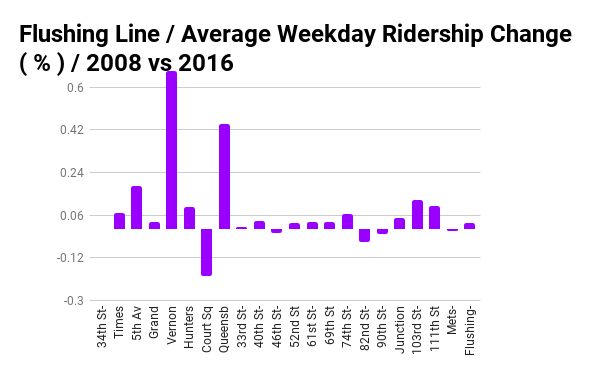 "The 7, N and W trains are struggling to maintain the population of commuters that needs to get between Queens and Manhattan," he says. "On the 7, there's been an increasing amount of delays, equipment breakdowns and shutdowns." 
In fact, Mosley adds, despite the glowing reviews the 7 line receives from the Straphangers Campaign, it's just as plagued with problems as the rest of the city's ailing transit network. The Campaign uses MTA data for its rankings, but it doesn't reflect the average passenger's experience, he says, which is why Access Queens started a Facebook campaign called 7 Train Blues. There, Queens residents report their transit troubles, and the page reflects near-daily challenges. One member recently posted a photo of a jam-packed train platform and wrote, "Forget about the 7 today." The same day, another wrote, "Okay the local is making random stops. Skipped 69th and now at woodside going directly to 33rd. No rhyme or reason."
"It seems like there's discrepancy between the impression or perception of 7 train and the actual reality of it," Mosley says, adding that the MTA will sometimes have the train skip stops in order to make its destination on time for reporting. 
He places the responsibility for the issues plaguing overcrowded transit with the politicians who fund the MTA. 
"Locals should start writing to their councilmen, senators and Governor Cuomo about the issue," he says. "Cuomo needs to put more money into the MTA so that it can provide better service and improve equipment and infrastructure." 
For its part, the MTA has put forth a six-point plan for improvement, which includes repairing tracks and signals, and streamlining how passengers get on and off the trains, to mitigate frequent train delays. 
As for the ever-increasing development along the line, Mosley is concerned about how that could affect the entire borough.
"What about people in places like Corona?" he asks. "What happens in Long Island City is still going to affect them. Everybody matters and everybody's livelihood is important, and that gets left out of the conversation." 
Brick Underground articles occasionally include the expertise of, or information about, advertising partners when relevant to the story. We will never promote an advertiser's product without making the relationship clear to our readers.