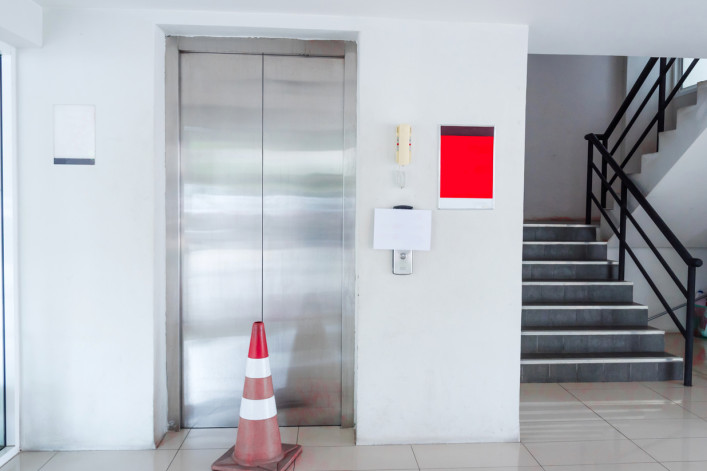 New York City relies heavily on its elevators. There are more than 84,000 of them in our vertically oriented metropolis—more than any other city in North America. According to the NYC Department of Buildings' Elevator Report, which includes an interactive map tracking repairs across the city, passenger elevators in NYC make over 35 million trips per day.
That kind of heavy use means elevator repairs are a fact of life, but taking an elevator out of service can still cause major disruptions for residents. Everyday tasks like grocery shopping, getting deliveries, picking up your mail, and walking your dog become more complicated. For people with babies or mobility issues, it's even more stressful.
What that in mind, here are some tips for how buildings and residents can lessen the pain of a planned elevator shutdown when your building only has one elevator.
How a board and/or property manager should prepare
Planning ahead is critical. The first thing to do is lock in a timeframe with the maintenance company for the work to be done. This also gives any residents who may need to relocate the option of finding housing with friends or family.
Planning ahead makes it easier to clearly communicate expectations, as well.
"We generally tell our residents three to four months prior to the start date, and them send monthly updates to the exact start date," says Steven Birbach, president and CEO of Vanderbilt Property Management.
Compensate staff appropriately
Your building may want to consider doubling the workload per day and having the elevator company work two or three daily shifts in order to complete the job in a shorter period of time, bringing what can be a six- or seven-week repair job down into the three- to four-week range. It can also be more economical in the long run, as it cuts down on expenditures related to managing the outage, such as relocation costs and any temporary help brought in to assist with deliveries.
"In the end, it's all about how much you want to spend to speed things up," Birbach says.
There are a few factors to consider on this front, but most importantly, the board or property manager should consult with the building's residents, says Dawn Dickstein, president and founder of MD2 Property Group. "How financially sound is the building? Can they afford to pay extra, or will residents pony up? Are there a bunch of younger people, or is it a smaller building? In those cases, it may not be worth it."
Consider the timing
It's important to account for the demographics of the building. If there are seasonal fluctuations among residents (e.g. it's full of snowbirds or people who summer in Long Island), plan for the work to be done while tenants are away. If the population is older or has issues taking stairs, you may need to budget for relocation (same goes for residents on higher-floor of tall buildings).
When does a building pay for relocations?
Treat relocations on a case-by-case basis, as well—except in special circumstances, it's generally not recommended that buildings proactively offer compensation for relocation. It can become a costly line item in the budget. But don't fight it too hard, Dickstein says. You don't want to get sucked into a costly legal battle that you might lose anyway, and which will delay the work.
Create some goodwill
Finally, there are several things property managers and boards can do as a show of goodwill to residents and diminish the pain of an elevator outage. The first is putting together an information packet of information for residents that includes local and internet delivery services for groceries, food, laundry, and other items and services (you can often negotiate a discount with local businesses). Secondly, put a chair on stairwell landing to offer a resting place for residents going up and down the stairs. And lastly, create a volunteer corps or hire young, able-bodied runners or porters to ferry deliveries, mail, and newspapers to residents who opt in to the service. If the building has families with teenagers, hire them for this task. Otherwise put out a call at a nearby high school.
How residents can prepare
There's no way around it: An elevator shutdown in your building is going to be an inconvenience. Hopefully, your property management team or board have taken necessary steps to make things easier, but there are still a few things you can do to lessen the pain.
Purchase household goods in bulk—especially heavy items, like bottled water or canned foods, that will be difficult to carry up the stairs.
When utilizing delivery services, communicate that the elevator is temporarily out of service, to avoid surprise fees. If possible, meet the delivery person downstairs, or arrange a pickup with a runner.
If your healthcare plan allows for it, pick up monthly prescriptions in advance, or arrange for home delivery from your pharmacy.
If you have an aging air conditioning unit and the repair is taking place in the summer, you should consider replacing it. You wouldn't want it to fail and have to haul a new one up the stairs.
Connect as many errands together as possible, working with roommates or family members who share space with you, so you can reduce the number of trips up and down the stairs.
If you're over the age of 60, consider taking advantage of the City's Meals on Wheels program, which home delivers meals on a daily basis.
Most importantly: be a good neighbor. If you see someone struggling on the stairwell and you are able to provide help, offer to lend a hand.
Brick Underground articles occasionally include the expertise of, or information about, advertising partners when relevant to the story. We will never promote an advertiser's product without making the relationship clear to our readers.