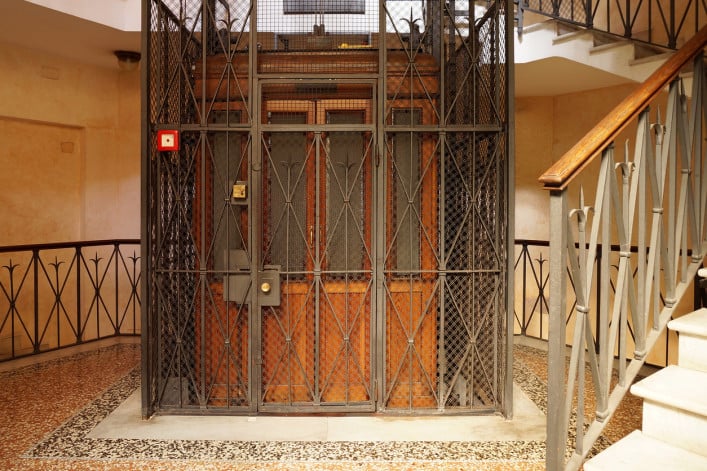 If you've ever helped your friend move their furniture into a walk-up—or schlepped heavy grocery bags up several flights of stairs while the handles leave deeper and deeper indents on your hands—you've probably dreamed of living in an elevator building. And while they're unquestionably one of the city's most enviable amenities (along with dishwashers and in-unit laundry), elevators also come with their own special set of expenses, and sometimes, hassles. (Especially if you happen to be invested in the idea of a "door close" button that actually works.)
Below, our guide to everything you need to know about elevators in NYC apartment building, from how much you'll pay to what to do if yours suddenly goes out of service: 
How much extra will you pay? 
For both sales and rentals, you can generally expect to pay more for the convenience of an elevator building, but how much will depend on a variety of factors, such as the building's location, quality, and other amenities. For instance, if it's also a doorman building, that will significantly bump up the asking price, though not necessarily because of the elevator itself. (According to Douglas Elliman's March 2017 rental report, the Manhattan rental with a doorman was $3,700, compared to $2,895 for a non-doorman building).
"When you have an elevator, you're including a larger number of people who would be interested [in the apartment], whether it's a rental or a purchase," says Miller Samuel appraiser Jonathan Miller, who authored the Elliman reports. As a rule, says Miller, the higher the floor of the apartment, the more value the elevator will add to its price, and it becomes more of a necessity. "When you live in an elevator building the value per floor rises, versus a walk-up, where the value per floor falls," says Miller. "They literally do have an up and down effect on prices."
While there's no set metric for how much an elevator will add to the price, says Miller, all things being equal between a low-rise walk-up building and a comparable building with an elevator (but no doorman), "just the elevator could add a 10 to 15 percent difference in value for a rental."
As a general rule of thumb, "buildings with elevators carry a price point in between full service/doorman buildings and walk-ups," says Zachary Elias of DJK Residential. "It's sort of the first amenity, where you're thinking, 'my budget is better than a walk-up, but not quite a doorman'." So while there's no set amount an elevator is guaranteed to increase value, says Elias, "you might be seeing apartments where in a walk-up, it's $3,000/month, in a doorman building, it's $5,000/month, and in a building with just an elevator, it might be $4,000/month."
How well are elevators maintained, and how often have they been "out of order"?
Of course, an elevator is only as desirable as it is functional, and no one wants to move into a building only to find out that the elevator goes out every other month, and that management is sluggish in handling repairs.
For buyers, it's somewhat easier to get this kind of information, as any issues with elevator maintenance should be uncovered while you and your attorney perform due diligence by studying the building's financials and meeting minutes before closing. This will give you both of a sense of how frequently the elevator is a source of problems, and whether it might be overdue for some upgrades. "If you're buying, to start off, your concerns are the same quality of life concerns that renters have," says Daren Herzberg of Corcoran. "How many elevators are there? How frequently has it gone down? What happens when the elevators go down, and how quickly do they get fixed? How old are the elevators? Have they been updated?"
Beyond convenience, an elevator's age and the state of its maintenance could have a big effect on your bottom line as a buyer. "If you're buying, you'll want to find out if there are plans to update or replace the elevator, and how much that would cost," says Herzberg. "Elevators cost $25,000 to $50,000 per floor to replace, and if you're buying in a smaller building, you'll need to be ready for that assessment."
As a renter, it's somewhat trickier to find out the quality of a building's elevator system, and your best bet may be to do so by word of mouth. "It's a crap shoot when you're a renter—you usually don't see anything specified in the lease, and the broker probably doesn't know when the elevator was installed, and when it was most recently serviced," says Elias.
It certainly doesn't hurt to ask the landlord or management company, though, and you can also look up your building's history of complaints on the Department of Buildings website to see if other residents have lodged frequent complaints about the elevators being out of service. Similarly, you can plug the address into the Buildings Information system, and among other things, will be given an option to see the building's elevator records, and its history of inspections (per city requirements, elevators must be inspected once and tested twice every year).
It's also reasonable to assume that an elevator's quality is in line with how well the rest of the building is maintained. "If you're going to rent in a building, look around—check out the basement, see if there are bugs all over by the garbage," says Chip Nyborg, president of Tristate Elevator. "That will give you a good idea of what the landlord is doing. If I walk into a building and everything is spit-shined polished, I know I have a good, tough super [and management]. If I go in and it's horrendous, those are all telltale signs."
If you can swing it, as with most things, you'll probably get the real story from the residents (or building staff) themselves. "I think for a renter the best thing to do is to go to the building and start asking around," says Herzberg. "If there's no doorman, wait for a resident to come out."
Are there enough elevators to accommodate all the residents, or is there elevator traffic during rush hours
Besides safety and quality of maintenance, you may also want to get a sense of how well the elevators will function in your day to day–for instance, if there are long waits during busy times of the day. "You might want to stop by in the morning or evening and ask the doorman how often it comes," says Herzberg. "If you're highly sensitive to elevator issues and wait times, you may want to consider living on a lower floor." (If the apartment you're eyeing is right next to the elevator, notes Herzberg, it's also worth waiting for an elevator to pass by to see if it creates a lot of noise that migh be disruptive. "If it's older, it might bang around and make noise," he says.)
As for how many elevators a building should have, says Elias, "There's no set rule of thumb," but you can expect newer buildings to have more elevators than older ones.
Are there restrictions on using the elevator during move-in?
Especially if a building only has one elevator, management will often have restrictions on its use during moves (for instance, requiring them to take place during pre-determined hours that are likely to cause the least disruption for existing residents). "Find out if there's any required advance scheduling, what days and hours moves are permitted, if there are any fees, and whether you'll be sharing the elevator with someone else moving in [at the same time]," advises Thomas Usztoke of Douglas Elliman Property Management.
In some cases, says Herzberg, a building might have a freight elevator, and require you to use only that for your move. (A freight elevator will also come in handy later on, in case the regular elevator is down for repairs.) "And if there's only one elevator, get a clear handle on what happens when people move in and out," says Herzberg, as it will affect you not only on moving day, but later on if you need to use the elevator when new residents are getting settled into the building.
While this won't likely be a dealbreaker in your decision process, it will give you into an idea of how strict the building is with its protocols in general, and how much you might be inconvenienced when it comes time for someone else to move into the building.
What's your recourse if the elevators aren't working? 
Here's another instance where the answers for renters versus owners vary wildly.
In a rental building, you won't have to pay any extra money for the cost of fixing a broken elevator, but you could also potentially have less sway over the management in a push to get repairs made sooner. (You'll also probably have a tough time getting a straight answer ahead of time as to how quickly management usually responds to these problems.) As we've written previously, if you have management that's lax on dealing with a broken elevator in a rental, it helps to band together with your neighbors, and you can also submit anonymous complaints on 311, which should prompt the city to send an inspector. It might sound like more trouble than you're interested in putting in, but the rest of the time, just think how much easier it'll be to lug your latest Trader Joe's haul upstairs and into the fridge.
"Many buildings offer a service elevator as an alternative when the main elevator is down, but for those who don't, sometimes a rent and/or maintenance credit is offered if the work really puts the residents out for an extended period of time," says Elias. 
Besides the inconvenience factor, as an owner, elevator repairs may also come with an expensive assessment in tow. In a co-op, for instance, "It's the responsibIlity of the collective to fund such endeavors [as repairs] and if the reserve funds can't cover it, the shareholders need to pitch in," says Elias. As aforementioned, your attorney should get a sense during the due diligence process of how likely it is that the elevator will need repairs, and whether or not the building has the necessary reserve funds to cover such an expense. You won't want to be hit with a costly surprise later. 
Brick Underground articles occasionally include the expertise of, or information about, advertising partners when relevant to the story. We will never promote an advertiser's product without making the relationship clear to our readers.