Bargain-hunters in search of a budget-friendly studio space may want to check out this 400-square-foot Windsor Terrace co-op that's being billed as "the perfect starter."
"It's got a nice amount of closets given the size of the apartment and a windowed bathroom is always a nice feature," says architect Lara Daniel of Manhattan-based Studio 9B. "But the kitchen—which is tucked away behind a wall—is too enclosed. People prefer it a little more open these days," she explains, so hosts can more easily interact with guests while assembling treats and meals.
While it could definitely use a bit of a sprucing, the asking price, $239,000, means that many buyers will still have a little left in their wallets for some improvements—but probably not much. "I saw the price tag and I was like, you can't spend $100,000 on upgrades [here]," says Daniel. After all, she notes, "if you had the money to spend, you'd probably buy a [bigger or better] place.­" 
Below, Daniel tells us how prospective buyers might transform this residence on the (relatively) cheap.
Her recommendations:
The living room (pictured above)
"The floors look like they're in good shape," says Daniel. "I can't tell for sure, but I think they're wood. They look too nice to be a laminate." As such, she'd leave them as is, save for a sanding. "I'm not sure I'd spend any money on the floor unless it really needs it."
However, she'd replace all baseboards since "they tend to get really beat up." She'd also swap out the trim along the windows.
Daniel would repaint the whole room since, judging from the photos, "it looks like there are seven different shades of white on the ceiling." She'd go with a few more coats of bright white on the ceiling to even things out and either a white, pale gray or beige for the walls. "A pale shade will keep it peaceful and pleasant and light," she explains. She also suggests painting the radiator the same color as the walls "so that it disappears."
As for the window treatments, Daniel proposes "losing what looks like cheap metal shutters in favor of Roman shades or even curtains." And you needn't spend a fortune on custom shades, she says, noting that you can find nice, affordable ones at such places as West Elm or Pottery Barn. New window treatments "can dress a place up instantly without spending a lot of money." She recommends sticking with neutral colors for the shades. "Then you can go crazy with the furnishings."
It's hard to assess exactly the lighting situation since the entire ceiling isn't visible in the photos, but the current one seems to involve table lamps scattered throughout. Daniel would go with a mix of table and floor lamps to brighten the place up. "You can get dimmers and play with how much or how little light you want," she says.
Price: According to Daniel, having the floors sanded should cost "a few dollars per square foot." Replacing the baseboards should be "a couple dollars per linear foot." The price for the new trim around the window should be about the same. A gallon of Benjamin Moore Decorator's White can be purchased for $69.99. A can of Barely Beige costs the same. These linen drapes can be purchased at Pottery Barn for $109. YLighting.com has table lamps, like this one, for $355, and floor lamps, like this one, for $425. Of course, labor will be more.
The kitchen
"The apartment would benefit greatly from opening up the kitchen," says Daniel. Therefore, for those up for more of a demolition, she proposes getting rid of the large closet at the end by the range, as well as "forgoing the upper cabinets and just keeping the shallow cabinets on the bottom."
While the buyer will have less space to stow away cookware, Daniel feels that the benefits of opening up the area far outweigh the storage shortage. That way, you'll actually be able to converse with guests while entertaining rather than be stuck in another room, cut off from the action. For the new cabinets, she advises going with IKEA's Veddinge line. "It's sort of a soft, matte white," she says. "Not too bright and not too sleek. Plus, it's wipe-able."
She'd rip out the current countertop and replace it with Caesarstone. which is "durable and fairly timeless if you go with a neutral." She'd also pull out the current slate floor and go with cork tiles instead, like these from Aronson's Floor Covering. "It'll look good with the wood floors that are already in the unit," she says.
Although the appliances look dated, they "look to still be in working order and are perfectly adequate," notes Daniel. For that reason (and to save some cash), she says she would probably keep them. If, however, they are on their last legs, she recommends upgrading to a stainless-steel range and refrigerator to make the space look a little more up to date.
She'd get rid of the current sink in favor of an undermount like this from Elkay. "It'll simply look nicer and cleaner," she says. She also suggests upgrading the faucet. "I'd go with Hansgrohe Talis. It'll take up less space and looks more modern."
In addition, she'd also probably repaint the walls. "The [yellow] isn't that offensive, but I don't think I'd want to live with it," says Daniel. "I think it can be an equally happy place with a less bright color." She'd go with Benjamin Moore's Soft Chamois, a neutral off-white that will go well with the rest of the apartment once the kitchen space is opened up.
Price: Daniel estimates $1,500 to demo the closet and top line of cabinets. New lower cabinets should go for "around $1,500 or so," while Caesarstone countertops should cost "like $80 a square foot." The new cork floors generally go for "around $10 per square foot."
Prices for IKEA fridges start at $449. Prices for IKEA ranges start at $699. The new Elkay sink costs $517. The Hansgrohe Talis faucet is $150 at faucet.com. A gallon of Soft Chamois paint is $69.99. Labor will add on to these costs.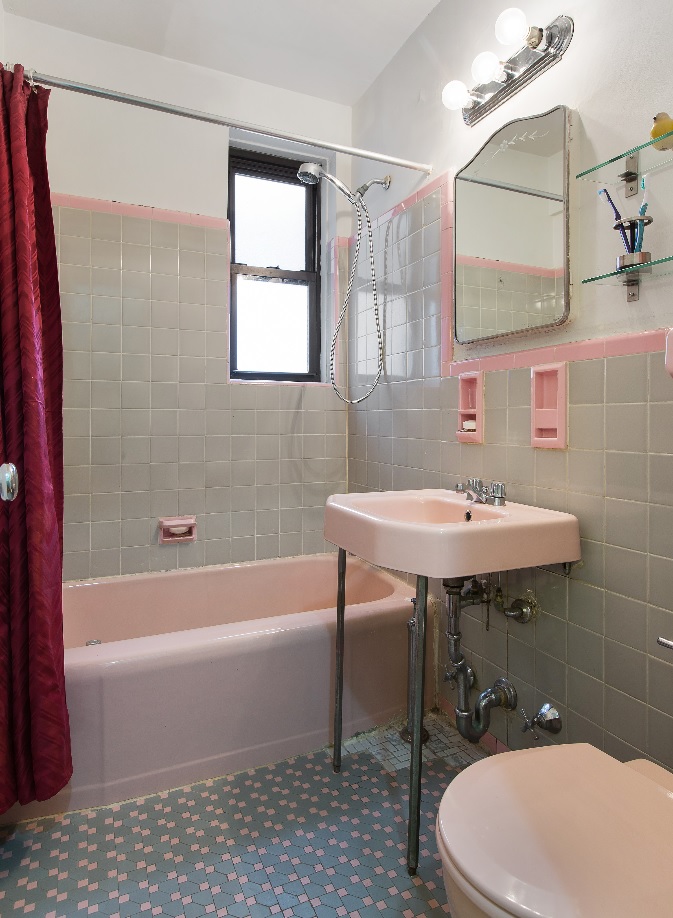 The bathroom
"I'm less offended than others might be by it," says Daniel. "I would try to work with the tile that's already there, but I would definitely lose that line of pink at the top. Maybe replace it with white or black tile." She'd also lose the two pink soap dishes.
As for the light pink toilet, sink and tub, those would have to go. A new (white) Toto toilet is in order, she says, and a new (white) pedestal sink. You could replace the tub too—Home Depot sells them for as low as $129—but Daniel suggests reglazing it instead since the current tub "looks decent." She'd swap out the current showerhead for a high pressure showerhead like this one by Speakman. She'd remove the small medicine cabinet in favor of a larger one that can hold more, and would add a new sconce. "I'd prefer something a little more modern-looking here," she says.
The floor probably needs to be switched out since "it looks like there was some water damage in the corner under the sink," notes Daniel. She'd pick a small mosaic floor, "maybe an off-white with black accents."
Price: Replacing the pink line and the soap dishes should be "around $1,500—including labor," says Daniel. Home Depot has Toto toilets starting at $177 and pedestal sinks for as low as $144. Daniel says reglazing the tub should cost around $500-$600. A Speakman showerhead can purchased for $125, and this Kohler medicine cabinet is just $119. You can pick up this bathroom sconce for $400 from YLighting.com. The new floor should be $5-$8 a square, according to Daniel. Labor will be more.