Ask a Renovation Expert
Should I hire an architect, designer, or design-build firm to renovate my NYC home?
Architects are a must for structural changes and typically charge 10 to 20 percent of construction costs
Interior designers source materials and are paid a flat fee, hourly rate, and/or commission
Design-build firms also oversee the construction and average $300 to $500 per square foot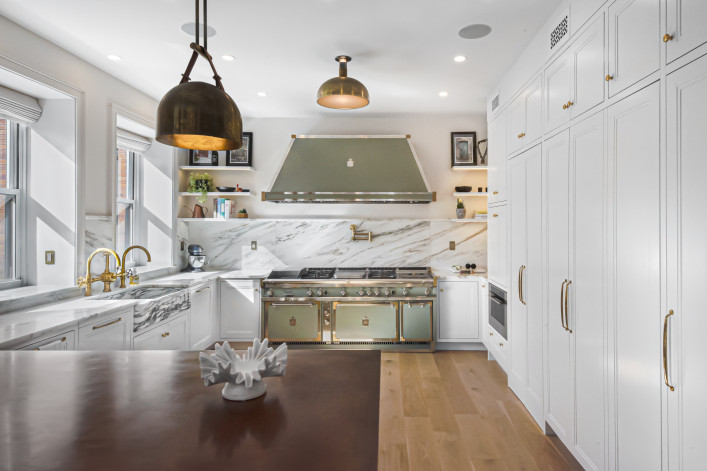 Should I hire an architect, designer, or design-build firm to renovate my New York City home?
The answer depends on how complex your renovation is, your budget, and your personal preference.
"The more complicated the job, the more trades will need to be involved," says Nick Chatzigeorgakis, founder and CEO of Intrabuild, an award-winning construction firm in NYC that specializes in renovations. "Those include architects, designers, and general contractors, each of which requires a separate contract. Or you can opt for a one-stop design-build firm where planning and construction is managed under one roof."
Here's a breakdown of responsibilities for the different professionals and their fee structures so you can have an informed conversation. 
"Keep in mind there is often no right or wrong decision, just the decision that feels right to you and best fits within your budget," Chatzigeorgakis says.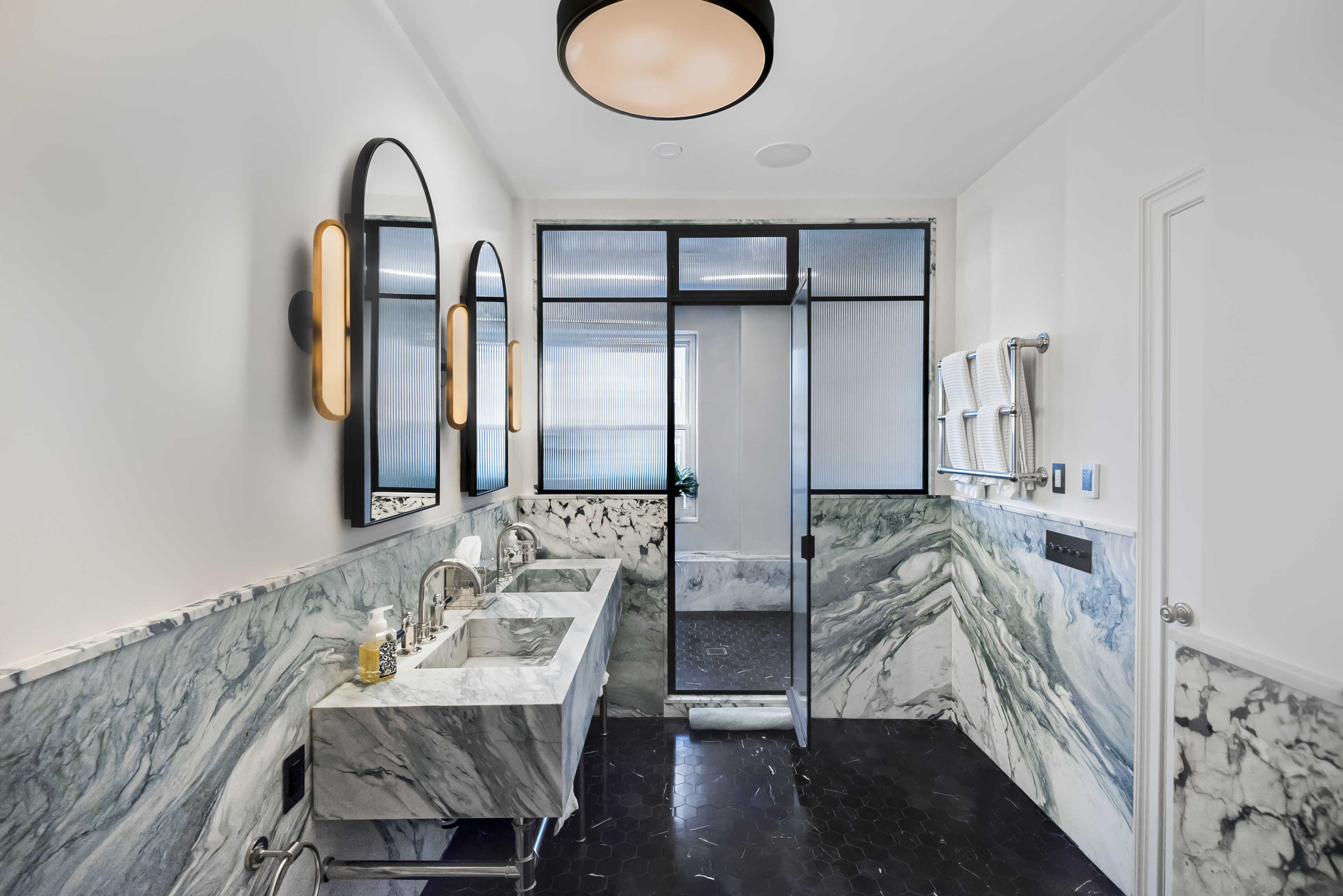 What to expect when working with an architect
If your project involves structural changes, such as gut-renovating a townhouse or apartment, opening up the kitchen, adding a bathroom, or combining units, you'll need an architect to draw up the plans and obtain the requisite permits from the city's Department of Buildings. 
"The same goes for blowing out the back of a brownstone by creating a wall of glass or creating an extension, as well as conducting any kind of work on a landmarked property," Chatzigeorgakis says. "DOB filings, and therefore architectural plans, are also needed to approve electrical upgrades and relocating plumbing or gas lines."
Architects coordinate with engineers, inspectors, expediters, and others to ensure the project is compliant with DOB rules. They can usually suggest the best contractors and fabricators for your particular project and oversee the construction phase, managing the team and sourcing key materials (such as countertops and flooring), fixtures (like sinks and tubs), and lighting. 
Architects vary in fee structure, including based on an hourly rate or cost per square foot, but the typical scenario is to charge a percentage (usually 10 to 20 percent in NYC) of the construction costs for projects on sort of a sliding scale (the higher the costs, the lower the percentage). 
They might also charge a fixed fee for the project management phase plus fees paid for engineers, inspectors, environmental tests, and DOB filings. Materials may or may not be included; either way, expect to pay a markup (aka commission). This can bring the total to 25 percent of construction costs or even more, depending on the complexity of your job.
How interior designers help with renovations
The primary expertise of interior designers is in selecting and sourcing the "finishing" materials—appliances, flooring, stone and tile, countertops, moldings and trims, doors and hardware, custom millwork, lighting, paint, and wallpaper. 
"In many cases, they also help select furnishings, textiles, and other home decor," Chatzigeorgakis says. "They can help minimize delays caused by supply chain issues and shipping disruptions."
For jobs that don't need DOB permits, such as updating a kitchen or bathroom without changing the layout (or plumbing/gas lines), an interior designer can be the project manager, overseeing the different subs and keeping the work on schedule.
Similar to architects, designers tend to have existing relationships with reliable contractors and fabricators and can make recommendations. They also structure their fees in different ways, but most charge either a flat fee (based on square footage), by the hour, or material mark-up—or some combination of these. 
More experienced designers can charge as much as 35 percent commission on top of an initial design fee, while newer designers may stick to hourly billing. 
"Some architectural firms bill themselves as full-service and prefer to handle the design details too, but you may wind up paying more that way because architects usually charge more than designers," Chatzigeorgakis says.  

The pros and cons of design-build firms
Some remodeling companies like Intrabuild offer design-build services for a one-stop option that covers planning and construction. 
There are many upsides to working with a design-build company:
You only have to manage one relationship rather than an architect/designer plus a contractor (or all three).

One firm oversees the project so there is no added construction management cost.

As such, the overall cost of the architecture-design can drop to about 10 percent of the construction cost.

Communication is streamlined with fewer parties involved.

Having everything handled in-house means clearer responsibility and accountability.

Efficiency is baked into the process because the firm is used to working together and troubleshooting any problems that crop up.
Working with a design-build firm does have possible disadvantages including:
Once you contract with a design-build firm, most lock you in so you cannot freely bid the job to an independent general contractor after it is designed.

If problems occur during the construction phase, you will not have the usual process of having the architect (as per rules set forth by the AIA, or Architects Institute of America) play the role of mediator. Instead, you would have to rely on the court system to pursue liability claims. 

The AIA gives your architect the authority to make decisions and solve issues without consulting you. Not so with a design-build firm, you'll need to be more involved throughout the project.

​​​​​​​

Independent architects/designers are better qualified to deliver high-end results and have different resources than design-build firms.
"Depending on the type and scope of the renovation project, Intrabuild provides both build-only and design-build services," Chatzigeorgakis says. "We can handle the whole design and build for small to midsize jobs like an apartment renovation that costs between $300,000 and $500,000," he says, "and we will recommend reputable architect/design firms that we work with for more complicated projects. This is something that we discuss during an initial consultation."
According to Chatzigeorgakis, many design-build companies (including Intrabuild) base their fees on square footage, with $300 to $500 per square foot a good average. "This fee covers architectural designs, all third-party services, and total build costs including materials," he adds.
For build-only services, the traditional bid is based on a fixed-price rate based on $250 to $400 per square foot, inclusive of labor and materials. 
Founded in 2012 by Nick Chatzigeorgakis, Intrabuild is an award-winning construction company that specializes in apartment, townhouse, kitchen, and bath renovations for NYC homeowners. To schedule a free consultation, visit intrabuild.com.
Brick Underground articles occasionally include the expertise of, or information about, advertising partners when relevant to the story. We will never promote an advertiser's product without making the relationship clear to our readers.