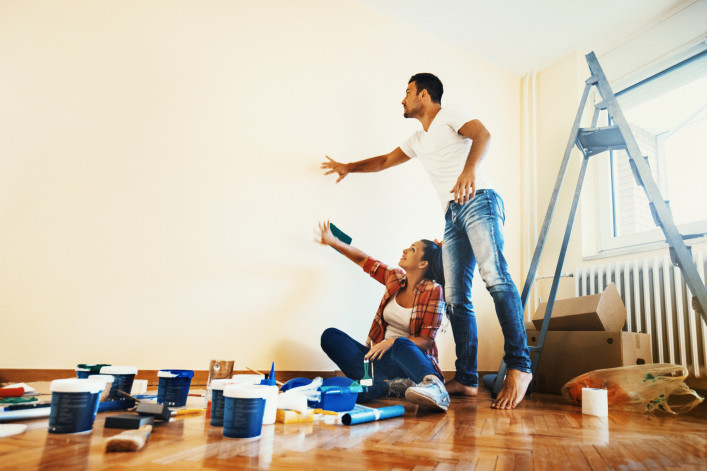 Now that we've all packed away our winter boots and officially welcomed spring, your apartment could probably use a little perking-up after the long, cold winter. Before you start freshening up your living space and packing up bags of unwanted items to take to Housing Works for your spring clean and purge, read on:
Get scrubbing
Those dust bunnies pooling around in the corners of your apartment are the first things that need the heave-ho. Next, your blinds will need serious TLC to make your place sparkly. A budget remedy? While Swiffer (and other branded) dusters do come handy, Jim Ireland, the owner of White Glove Elite, a house cleaning agency in Midtown, offers a cost-free alternative: "Instead, run your hands under warm water and dry them a couple of times on a soft, clean, non-fabric-softened cloth, and go to town dusting for free," he says. "Our planet will also thank you as most 'Swiffer homes' I've gone into have a plethora of plastic dusters from inadvertent re-purchasing of dusters instead of only refills."
Tip: Better yet, if you have a vacuum with a Hepa filter and a soft brush attachment, break with tradition and dust with your vacuum.

De-accessorize (and in some cases re-accessorize)
There is such a thing as too many favorite things lying around, and spring's the perfect time to comb through your collectibles and pick only the ones you love most. "Too many items on coffee tables, pillows on chairs, and art pieces on walls make a space feel cramped," says Cheryl Eisen, founder of Interior Marketing Group, a luxury real estate staging company in Midtown. "Stick to a few statement pieces and oversize art to give your space a clean, modern look."
Tip: Tossing out tired throw pillows and replacing them with new ones is an inexpensive way to refresh your living room.
Compose a "look"
To instantly update a space without any financial investment, mix your favorite objects into an eclectic whole. "Combine old with new, rare with ordinary, and expensive with thrift shop finds," says Heather Higgins, an interior designer and principal of Higgins Design Studio, an East Village firm that specializes in small living spaces. "Grouping small objects together will create greater scale and presence."
Tip: Anything you group together will stand out—surprising juxtapositions are key. "I have a collection of small frogs, which are similar in size and color, but vary in material and texture," Higgins says (see photo of frogs below). "The group stands proudly atop a stack of books on my coffee table. Individually displayed, they would become instant wallflowers!"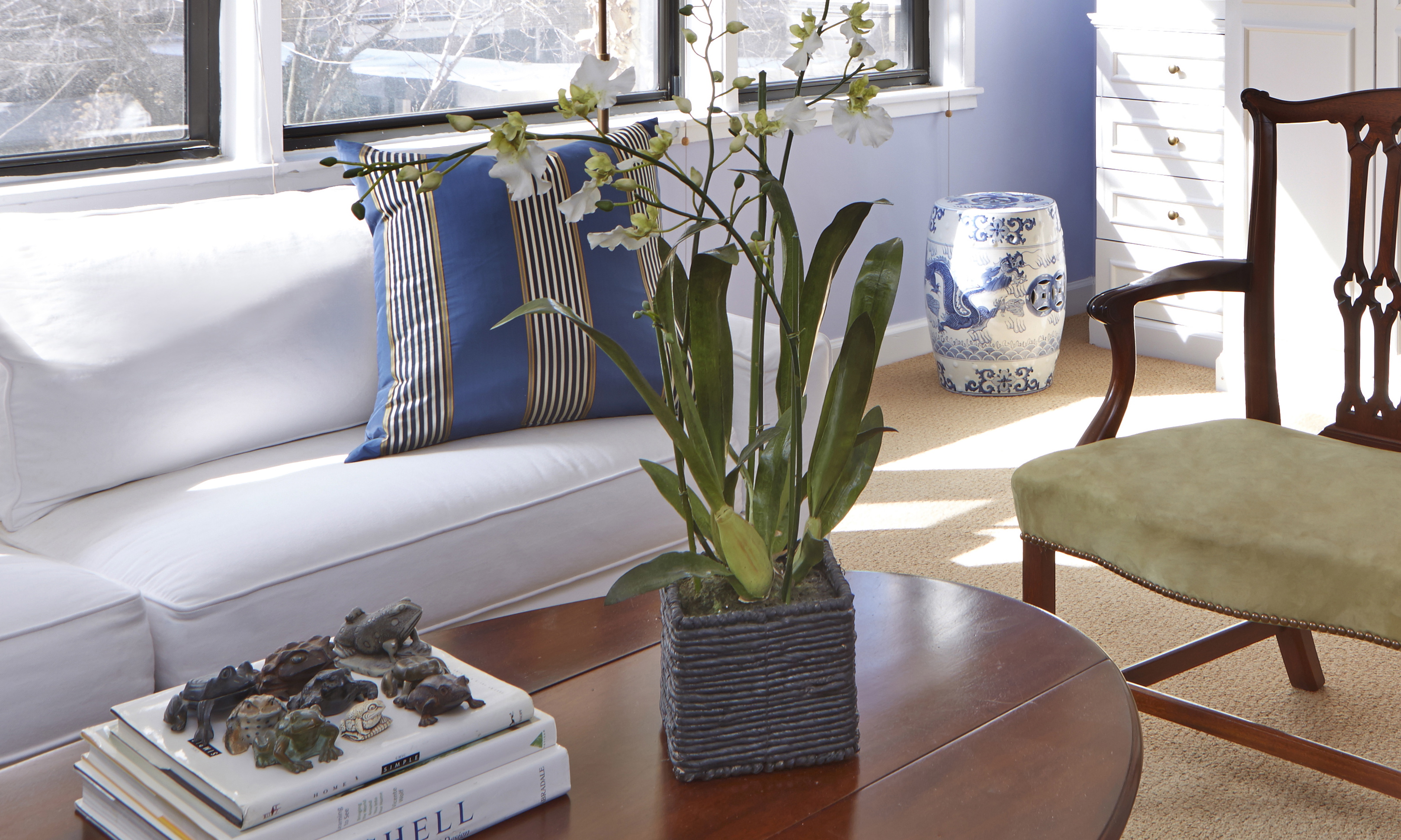 Think green
With winter in the rearview mirror, it's the perfect time to bring elements of nature into your space, says Sharon Blaustein, founder of B Interior NYC in Tribeca. "Succulents add an exotic vibe and they're very low maintenance," she says. "They're also a perfect size for a smaller apartment."
Tip: Feel free to go functional. "Fresh herbs and spices in the kitchen are every bit as beautiful as they are useful," she says.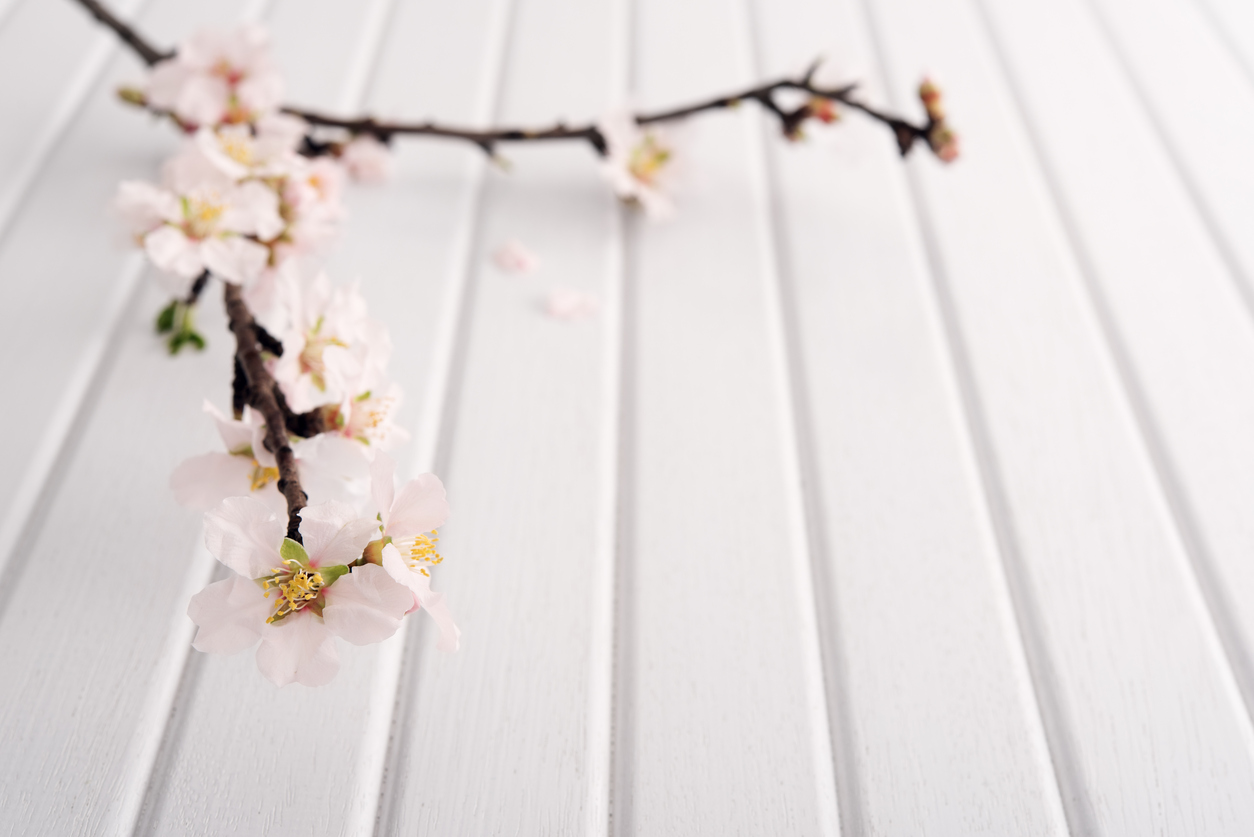 Build a spring-like tablescape
You don't have to be a floral designer to give your living room a spring restart, says Janet Ramin, an interior design professor at The New York Institute of Art and Design in Gramercy Park. "I seek out spring flowers and choose a ceramic or glass vase in blue to represent the skies," she says. "For instance, I would pick some cherry blossoms and place them in a sky blue glass vase and then add some grape hyacinth in a shorter white ceramic vase."
Tip: For contrast, add a low ceramic bowl filled with fruit such as green apples, she says.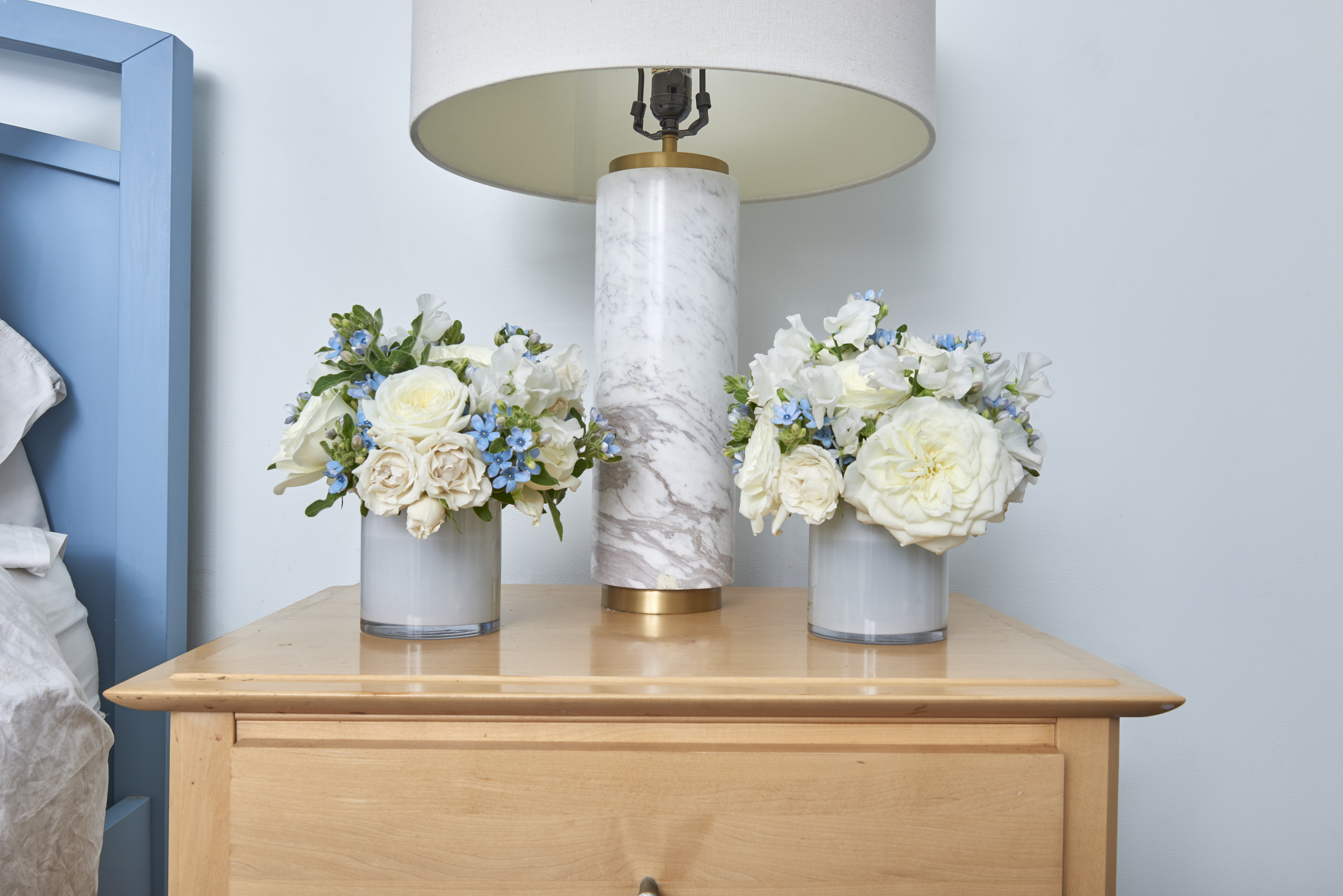 Don't snooze on your bedroom
With all this talk about refreshing your living room, don't forget to give your bedroom a spruce-up, too, by taking your bedding to the dry cleaner or laundry. Duvet covers and pillow tops may even need to go to a commercial laundry if they're too big for your building's laundry machines. And then, add a natural element to your bedroom with a small floral arrangement (see photo above), suggests Bronwen Smith, owner and lead designer of B Floral and B Floral Interior Design in Chelsea.
Tip: "Whether it's on a nightstand or dresser top, place arrangements, filled with florals such as roses, peonies, and sweet pea, there to add a fresh, intimate feel."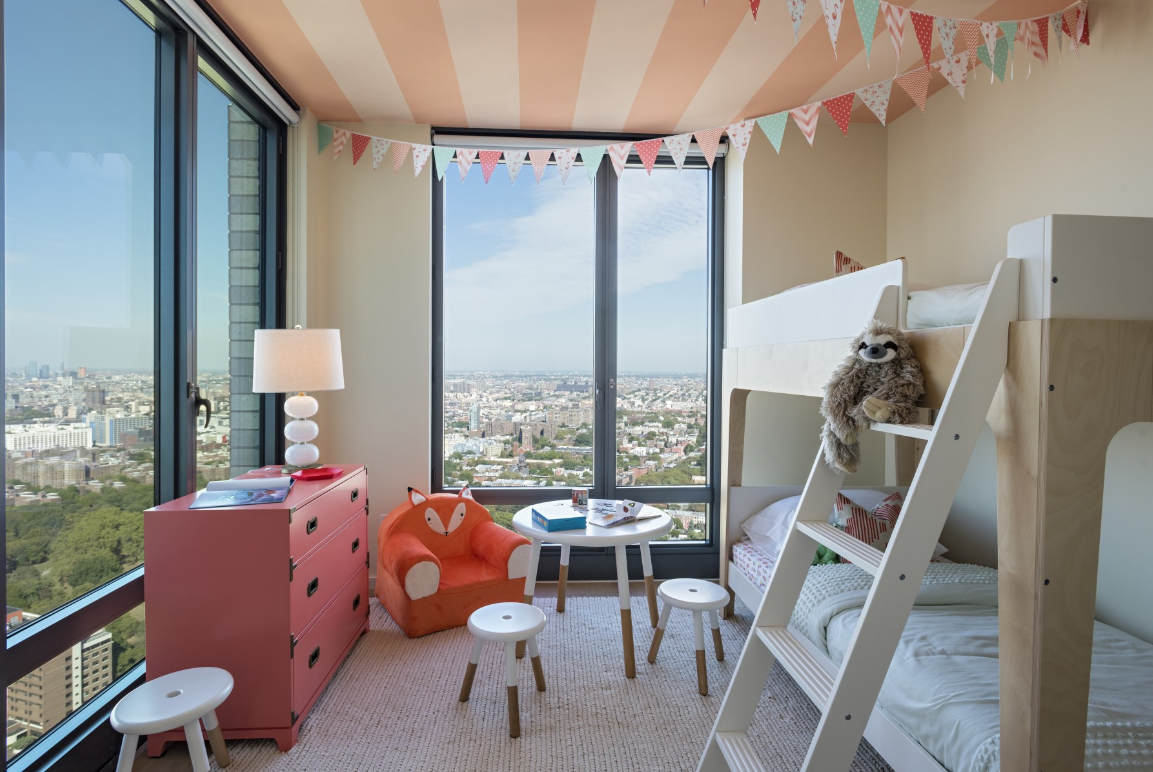 When in doubt, paint!
If your walls still look grimy or in need of a true makeover, consider painting them either lighter, darker, deeper or brighter—or redo just one wall to make a statement. "The return on investment of painting a room cannot be overstated," says Dan Mazzarini, a partner at BHDM, a design studio in Chelsea, acknowledging that you don't have to paint every wall to feel the effect. "You can do stripes on the ceiling to make a kids' room feel youthful and fun while still being stylish." (See photo above for a real-life example.)
Tip: Be sure to check in with landlords before you start this project. They may even be willing to do it for you (and note, they're required to every three years.)
Brick Underground articles occasionally include the expertise of, or information about, advertising partners when relevant to the story. We will never promote an advertiser's product without making the relationship clear to our readers.