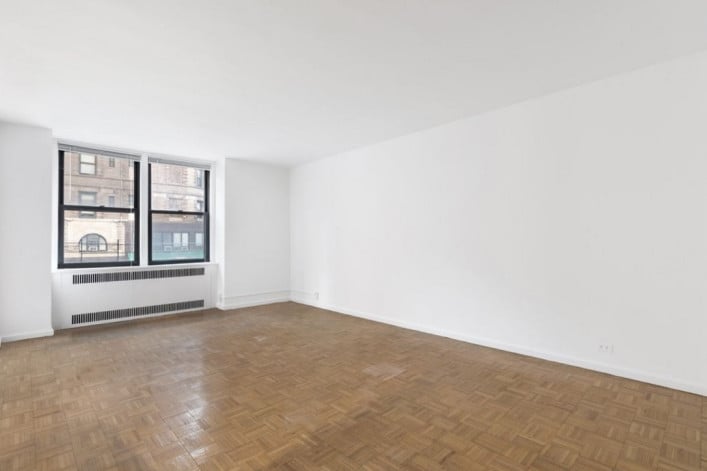 "The best thing about this apartment is that it's got a good kitchen-to-living room relationship," says architect Christa Horrigan of Horrigan O'Malley Architects—an architecture and design firm with offices in Brooklyn and Lavallette, New Jersey—of this $650,000 Upper West Side one-bedroom at 263 West End Avenue. In other words, "You can easily open that kitchen up to the living room," she says, adding that folks these days seem to prefer being able to interact with loved ones while whipping up dinner.
Her least favorite thing in the unit is also in that same general vicinity. "The raised floor [in the dining area just outside the kitchen] is definitely a downside," she says, noting that tripping over the step and dropping a fully cooked meal is more an inevitability than a possibility. She'd get rid of the accident-waiting-to-happen and even out the floors so the entire unit is all on a single level.
Horrigan has a number of other ideas as to how to improve this pre-war co-op. Her recommendations: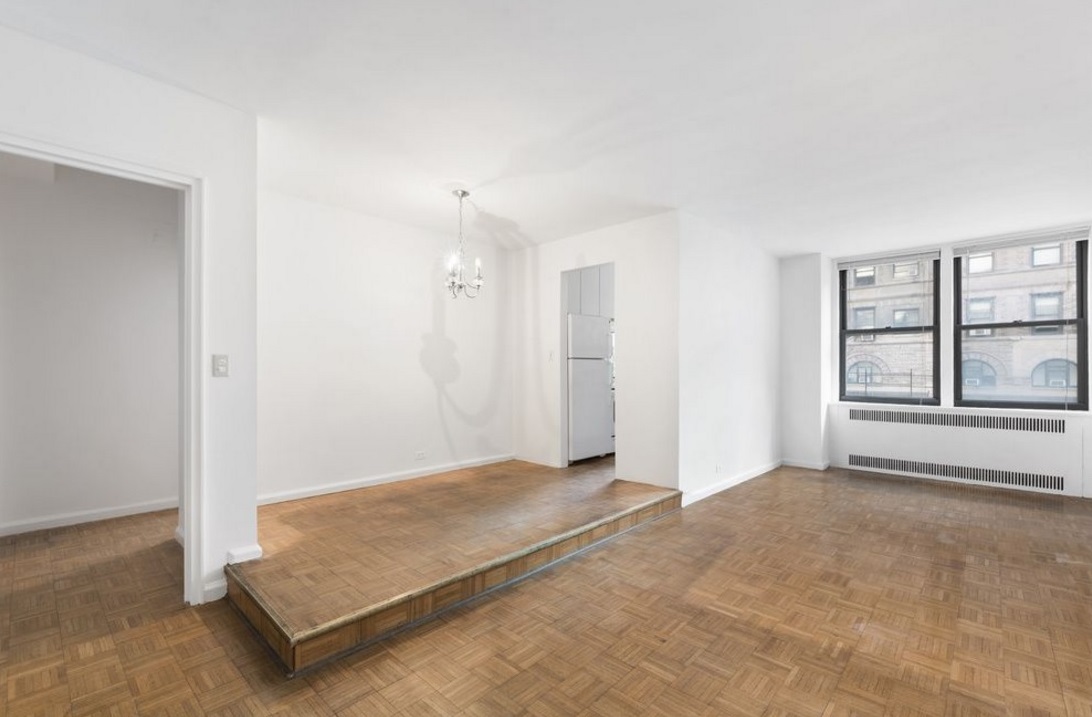 Living room/dining area
"It's a nice size," Horrigan of the living space. "It's just pretty basic and blah." To jazz it up, she'd start with the floors. She'd rip out the existing (and somewhat lackluster) parquet in favor of something like two-and-a-quarter-inch oak boards in a herringbone pattern, which she contends will "liven up the room a bit." She adds that these days, many buildings also require that any tenants putting in new flooring also install sound mats to dampen noise. 
Next up: paint. "You can't go wrong with white," she says. "It makes the room seem the biggest." She likes All White from Farrow and Ball. She'd go with All White for the ceiling, as well, as it'll make them appear taller.
Moving over to the window area, Horrigan says that if the co-op allows it (some won't as they want every unit to have the same windows to lend an air of uniformity to the building), she'd lose the grimy old double-hungs and replace them with casement windows that tilt both in and out. They'll be easier to clean and "they look more modern," she says. As for window treatments, she'd propose linen roller shades. "They have a little texture and can give you privacy, but still let some light in," she says.
Beneath the windows, she'd recommend adding built-in cabinets or shelving in front of the radiator. She'd extend this wooden structure from wall to wall on both sides for ample storage of the tenant's various knickknacks. She'd also include lift-up panels so that you'll still have access to the heater's controls. She'd top the shelving with a stone sill ("because wood would get bleached by the sun" streaming in the windows) where the occupant can keep plants, picture frames or other assorted tchotchkes.
It appears as though the ceiling in the unit is a concrete slab that you can't drill into to install any new lighting. Therefore, Horrigan recommends doing a light sculpture—a piece of art that uses light sources as a medium of expression—on the right-hand wall. (See photo below for an example of a light sculpture that Horrigan has done.) "It's a great way to bring a lot of light into a room. And it's less stodgy than sconces," she says. She also likes "light that is low and cozy," so she'd add a few table lamps throughout the room, as well.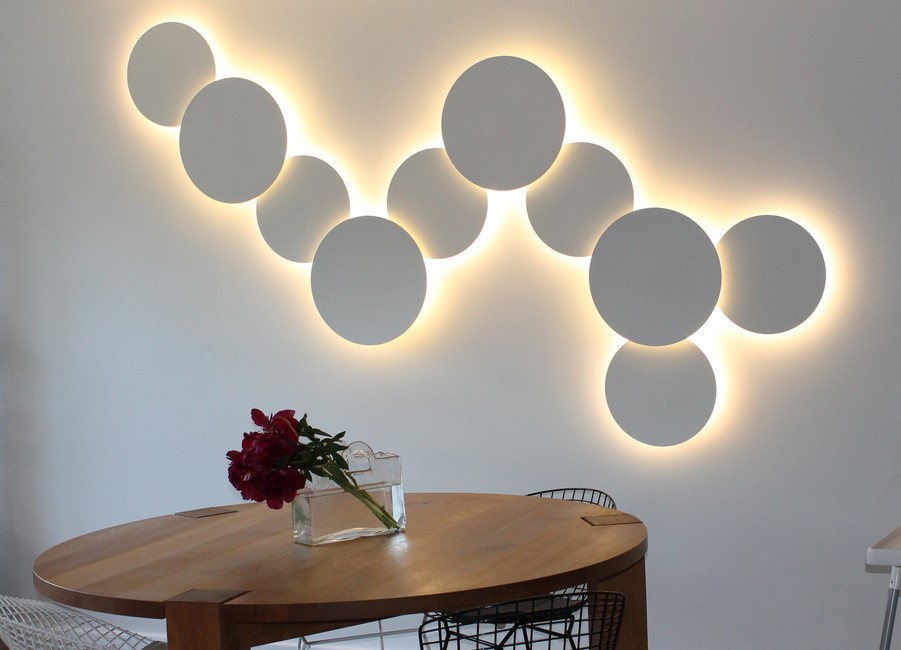 After that, Horrigan would demolish that raised dining area. She'd still use the space as a dining area, just one that's on the same level as the rest of the living room. She'd also replace the chandelier in the ceiling with a more modern fixture.
Since there are plenty of closets throughout the apartment, Horrigan thinks the two closets in the entryway can easily be done away with to open up more space. She proposes blowing those two closets out and making an office area there, instead.
Finally, she'd add both a column and a pilaster (a rectangular column projecting from a wall) to the living room (see Horrigan's sketch below) "to help define the foyer/home office [as separate] from the dining and living room. But it will still feel open since we are not constructing walls."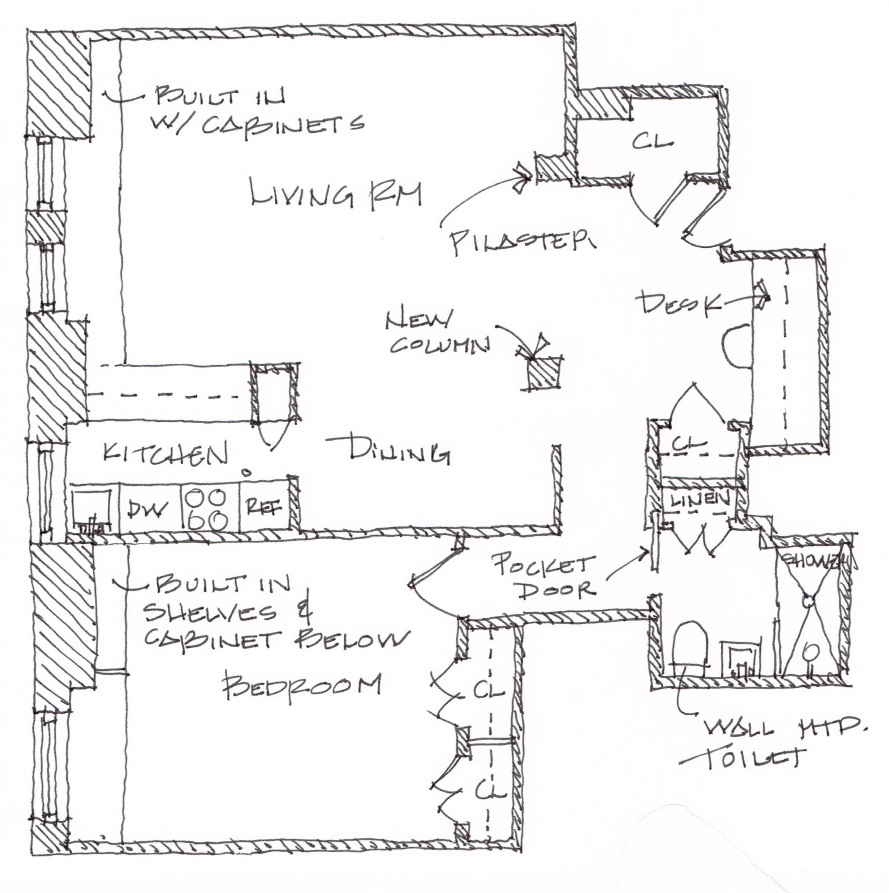 Prices: Horrigan says the flooring should be around $12,000. Sound mats should be $1,680 for material. She believes that the custom built-in cabinet in front of the windows would probably cost around $4,000 to $5,000. New casement windows should be between $3,500 and $4,000. This linen roller shade is $63.29 on Amazon.com. A gallon of Farrow and Ball's All White for the walls and ceiling is $99. Horrigan says she can make a light sculpture for between $3,000 and $5,000. This table lamp is $161.10 at Lighting by Gregory. She thinks it should cost around $1,000 to tear down the raised dining area. This ceiling light from France and Son for the dining area is $749. The column and pilaster should be around $500. Labor will add on to these costs.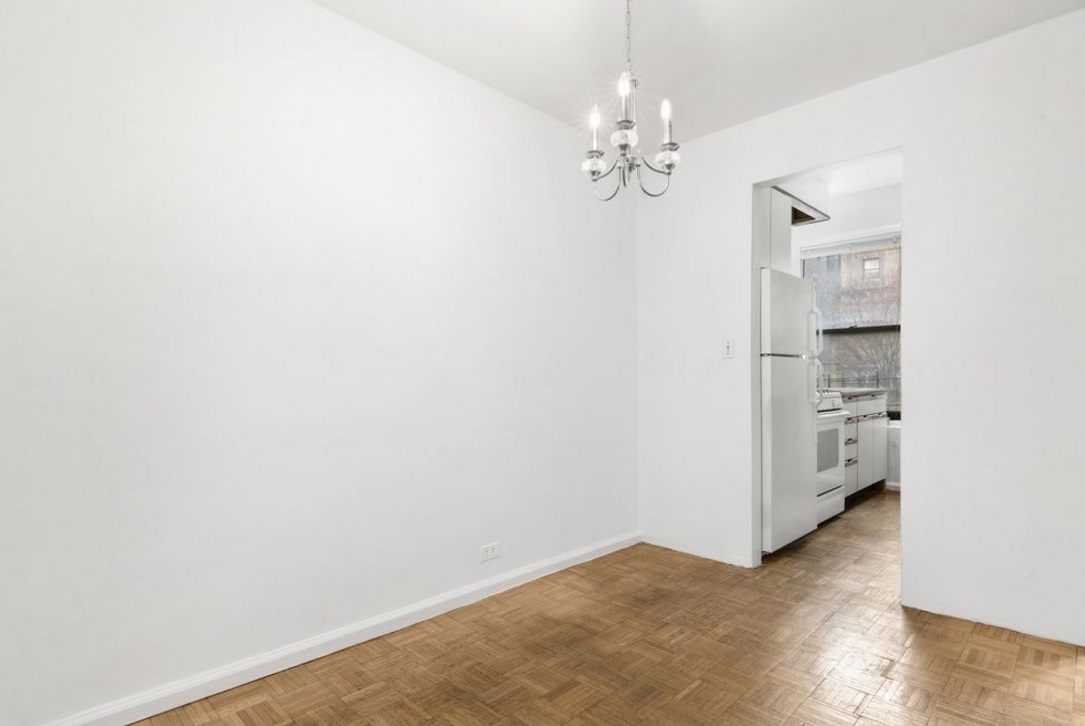 Kitchen
Although the photo here only gives us a glimpse of the kitchen, that's all Horrigan says she needs to determine that she'd gut the entire room.
First, if the occupant wants, she'd knock down the wall separating the living room and kitchen to make one large, open space. She'd also lower the floor here too so that the entire unit will be on one level.
She'd swap out the oversized fridge for a counter-depth one that'll save precious inches in this small space. She'd replace the free-standing range with a separate oven and cooktop. "That way the cabinet line continues above and it's more seamless."
Which cabinets she chooses, Horrigan says, depends entirely on whether or not the kitchen will be open or closed. If the wall stays up and the space stays separate and contained, she recommends lacquer cabinets in a fun color—a deep blue or a gray, "something that will really create a little jewel box of a room." If, however, the wall comes down and "the kitchen is open to the room, I'd keep it pretty light" so that it doesn't overwhelm the living space. She'd most likely go with "a white painted wood."
Quartz is probably the way to go for countertops. "It's nonporous and doesn't stain. It takes heat relatively well. And you don't have to keep sealing it like you would a natural stone," she says.
She'd also get a new undermount sink (one without a rim since it attaches from under the counter). This will give the client a bit more counter space to work with. She'd also get a new faucet.
To illuminate the space, Horrigan says she'd "lower the ceiling by six inches and do recessed lights, so the light will be more even across the kitchen." She'd also add under-cabinet lights.
As for the floors, this too depends upon whether or not she'd knock down the wall separating the kitchen from the living room. If it's open, she'd do the same flooring as the living room so it all melds together effortlessly. If it's closed, she likes large-scale porcelain tiles: "They're easy to clean, and because they're big, there's less grout to deal with." Whichever flooring she goes with, she'd first slather on a layer of Laticrete, a waterproofing membrane with a tar-like appearance. "If your sink overflows, it won't let water penetrate to the floor below."
Prices: This Whirlpool counter-depth fridge is $2,789.99 at Best Buy. This stainless steel Bosch cooktop is $899.99 at Best Buy. This Bosch oven is $2,069.99, also at Best Buy. Horrigan thinks that custom white painted wood cabinets should cost "around $25,000." Lacquered cabinets should be about $3,000 to $4,000 more. Quartz countertops are around $100 per linear foot. This Kohler undermount sink is $345.99 at The Home Depot. This Franke pull-out faucet is $434.34 at Amazon.com. Horrigan thinks that lowering the ceiling and adding those recessed lights should cost around $2,500. These under-cabinet lights are $59.97 at The Home Depot. Porcelain tiles would be about $10 per square foot. A gallon of Laticrete is $65.95 on Amazon.com. Labor will tack on to these prices.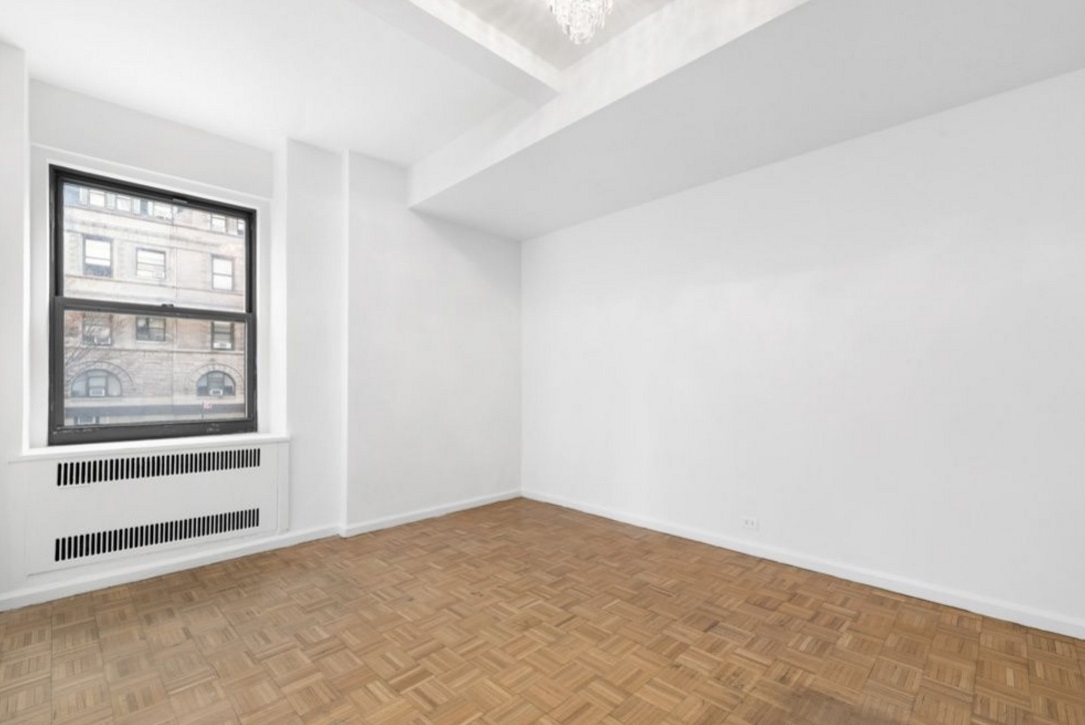 Bedroom
Since it's fairly similar to the living room, Horrigan would do a number of comparable things here. First, she'd offload the parquet in favor of oak herringbone floors. Next, she'd get a new casement window in there with linen roller shades on top. And beneath the window in front of the radiator, she'd once again construct built-in shelving. "Maybe I'd add floor-to-ceiling bookshelves on one end since it's a bedroom," she says. She'd also paint the walls and ceiling with Farrow and Ball's All White.
She'd junk the existing overhead light fixture for something more modern. She'd also add table lamps on either side of the bed.
Finally, in an effort to make the bedroom into what she terms "a more clearly defined rectangular space," she'd move the door leading into the bedroom to the front face of the closets (which are to the left of the door right when you walk in). She also says that while the photos don't show them, she "assumes that the closets will need to be redone" with new swinging doors, new shelving and new hanging bars.
Prices: Horrigan says flooring should be around $12,000. She thinks new casement windows should be between $3,500 and $4,000. This linen roller shade is $63.29 on Amazon.com. Horrigan thinks that the custom built-in cabinet in front of the windows should probably cost around $4,000 to $5,000. A gallon of Farrow and Ball's All White for the walls and ceiling is $99. This modern pendant light from France and Son is $185. Redoing the closets should be around $4,000 to $5,000. Labor will, of course, be more.
Bathroom
Since there aren't any pictures of the bathroom, it's probably in pretty bad condition. She'd get a new toilet (probably a wall-hung one to save space "and give you a little more flow"), a new custom vanity ("so you can get exactly what you want") and a new medicine cabinet.
"And it's up the [the tenant] if they want a tub or just a standing shower," she says.
She recommends stone tiles for both the floor and walls since stone "stands the test of time and never goes out of style." And, if the co-op permits it, she'd also heat the floors by adding an electric mat underneath. "I haven't yet run into [a building] that doesn't allow it, but all buildings have different rules," she says. She adds that even if it does sanction the mat, "the electrical panel may need to be upgraded first."   
As for lighting, she'd install some recessed lights here too in order to brighten the space more evenly.
Horrigan would add a linen closet directly across from the toilet and sink for the tenant to store sheets and towels. She'd also put in pocket doors to the bathroom to "add more space."
Prices: This Toto Aquia wall-hung toilet is $240.60 at YLiving.com. A custom vanity should cost in the $1,000 range. This Robern medicine cabinet is $1,949. This shower stall is $528 at The Home Depot. Stone tiles should cost around $1,000 for the entire bathroom. The electric mat underneath should be another $1,000 or so. Upgrading the electrical panel should be around $2,000. Recessed lights will be around $800. Adding a linen closet and pocket doors should be around $5,000.
Brick Underground articles occasionally include the expertise of, or information about, advertising partners when relevant to the story. We will never promote an advertiser's product without making the relationship clear to our readers.