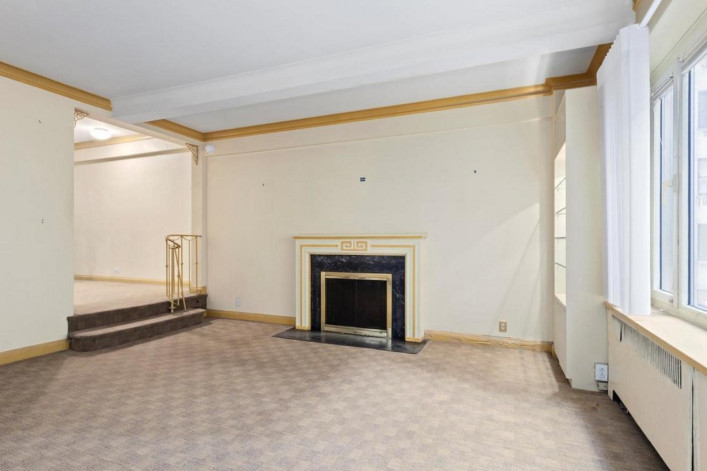 The best feature of this $450,000 prewar studio at 2 Sutton Place South, according to architect Andrew Mikhael, are the streams of natural light shining through the large living room windows. "Even though it's facing a courtyard, you still get lots of sunlight," he says. "No views, but yes, sunlight."
Also a plus: the fact that the apartment is on a corner (and therefore gets double exposures) and that the square-shaped main area is open, airy, and "not encumbered by much." 
All that's music to the ears of a starter-apartment buyer. Light does, after all, fall near the top of most buyers' lists, as does a workable layout. That said, "you're basically walking into a closet," Mikhael says, pointing out the large wardrobe located just beyond the entryway. "And there isn't a lot you can do about that without losing a lot of storage space." (Although, he adds, "if the buyer is a minimalist, maybe he can get rid of the built-in drawers up front [just before the closet] and add three to four feet of open space that way.")
In any case, if he were the decider, Mikhael says he'd gut the entire co-op unit. His recommendations:
The living room/bedroom 
The first thing Mikhael would do in this sunken space, pictured above, is install lights since the current setup of having "one bulb in the corner is pretty crummy," he says. Since space is always scarce in a studio, he'd aim for "indirect lighting on the walls or ceiling. Maybe sconces because they'll give you light without having to take up precious floor space."
Next he'd turn his attention to millwork—that is, products made of wood. He'd add built-in cabinetry around the fireplace for added storage (and architectural interest), and a Murphy bed, either by the wall between the two big windows or the big wall shared by the bathroom, so the tenant can hide the bed away when company comes over.
Mikhael suggests doing away with the tall built-in bookcases that currently flank the windows completely, or, if the buyer has an extensive book collection, replacing them with smaller, windowsill-height bookcases. The taller ones "make the room look like a foot smaller," he explains. He'd also junk the metal radiator covers and instead have custom ones built out of wood. These various projects share "the same aesthetic so it'll all blend in together and make the place feel more harmonized and less like a hodgepodge," he says.
In addition, the fireplace would be redone. "It's a very '80s look right now," he says. "There are at least three or four different materials and it's very distracting." He'd opt for "a solid, more muted stone, maybe more of a monochromatic gray. [Either would] be more fitting in a small space."
As for the walls, "I can't really tell how clean they are, but a skim coat will make them nice and smooth," says Mikhael. And then he'd have them all painted. "I'd probably go white with a room like this," he says, noting that because there are so many windows and openings and not a single large wall surface, any color will cause the room to "have that Swiss cheese, broken-up look." He'd paint the ceiling white, too.
He'd modernize by losing the "gold chrome" crown molding along the ceiling; add to his list of to-dos discarding the matching base molding and replacing it with "a base molding that attaches to the wall. They'll cover up the rough edges of the wall at the bottom." 
As for the floors, "even someone with a more limited budget can do something really spectacular in such a small room," says Mikhael. He suggests a herringbone wood from a place like Carlisle Wide Plank Floors.  
Finally, the current window treatments "are kind of motel-like," he says. The windows, which are casement, are pretty and ought to be shown off. He proposes roller shades that'll let in some light or blackout shades if you need complete darkness to sleep.
Price: These wall sconces from Lighting by Gregory are $448 each. Mikhael estimates that each wooden flourish, including the cabinetry around the fireplace, the bookcases, the Murphy bed, and the radiator covers would run "in the thousands." Redoing the fireplace in stone could cost around $2,000 to $3,000 for materials. Same for labor. A gallon of Benjamin Moore Decorator's White for the walls is $69.99. A gallon of white for the ceiling is $39.99. The applied base moldings should be "a few dollars a square foot." Herringbone wood floors, he says, should be "around $20 and up per square foot." This solar shade is $59.99 at Bed Bath & Beyond. Labor, including skim coating the walls, will be more.
Dining room
"This is a great place to have a dining area," he says. "It's not exactly by the window, but you still get some sunlight." [Editor's note: A studio with a separate dining area sounds pretty sweet—a rare layout, to be sure.]
For the floors, Mikhael recommends keeping things simple here—unlike in the living room where he envisions a more decadent flooring choice—with a typical hardwood, "possibly white oak," he says. That'll lend a clean look to this narrow space and its simplicity will help to differentiate it from the living room area.
He'd treat the steps leading to the living room as part of the dining area and do them up in the same white oak floors. The railing, he says, is unnecessary and should go since there are only a couple of steps to navigate.
This might be too tight a space for a chandelier (you might bump your head on it), so to illuminate the room, "cove lighting," a technique that aims light toward the ceiling from the sides, may be the way to go. For continuity's sake, he'd paint the walls the same white as the living room. Same for the ceiling.
Lastly, Mikhael suggests that if the buyer needs even more storage, building floor-to-ceiling bookcases along the left-hand side might be a solution to consider. "It's just another option for people who have a lot of stuff," he says.
Price: Mikhael believes white oak flooring should run you around $5 to $20 per square foot; carpentry for the cove lighting, around $20 per foot; and around $10 per foot for the lights themselves. A gallon of Benjamin Moore Decorator's White for the walls is $69.99. A gallon of white for the ceiling is $39.99. Building bookcases could cost "in the thousands." Labor, including removing the railing, will add on to these costs.

Kitchen
Mikhael is not a fan of how cramped the room looks as it is at the moment. He'd begin by dumping the full-sized refrigerator for a "counter-depth fridge so it'll be less bulky, or a small under-counter fridge if you don't cook a lot." 
While some might worry that putting in a smaller fridge would affect resale—"it's hard for [him] to say as an architect," he says—Mikhael does, however, note that deciding to do so really "depends on the lifestyle of the buyer." If he or she goes out to eat every night, a smaller under-counter fridge will just give them more room to move around in the kitchen.
If the buyer is, however, worried about how it would affect the unit's sales price later on, perhaps a counter-depth fridge (rather than a half-sized under-counter one) is the way to go. That way, you'll have enough room to store your cooking ingredients—and enough room to actually stand in the kitchen and chop them.
If the buyer's trying to cut costs, "assuming the oven is functional," he'd keep it. If, however, the tenant wants a more unified look, he might opt for something new. Same goes for the microwave.
Next, he'd lose the to-the-ceiling cabinets to make the room look more open, instead installing cabinets that don't quite reach the ceiling—or open shelves—"so you don't feel so hemmed in."
He'd keep the cabinets down below, but junk the current ones as they look "beat up." He'd opt for custom cabinets here "to gain every inch you can." For the countertops, he suggests stone or Corian. "It depends on a lot of different things," he says. Stone tends to be more resistant to scratches and stains than Corian, so if that sort of thing bothers you, stone is probably the way to go. Most important, though, is the buyer's personal taste.
It looks like the backsplash was only half finished—judging by all the paint showing through under the microwave. Mikhael would like to see "a unique backsplash" here—an interesting, yet simple pattern that won't overwhelm a small kitchen. 
He'd get under-cabinet lights to make sure there's enough illumination to see the onion you're trying to chop (or anything else, for that matter). He'd also get a new ceiling light. "Something more modern."
For the floors, he advises bringing the wood floor from the dining area into the kitchen "for continuity."
As for the walls, he's not a fan of the muted yellow hue, so he'd replace it with something else. "White is easy," he says. "But you could do something that complements the cabinets."
Mikhael thinks that a blackout shade is probably unnecessary in the kitchen—although it appears as though that is what is in there at the moment. He recommends a simple solar shade, instead, to bring in a little bit of light.
Price: This Samsung counter-depth fridge is $2,399.99 at Sears. Mikhael thinks that high-end custom cabinets can be $1,000 per linear foot. Ornate tiling for the backsplash should be anywhere from $20 to $100 per square foot, he says. These under-cabinet lights from Home Depot are $59.97. This ceiling light from YLighting is $256. He believes white oak flooring should run you around $5-$20 per square foot. A gallon of Benjamin Moore Decorator's White for the walls is $69.99. A gallon of white for the ceiling is $39.99. This solar shade is $59.99 at Bed Bath & Beyond. Labor, including getting rid of the to-the-ceiling cabinets, will be more.

Bathroom
"The pedestal sink looks to be in decent shape," says Mikhael. But that's about it.
He'd replace the wall tiles that only go halfway up the wall with floor-to-ceiling tiles—"It'll look cleaner," he explains—and also fresh tile for the floor. The type—marble, ceramic or glass, for example—really depends upon what look the buyer prefers.
"Maybe instead of a tub, [the owner could go with] a shower," he says, noting that since it's a studio, there's probably just one person living there and "more people want to shower than take a bath." Of course, if the buyer is a bath-lover or has a baby, he'd keep it.  
A new toilet (a wall-mounted one to save space) is in order, as are a new medicine cabinet and a new vanity "if you want more storage." (Otherwise, you could keep that pedestal sink that's already there.)
In place of the accordion-style curtain in the window, consider getting a privacy pattern on the window—either by replacing the glass itself with something textured that can't be looked through or by getting a decal or sticker that would serve the same purpose.
As for the lighting situation, "my instinct is to light from above," he says, so he'd simply replace the existing light with something that's more contemporary.
Price: According to Mikhael, new tiles for the wall and floor are probably between $5 and $10 a square foot for the basic stuff. More if it's marble. This shower kit is $650.34 at Home Depot. This wall-hung Toto toilet is $401. This Robern medicine cabinet is $1,899. This vanity is $759 at The Home Depot. This window film is $44.98, also at Home Depot. This vanity light from YLighting is $240. Labor will be more.
Brick Underground articles occasionally include the expertise of, or information about, advertising partners when relevant to the story. We will never promote an advertiser's product without making the relationship clear to our readers.