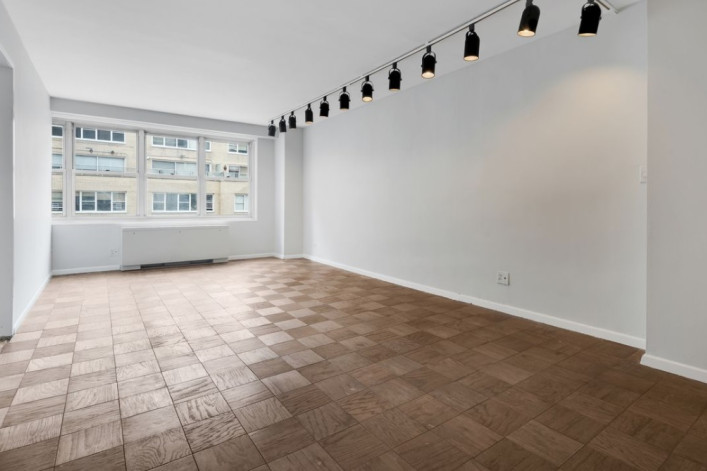 When asked to name the best thing about this 900-square-foot Upper East Side one bedroom, 363 East 76th St., #10N, architect Richard Alan Goodstein of Brooklyn's nC2 architecture seems to struggle to come up with something. "It isn't the view. It isn't the lighting. And it isn't the flooring," he says. "It also has low ceilings and a really dated kitchen that looks homemade."
When pressed to say something positive about the space, which he calls "a starter apartment," he cites its affordable $625,000 price tag and the fact that the building has a nice roof deck that you can retreat to. 
---
[Editor's Note: In Brick Underground's Reno Ready column, an architect looks at a listing for a NYC fixer-upper currently on the market and suggests how to improve it.]
---
Still, there's plenty that you can do here to increase the appeal. In this week's Reno Ready, Goodstein outlines his plans for updating the tired kitchen and revamping the closets, and explains why he'd open the dining room to the living space.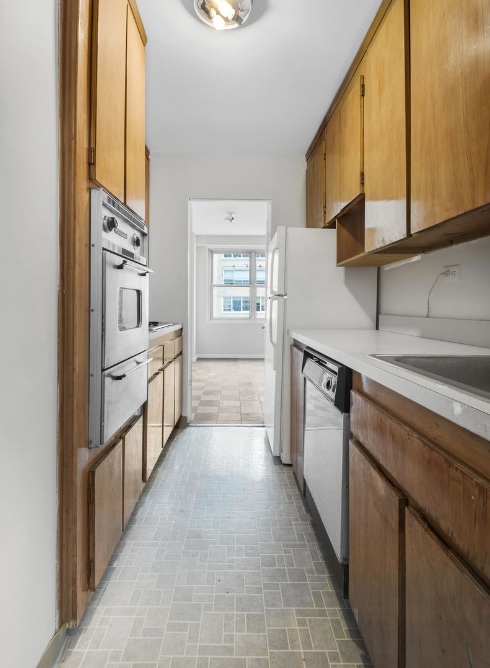 Add space to the kitchen
Add island: The space feels closed off to Goodstein, so he recommends taking out the cabinets on top of the sink area and turning the lower counter into an island. If the building allows it, he says, you should bump the island out toward the living room by about a foot and put cabinets underneath a seating area. "It'll be a little awkward to get to," he says, "but it'd be a nice place to put stuff you don't need every day." This should cost a few thousand dollars.
Cabinets: "These cabinets are probably shot," he says. If you're on a strict budget, you can skip the island and replace the existing cabinets with new ones from IKEA. These should cost around $6,000 to $9,000. If you have a little more money to spend, he'd go the custom route, which can be double or even triple that. He'd also extend the cabinets into the dining area to maximize storage space in here.
Floors: Goodstein isn't entirely sure what he'd do here. He'd either continue the wood flooring from the living room into here in order to connect the spaces or he'd put in "cool linoleum" that could work for a "real budget-level starter apartment" as a contractor can simply "roll it out and glue it down." A sheet of Forbo Moonstone Marmoleum Fresco is $3.99 per square foot at Floor City.
Appliances: "I'd contemplate keeping the oven if it's old, but high-end," Goodstein says, noting that it looks cool to him. But if it's beyond repair he'd replace it and the rest of the appliances in this kitchen.
This GE Profile 36-inch counter-depth French door fridge is $2,540 at AJMadison.com. This 24-inch GE Profile dishwasher is $643, also at AJMadison.com. This 30-inch GE Profile single wall oven is $1,893, also at AJMadison.com. And this 30-inch GE Profile gas cooktop is $893, also at AJMadison.com.   
Countertops: If you're trying to keep costs down, Goodstein would go with white Corian. "There's a nice tactile quality to it and you can buff out stains," he says. If there's a little more wiggle room in the budget, Goodstein would opt for either marble, which is perennially popular, but requires lots of maintenance or quartz. which he says is "pretty indestructible." Marble or quartz could cost around $70 to $100 per square foot. Corian will be less.
Backsplash: He'd also run the countertop material up the wall to serve as a backsplash. "It might look dated, but what goes around comes around," he says. Another option is simple white subway tiles for the backsplash. "You can do a dark grout for a nice contrast," he says. "Subway tiles are classic and less expensive than a slab of marble." These should be a few dollars per square foot.
Lighting: Goodstein assumes that the ceilings are concrete, which means that you can't add in any new lights up top unless you drop the ceiling—something he definitely doesn't want to do in a unit that already has low ceilings. So he would work with the junction box that's here and replace the current fixture with a new glass-enclosed piece that'll distribute light throughout the kitchen. Prices for this Dioscuri Outdoor/Indoor light start at $240 at YLighting.com.
He'd also add under-cabinet lights beneath the cabinets. These SlimEdge LED lights are $64 at Lamps Plus.
And if you do choose to build an island, he'd suspend a track above it and hang pendants from it. "That way, you'll make a feature out of it," he says. Prices for this Adjustable Standoff for Two Circuit Monorail by Tech Lighting start at $132 at YLighting.com. Prices for these Piper Pendant Lights start at $232, also at YLighting.com.
Sink/faucet: Goodstein would also put in a new under-mount sink and a new faucet. This Kraus Standart Pro sink is $225 at The Home Depot. This Kraus Artec Pro two-function pull-down single-handle kitchen faucet is $240 at Wayfair.
Take down the wall in the living room
Wall: The first thing Goodstein would do here is take down the wall separating the dining room from the living room. "It blocks light," he says, noting that the low-ceilinged space will feel more expansive once the wall is down. Knocking down the wall should be a small part of your contractor's overall demo quote.
Floors: "The joint lines are very fat, which leads me to believe that this isn't old, nice parquet," Goodstein says. "Someone probably put these in not that long ago." He'd therefore replace it all with new wood flooring. If you're trying to keep costs down, he'd go with character-grade wood flooring. This is wood that features color variations and knots, which some find charming, and others don't. This flooring should be around $7 per square foot (before installation). If you can spend a bit more, he'd choose wide-plank wood boards, $20 per square foot (before installation).
Paint: Goodstein's ok with the gray on the walls, but he'd prefer to paint them with the "brightest white available." He's partial to Benjamin Moore's Cloud White, $80 per gallon. He'd go with matte or flat on the walls and ceiling because "it masks all sorts of irregularities" and semi-gloss on the trim so that it stands out.
Lighting: He isn't a huge fan of the track lighting in here at the moment, and wonders why there are quite so many heads. If he had his druthers, he'd take the whole thing down and simply light the room with lamps. But if the new owner wants to keep the track, he'd lose a few heads to make it look a lot less busy. This Circa floor lamp is $795 at YLighting.com.
He'd also replace the fixture in the entryway with a newer, more contemporary piece. Prices for this Cirque flush-mount ceiling light start at $116 at YLighting.com.
Moldings: "They're pretty horrible and kind of cheap-looking," Goodstein says. He'd swap them out for taller moldings or very short ones, both of which will "look very sleek." These should cost a few dollars per square foot.
Closets: He'd make the deep closet to the right of the door in the living room shallower (so that it's the same depth as the closet in the kitchen and will make the space look more symmetrical). He'd also elongate the closet so that it stretches toward the front door. "That's lost space anyway," he says. This should cost around $4,000 to $5,000.
Window treatments: He would put horizontal blinds in all the windows. These Levolor two-inch real wood blinds are $68 at The Home Depot.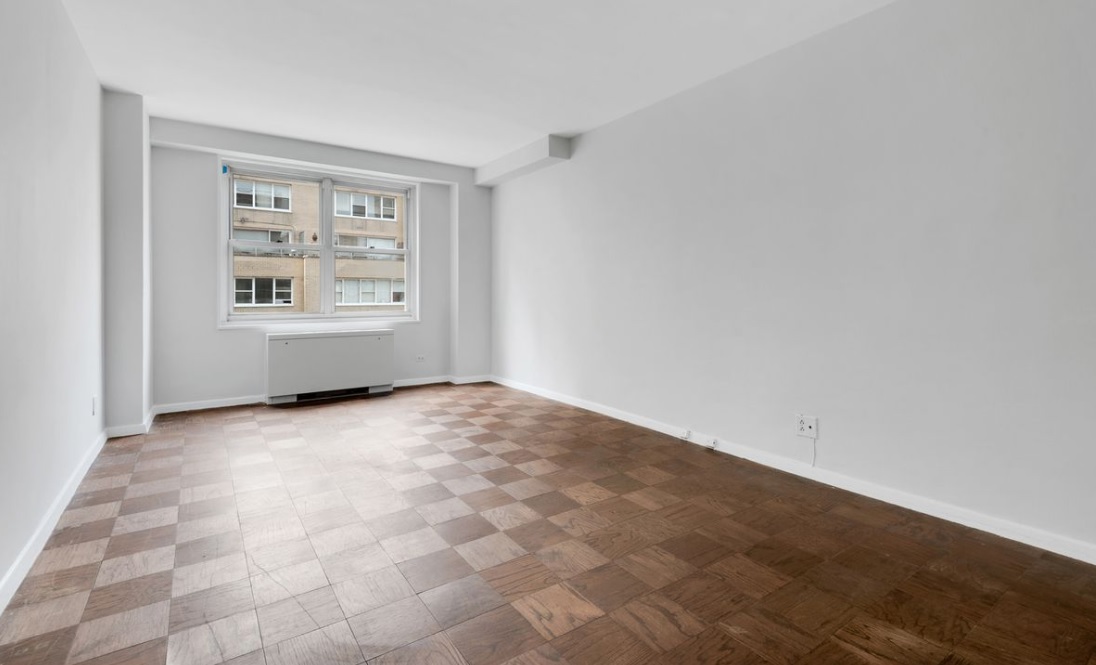 Redo the floors and closets in the bedroom  
He'd redo the floors and moldings in here, too, to match whatever is done in the living space, put up horizontal blinds, and illuminate the room with lamps.
Paint: "It's a personal preference," he says. "But sometimes it's nice to leave the main space white and have more color throughout the rest of the apartment." 
Closets: He'd reconfigure the closets in here, too. At the moment, there are two of them—one facing into the bedroom and one angled toward the door. He'd get rid of that second closet by combining it with the first to make a single large closet that faces into the room. And since the door to that second closet couldn't be open at the same time as the bedroom door, it'll make it much easier to maneuver in here. This should cost about $3,000 or so.
A mystery bathroom
There aren't any pictures of the bathroom, which is very telling. "It probably needs to be completely gutted," Goodstein says. He thinks that pricing for redoing a bathroom this small should start at around $20,000.  
Brick Underground articles occasionally include the expertise of, or information about, advertising partners when relevant to the story. We will never promote an advertiser's product without making the relationship clear to our readers.