Brick Underground supports our readers with product recommendations specifically curated for New Yorkers. If you buy something through our links, we may earn an affiliate commission.
You can get a great return on your investment by turning the dining area of this $699,000 Sutton Place apartment, 333 East 55th St., #1E, into an actual bedroom, says architect Alan Berman of Archetype Architecture. He proposes closing it off to the kitchen, and adding a wall, a door, and a closet.
But that's far from the only thing he'd do with this one-bedroom fixer-upper. Most importantly—for hygienic reasons—he would rip up the wall-to-wall carpeting that's used throughout the apartment, even in the kitchen and bathroom! (Eeew.)
---
[Editor's Note: In Brick Underground's Reno Ready column, an architect looks at a listing for a NYC fixer-upper currently on the market and suggests how to improve it.]
---
In this week's Reno Ready, Berman explains what he'd do to make the space more livable, including gutting the kitchen and bathroom, changing out the cheap-looking hollow-core doors throughout the apartment, and making the closets more functional.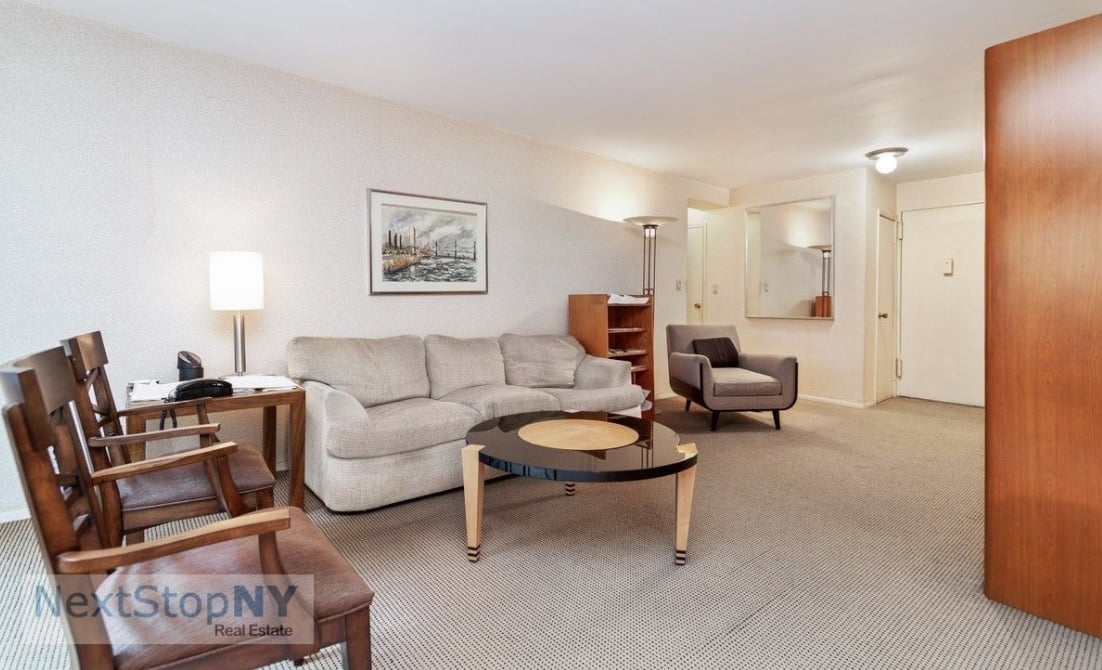 Rip up the wall-to-wall carpet in the living room
Closet: Berman would change up the closet to the right of the entry door. "It's not very functional as is," he says, noting that he thinks it'd work better if the door was on the longer side—far away from the front door. He'd therefore close up the current door and open a new door on the long side. Filling in one wall and opening up another should costs around $2,000 or so.
Floors: The wall-to-wall carpet has got to go, Berman says. He thinks there's probably old-school parquet floors underneath that he wouldn't like, either. But he also thinks that they probably have asbestos glue on them, which would cost a fortune to replace. He'd therefore recommend simply laying a new wood floor on top of the old one. He'd go with modern-looking wide planks in a light shade to keep things bright in the apartment. These should cost around $12,000-$15,000 for the whole unit.
Walls: "I always want to repaint walls," Berman says, adding that he isn't a fan of white or beige neutral-type tones. He'd prefer gray in here. A gallon of Benjamin Moore's Gray Owl is $80.
Moldings: The current baseboards/door casings are "old and crappy," Berman says. He'd replace them throughout the apartment. These should cost a few thousand.
Radiators: They look rather beat up, so Berman would either swap them out for new ones if the new owner wants them covered, or he'd strip them and paint them a metal color to make them look "retro and fun." This should cost around $4,000 for all the radiators in the apartment.
Electrical: Since the apartment hasn't been renovated in many years, Berman thinks it'd probably be a good idea to update the electrical. This should cost between $15,000 and $17,000.
Window treatments: He'd get Roman shades for all the windows in the apartment as they look clean and modern. As for color, "most people like neutral, but I think contrast adds definition and texture," he says. "Pick a color that'll work well with your furniture." Prices for these Roman shades start at $432 at The Shade Store.
Lighting: He'd swap out the light fixture in the entryway for a newer, more contemporary flush-mount. Prices for this Sculptural Metal Flush-Mount start at $77 at West Elm.
As for the rest of the room, he thinks the ceilings are too low to drop them for recessed lights, but he would install soffits around the perimeter of the room and install lights in the soffits. This can be an expensive endeavor, though. Building the soffit should cost between $5,000 and $8,000, and each light point will be around $250 to $300.
It'd be a lot cheaper to simply put sconces up. These Fabric Wall Sconces are $66 at Lumens.
Doors: He'd replace the cheap-looking hollow-core doors throughout the apartment with taller eight-foot, solid-core doors that'll look more substantial and will make the ceilings feel higher in here. These doors should cost between $400 and $500 off the rack, or between $800 and $900 custom.
He'd add some retro hardware, replacing the brass knobs with bronze. These should cost around $30 to $40 per door.
He'd also paint the doors black or navy. "It's a cheap way to add more architecture and more interest to the room," Berman says.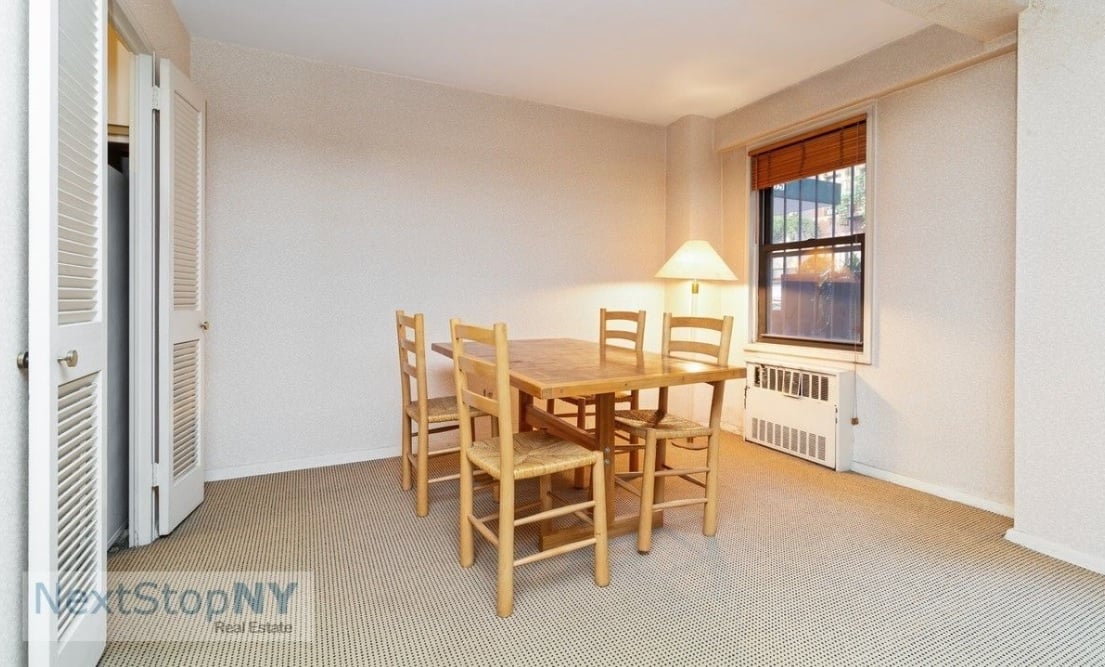 Make the dining room into a bedroom
He'd replace the moldings in here, too, and continue the new wood floors in here to make the rooms feel connected.
Enclose it: Berman would close off the door to the kitchen, as well as build a wall separating the space from the living room in order to make it into a bedroom or a den. It should cost around $1,200 or so to do this.
Door: He'd add glass French doors that could be left open often is using this room as a den. These should be around $1,000.
Lighting: The room isn't all that large, so Berman recommends a single standing lamp and a table lamp on the side of the bed. "That'll be enough," he says. This Magdeburg Arch Floor Lamp is $363 at Lumens. This Virage Table Lamp is $424, also at Lumens.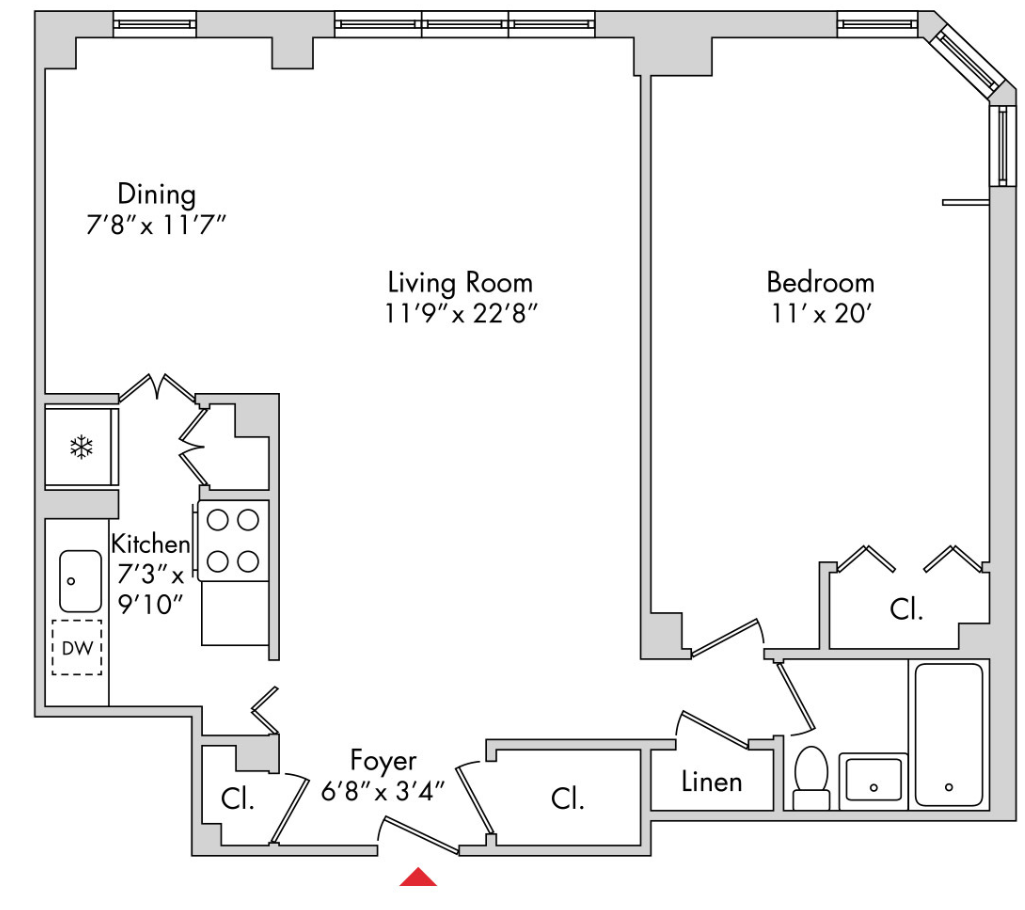 Walls: If you're planning to use the room as a den and keep the doors open most of the time, then Berman suggests painting the walls the same gray as the living room. If you're going to use it as a bedroom, then he suggests that you "express yourself with some color."
Closet: Berman would also add in a closet in the lower left-hand corner of the room on the wall opposite the fridge. He thinks this should cost around $2,000.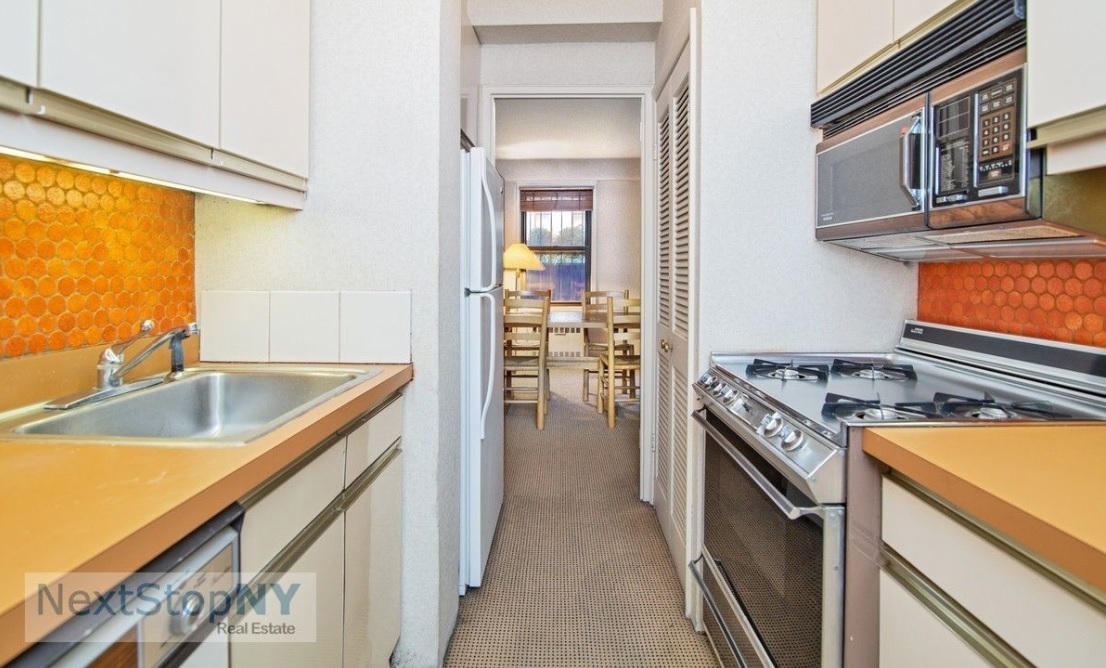 Lose the kitchen pantry to get more counter space
Pantry: It might seem counterintuitive to get rid of much-needed storage space in a small apartment, but Berman would get rid of the pantry in here. "A pantry's great in a big kitchen," he says. "But you need counter space in here." He'd take down the wall behind it too and build a breakfast bar there with room for two or three stools.
Countertops: He'd build that breakfast bar, as well as the remainder of the countertops out of Caesarstone or quartz. These should cost between $3,000 and $4,000.
Flooring: Berman would bring the wood in here, too, "to make the space feel more contiguous." He finds it hard to understand why anyone would have put carpeting into a kitchen. It simply makes no sense.
Cabinets: The current ones "are horrible," Berman says. He'd swap them out for simple flat-panel cabinets—"not IKEA, but inexpensive"—that will "play up the mid-century-ness of the building." He'd go with white if the occupant wanted a more traditional look, and two-tone (with darker cabinets on the bottom level and white on the upper) if he or she is more adventurous. New cabinets should cost between $15,000 and $20,000.
Wall: There's a large, unsightly wall between the fridge and the sink that Berman would love to do away with, but can't because it contains a number of pipes. He'd therefore add a panel that matches the new cabinets to make it look more seamless.
Appliances: Berman would opt for an appliance package to save some money. An Electrolux package from AJMadison.com includes a 36-inch counter-depth French door fridge, a 30-inch freestanding gas range, a dishwasher, and a wall-mount chimney hood for $7,593.
He'd also get a microwave, but would install a drawer for it instead. "It'll be easier to access," he says. This Bosch microwave drawer is $1,344, also at AJMadison.com.
Lighting: Berman would run a track with a few heads in order to keep the place bright. He'd also add under-cabinet lights. This Vector Energy Star LED four-light fixed rail is $318 at Lumens. This Unilume Slimline seven-inch under-cabinet light is $128, also at Lumens.  
Sink/faucet: He'd put in a new undermount sink and a faucet that'll provide hot water in an instant. This Kraus undermount sink is $225 at The Home Depot. This InSinkErator Indulge Contemporary Two-Handle Instant Hot and Cold Water Dispenser Faucet is $409, also at The Home Depot.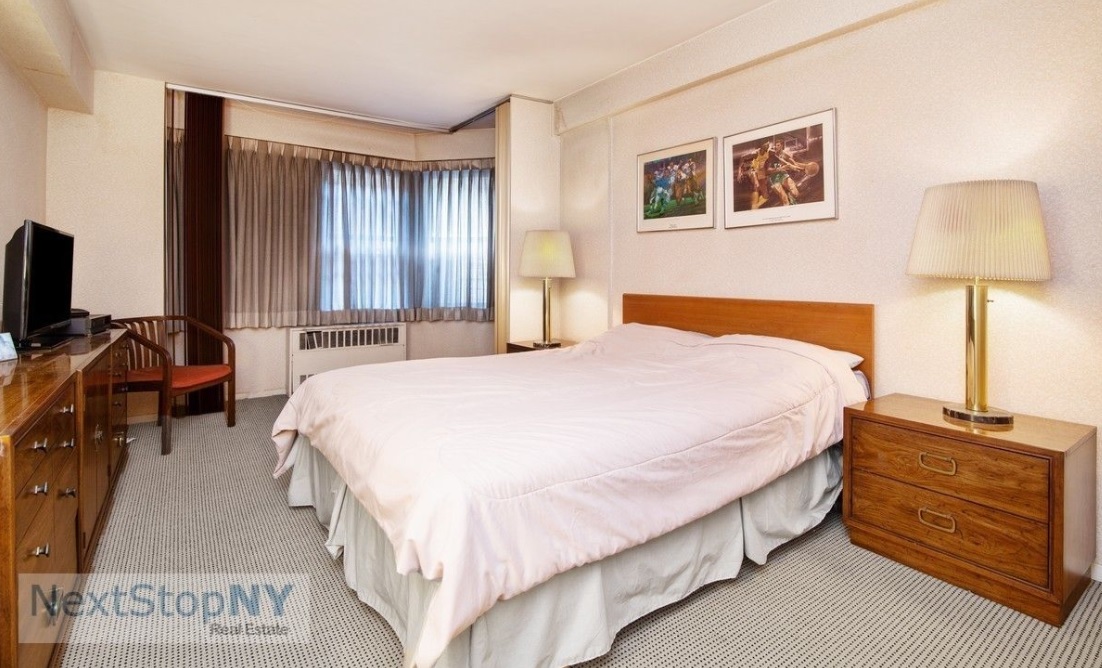 Put wood floors in the bedroom
He'd put in the same wood floors as in the living room, put Roman shades up on the window, and do whatever he did to the radiator in here, as well, in order to keep things linked throughout the unit.
Closet: The room is rather long, but doesn't have that big of a closet. Berman suggests doing away with the existing closet and replacing it with a piece of millwork that will go all the way down the long wall that it shares with the living room. It'll have space to hang clothes, some drawers—even room for a TV and a small built-in desk. This should cost between $15,000 and $20,000.
Walls: "I'd choose a wall color that complements their furniture and shows off their personality," he says.
Lighting: He thinks a pair of table lamps should be enough to light up the room. This Park 1 Light Table Lamp is $150 at YLighting.com.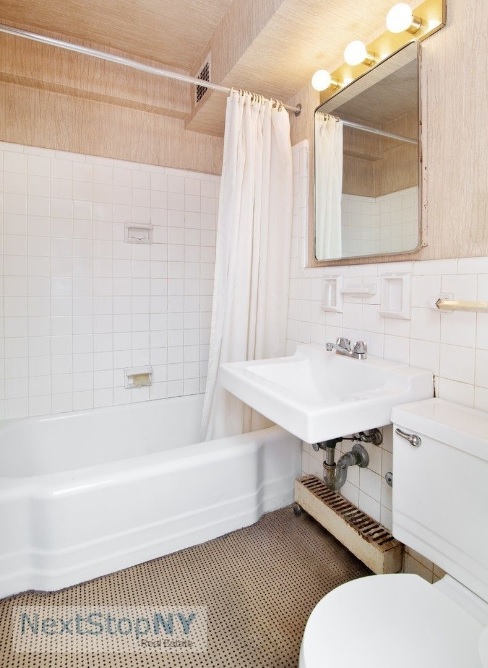 Replace the radiator in the bathroom
Radiator: The first thing Berman would do in here is trash the radiator and put in radiant floor heating, instead. This should cost around $750.
Toilet: He'd get a new toilet, like this Toto Aquia dual-flush elongated two-piece toilet, $499 at Wayfair.
Bathtub: He'd also put in a new tub. This Kohler tub is $790, also at Wayfair.
Tiles: He'd go for tiles on both the walls and floor. Prices will vary based upon what the occupant chooses.
Vanity: Since this is a small bathroom, he thinks a vanity with some storage would be a better idea than the pedestal sink. This Briceno single bathroom vanity is $560 at AllModern.com.
Curtain: He'd get rid of the old-school curtain and rod and replace it with a single glass panel next to the sink that can fold out. "It's sort of European-looking and will feel less claustrophobic," he says. This should cost around $2,500 or so.
Medicine cabinet: He'd swap out the ancient medicine cabinet for a newer one. This one from Kohler is $665 on Build.com.
Lighting: He'd also put up a more contemporary light atop the new medicine cabinet. Prices for this Stix LED Bath Bar start at $273 at YLighting.com.
Plug: There doesn't appear to be an outlet anywhere in this bathroom. He'd have one added in so that the occupant can blow dry her hair or plug in an electric toothbrush. This should cost around $200 to $300.