Brick Underground supports our readers with product recommendations specifically curated for New Yorkers. If you buy something through our links, we may earn an affiliate commission.
This Midtown East one-bedroom co-op, 245 East 54th St.,  #3F, has a lot going for it and one very big drawback: It's stuck in the past. To Ritu Saheb of Saheb Architecture, it "is a fantastic apartment." She says it gets great light and is in a desirable neighborhood. "But it got the '70s treatment," she says, pointing to the mirrored walls in the living/dining areas, and notes that it clearly hasn't been updated in some time.
She also dislikes the strangely partitioned living room, which has a wood frame around the area closest to the window and wood floors running in two different directions. "The owner probably rented out that space to someone else and put a curtain there to separate the areas," she says.
In this week's Reno Ready, Saheb explains how she'd unify the living space so it feels like one cohesive room, while also modernizing the apartment as a whole.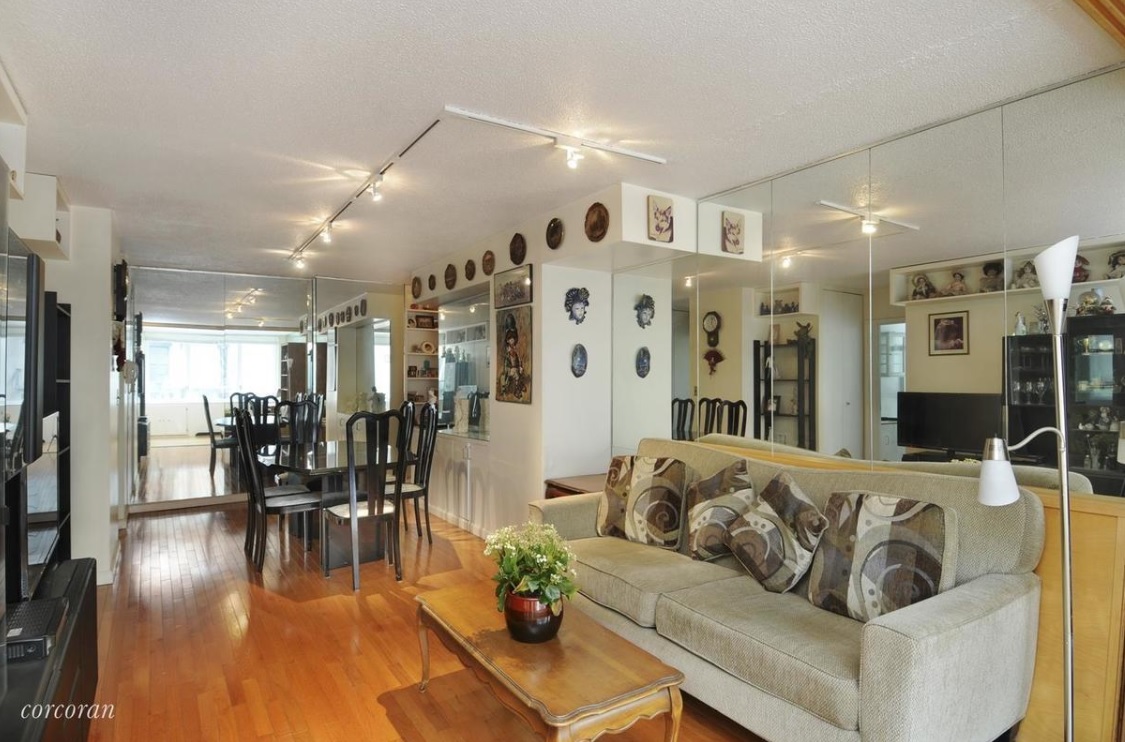 Lose the glass in the living/dining room
Walls/ceiling: "I don't like this glass," Saheb says matter-of-factly. "It's a well-lit apartment. There's no need to bounce light around." She'd have the mirrors removed, as well as the wooden frame around the area closest to the window. She'd also take out the soffit on the left hand side (which currently has plates hanging from it) in order to open things up even more. "I can't imagine there's a reason for it," she says.
She'd then have the walls cleaned up since they'll probably look beat up after the mirrors come down. She'd smooth out the ceiling, as well, since it has a textured look that she isn't fond of. Once everything is evened out, she recommends painting the walls and ceiling a neutral white that will appeal to most buyers. Demo work should be $1,000 or so. Cleaning up the walls and ceiling should cost around $15,000 for the entire apartment. A gallon of Cloud White is $75 at Benjamin Moore.
Radiator cover: Saheb likes the built-ins on either side of the radiator, but would prefer more modern ones. New millwork for the living room, bedroom, and kitchen will be around $10,000.
Window treatments: The natural light is one of the best things about this apartment, so Saheb advises going with light or sheer drapery that'll frame the windows nicely and won't block the light. This Leland semi-sheer single curtain panel is $13.99 at Wayfair.
Flooring: The floors running in opposite directions look strange, so Saheb suggests ripping them all out and putting in all-new light-colored oak boards that'll brighten the space up considerably, as well as make things feel continuous. It should cost around $15,000 to redo the flooring in the entire apartment.
Lighting: Saheb does not like the track lighting that's currently in here. She'd love to replace it with a pendant light to give it some character, but says the ceiling is probably a concrete slab that can't be drilled into. She advises going with a series of floor and table lamps. Prices for the Archer floor lamp start at $540 at YLighting.com.
Dining table: While Saheb doesn't love the table and chairs is smack dab in the middle of everything, she doesn't see any other place for a dining area. She would move it further back to the wall, as close to the kitchen as possible so it's less intrusive, she says. She'd also get a smaller, lighter-colored table, something "without such big lines." This white, round-top Ponce dining table seats four, and is $553 at Wayfair.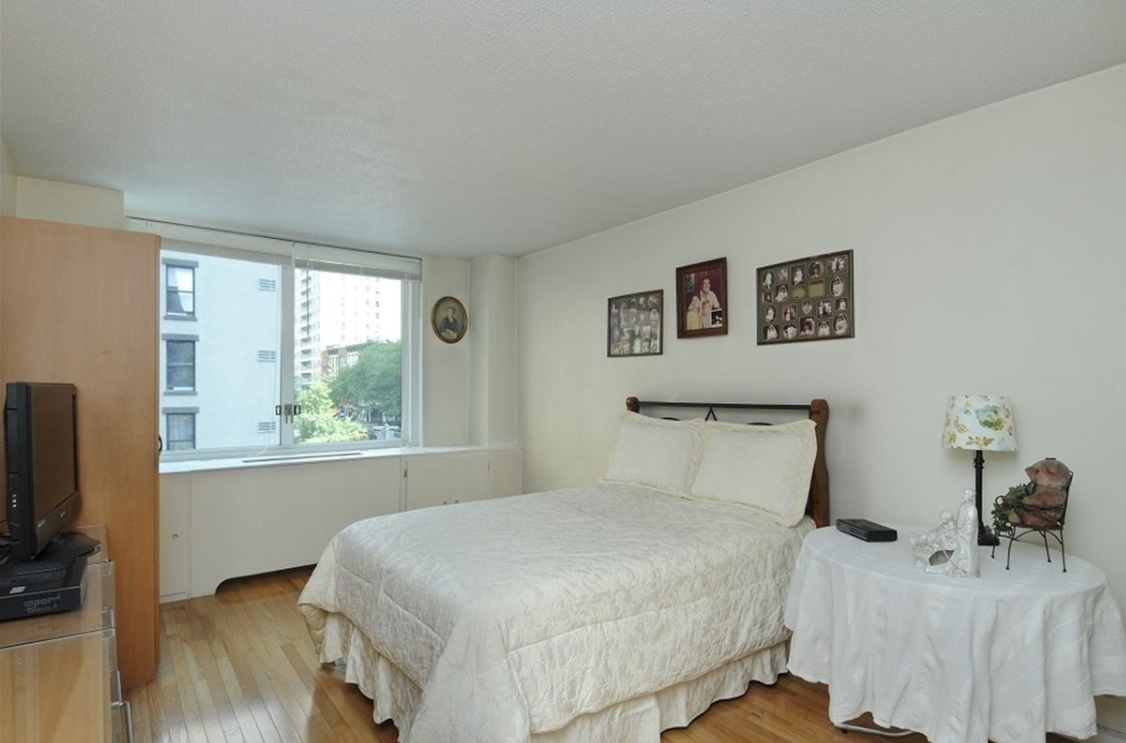 Give the floor in the bedroom a makeover
Saheb would redo the floor in here, as well, to bring a continuity to the entire apartment. She's also paint the walls the same white as the living/dining room, and have a similar piece of millwork built to enclose the heater and add some storage.
Window treatments: She'd go with drapes in here, too, but would opt for more opaque pieces that would give the occupant the privacy he or she needs in a bedroom. Prices for these velvet curtain panels start at $119 at CB2.
Furniture: Saheb is baffled by the furniture in here, specifically by the full-sized bed ("a king-sized bed can definitely fit comfortably in here," she says) and what looks to be a dining table next to the bed. She'd replace the bed with a larger one and the dining table with two bedside tables. She'd also relocate the large cabinet by the window to the right side of the bed—away from the window—so it won't block the window. This Skulsfjord king bed frame is $439 at IKEA. This single-drawer warm cherry nightstand is $50 at houzz.com.
Lighting: She'd add contemporary-looking lamps atop the new nightstands, as well as a floor lamp on the other side by the TV. These modern bedside lamps are $50 each at AllModern. This floor lamp is $139 at Lights.com.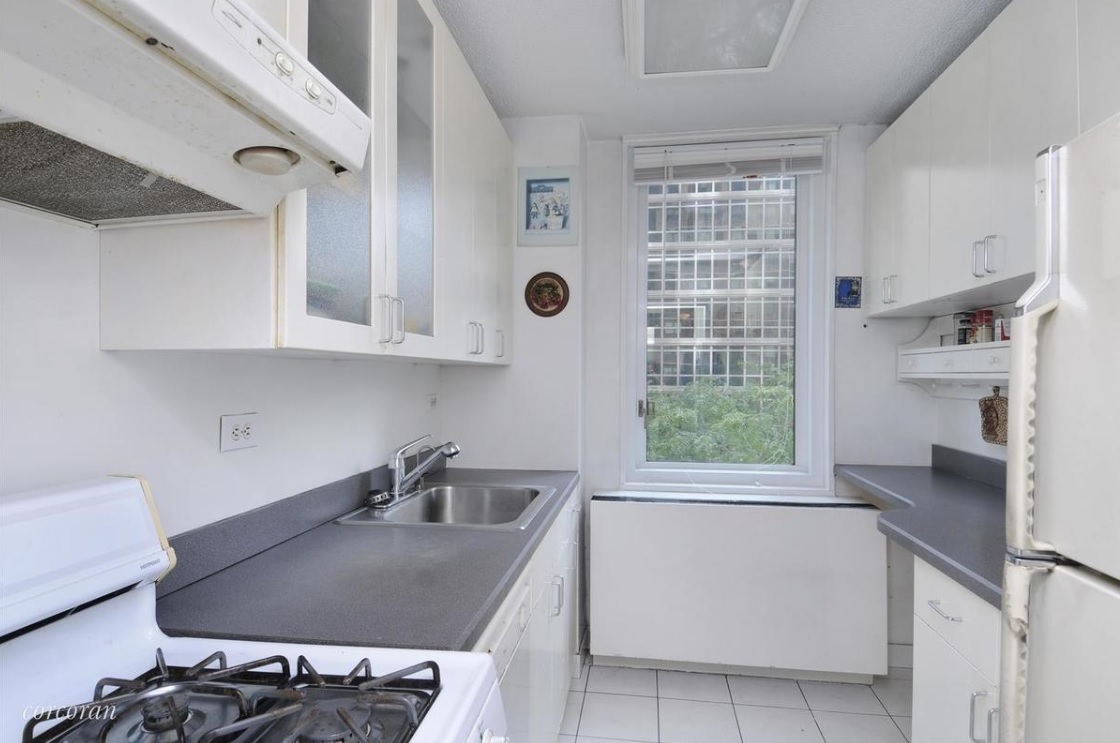 Upgrade the kitchen appliances
Appliances: "That cooking stove looks like it's from 30 years ago," Saheb says. "That has to come out." She'd also get a new refrigerator, as well as a built-in microwave with a recirculating hood in order to save space in this rather petite kitchen. She'd go with stainless steel for all as she likes the way it looks. This freestanding gas convection range is $700 at Best Buy. This GE over-the-range microwave is $590, also at Best Buy.  This GE stainless steel side-by-side fridge is $1,100, also at Best Buy.
Countertops/backsplash: Saheb would lose the boring gray countertops and replace them with granite in a dark shade—black or brown—in order to pretty the space up a bit. As for the backsplash, she'd choose glass tiles that'll reflect light in and make the room seem brighter. Granite slabs should be about $8,000 or so. The glass tiles will be around $10 to $15 per square foot.
Cabinets: "Instead of antiseptic white, I'd go with something warmer," she says, noting that she'd pick either a warm cherry wood or a mahogany. These will cost around $15,000 or so.
Floor: Saheb would like for what's underfoot to "give the room some character." She'd therefore recommend ceramic tiles that play off the color of the countertops. These will cost around $6 per square foot.
Radiator cover: She'd again opt for new millwork around the radiator, something that'll match the living room and bedroom.
Window treatments: Since "the kitchen environment is very oily," Saheb advises going with roller shades rather than drapes in here. "They'll be easier to clean," she says. Prices for these light-filtering shades from The Shade Store start at $219.
Lighting: Saheb would install an overhead fixture that "has a little height or depth to it," and will add some charm to the space. She'd also add under-cabinet lights. This two-light semi-flush mount is $95 at Wayfair. These LED light strips are $15 at IKEA.
Sink and fixtures: A new sink and faucet will also be necessary. This Elkay under-mount sink is $695. This Kohler single-handle pull-down spray faucet is $440 at eFaucets.com.
Bathroom probably needs to be overhauled too
There aren't any photos of the bathroom, but Saheb says she assumes it and the kitchen are in similar shape and will need to be completely revamped.
Vanity: "I love vanities because they store stuff," Saheb says simply. She'd have one custom made with the same wood as the cabinets in the kitchen, and with the same granite top so the two rooms will feel connected. This vanity should cost between $5,000 and $7,000.
Tub/Toilet: "I'd definitely do a new tub and a new commode," she says. "But I'd keep things pretty simple. Nothing fancy." This American Standard toilet is $324 on Build.com. This Kohler cast iron soaking bathtub is $385, also on Build.com.
Fixtures: Saheb would choose chrome fixtures to match the faucet in the kitchen. This chrome shower system with rain shower head and hand shower is $495 at The Bath Outlet. This chrome round bathroom sink faucet is $266, also at The Bath Outlet.
Tiles: She would go with simple ceramic tiles on both the walls and floor. On the walls, she'd go all the way up to the ceiling to make things easier to clean. As for color, that all depends on the future occupant's tastes. These tiles should cost between $3 and $5 per square foot.
Lighting/medicine cabinet: Saheb would choose a medicine cabinet that can be recessed into the wall, which will have built-in lights on both sides to better illuminate a person's face. This Kohler Verdera lighted medicine cabinet is $899 on houzz.com.