Brick Underground supports our readers with product recommendations specifically curated for New Yorkers. If you buy something through our links, we may earn an affiliate commission.
First, the bad news: This Financial District two bedroom, 299 Pearl St., #2A, has a tricky layout and is "very dated and needs lots of work," says architect Niv Ben-Adi, founder and principal of architecture and design studio Atelier036. But on the plus side, it has "long windows that bring in lots of light" and a nice separation of public and private areas, he says. The apartment is listed for $850,000.
Ben-Adi hates the very long hallway leading to the bathroom, which he calls "useless," and the odd layout of the kitchen, where the sink is situated an inconveniently long distance away from the main working area.
---
[Editor's Note: In Brick Underground's Reno Ready column, an architect looks at a listing for a NYC fixer-upper currently on the market and suggests how to improve it.]
---
In this week's Reno Ready, Bed-Adi outlines his plans for updating the apartment, including opening the kitchen to the living space and extending the bathroom into that very long hallway.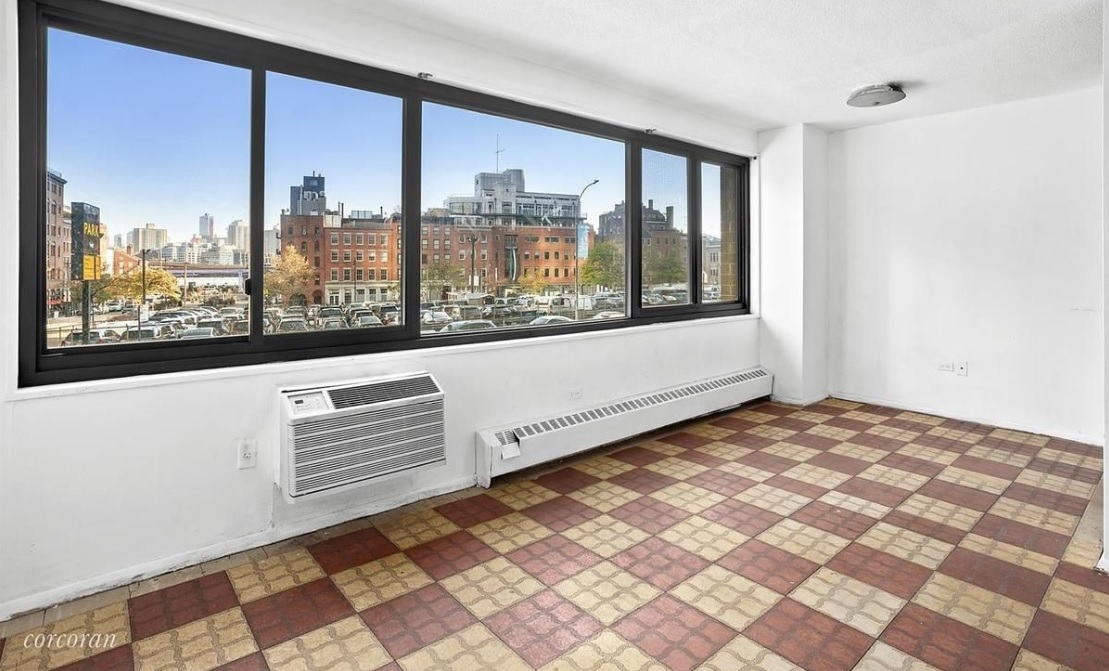 Redo the living/dining room floors
Floors: These ridiculous checkerboard floors need to be gone ASAP, Ben-Adi says. He'd swap in wide-plank engineered wood with a minimal grain. "It's very light in appearance, so you can harvest as much natural light as possible," he says. New wood flooring for the entire apartment—including the kitchen—will cost $25,000 to $30,000.  
Radiator/air-conditioner cover: He'd have a custom cabinet built under the window—from end to end—to enclose the radiator and A/C, and add some much-needed storage to the apartment. This should cost around $500 per linear foot.
Paint: Ben-Adi recommends sticking with white. He'd choose Benjamin Moore's Decorator's White, $80 a gallon, in an eggshell finish because it "has a more finished look." He would skim-coat the ceiling to clean up any imperfections and paint it the same Decorator's White, but with a high-gloss finish. "It'll reflect the light better," he says. Skim-coating could cost a few thousand.
Hallway: Ben-Adi feels that the hallway leading to the bathroom is huge waste of space. He would try to make it feel shorter and the bathroom a little larger, and also redo the closets and doorways of the bedrooms. He would move the door to the smaller bedroom and to the wall separating the two bedrooms. Then he'd take the large bedroom door and move it to face the bathroom. He'd also replace these swing doors with pocket doors. "It'll save a lot of space," he says. These changes should cost a few thousand.
Lighting: Ben-Adi recommends dropping the ceiling about four inches in the living area in order to recess 8 to 10 shallow lights. These should cost around $400 to $500 per head.
In the dining area, he'd opt for a pendant light—something "architectural" with "a timeless look." Prices for this Skan Small Pendant Light start at $1,109 at YLighting.com. He'd also install a surface-mounted linear fixture in the hallway to light the way to the bathroom, like these from Inter-Lux. Prices vary.
Window treatments: Ben-Adi would put up remote-controlled solar shades so you won't have to leave the couch to bring some sunlight into the room. These should cost around $1,500 per shade. He'd put similar ones in the bedrooms.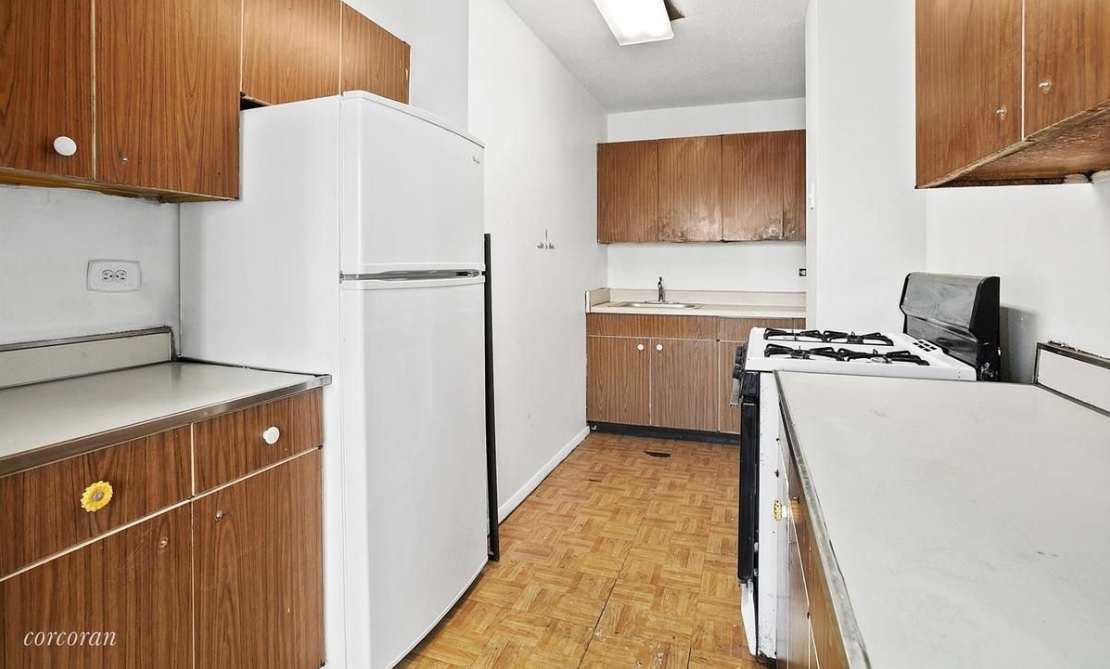 Create a peninsula in the kitchen
Wall: Ben-Adi would remove the top part of the wall behind the stove—creating a peninsula in the process—in order to open the space up to the living room. "That way, you can cook and wash vegetables while still entertaining your guests," he says. He'd make that peninsula 14 to 16 inches deep and add some bar stools to it. Knocking down that wall will be a part of your contractor's overall demo cost.
Sink/faucet: Ben-Adi would get a new sink and faucet, and, if the building allows it, he'd relocate the sink to the right side of the cook-top, closer to the rest of the action. This Blanco Quatrus kitchen sink is $389 at QualityBath.com. This Blanco Culina mini semi-professional kitchen faucet is $271, also at QualityBath.com.
Cabinets: He'd replace all the cabinets with new ones from IKEA. But he'd only go with lower cabinets as he feels there will be enough storage space without upper ones. Plus, "you won't bang into this overhead box of wood," he says. He'd opt for either high-gloss white cabinets or white ones with a matte finish depending on what the apartment's new occupant prefers.
He'd also have a floor-to-ceiling shallow pantry—no more than 12 inches deep—built in the area that currently holds the sink. "Once you get too deep, things get lost back there," he says. All these cabinets, including the pantry, can be purchased for around $6,000.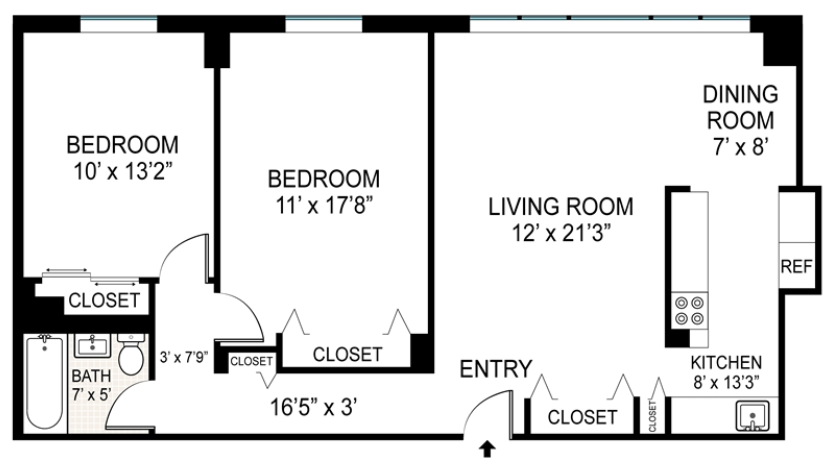 Countertops: He thinks Caesarstone counters in a light gray will look nice in here against the white cabinets. Caesarstone for the countertops and the new island should cost around $7,000.
Lighting: "I'd go with LED down-lights in here," Ben-Adi says, explaining that they'll be both effective and inexpensive. He'd put about 10 lights up top, and estimates that they'll cost around $250 to $300 each.
Appliances: He'd get all-new appliances to keep things looking neat in here. He'd go with either stainless steel or panel-ready, depending on the client's preference. This Bosch four-piece kitchen appliance package is $6,186 at AJMadison.com, and includes a French door refrigerator, a gas range, a dishwasher, and an over-the-range microwave in stainless steel.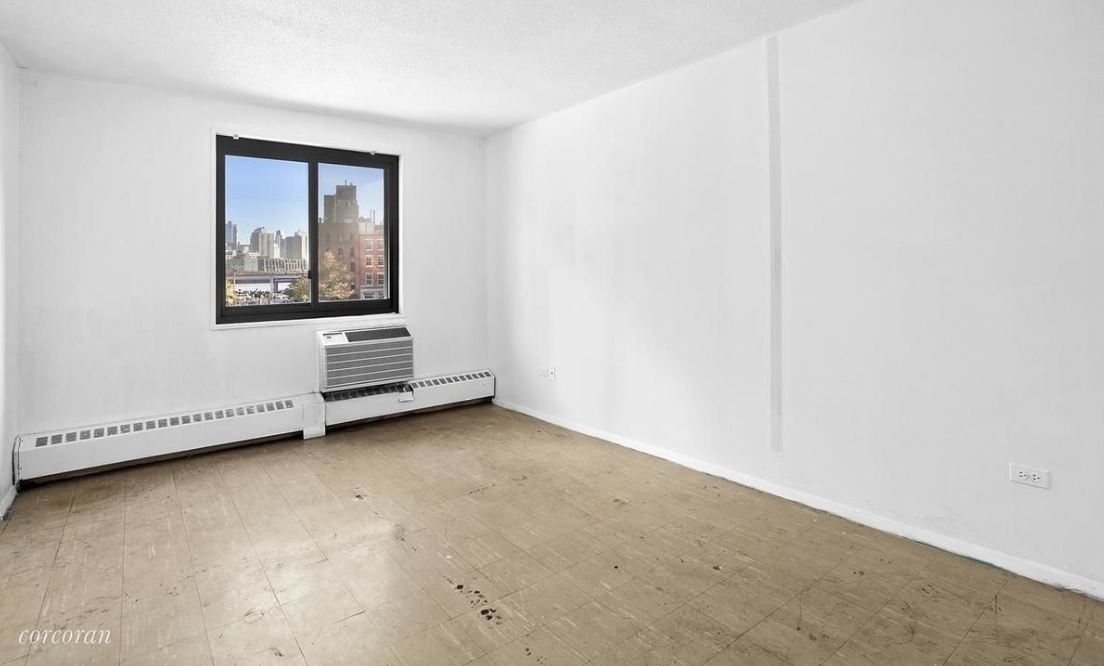 Install shades in the bedrooms
He'd install new wood flooring in both bedrooms, put up remote-controlled shades on the windows, and have custom covers built both to hide the radiators and air-conditioners and for extra shelving/storage. He'd also paint the walls white. "What's going to animate the space will be the furniture, the rug, etc.," he says.
Lighting: Ben-Adi would put reading lights up over the beds in both bedrooms, like these Fuse Unswitched LED wall sconces. Prices start at $218 at YLighting.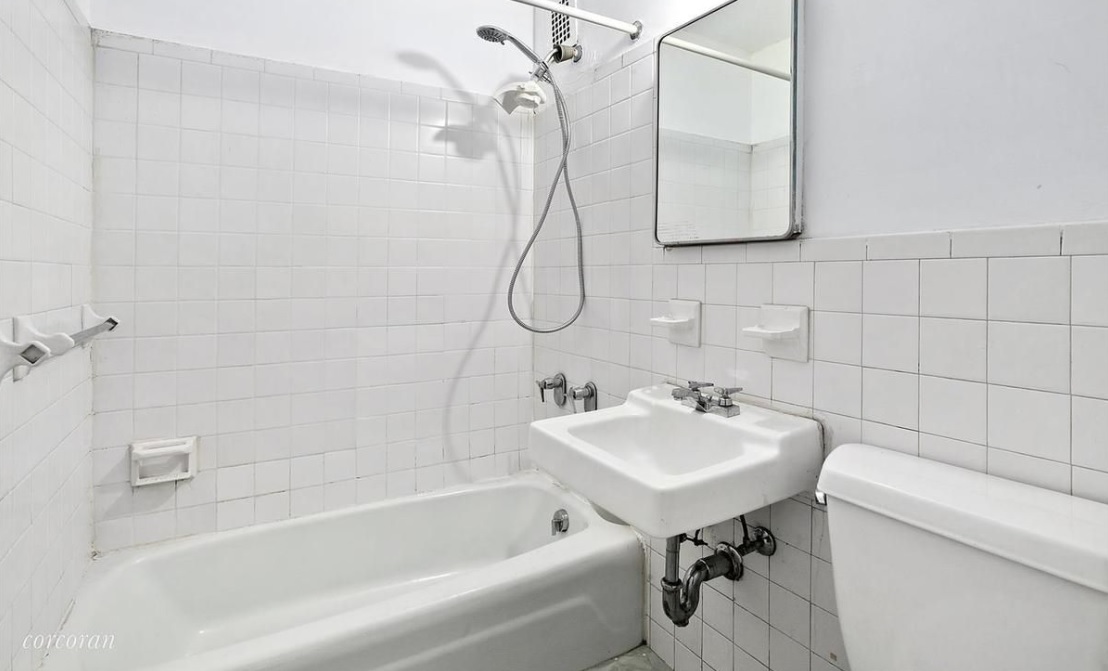 Add a vanity to the bathroom
Sinks: Ben Adi would swap out the sink for a wall-mounted vanity that'll provide some storage. Plus, he'd add a second sink to the right of the toilet (where there will be extra space once you expand the bathroom into the hallway), so that there can be his and hers sinks. "It's unusual, but quite an add-on," he says. This 24-inch vanity cabinet with fitted sink is $997 at The Bath Outlet.
Tub: He'd remove the tub and replace it with a standing shower with a glass enclosure. "It'll open the bathroom up quite a bit," he says. This Dreamline frameless corner hinged shower enclosure is $670 at The Home Depot.
Wall tiles: He'd get large-format white tiles in a matte finish and go all the way up the walls with them. These should cost around $7-$8 per square foot.
Flooring: "They should be a light concrete color and extend to the rear wall of the shower," he says. These should also cost $7-$8 per square foot.
Medicine cabinet: A new medicine cabinet is in order. Ben-Adi would prefer one with integrated lighting. This Robern lighted cabinet is $2,049.
Lighting: In addition to the light from the medicine cabinet, he'd have a few LED down-lights put into the ceiling—one over the shower and three throughout the rest of the bathroom. These should cost around $250 per point.