NYC Renovation Q's
Here's how much it costs to combine two apartments in Brooklyn
Plan on an average cost of $250 to $300 per square foot for gut renovating one or both apartments
Structural work, such as creating the opening and staircase in a vertical combination, will push the cost higher
Other costs come from replacing interior doors, flooring, and windows if they are inconsistent across units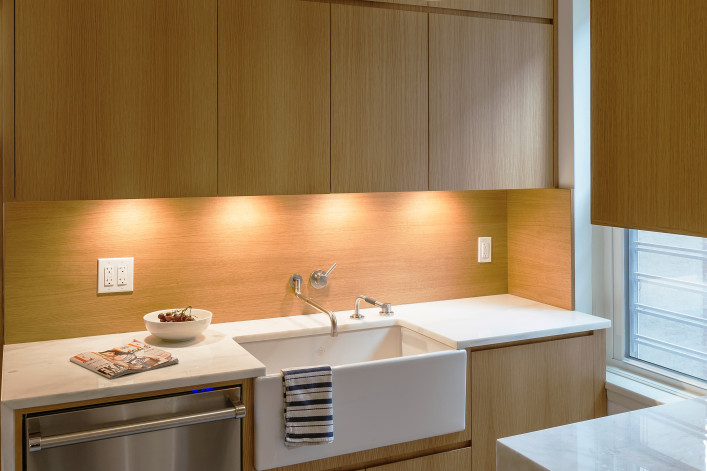 If you've outgrown your current apartment, combining it with an adjacent apartment—either side-by-side or top-and-bottom—can be a cost-effective way to get a larger space, especially in a tight market with low inventory and high prices. Buying an additional unit in your own building will save you the costs involved in selling and moving to a new location, too. And you can put those savings into your renovation.
But if being able to snag an adjacent apartment is unlikely, purchasing two smaller units that you can combine might be an affordable alternative to finding a three or four bedroom in your price range. Some sellers package two units as a combination opportunity at a discounted price, which may allow you to get into a desirable building that doesn't otherwise have big-enough spaces. 
That was the situation for a family of four who bought two adjacent units in a Brooklyn Heights prewar co-op and turned to Mammoth, a NYC-based design-build firm, for renovation help. 
"This scenario can open up more design possibilities," says Mammoth founder Maryana Grinshpun. "You can gut-renovate both units to create a seamless look and configure a more desirable layout."
Either way, combining two apartments opens the door (make that two doors!) to getting a one-of-a-kind place that's anything but cookie cutter.
"There's literally nothing more exciting as a New Yorker than living out the dream (I for sure have had this dream) that there's a door in your apartment that you never knew existed—and with a closet behind it, or in this case a whole additional apartment!," says Mammoth co-founder Jessica Maktal.
While transforming two distinct layouts into a cohesive whole may sound complicated, it doesn't have to be. 
Pro Tip:
At Mammoth, we know you want to live in a home that speaks to who you are. "We make designing and building bespoke home renovations simple for those looking for custom design and quality construction, under one roof," says Maryana Grinshpun, Mammoth's Founder. "Clients boast about the transparency and ease of working with us. As an independent, woman-owned, design-build company, we will be your partner in delivering a stunning home and streamlined service. You'll spend less time worrying about your renovation, and wake up in a home that inspires you." 
See what our clients are saying >> 
The biggest consideration, according to Maktal, is not the total cost of renovating, which is similar to any renovation. "Instead, the question is whether you need to redo anything that you may have already done."
She points to a common scenario—let's say you renovated your apartment five years ago, just bought the one next door, and need to do some rework to marry the two together. "You have to think of the square footage as being larger than the new unit because the renovation is going to push into your existing space as well."
Given the peculiarities of these renovation projects, it's important to work with an experienced firm that can anticipate the challenges, turn those into design opportunities, and execute the plan for the most favorable outcome—e.g., a harmonious home that puts every inch of that "discovered dream" space to use.
What to budget for when combining apartments 
The average cost per square foot for a typical NYC apartment gut renovation—$250 to $300 per square foot—applies to combination projects as well. 
For the 1,650-square-foot Brooklyn Heights combination, that would translate to around $412,500 to $495,000 for mid-level finishes. This project involved gutting two bathrooms, combining two kitchens into one, installing new walnut floors, and furnishing three bedrooms, a home office, living room, dining room, and playroom. Note that no load-bearing walls were impacted, making the project fairly straightforward.  
By contrast, in a current combination project, the owners of a one-bedroom who purchased the adjacent studio in a post-war condo "want more common/living spaces and an overall sense of openness and connection for their kids and grandkids to come together and hang," Maktal says. "Here we are proposing taking down the full wall between the two units to give them a significantly larger kitchen, with room for all to circulate between multiple living areas, a new powder room, and a den."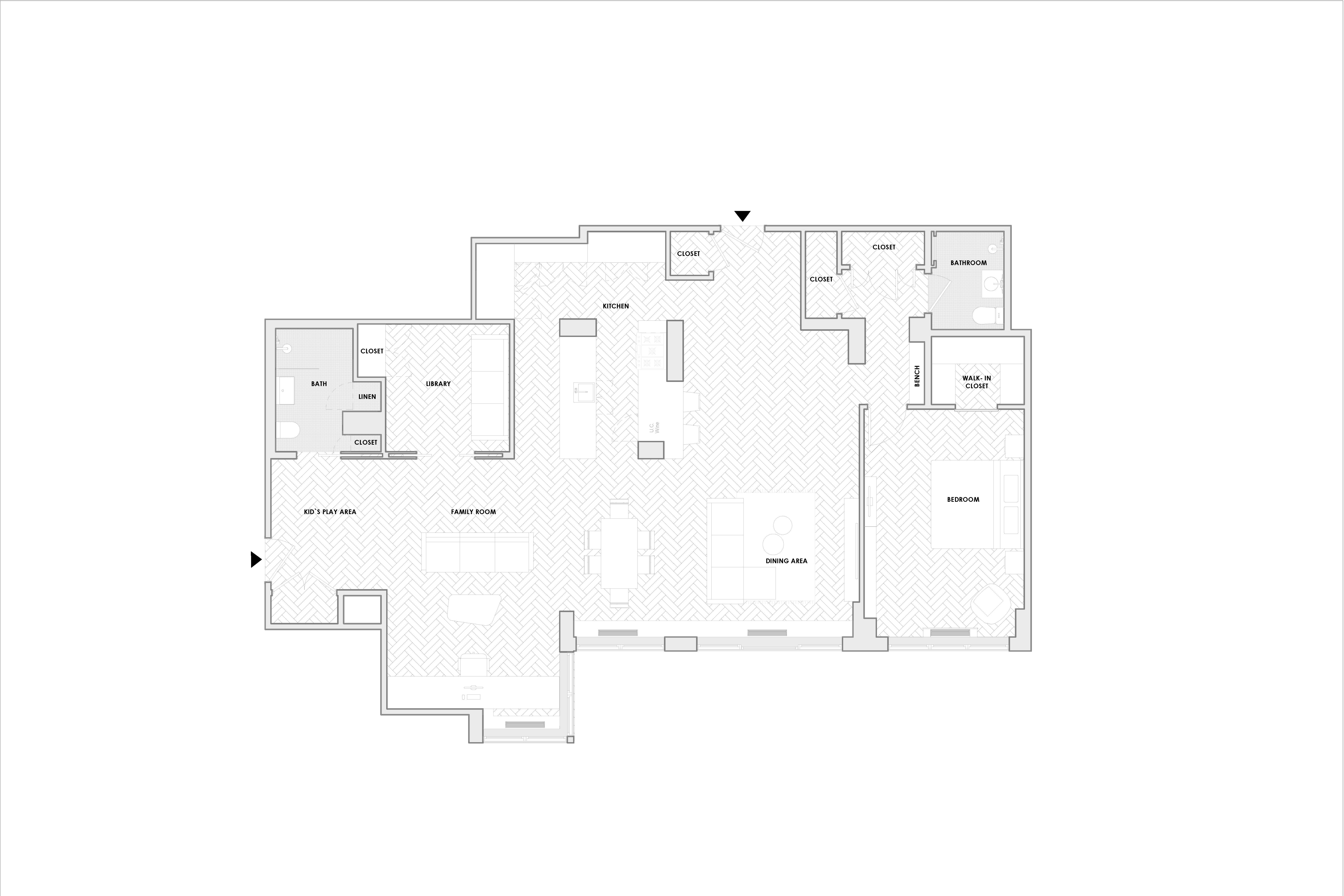 Even though the wall isn't structural, taking it down will require more demo work and impact the kitchen, which was renovated less than 10 years ago. 
Know, too, that a vertical combination will be more complicated and costly than a horizontal one. "The more you touch the structure, the more consultants need to be involved and the more permitting you will need," Grinshpun says. You'll also need to connect the upper and lower floors with stairs (more on that below). 
Even horizontal combinations tend to involve more base-building issues to make the flooring, baseboards, hardware, and doors consistent. "Rather than replacing everything for something new, matching the style to one of the apartments can help keep those costs down," Maktal says. 
How unifying two layouts can impact project costs
For Grinshpun, "One of the most interesting aspects of combination projects is that you get two of everything and then we can reimagine spaces beyond their original purpose according to the client's wants and needs."
For example, Mammoth repurposed the second foyer in the Brooklyn Heights combination into a family dining area for the owners and their two children. (More ideas for bonus foyers and other spaces are discussed below.) 
So unlike in a regular renovation, an initial design step is figuring out how best to maximize those duplicate spaces. Prewar buildings pose particular challenges stemming from the typical layout, where common areas are near the building's core and bedrooms around the perimeter, in light of rules mandating that "habitable" spaces like bedrooms and home offices have access to natural light and air via windows. "These requirements come into play more in combinations than any other type of job," Grinshpun says. 
What you can do with certain spaces will also be restricted by "wet over dry" rules, meaning you often cannot add a bathroom—or enlarge an existing one—unless it is over another "wet" space of the same dimension. This may even be true in a vertical combination, though it ultimately depends on whether your board accepts the notion that wet over wet should not apply when both units have the same owner. 
Changing the use of a specific space can cause the costs to increase. "For example, if you are reconfiguring a kitchen into a bathroom, that's going to cost more than if you were just renovating a bathroom," Grinshpun notes. How much depends mainly on the plumbing scope, such as how far plumbing needs to be run for a new toilet and/or shower, as well as whether walls need to be opened, closed, or framed anew to house new plumbing lines, but Maktal says to figure on a 15 to 20 percent increase. 
That's just another reason why you'll want to find a qualified firm that can walk you through the possible configurations and their associated costs, as in the following discussion and breakdown. 
What common layout and other changes can cost
Ultimately, how you decide to handle the details hinges largely on whether you buy two apartments at once or combine your existing place with another unit—and whether you are willing to undo any previous work or not.  
The opening: The structure of the building will dictate where you cut the hole that will connect the two units and how large it can be. Ideally, the opening is between two columns for horizontal and two beams for vertical combinations. Otherwise, you would need to channel through the building's structure at a significantly higher cost (assuming the board would even allow it).  
In the Brooklyn Heights combination, the opening was already connecting two galley kitchens when the clients purchased the two units (the seller sold them together). And because the wall between the two kitchens was deemed to be structural, Mammoth turned to the finishes to make the spaces cohesive instead of knocking it down to create one open space. (See photo at top.)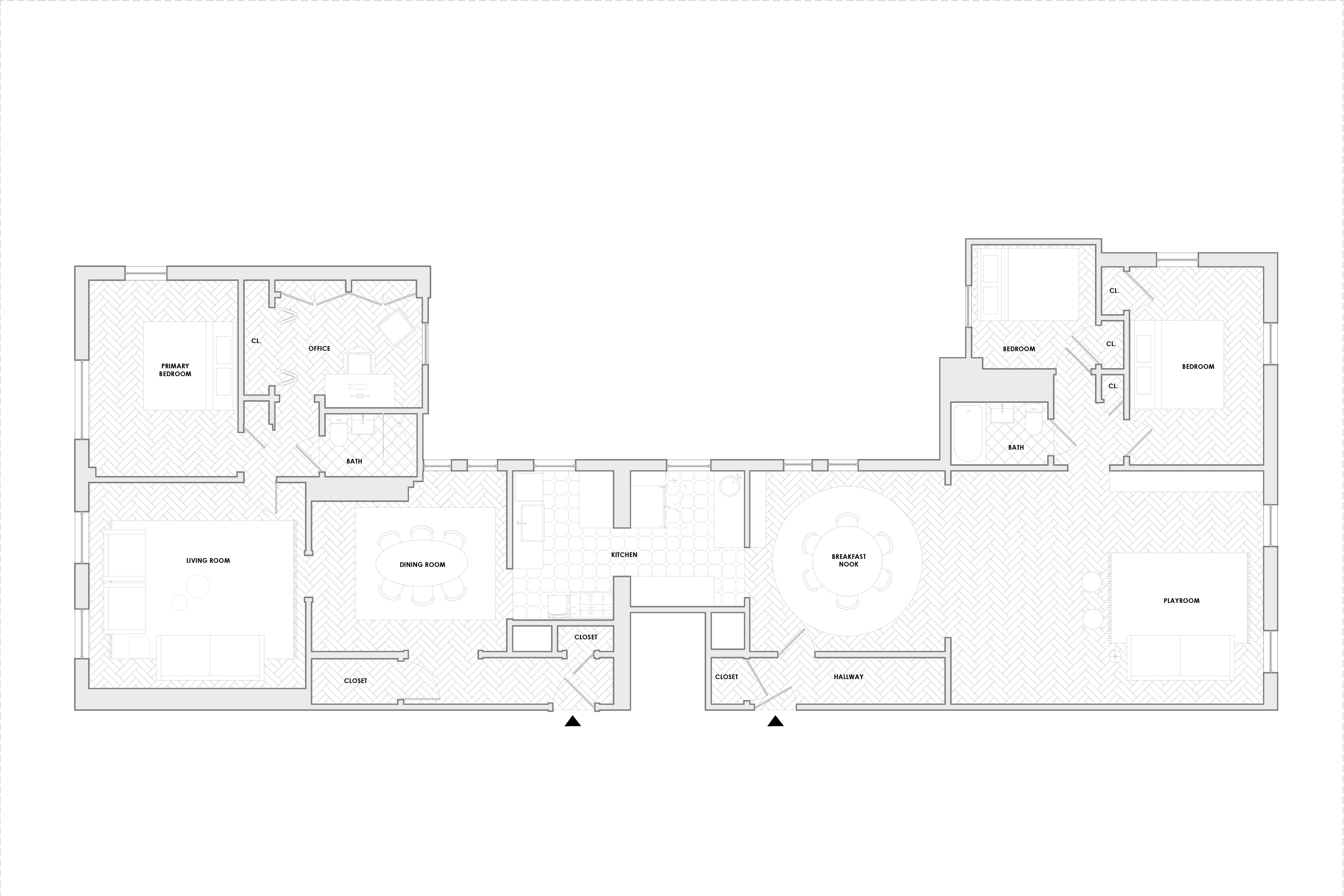 Another common location for the opening is when there's a wall between the living areas. In that scenario, you could cut the hole between the columns.
 
Note that for a vertical combination, the opening should be between structural joists to minimize costs, though you will need to add a staircase that can fit within that opening, which Grinshpun says can be scissor stairs instead of a spiral staircase (more on stairs below). 
The second kitchen: The first step in any combination often centers on figuring out whether you can combine the two kitchens, as in the Brooklyn Heights project. 
If not, the second kitchen is often turned into a bathroom to utilize the water lines. This requires running a vent line along with a waste line for the toilet; in postwar buildings, you might be able to do that through the floor. But post-war buildings typically have concrete slabs, meaning you would need to have a backflow or wall-mounted toilet instead of the traditional model. "We usually do wall-mounted because there are benefits to getting the toilet off the floor, but for clients who prefer otherwise, there are backflow options that can work," Maktal says. 
You should expect to spend an additional $100-$200 per square foot to cover the cost of opening walls and ceilings to run new waste and vent lines and to close them back again.
A new bathroom might also need to be ADA-compliant (such as when none of the existing ones are such), requiring a room with a wider footprint. 
Depending on the configuration of the space, and the combination of ADA and wet over dry rules, the trade-off is frequently between turning it into a powder room or a generous walk-in closet, "which would end up costing a lot less," Maktal says, noting that there would still be the minor cost of capping off the plumbing. Or you can keep the plumbing and have a laundry room. 
She says a powder room with tile flooring and painted walls would cost around $25,000, compared to about $5,000 for a walk-in closet outfitted with stock shelving and hang rods.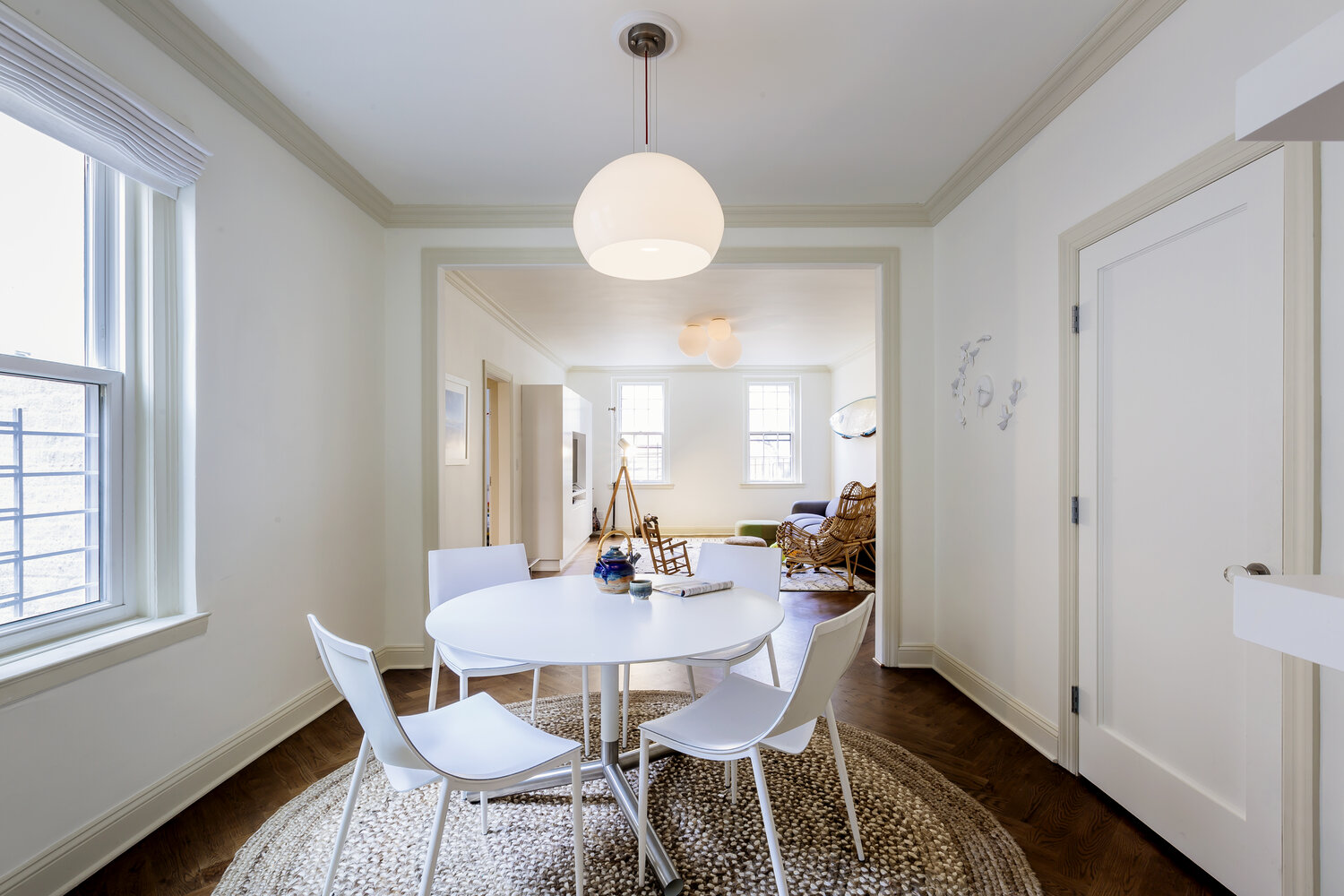 The second foyer: Prewar buildings tend to have dedicated entry areas that "make great dining spaces," Maktal says, pointing to how the extra foyer in the Brooklyn Heights project was turned into a breakfast nook just off of the kitchen, with a view of the kids' new play area. 
Another option for a growing family would be to keep both foyers to organize all the gear—-maybe one is dedicated to housing all the sporting equipment, musical instruments, or other activity-related items. Or it could be a place to park the stroller(s) or bicycles (if your building doesn't have a storage room).  
Note that repurposing this area involves only cosmetic work.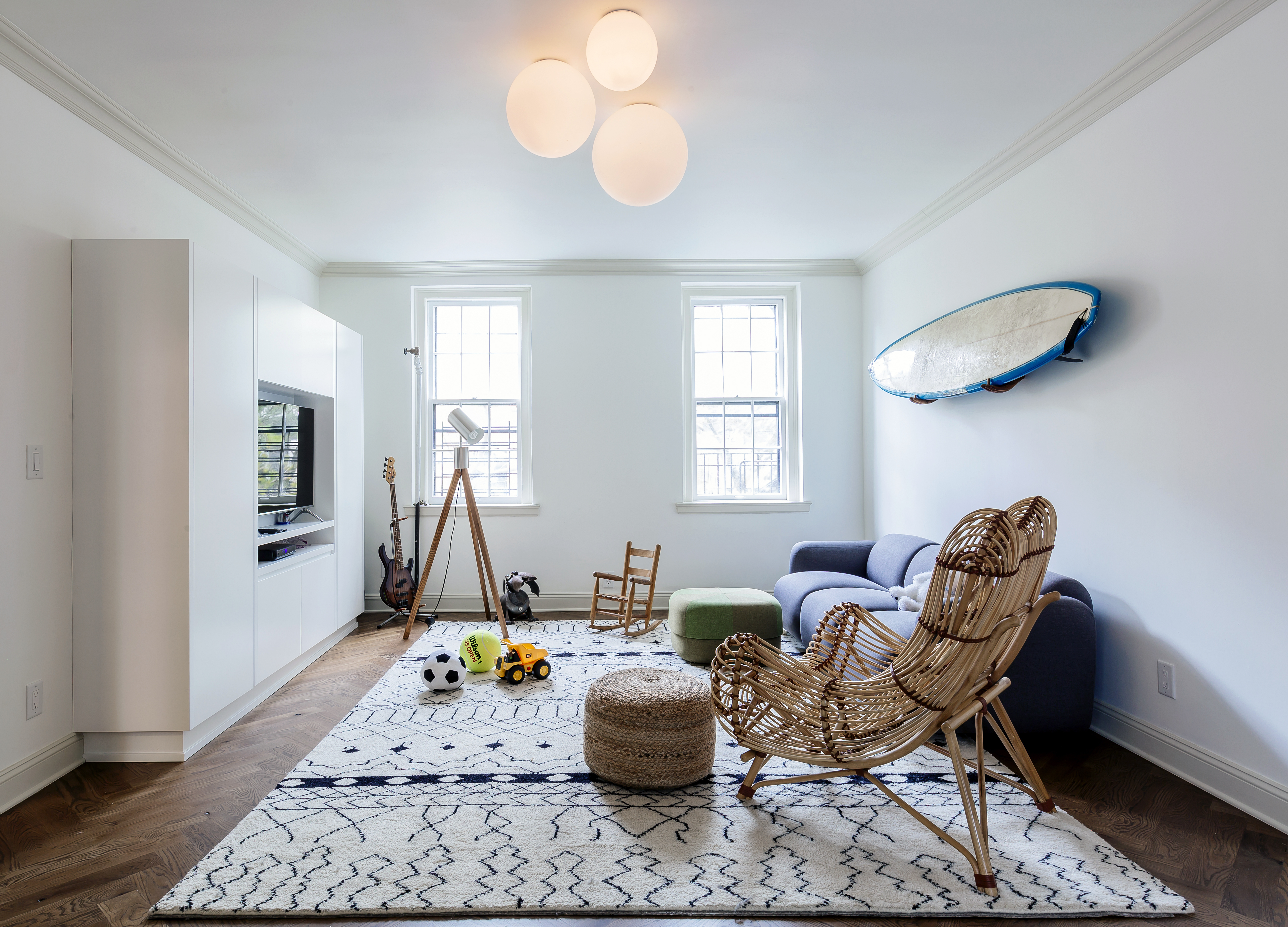 The second living area: Even though living rooms generally have windows and could be used as a legal bedroom, their location in the layout (near the core of the building) would make that too awkward. The goal, then, is to repurpose them as another communal space, such as a media room. 
"The second living room was ideal for a kids' playroom, which can evolve into a family den over time," Grinshpun says. This bonus room is one of the perks of combining apartments since families often sacrifice a bedroom for a dedicated play space. The costs here would be for cosmetic work and furnishing, plus any custom millwork to house all the toys.  
If there are no kids in the picture and you work remotely, a windowed living room could become a home office that would be big enough for a couple to share. In other words, you have many options for this extra space.
Flooring: Grinshpun acknowledges that flooring can be a big consideration in achieving a cohesive design; the floors also need to be level. What often happens is one apartment has the original flooring and the other has new flooring that is laid on top, which is common in older buildings. 
For this very reason, Mammoth replaced all the floors in the Brooklyn Heights combination using (per Grinshpun) "reversed-herringbone walnut floors to echo the historical elements of the building that were reflected in the molding installed throughout as well." 
Sometimes, however, both apartments will have the old floors, and if they are in good condition, Maktal says you could refinish them for between $6 and $8 per square foot. 
Otherwise, if the floors need replacing, expect to spend around $8 per square foot for mid-range materials and more like $15 to $30 per square foot for high-end products. Plus, there are labor costs for ripping out and disposing of the existing flooring ($2 to $4 per square foot) and installing the new one (this can vary greatly), she adds.
"Often, the preliminary question is whether to use solid wood versus engineered wood," Grinshpun says. "Each has its pros and cons and comes in a range of qualities and price points depending on the species, width, pattern, finish (factory or on site), and sheen."
Doors and windows: As a general rule, both entry door openings must be retained. However, you may want to replace the interior doors (and hardware) to be consistent at a starting cost of around $1,200 per door if using their existing frames.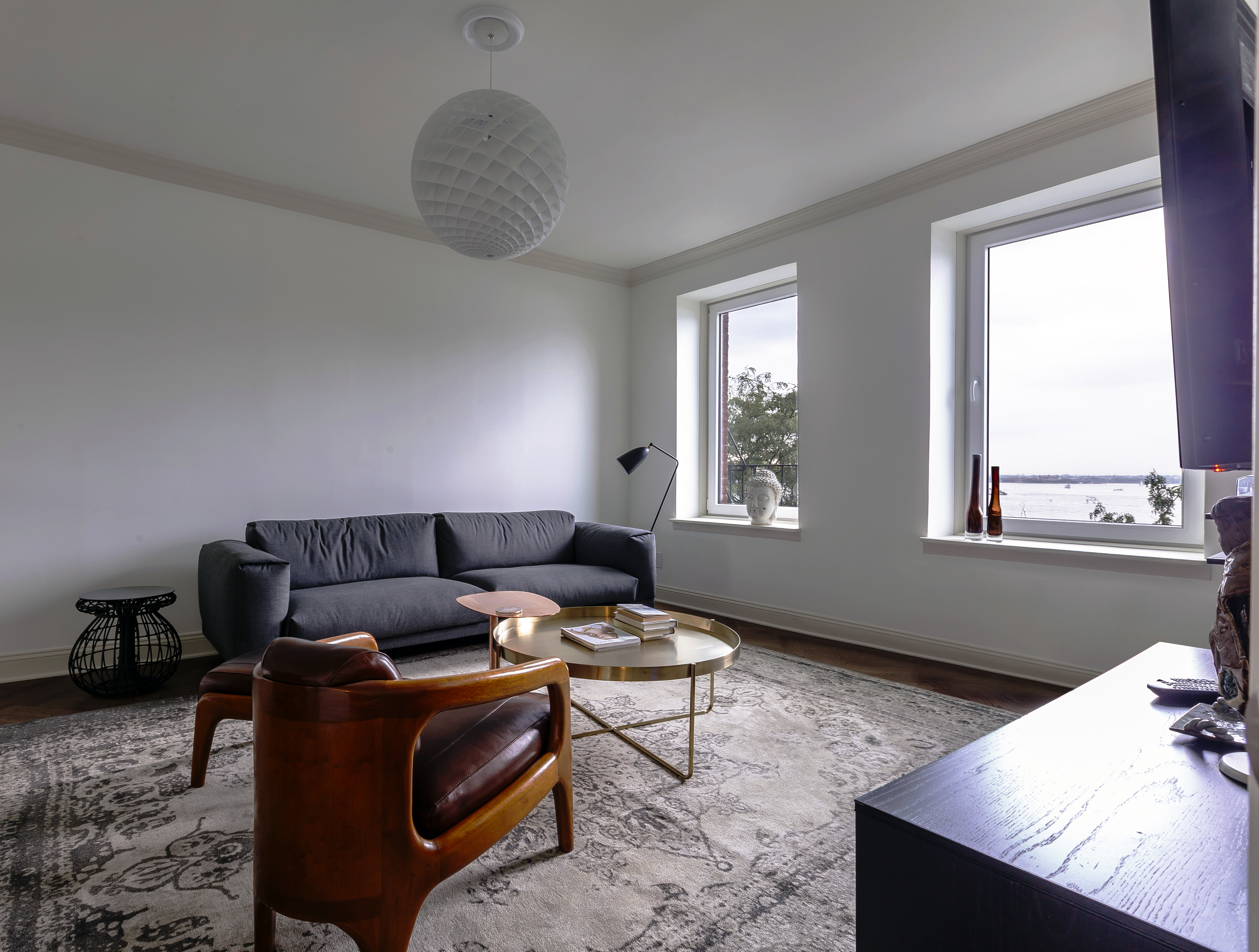 Sometimes the windows will have been updated in one but not the other, or with different models. What often happens is one unit will have modern (casement) windows and the other traditional (with muntins). You can either upgrade the windows to match or choose to live with the variation, especially if your budget doesn't allow for the potential expense. 
And you may be forced to do so if you are in a landmarked building, as demonstrated by the Brooklyn Heights combination. There, Mammoth was unable to replace the windows on the sides of the building that are visible from the street (per Landmark Preservation Commission guidelines), as shown in the family room photo above. The result is a fitting blend of old and new that feels quintessentially New York. 
According to Maktal, projecting the cost of window replacement is difficult to do, as prices range wildly depending on the vendor. Often, buildings have preferred window vendors, and some buildings will even have a window replacement program in place whereby the specifications for new windows are already prescribed. "This is something to check with your building management company or board when starting to plan your renovations," she notes.
Adding a staircase (in vertical combinations): Maktal says when planning for structural changes like this, having a structural engineer on board is a must. Expect to pay $5,000 to $15,000 in engineering fees for these types of projects, in addition to paying for the staircase construction. There are prefabricated stairs in a range of price points (from $5,000 on up) and designs, though custom-designed staircases, which start at around $2,000 per linear foot, "can result in something truly beautiful and unique," Maktal says. 
That sums up what you can achieve with apartment combinations overall.
Mammoth is a woman-owned and -run design-build firm with a studio in Dumbo and extensive experience in the urban renovation market. We specialize in a thoughtful, efficient, streamlined design-build process with a design-first approach. Ready to renovate? Contact us for a complimentary consultation.
Brick Underground articles occasionally include the expertise of, or information about, advertising partners when relevant to the story. We will never promote an advertiser's product without making the relationship clear to our readers.