The biggest draw of this $645,000 one-bedroom at 570 Grand Street is its spacious, 11-by-5-feet private balcony.
"It's a grand thing to have," says architect H. Bradford Gustavson of Gustavson/Dundes, a 30-year-old architecture and design firm in Manhattan.
Other positives, according to the architect, include the fact that the Lower East Side co-op unit, which faces south and west, seems to get lots of bright light.  Plus, the foyer looks large and inviting.
Still, Gustavson spots many key changes he'd make to the apartment, given the opportunity. The flooring, for example, "is just atrocious, beyond repair," he says, so he'd replace it throughout the unit. Below, his other recommendations:
Living room
The first thing Gustavson would do in this room (pictured above) is swap out the aforementioned hardwood in favor of a more contemporary wide-plank, light-colored oak that he'd bring into the kitchen and bedroom as well.
"It'll make the apartment look larger," he says. "Visually, it'll look like it just keeps going and going."
The walls would be repainted with a light shade of gray or perhaps Benjamin Moore's White Dove, a soft white, leaving furniture and fabrics to add color and "make [the space] pop." He'd opt for an eggshell or satin finish for the walls. "It cleans more easily," he says.
For ceiling paint, he recommends a flat white to make it appear taller; the matte paint will serve another purpose. "I suspect the ceiling is in bad shape," he says, basing this on the state of the rest of the apartment. "It'll hide imperfections more."
He'd also get some new crown moldings for the room. "It adds detail" and makes the room "feel more luxurious," he says. Afterward, he advises getting a wooden enclosure built to hide the unsightly radiator. Since it stretches across the entire back wall, it's probably a custom length (meaning you won't be able to find a readymade one in a store), so expect it to be pricey. "You could paint it," he says. "Maybe a different tone from the walls to make it stand out. You could even put a stone top on it and put a plant on it if you wanted."
Above the radiator, he suggests lined Roman shades for the windows. "Since it faces west, it's bright. You have to control the sun somehow." The Roman shades will bring in some texture, while also blocking out the outside light.
As for lighting up the room itself, he says the ceiling looks to be concrete so you won't be able to drill into it. As such, he recommends an assortment of floor and table lamps, and "maybe a sconce or two."
Next, the foyer area, which he envisions turning into a gallery. He'd add storage units where the new client can store his or her "scarves or hats." Or, if he/she has lots of tchotchkes or a collection to show off, he'd recommend glass-fronted display cabinets. No reason to break the bank here, he says, noting that you can buy perfectly good storage units at a place like IKEA.
He also advises a possible relocation of the entrance to the kitchen to another spot—probably to the opposite wall where there's currently a closet. He thinks it's off-putting to have the kitchen entry so close to the front door. "I'd close the wall off in the foyer space and make that into a gallery wall," he says.
Prices: Gustavson says new flooring should be around $20 to $30 per square foot. A gallon of paint for the walls is $69.99. A gallon of white for the ceiling costs $39.99. Gustavson believes the new crown moldings should cost a few dollars a foot. He thinks the radiator cover should be a few thousand dollars. Prices for these lined Roman shades start at $184.99 at Bed, Bath & Beyond. This brushed nickel wall sconce is $56 at build.com. This glass cabinet from IKEA is $69.99. Labor, including moving the kitchen entrance, will of course add to the cost.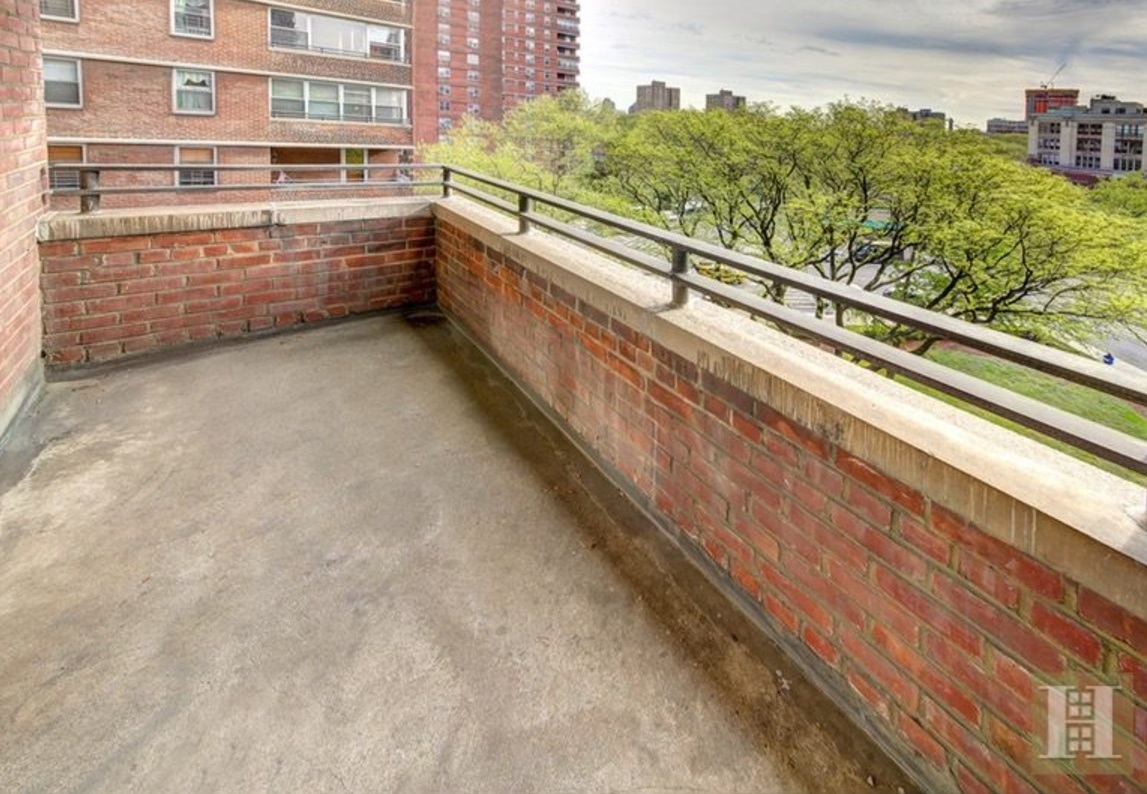 Terrace
"This is a magnificent space," says Gustavson. "There's a nice view. You can even see some trees, but the brick looks kind of sad." He recommends installing latticework (interlacing strips of wood or metal that will form a lattice) to "hide the ugly brick" and "a cedar or Trex [plastic] decking" on top of the unsightly concrete floor to "make it look cleaner."
Of course, you'll first have to run these plans by the co-op board and make sure they comply with building codes. Some forbid you from adding any decking at all, fearing that the flooring will be high enough that someone might tip over the side.
Gustavson also thinks the space is big enough for a small table and chairs, "and maybe even a planter or two." The furniture and plants will make the space feel cozier, so you'll want to spend more time out there, he predicts.
Prices: Gustavson thinks you could probably do the latticework and decking for around $15 to $20 a square foot. This cast-aluminum bistro set, consisting of a table and two chairs is $125.54 at overstock.com. Labor will add on to these costs.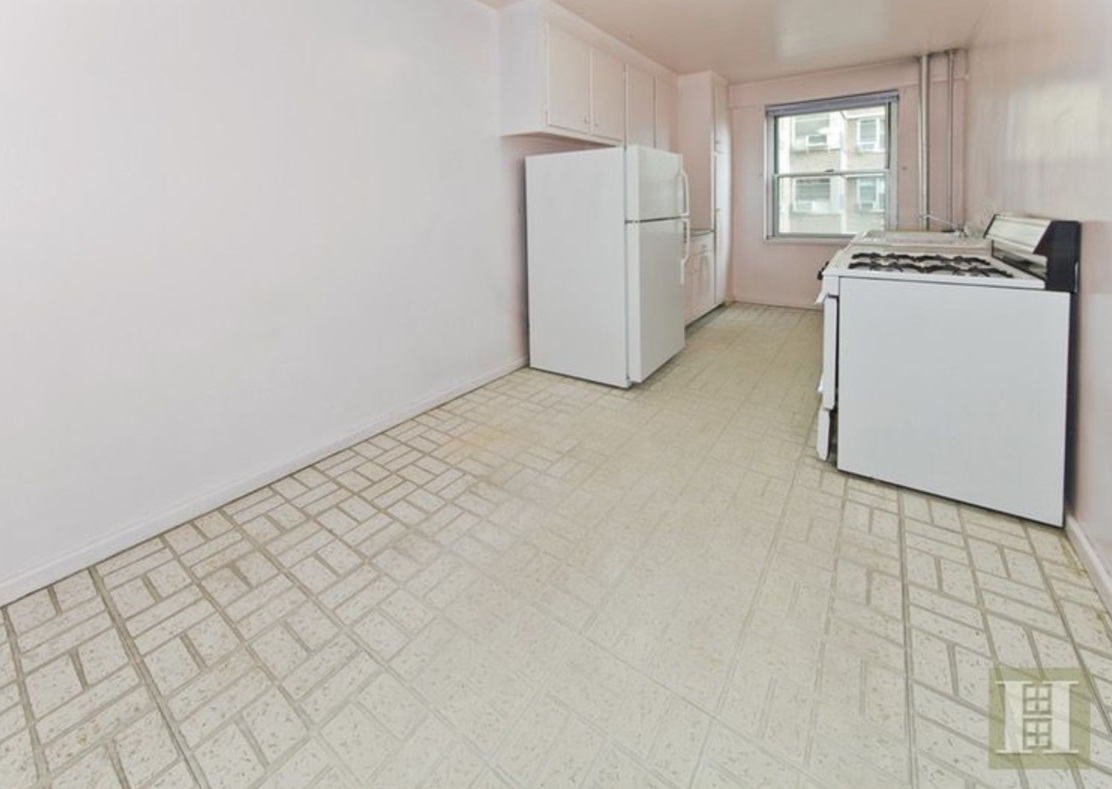 Kitchen
"The vinyl tile's got to go," says Gustavson. "The appliances have got to go. It's all got to go."
After clearing the place out, the first thing he would do is build an enclosure made of sheetrock to cover up the pipes to the right of the window, and make the room look a little more orderly. He envisions a Roman shade for the window, too, saying, "It's an opportunity to bring some color into the room."
He recommends installing the same oak flooring here as in the living room. Though some owners may be reluctant to put wood floors down in a kitchen due to possible water damage, he thinks the oak "will be a little softer on your knees than tile. It has a little more cushioning to it." As for the water worries, he feels that if you clean it consistently, it'll survive.
Moving onto the cabinets, he suggests white wood ones that "will look fresh and clean" in this space. Depending on budget, either IKEA or the custom route will work.
For the walls, an off-white to "play off the white in the cabinets" is advisable (and for the ceiling, too). He'd add a suite of all-new stainless steel appliances, including a fridge, a range, a dishwasher and a microwave—all counter-depth so they won't stick out past your cabinets and make the room look and feel even smaller than it already is. For the backsplash, "something bright that sparkles," perhaps glass tiles, will brighten up the space. His advice for choosing a color? Go with what you like. "Any shade would work," he says. "A blue. An off-green. Even a clear glass if that's what you'd prefer."
As for the lighting, under-cabinet lights so you'll be able to see what it is you're chopping when you're chopping it would work well. And while it's hard to tell from the photos, Gustavson says he assumes there's a single fluorescent fixture on the ceiling that's probably seen better days. He'd simply replace it with a newer, more modern flush-mount.
Prices: Gustavson thinks the enclosure for the pipes should cost around $5,000. The new flooring should be around $20 to $30 per square foot. This red cordless Roman shade is $34.94 at Home Depot. A gallon of paint for the walls is $69.99. A gallon of white for the ceiling costs $39.99. He believes the cabinets should cost between $25,000 and $35,000, depending on where you get them. This 24-inch Thermador fridge is $4,399 at AJMadison.com. This stainless steel GE dishwasher is $693.30, also at AJMadison.com. This GE range is $1,793.10, also at AJMadison.com. This over-the-range GE microwave is $200.10, also at AJMadison.com. Gustavson thinks the glass backsplash should be "around $4 to $8 per square foot." These under-cabinet lights from Home Depot are $59.97. This flush-mount light is $322.35 at Elements. And again, there's labor to consider.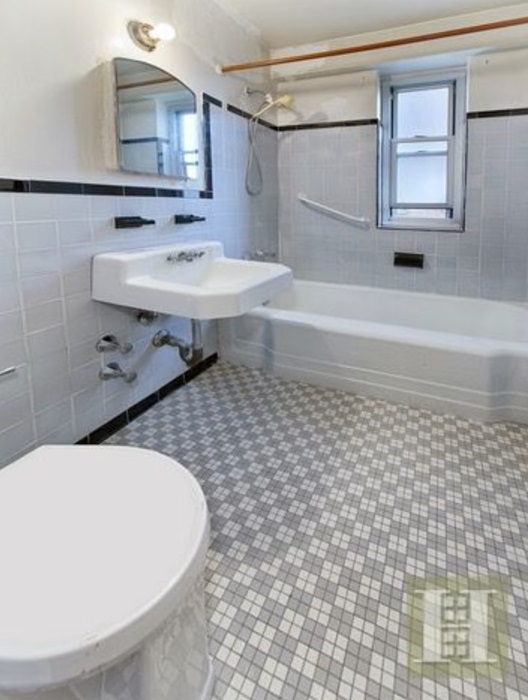 Bathroom
"This is actually the best room in the apartment," says Gustavson. "The floor's not so bad. I'd actually keep it if you're looking to save money." If the buyer is still intent on getting something new, however, he'd opt for marble tiles. "They're luxurious," says the architect, noting that they feel wonderful under your feet.
But even though the room looks decent, it's far from perfect. Gustavson points out a patchy spot near the ceiling above the tub. "That's probably water damage from the apartment above," he says. "That'll need to be corrected." After fixing that, he'd extend the tile all the way up the shower to the ceiling. It'll help to waterproof the area so things like that don't happen again. He might even keep the same exact tile that's currently there if he can find it.
For the parts of the wall that the tiles don't reach, he recommends wallpaper. "It's more interesting than paint sometimes," he says, noting that you can really let your personality shine through there. Plus, you'd only need to cover a small space so you wouldn't need to spend too much on it. Some folks might be wary of wallpaper in a bathroom for fear that it might bubble, but Gustavson says that if you choose a paper recommended for damp locations, such as vinyl, have it installed properly, and have good ventilation in the space, then it should be fine.
The tub, though, "looks dated," so he'd get a new one, so long as doing so won't destroy the wall tiles you were intending to keep in the process. He'd go with a more contemporary-looking tub and get a single glass panel to replace the shower curtain. "The curtain blocks the light from the window," he says. A single glass panel will let the light in while still allowing some privacy for the bather.
Next, he'd swap out the sink for a vanity with some storage space underneath. He'd also get a new medicine cabinet and a new toilet. 
Finally, he'd trash the single sad bulb above the sink in favor of a brighter lighting scheme. "It's hard to tell from the photos, but if there's enough space between the tub and the sink, I'd get a sconce on either side of the medicine cabinet," he says, noting that side-light is more flattering than lighting from above.
Prices: Gustavson believes new marble tiles for the floor should cost around $15 to $25 per square foot. He thinks that tiles for the shower could be around $5,000, depending on what you get. This gray and silver wallpaper is $85 a roll at The Home Depot. This bathtub is $875 at Houzz.com. This single-panel shower door is $494.86 at Houzz.com. This wall-hung Kohler vanity is $860.90. This Robern medicine cabinet is $1,249. This water-efficient toilet from Kohler is $428. This wall sconce is $132 at Rejuvenation. Labor, including repairing the water damage, will add on to these prices.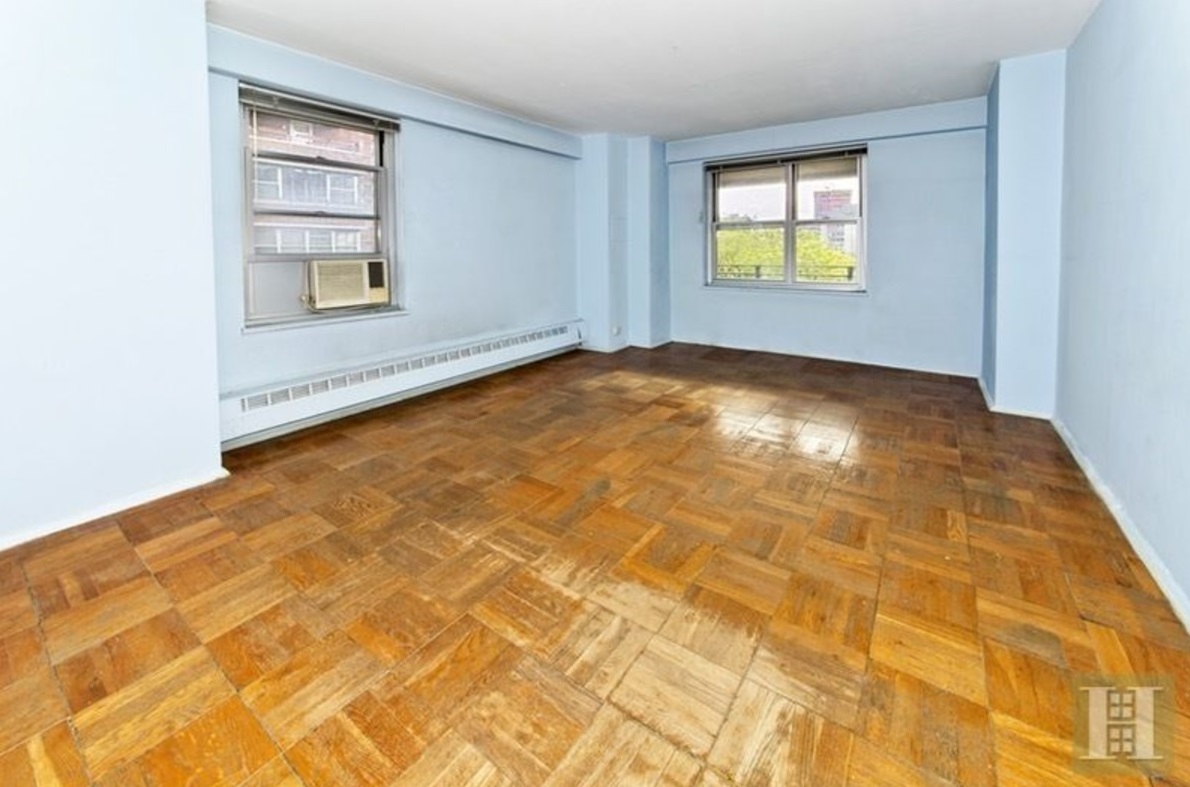 Bedroom
He'd begin here by once again bringing in the same oak floor from the living room and kitchen. Having the same flooring throughout the unit will give the space more balance.
To keep things consistent, he'd also opt for the same wall color as in the living room—either a soft white or a light gray (the ceiling will be white). He'd also go with a lined Roman shade to keep out the light, while adding some texture to the room.
Since it once again appears as though you cannot drill into the ceiling to install any lighting, Gustavson would go with a combination of floor lamps, table lamps and sconces—whatever the tenant prefers.
Lastly, Gustavson says that there's an opportunity here to make the entire apartment feel larger and more loft-like by opening up the right-hand wall between the bedroom and living room, and installing barn doors there. "You can still close them if you need to," says Gustavson. "But you'd get the light from the bedroom windows in the living room," making the living space feel more grand. 
Prices: Flooring should be around $20-$30 per square foot. A gallon of paint for the walls is $69.99. Prices for these lined Roman shades start at $184.99 at Bed, Bath & Beyond. A gallon of white for the ceiling costs $39.99. This floor lamp is $1,097.80 at Elements. These two-panel barn doors are $498 at Artisan Hardware. Labor, including opening up the wall between the bedroom and living room, will be more.