"Look at those nice big windows," says architect S. Lindsay Klein of Lindsay Architecture Studio, discussing what, in her opinion, is the best part of this $900,000 Lenox Hill one-bedroom at 304 East 65th Street. "They're facing east, so for a morning person, this is the apartment."
The worst part? "That bathroom with all those mirrors—especially the one behind the toilet," she says. She'd jettison those, if given the opportunity.
There are many other changes she'd make in order to overhaul this unit. Below, her recommendations:
Living room (pictured above)
Although Klein loves the size of the windows, she's not a fan of the black paint around them. She'd choose a more neutral taupe "so they won't be as disturbingly obvious to the eye," she says.
She'd then use that same taupe for that eyesore of a wooden radiator cover, which she says "has got to be neutralized." She'd also add solar shades that will render the room "lovely and bright during the day," but will block out the light at night, offering more privacy.
In addition, she'd have the new owner "choose some curtain fabric they like to add softness to the rooms. ... The fabric will make things quieter acoustically, as well as more comfortable."
Moving on to the floors, she'd rip out the ancient-looking wall-to-wall carpeting and replace it with a vinyl sisal carpet like this one from 2Tec2 (and which feels like real sisal rugs, which are made of the fibers of a type of agave plant), but are even more durable. I'll give the room a clean and orderly look, and if the client wants something a little more colorful, they could always put area rugs on top of the sisal.
For the walls, she'd opt for paint in a "nice white, possibly something with a pinkish tinge" to play off of the pink bricks from the surrounding buildings that are so visible through the large windows. Maybe Benjamin Moore's Cloud White, which she calls "a creamy white with warmth." She'd then paint the ceiling white as it'll make it look taller. "I'd let my artwork and furniture be the color in this room," she adds. She says she'd also consider adding a flat crown molding to the walls "because everything's so hard-edged here." She believes the crown molding would "soften things a bit."
Between the front foyer and the living room is a curved wall. These types of curves "can be difficult to furnish because you can't easily put a couch up against it," she says. She'd recommend putting a piece of wood over the curve "to sort of counter-ize the wall" (see Klein's rendering above) and make it easier to work with. She'd integrate it into a bookshelf that she'd have built up against the inner wall in the living room and maybe even put a couch in front of the bookshelf.
If, as it appears, the ceiling is concrete and you can't drill into it, floor lamps and table lamps will be the only way to go.
Prices: A gallon of paint for the radiator cover and window frames is $69.99. These light-filtering roller shades are $39.24 at The Home Depot. Prices for these curtains begin at $95.99 at Bed, Bath and Beyond. Vinyl sisal carpet should cost about $8 a square foot. A gallon of Benjamin Moore Cloud White for the walls is $69.99. A gallon of white for the ceiling costs $39.99. She thinks that "counter-izing" the curved wall should only be a couple of hundred dollars. This floor lamp is $545 at Restoration Hardware. Labor will, of course, be more.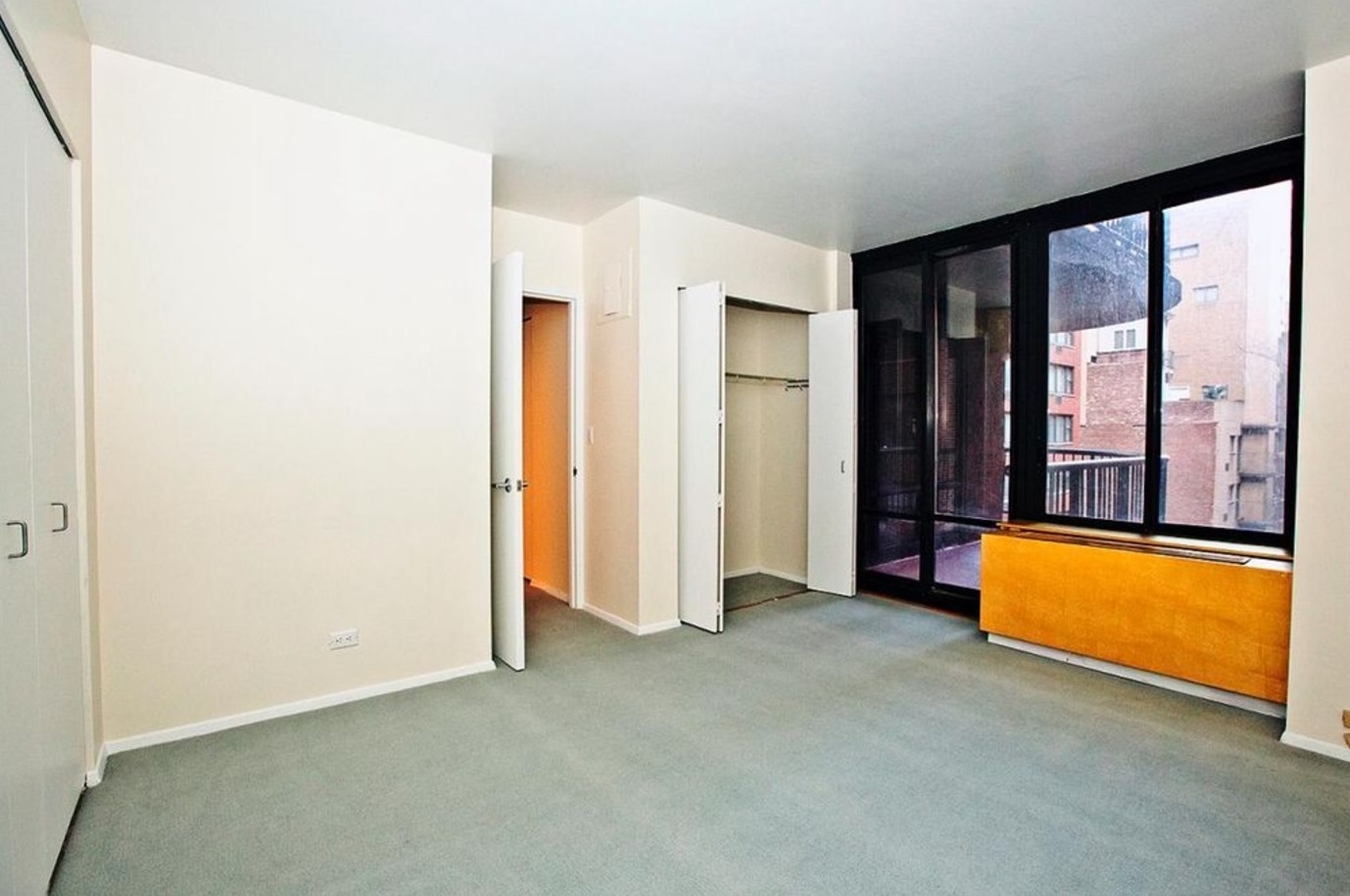 Bedroom
Since the bedroom looks so similar to the living room, Klein would do a number of the same things in here as she did in there.
First, she'd paint the window frames and radiator cover taupe. Then, she'd paint the walls the same pinkish-white color and the ceiling white. She'd keep the closet doors the same color as the walls since she'd rather they blend in with their surroundings. "I don't want you to focus on them too much," she says.
She'd again go with an assortment of lamps—floor lamps and bedside lamps as this is a bedroom. She'd also go with the same vinyl sisal carpet here. It'll add a sense of continuity to the unit.
Prices: A gallon of paint for the radiator cover and window frames is $69.99. A gallon of Benjamin Moore Cloud White for the walls is $69.99. A gallon of white for the ceiling costs $39.99. This floor lamp is $545 at Restoration Hardware. Vinyl sisal carpet should cost about $8 a square foot. Labor will be more.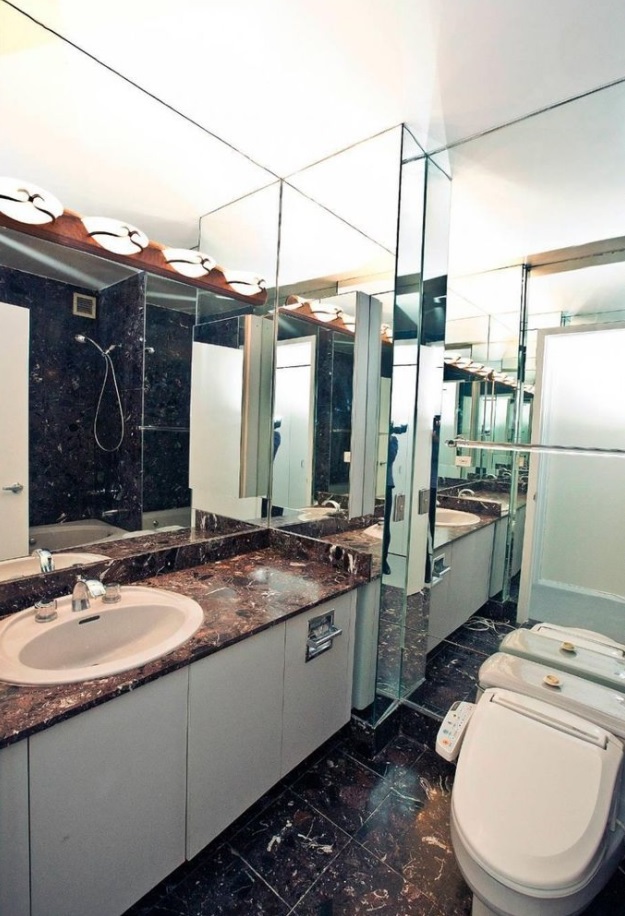 Bathroom
The first thing Klein would do here is deal with the aforementioned mirrors. One approach would be to simply have them removed, but she would go a different route. She suggests hiring someone to faux-paint the mirror (that is, paint it to match the appearance of another material such as wood or stone). In this case, she'd ask that faux-painter to replicate the look of the marble countertop atop the vanity. This method "will tie the bathroom together a hair."
She'd also have a painter faux paint the wooden sections on the light fixture rather than purchasing an entirely new fixture, in an effort to save money.
Next, she'd turn her attention to the vanity itself, which looks to be a white plastic laminate. She'd be willing to keep it if the client is looking to save money, but she does think that it might be wise to "paint it a light coffee color" to better match up with the existing marble countertop. 
She's also not a fan of the way that the toilet paper holder protrudes from the cabinet door. "You might be able to take off the door with the holder and get a carpenter to make a new door," she says. She'd then get a free-standing toilet paper holder to sit on the floor.
She'd keep the floor tiles since they match the countertops (and the newly faux-painted mirror and light fixture) and the tub because "it looks fine." She'd also hang on to the toilet. "These have heated seats," she says. "They wash you. They dry you. I have clients asking for them all the time. They're a real asset."
She'd probably keep the sink, as well, if the tenant is working within a tight budget. "If we change the sink, we'd have to change out the marble too," she says. If it's in working order, there's no reason for the added expense. But she would change one thing about it. "I'm not in love with the faucet," she says. "We could easily find something a little more contemporary, a little more elegant."
Finally, she'd paint the ceiling. Although the usual go-to color for ceilings is white since it makes them appear taller and brighter, you might be able to get away with something slightly darker here. "The ceiling could be a paler version of the coffee color in the marble," she says. "Choose something with just a hint of it. There's so much light in this bathroom that if the ceiling is a hair less white, it would still be plenty bright in here."
Prices: Pricing for the faux painting should begin at around $300, but it could be more or less depending on who is hired to do the work. This standing toilet paper holder is $99 at Pottery Barn. This Kohler faucet is $301.09 at efaucets.com. A gallon of paint for the ceiling is $39.99. Labor—including the carpentry for the vanity—will, of course, be more.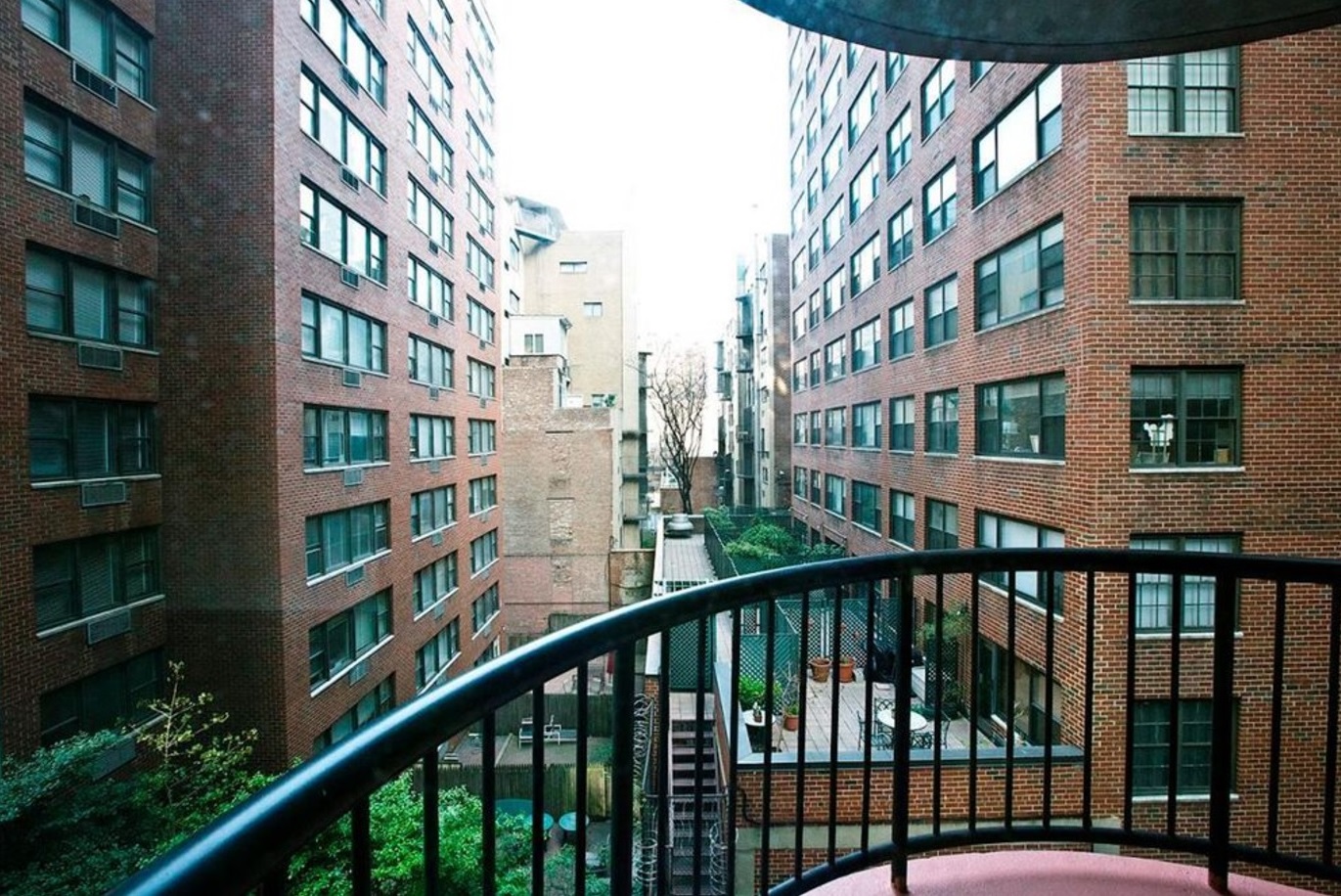 Deck
Although the photos only give us a glimpse of the terrace, there's still enough to know it could use some tweaks. First things first, she's not an admirer of the pink floor. "I don't know if it's a standard color for the building," she says. "But if it isn't, go buy deck paint." She recommends a weather-resistant paint in "a nice taupe-y color." It's less in-your-face than the pink and looks more sophisticated. She does, however, caution against picking a hue that is too light; "it'll show everything," she says. Therefore, she suggests "speckling the floors with white and black paint" to make it look more Jackson Pollock-esque. "Once those speckles are there, if something else drips on it, it more or less blends," she says.
She'd add some greenery to the space to make it feel like more of an outdoor oasis. "Maybe a fake boxwood," she says. "Maybe even a real one."
She'd also introduce a table and chairs to the porch. "You'd need to keep any furniture very compact here, though." She'd recommend something with vinyl seats that can be easily wiped down after a rainstorm.
Prices: A gallon of this exterior stain is $40.14 at Lowe's. Prices for these boxwood globes start at $180 at Restoration Hardware. This cast-iron bistro set, consisting of a table and two chairs, is $109.95 at Walmart. Labor will tack on to these costs.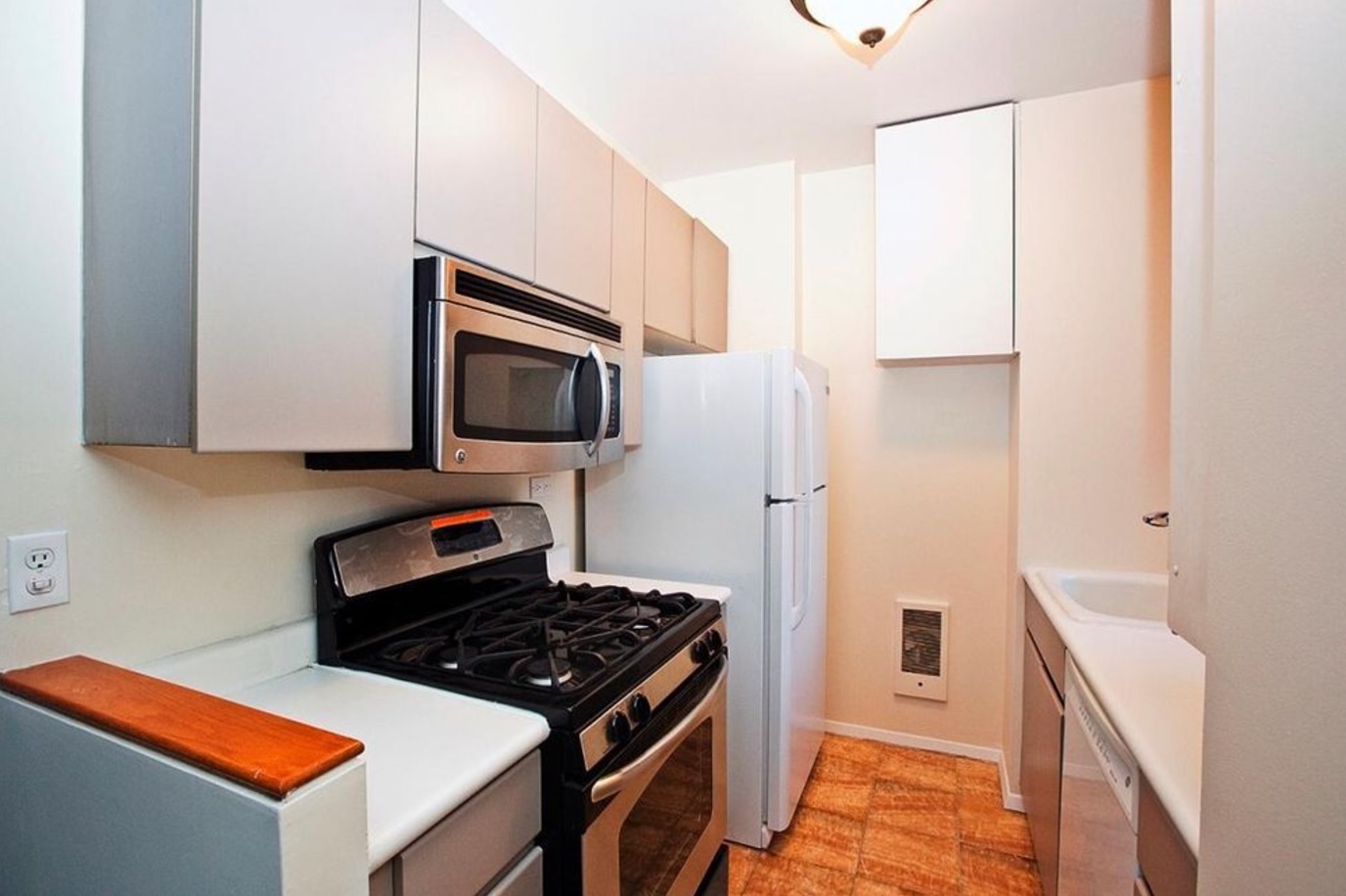 Kitchen
"That is one big old clunker," says Klein, referring to the oversized white refrigerator that seems to take over the room. She'd prefer a smaller, counter-depth fridge that would save precious space. She'd get a smaller range, dishwasher and sink for the same reason. Stainless would be best.
She'd swap the sink and dishwasher because as it is now, when the dishwasher is open, it blocks anyone trying to get into or out of the kitchen. "It's in the middle of the path of travel," she says. She'd mount a piece of artwork on the wall above the newly moved dishwasher because it faces the living room to make it more attractive to look at. With the smaller fridge, she'd also try and fit in a tall slender cabinet to the right of it to be used as a pantry to store canned goods and other assorted foods.
She'd lose the white countertops and replace them with Corian, a man-made surface that she says is both "durable and easy to clean." And since there isn't all that much counter space to begin with, she'd consider extending it a bit beyond where it currently ends, getting rid of the low wall with the wooden top on the left-hand side of the kitchen in the process. She'd round it out on the end and add a couple of bar stools "so people can perch there," she says. She'd also add a tiled backsplash to help with splatters. "Something simple," she says. "Maybe even subway tiles."
If the buyer's looking to save some cash, Klein advises keeping the cabinets, as they still appear functional. However, she suggests enlisting the services of a painter (possibly even the same faux-painter who helped out in the bathroom) to render them the same coffee/taupe-y color as the bathroom vanity. It'll help tie the apartment together and "the color looks very elegant in a kitchen," she says. She'd also have the cabinets moved over about a foot or so to the left so they'll sit atop the newly elongated counter. (See renderings below.)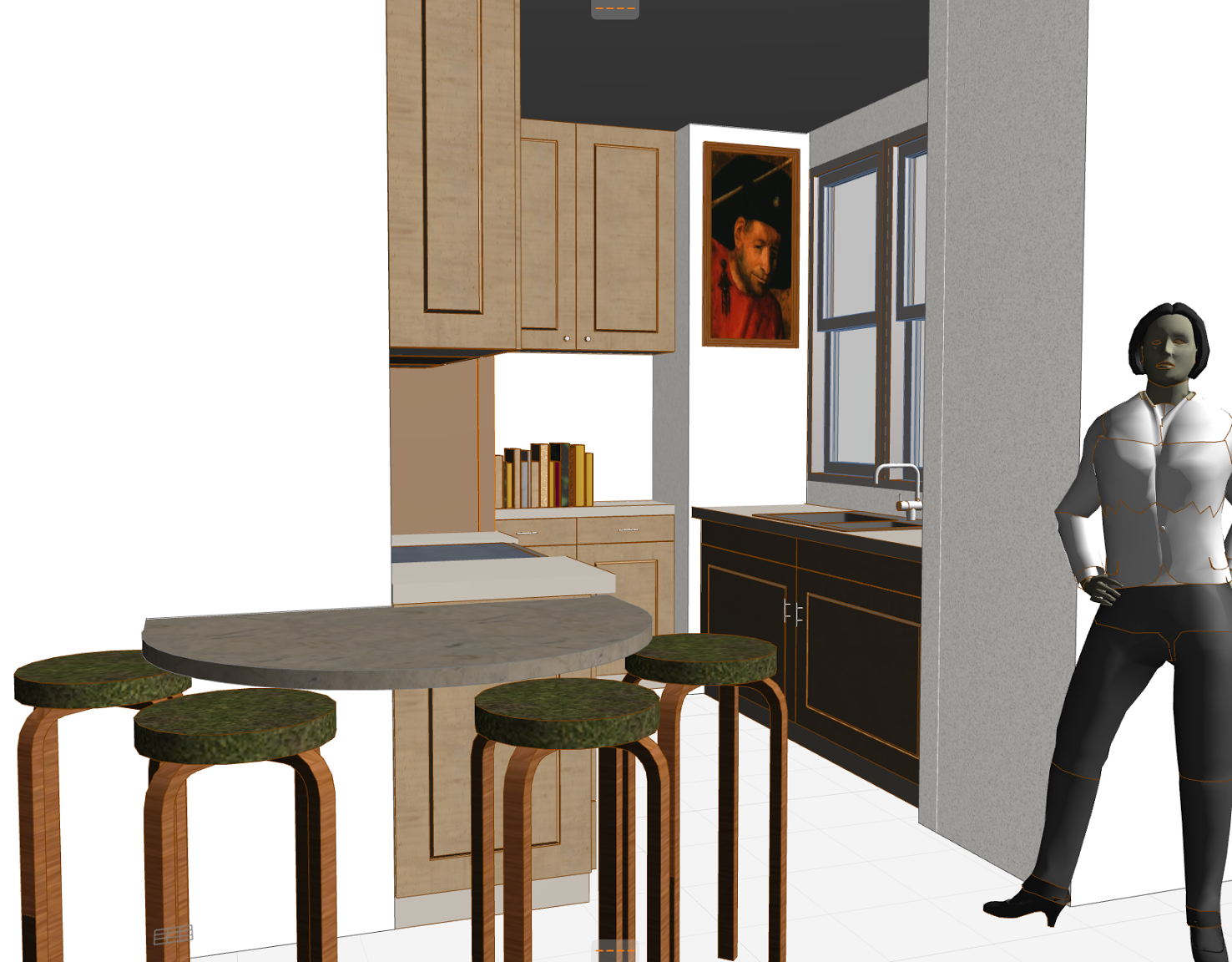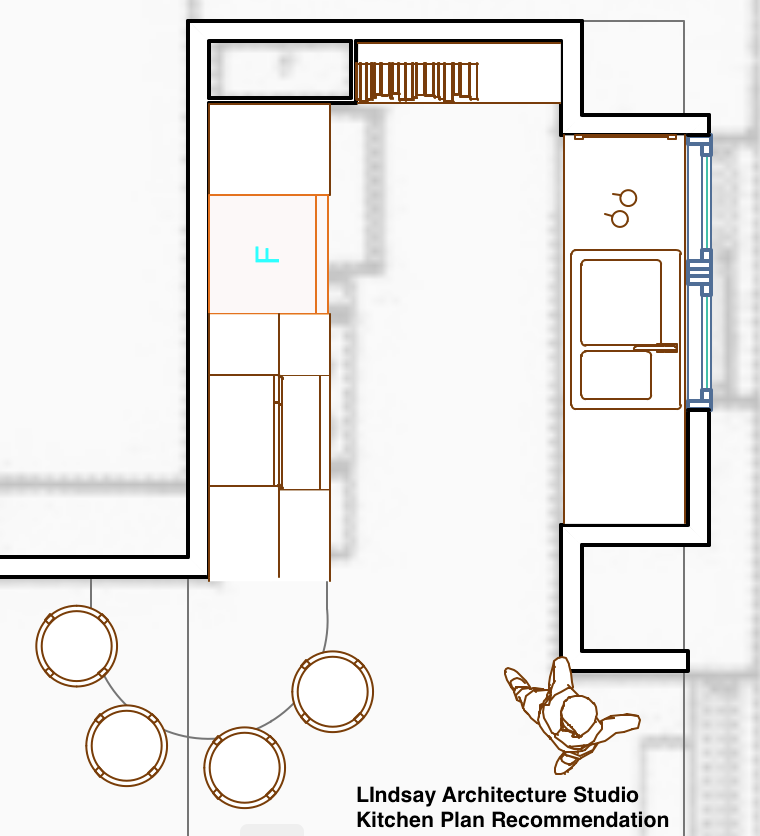 In addition, at present, there's a white cabinet (that doesn't match the other cabinets) against the back wall. She'd be inclined to lose it in favor of a shelf or even a narrow bookcase (which might serve a dual purpose as it could also disguise that rather unpleasant-looking exhaust fan near the floor). "You could create a nook for cookbooks there," she says.
She'd also hang on to the floor. "I don't have a problem with it," she says. "It looks like a stone tile, so if it's in good shape, keep it."
As for lighting, Klein says she'd opt for track lights in this space. "I like the idea of having lights you can aim," she says. "It gives you the freedom to adjust it."
Prices: This Whirlpool counter-depth fridge is $2,789.99 at Best Buy. This 24-inch Summit range is $799 at AJ Madison. This 18-inch Bosch dishwasher is $894.10, also at AJ Madison. This tall storage cabinet is $159.99 on Overstock.com. This 15-inch sink is $73.50 at cbath.com. Corian countertops will cost "a few hundred dollars," according to Klein. She thinks a backsplash made of subway tiles should be about the same. A gallon of cabinet enamel is $49.98 at Lowe's. Prices for this lighting track from Lightology.com vary between $20.47 and $74.14, depending on length. This track head is $47, also at Lightology.com. Labor will add on to these costs.