Products + Services
Want a faster renovation? Artificial intelligence can speed up the design process and save you money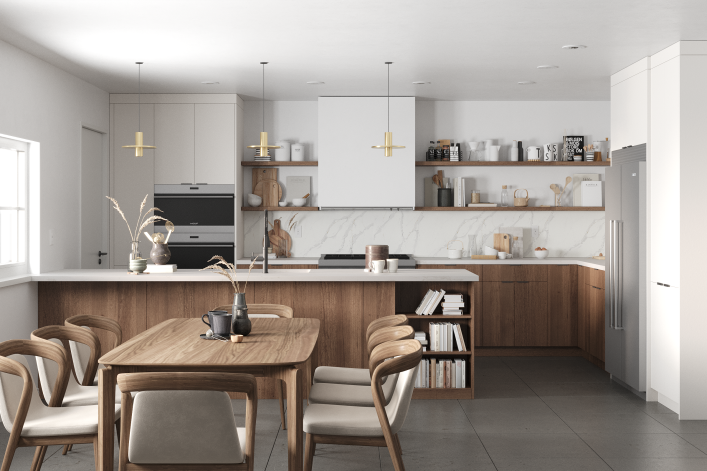 Even simple renovations in New York City can take an extravagant amount of time, effort, and money to pull off. For more complicated makeovers that involve opening up kitchens, adding a bathroom, or gutting the entire space, the design process alone can take several months and requires countless decisions. 
Enter innovative companies like Block Renovation, Skipp, Remodel It, and Plunk that use artificial intelligence to take off much (or all!) of that upfront load. Indeed, using AI can help owners speed up the planning stages of a renovation by replacing manual prep work with computer-generated designs created in a fraction of the time. Practically speaking, this means owners can more quickly grasp the potential in, for example, a dated apartment or brownstone—and land on the best update for a specific space and budget.
And if you are looking for the best project to boost your home's value—say, when planning to sell—there are platforms like Realm to help you compare the return on your investment for various projects, too. 
Whether via website portal or mobile app, these services make it relatively easy for even technophobes to tap into AI technology with a few clicks, and from the very get-go—before you reach out to a pro or spend hours creating Pinterest boards. It (mostly) works like this: You enter your zip code or physical address, upload some photos (or have a digital scan taken of the space), and answer a few preliminary questions. Ta-da! There's your shiny new space in a digital rendering—seeing is believing.  
If you're skittish about trusting important design decisions to a computer algorithm, know trained professionals (e.g., live humans) are still involved in the process. And you can always take the (typically free) guidance or leave it.
A number of design professionals have also jumped on the AI bandwagon as a way to streamline their process and focus on what they do best. In turn, you can harness these AI tools in being better informed about potential costs and design options—before the meter starts running. 
Brick checked out some of these burgeoning businesses to find out how AI might help you renovate more efficiently, cost-effectively, confidently—and with technology on your side.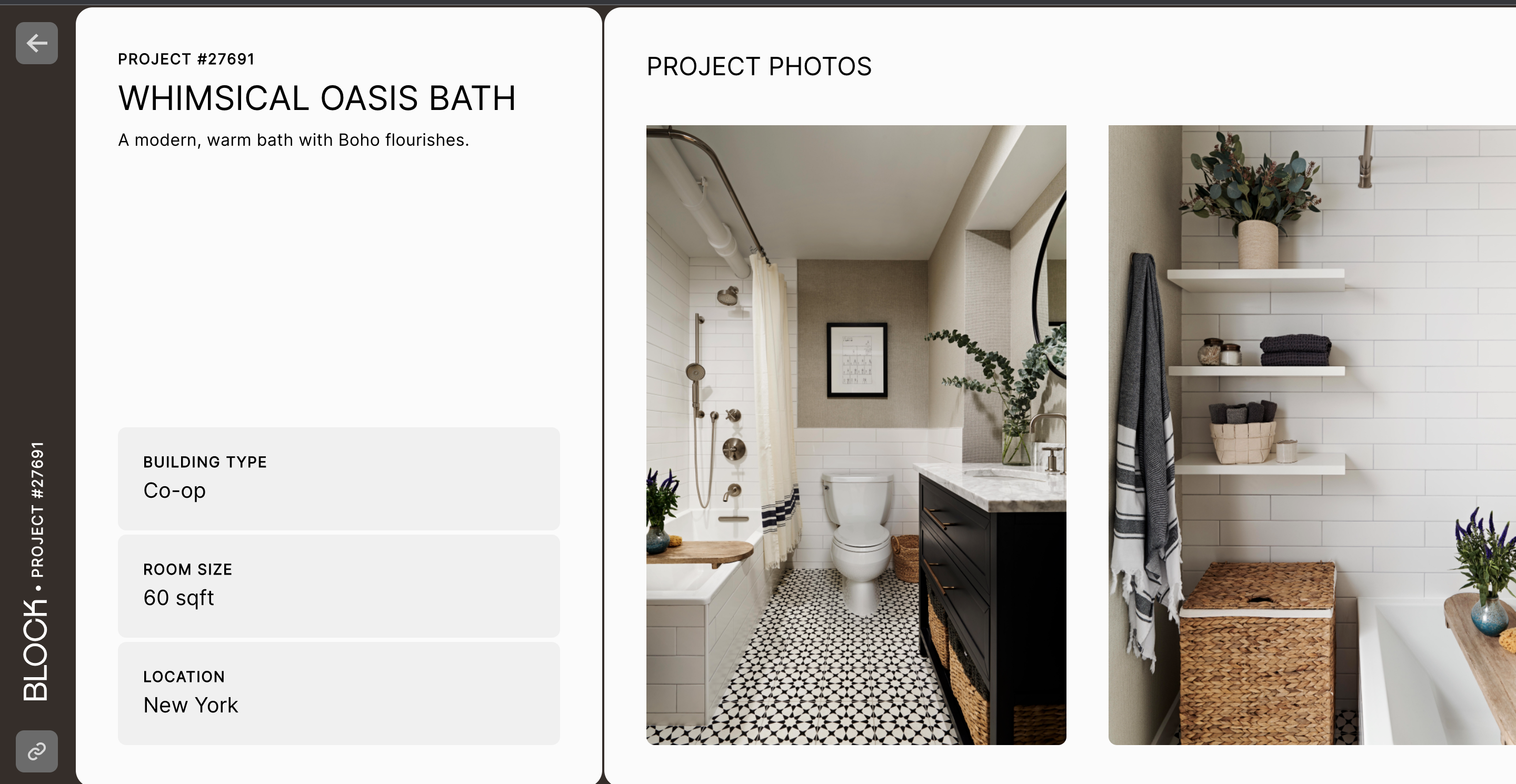 How does AI save time when renovating? 
First, it pays to understand that AI covers a lot of ground; some platforms and applications are much more sophisticated (aka "deep" or "robust") than others that only scratch the surface (such as visualization apps). 
In general, however, AI is a good fit for home improvement because companies have amassed enormous databases of millions of homes and then developed technology to leverage that information by coming up with all sorts of things—from design inspiration and specific project recommendations to calculating cost estimates and generating full-scale renderings—all either instantly or in a fraction of the usual time. And AI gets smarter as more people use these platforms, in what is known as machine learning, in case you want to be up on the jargon. 
The idea is that by doing all that R&D work yourself (aided by AI), you are eliminating months of manual effort that would normally be handled by a design pro. 
One company using deep technology is Skipp, an NYC-based AI firm that specializes in kitchen and bath renovations.
According to co-founder and CEO Ian Jaffrey, Skipp takes a 3D scan of your space and then uses intelligence-embedded AI to provide tailored plans based on your budget and preferences. Just imagine: a typical 10-by-10-foot kitchen results in 700 permutations, although you are only provided with the three options deemed best by Skipp's staff architect. Once you decide on the final design, your contractor can then use that to pull the requisite permits.
"Our average digital scan-to-breaking-ground time is 21 days compared to as long as a year," Jaffrey says. Skipp also connects you with vetted contractors so you don't have to do the legwork yourself.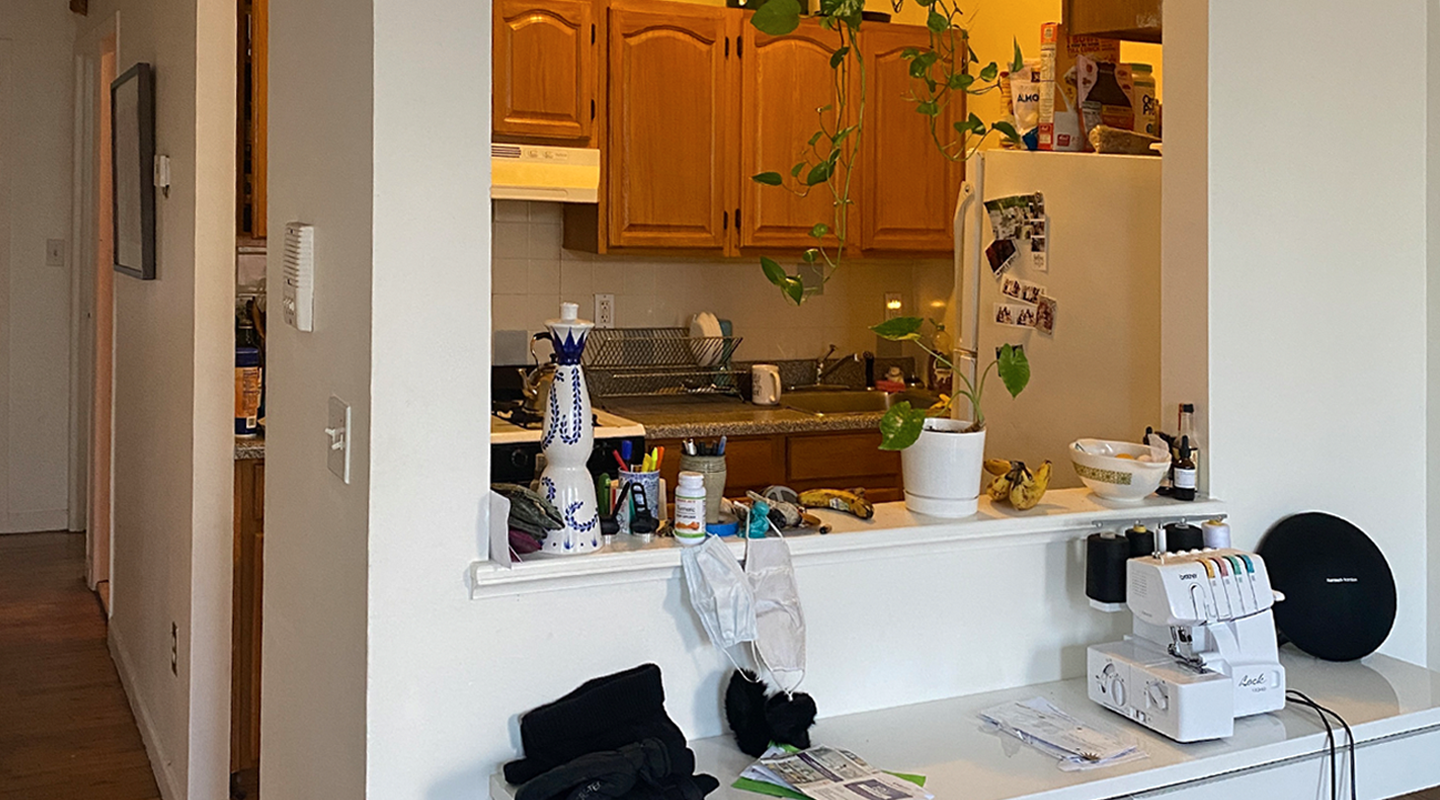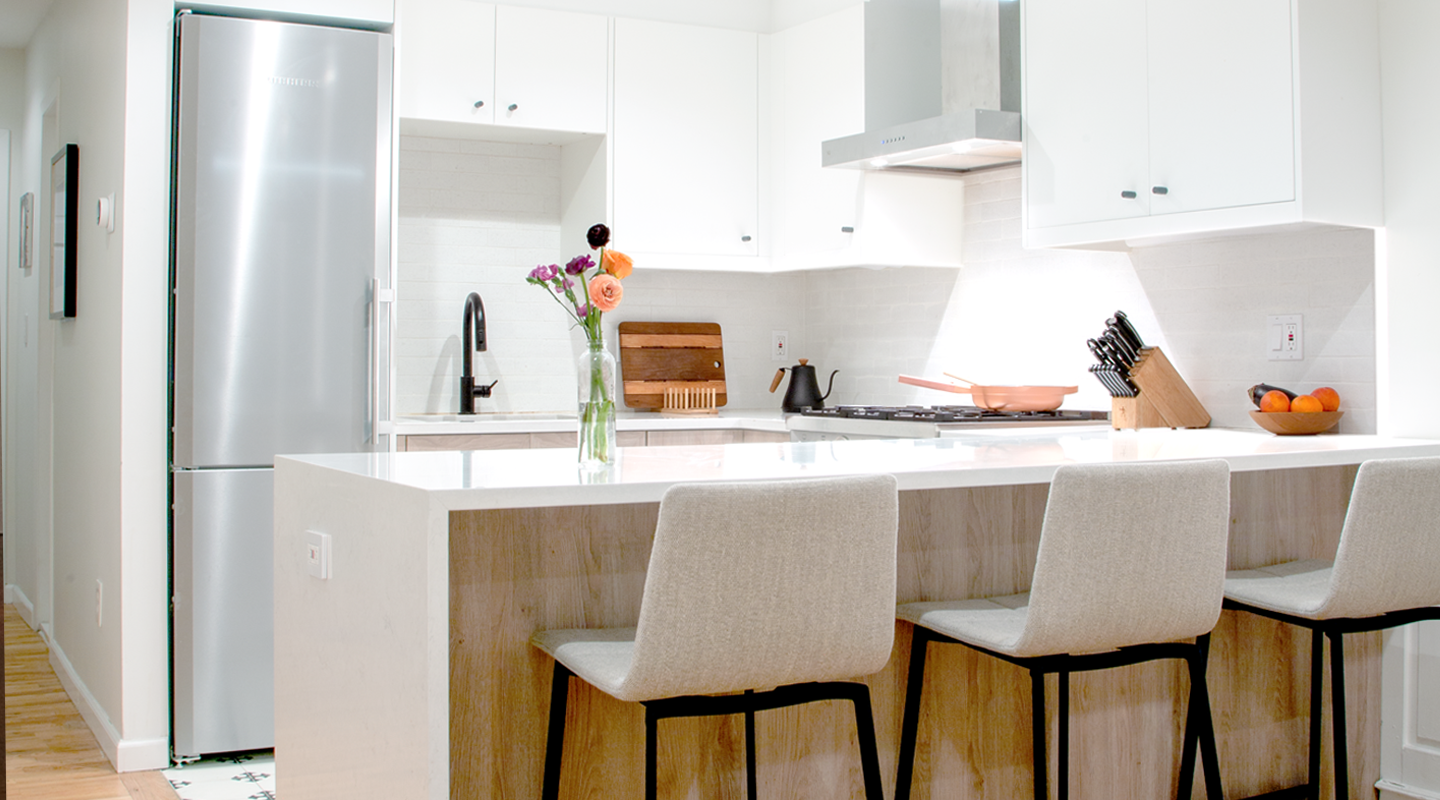 The thinking is: Time saved equals money saved. "Instead of paying for 70 hours of work just to land on a design, AI companies can remove that from the architect's plate so they can review the plans with you, without doing the heavy lifting," Jaffrey explains.
"This innovative technology has completely transformed the way we approach our kitchen projects," says Michael Bevivino, partner and principal at NYC-based ärketekcher. "As an architectural practice, our biggest hurdle is quickly and efficiently visualizing the many options available to homeowners. Skipp simplifies this complicated process, and then serves as a valuable partner to deliver efficient, economical projects for our clients." 
Block Renovation, credited as the first tech start-up in the renovation sector, also specializes in kitchens and bathrooms. It functions like a start-to-finish virtual design-build firm—you book a free consultation with your assigned project planner, choose among different designs from an inspiration gallery, provide project details, and receive design concepts along with cost estimates and projected timelines.
Plan in hand, you'll work with Block's own designers to choose materials from its curated mix-and-match library; it will also "algorithm match" you to one of its vetted contractors to do the build. Unlike more recent entrants discussed below, Block has extensive experience with NYC co-ops and condos along with single-family properties, with a "permits and advisory squad" standing by to offer guidance. According to its website, the average build time for a kitchen is six weeks or four weeks for a bathroom. Financing options are also available.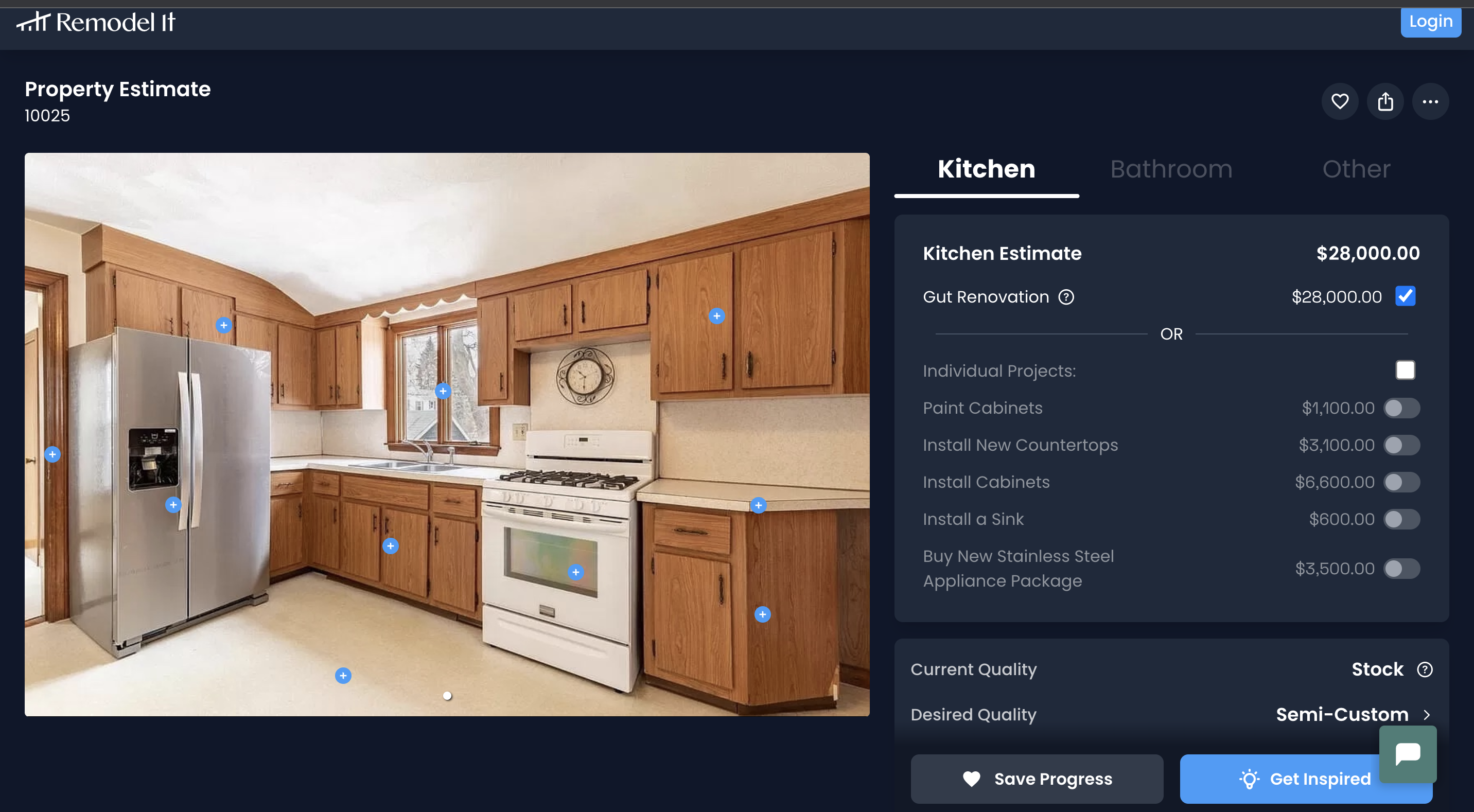 How do you use AI for initial cost estimates and design options?
If you are just testing the waters to see what your dream project might cost and seek out visual inspiration, there are websites and apps to help you do just that—without getting permit-ready plans. 
Remodel It
(another service that's limited to kitchens and baths) uses AI to calculate costs for different projects based on your zip code. You fill out a quick questionnaire, snap a photo of the space, and then have a chance to play around with different materials and layouts to see how each one affects overall costs—and you can toggle among economy, stock, semi-custom, custom, or luxury quality upgrades to see how that affects price and appearance. Similar to Skipp, Remodel It connects you with vetted/licensed contractors in your area, though it doesn't provide you with permit-ready plans.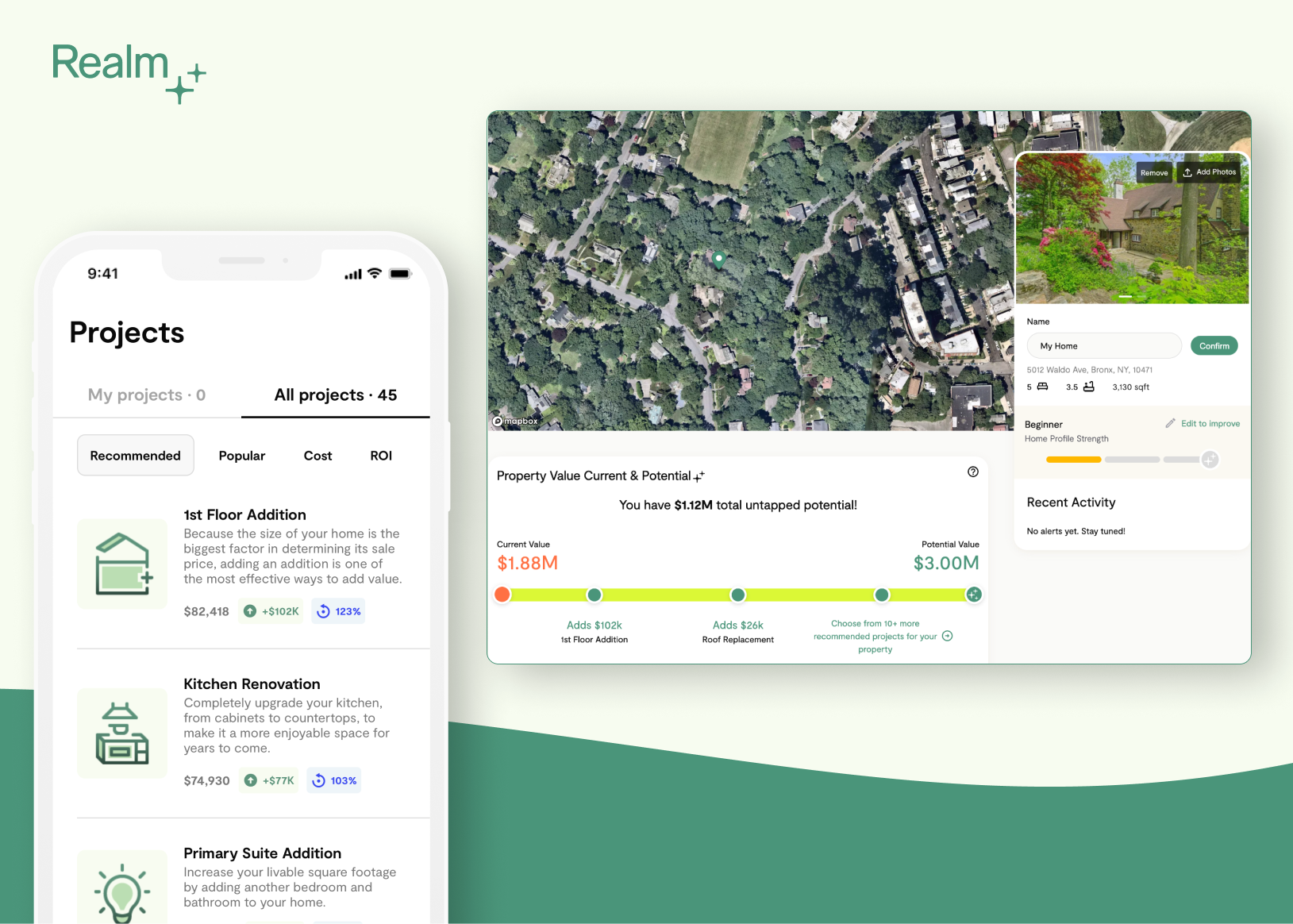 If resale value is your goal, Realm allows you to compare the impact of different reno projects in real-time from your own dashboard. (The company recently launched a mobile app to complement its website platform.) Caveat: It doesn't work for apartments or other multi-family properties. 
"Homeownership is a never-ending list of complex decisions...if I'm moving in a few years should I renovate my bathroom? What's the right budget for my backyard project? Who's the best contractor to work with?" says Liz Young, founder and CEO. "We use AI to simplify those complex decisions and help the homeowner narrow in on the most important things for them and their home. Then, our models create recommendations and estimates (cost, ROI, and home value) personalized to the homeowner, so they feel confident in their home decisions."
Plunk is an app that functions as a cost estimator (it will launch in NYC and nationwide in the summer of 2022 and, like Realm, excludes co-ops and condos). Co-founder David Bluhm says Plunk provides specific advice on how to get the most value out of remodeling through AI by comparing your home to thousands of others and analyzing uploaded photos. "We look for upgrades, evidence of remodeled rooms, or even detection of new features that could be as small but meaningful as skylights, pot racks, or built in shelving."
"Each project we recommend comes with detailed advice—both the value impact of the project as well as its' detailed costs. This empowers homeowners to have a confident discussion with any contractor. There is a lot of stress and anxiety over negotiating with contractors that know much more about renovating, and we help level the table," he says. Plunk also manages a marketplace of curated home service providers who rely on its analytics to bid projects, approve financing, or offer discounts (such as for home insurance). 
At the scratching-the-surface extreme, there's Cubit, which targets the DIY-er "who is sick of fiddling around with a tape measure or struggles to envision a design within a space." The smart device uses extended reality (combining real and virtual environments) to measure your space and then you can play around with the arrangement with the Let's Plott app.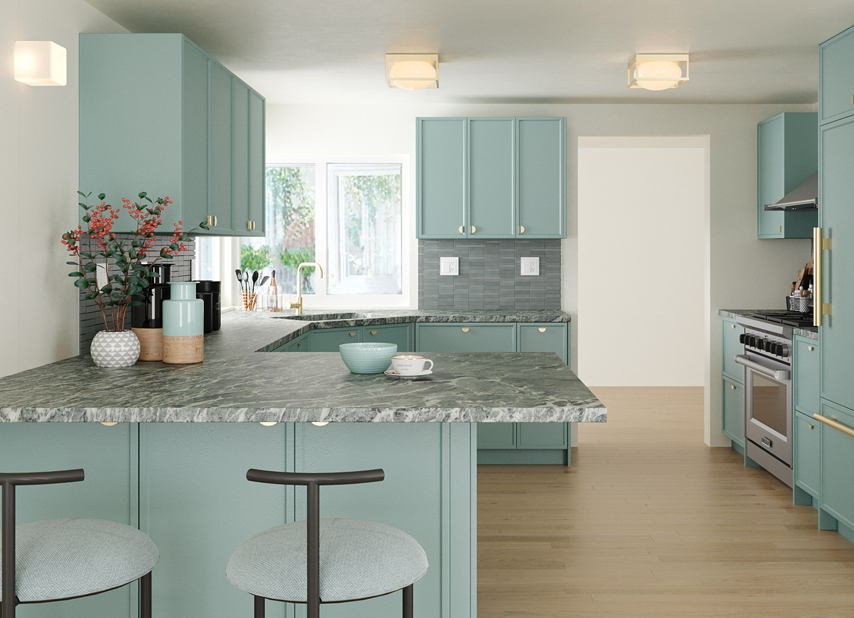 What are the potential cost savings? 
Time is money, so by eliminating the fees associated with architects and designers in the planning stage, you can allocate your budget toward materials, labor, and all the rest.
"All that manual labor might not be the best use of time for an architect," Jaffrey says. "Instead of paying for 70 hours of work just to land on a design, AI companies can remove that from the architect's plate so they can review the plans with you, without doing the heavy lifting."
Jaffrey says Skipp can start kitchens at an all-in $35,000 price point, saving you "tens of thousands of dollars" depending on the size and scope of the job and quality of materials. Based on projects to date, Skipp's sweet spot is a $45,000 kitchen update, which Jaffrey estimates would otherwise cost more in the $75,000 to $120,000 range.
You may also think of AI as a way of being able to manage the fees associated with hiring an architect or designer (and even finding one that isn't booked through 2022). "We hear time and again from architects that they want to be able to help people but they don't have bandwidth," Jaffrey says. "That's where AI allows them to take on projects without having to do the hard work in the minutia."
Architect and designer Ben Uyeda is one such advocate of AI (and a member of Skipp's board of directors): "I love design, but the challenge of helping clients feel secure about decisions used to result in a lot of busywork in creating drawings and renderings that show multiple options," he says. "Using AI technology, these documents can be produced quickly and efficiently, so that the client can see lots of options, and I am not stuck in front of a computer!" 
And if you (like the majority of renovators) are working solely with a general contractor, AI solutions like Skipp and Remodel It can help smooth out that process. 
A contractor Brick spoke to (on condition of anonymity) put it this way: "Most contractors do not have a design team. Contractors work really well with plans, and they work even better if they have solid plans. It's definitely nice to have someone else running that." Read: fewer potential (costly) change orders and job delays due to faulty planning.
And at least one architect sees AI in a different light, though. 
"It does seem to me like there's a lot of room for AI in my field, but I'm betting that most of the upside will be in construction, not design, which is why I just partnered with a general contractor and am shifting to design-build," says Maryana Grinshpun, principal of Mammoth Projects, a full-service architecture and design firm in Brooklyn.
"There is a universe of options out in the world. And a smaller universe of options that actually look good. But in the Venn diagram of what looks good, is in your budget, and can be relied upon to arrive at a job site, there are like four things. It's my job to tell you which of those four things is the right one for you, not present you with endless options," she says.
Meaning no matter where your design inspiration comes from, it still pays to have an experienced pro by your side.
Brick Underground articles occasionally include the expertise of, or information about, advertising partners when relevant to the story. We will never promote an advertiser's product without making the relationship clear to our readers.