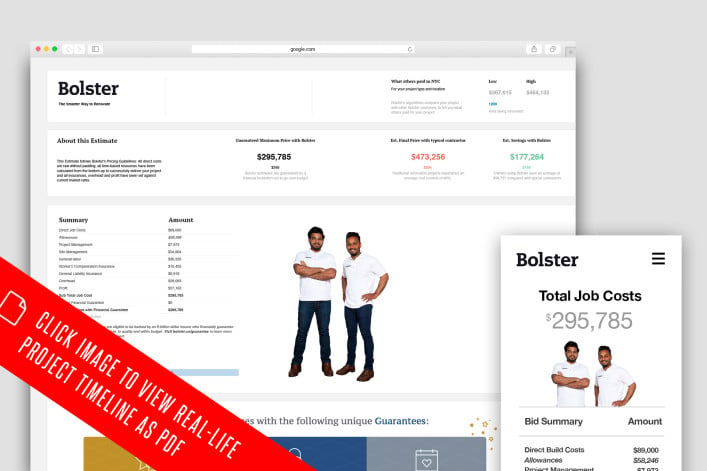 The age of New York City's housing stock often means that when buyers purchase an apartment, it's not entirely move-in ready, but rather in need of some refreshing in order to bring it into the 21st century. Of course, with so many possibilities in how to design your home and how to spend your budget during major gut renovation, the question becomes where to focus your efforts, and which updates will go the farthest toward creating a beautiful, contemporary space. 
When Tom and Megan purchased their two-bedroom Gramercy condo, they knew it would need a substantial facelift. The apartment, built in the early 1960s, hadn't been updated at all over the decades, and as a result, its look was dated.
But the couple loved the location, which was near other family members, and they could see the potential to create a chic, contemporary home in the 1,200-square foot space. And though Tom and Megan wanted to limit their budget, they did have the luxury of time for their renovation, which meant the couple could carefully consider where they wanted to focus their attention.
"Whatever the scale of your project, we always begin with a pre-qualifying conversation to understand if we're a match and to learn more about your home and vision. Based on your budget, personal taste, and lifestyle, our account executive will match you with a Bolster architect to help bring your dream to life," says Fraser Patterson, Founder and CEO of Bolster, a New York City company that empowers homeowners to control their major renovation by delivering industry-leading expertise and a radically transparent online platform. "From there, we meet for a full site visit to learn more about the space and how we can work together."
Tom and Megan decided to devote most of their budget to updating the kitchen and bathrooms, and with the guidance of Bolster Architect Jessica Wetters, they selected new furnishings, products, and finishes that would create the contemporary aesthetic they wanted. Bolster's Lead Project Manager, Chris Amplo, supplied the final bid for the project at $295,785, or $246 per square foot. (Click here to see the winning bid.)
Pro Tip:
Whether you're renovating a two-bedroom prewar co-op or a 4,000-square-foot brownstone, Bolster guarantees a beautifully designed home renovation risk-free and on-budget. "Expect flawless communication, white-glove service, and absolutely no surprise costs," says Bolster's CEO and co-founder Anna Karp. Ready to start your renovation? Learn more >>
Here's what will go into Tom and Megan's update:
Opening and modernizing the kitchen (and apartment infrastructure)
With so little in the apartment having been updated since the 1960s, the Tom and Megan chose to focus their renovation efforts on a few key places most in need of modernization. A revamp of their galley kitchen will help to bring their home into the modern era by opening the space and outfitting it with new cabinetry, appliances, and fixtures.
This part of the project will begin with a demolition of the area, including a non-load bearing partition wall, to create a more open floor plan ($1,500.) Repairing the walls and ceiling post-demolition will cost an additional $1,500; installing a new sink, faucet, and lighting fixtures amounts to $4,000.
At the building management's request, the Bolster team will also replace and update all the branch plumbing lines down to the risers ($4,500), which, Chris explains, will help to modernize the building as well as the apartment. Other infrastructure upgrades are to the apartment's electrical system; framing and re-wiring to make the system up to date will cost $18,400.
Because one of the homeowners' priorities was a very modern kitchen, Jessica advised them to select from the German Kitchen Center's Nobilia line, known for its contemporary aesthetic. This will include semi-custom cabinetry and a kitchen island, products that are both durable and chic. The cost of products and their installation is one of the larger line items in their budget, at $39,500.
Other updates to the kitchen include the installation of new Kitchen Aid appliances ($900), floor tiles ($2,184), backsplash ($1,400), and countertops ($8,000).
A facelift for the bathrooms
Tom and Megan focused their attention on their two bathrooms, giving both major upgrades through direct replacements of most of the existing products there.
After a demolition ($2,800) to remove tubs, sinks, tiles, and fixtures, the Bolster team will update the plumbing as they did in the kitchen ($15,000). In the master bathroom, the bathtub will be swapped out for a custom shower stall ($8000, which includes fixtures, tile, and plumbing), while in the second bath, the bathtub will be replaced with a new tub ($750).
New tiles for both baths will cost a total of $4,200, and new vanities and countertops from Porcelanosa will amount to $1,100. High-end Toto brand bath fixtures and trims are $8,000.
Another building requirement is the installation of a waterproof membrane under any wet locations, including in both bathrooms and the kitchen ($2,500). "It's about limiting the potential for leaks into the apartment below," Chris explains. "It's become an absolute requirement in most renovations."
Details that enrich the space
Given their home's age, and that Tom and Megan did not want to undertake the expense and time commitment of a major gut renovation, the couple made careful choices about what to update. Jessica advised them to repaint in white throughout ($5,000), which will go a long way toward brightening and refreshing the space.
Another aesthetic upgrade that will enrich the apartment is the replacement of all its doors, including those on the bedrooms, bathrooms, and closets.
"We chose TruStile two-panel doors that are nicer and cleaner than the ones in the current space," Chris says. "They represent a higher-end finish to the project."
Installation of the doors will cost $4,200, while the materials themselves are $6,600. In addition, new flooring will be added to the closets for $1,000.
"It's all fairly straightforward," Chris says of the project, which is calculated to take four months to complete, from start to finish. "But of course, just because it's a straightforward project on paper doesn't mean we're not keeping a watchful eye on the potential for risk at every moment."
"While it's part of our promise to do our homework before we begin the build, so as to decrease the possibility of hiccups along the way, we also absorb the cost of any risks encountered on-site that we didn't previously anticipate," Fraser adds.
The homeowners will relocate during that time, with the peace of mind that their project will be finished on time. "As always, we promise to deliver a finished project upon the agreed upon completion date," Chris says. "If we have a delay, we'll be compensating the homeowner for that time.
"Time overruns are another example of a potential risk, but we actively mitigate these using our technology" says Fraser. "At the end of the day, it's our priority for homeowners to move back into their homes on the date we've agreed on. We know how important it is to get that first night's sleep back in your own bed." 
Tom and Megan have the reassurance, then, that in a short amount of time, their condo will be move-in ready, with the stylish, contemporary look they've envisioned for it. 
---
Every year, New Yorkers waste over $700M following the usual renovation process.
Bolster has uncovered the drivers behind these inefficiencies and has developed a proprietary solution that applies to every home renovation project. Bolster is the first company to bring radical transparency, analytics, and accountability to the entire process. They promise that every project is thoughtfully designed and beautifully delivered for a fair price, on time, and on budget. To start your major home renovation project, visit bolster.us
Brick Underground articles occasionally include the expertise of, or information about, advertising partners when relevant to the story. We will never promote an advertiser's product without making the relationship clear to our readers.