The Winning Bid
Here's how much it cost to renovate a prewar 3-bedroom co-op in Cobble Hill, Brooklyn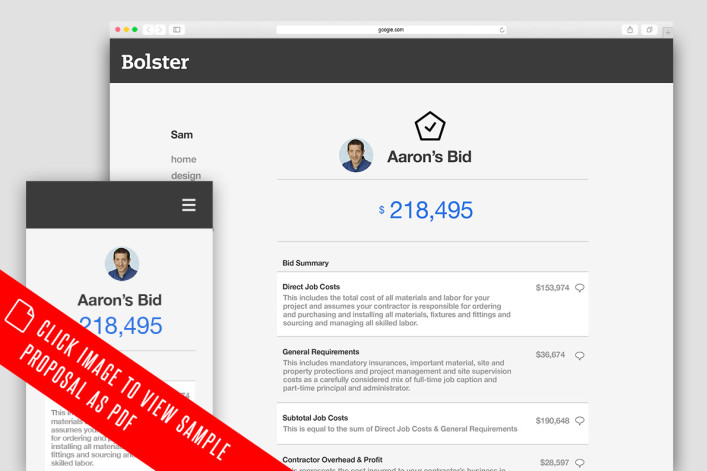 What goes into an extensive renovation of an apartment in a historic New York building—and how much does it cost? Bolster, a New York City company that empowers homeowners to control their major renovation by delivering industry-leading expertise and a radically transparent online platform,  provides an in-depth look at one such project: the renovation of a three-bedroom, one-and-a-half bathroom co-op in a turn-of-the-century Cobble Hill limestone building.
First-time homeowners Kat and Adam had big plans for their space.They wanted a gut-renovation of the master and hall bath, re-plastering of all walls, new flooring, and custom carpentry before they settled into their new digs. Bolster contractor Aaron Borenstein supplied the winning bid at the all-in cost of $223 per square foot, which included everything that went into the project, from materials to insurance to compliance and architect fees.
Click on the image above to see the real-life detailed estimate.
Below, Aaron breaks down the noteworthy aspects of the job, and how, by working with Bolster, you can ensure a smooth project and transform your space into the home of your dreams.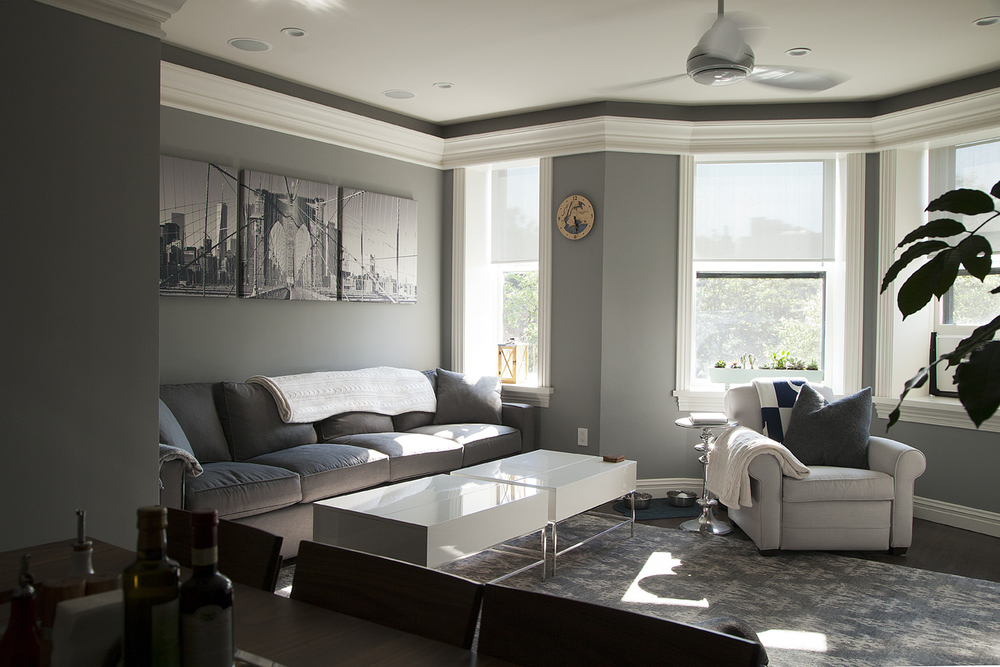 The age of your building matters
If you live in an older building, you may need to anticipate challenges due to structural deficiencies that have risen over time, as the property naturally settles, Aaron warns. One such issue has to do with flooring: "Buildings settle and floors settle," he says. "It may not be just about putting down wood floors—you'll have to repair the floor below it first." Installing a mud floor and pan—a sub-surface for tiling—in Adam and Kat's master bathroom, and then installing a natural stone tile floor over it, cost $3,210; similar work in the hall bath was $2,247. In the home's second bedroom, removing old flooring and installing new wood flooring cost $3,317.
Adjusting floors means changing door heights, too; Kat and Adam paid $910 to raise the hall bathroom's doorway by one foot. Furthermore, when renovating an older apartment, you'll need to inspect for hazardous materials like lead paint and asbestos. Before renovation begins, owners need a work permit from the Department of Buildings and must have an asbestos inspection conducted—which is where an expeditor, who helps navigate city bureaucracy, comes in. (For Adam and Kat, expeditor fees came out to $2,500.)
A home with historical cachet is always appealing, but if your apartment is landmarked, there may be rules against replacing your windows—whether they're well-insulated or not, Aaron says. Here, the homeowners replaced two windows in the second bathroom, for $2,471.
Electrical wiring is another major consideration, as many older buildings have dangerous aluminum wiring needs to be replaced, Aaron says. Over the course of a large-scale renovation, you might have to replace all wiring back to the electrical panel, and replace the panel itself as well. The cost of this kind of undertaking can amount to a significant percentage of the project.
In the case of Adam and Kat's home, Aaron says that the wiring was the biggest challenge; all told, the electrical costs for this project amounted to $10,539. To tackle this obstacle, the crew opened some of the apartment's walls in order to put new wires through. This simplifies the task of inserting new wires, but requires replacing sheetrock.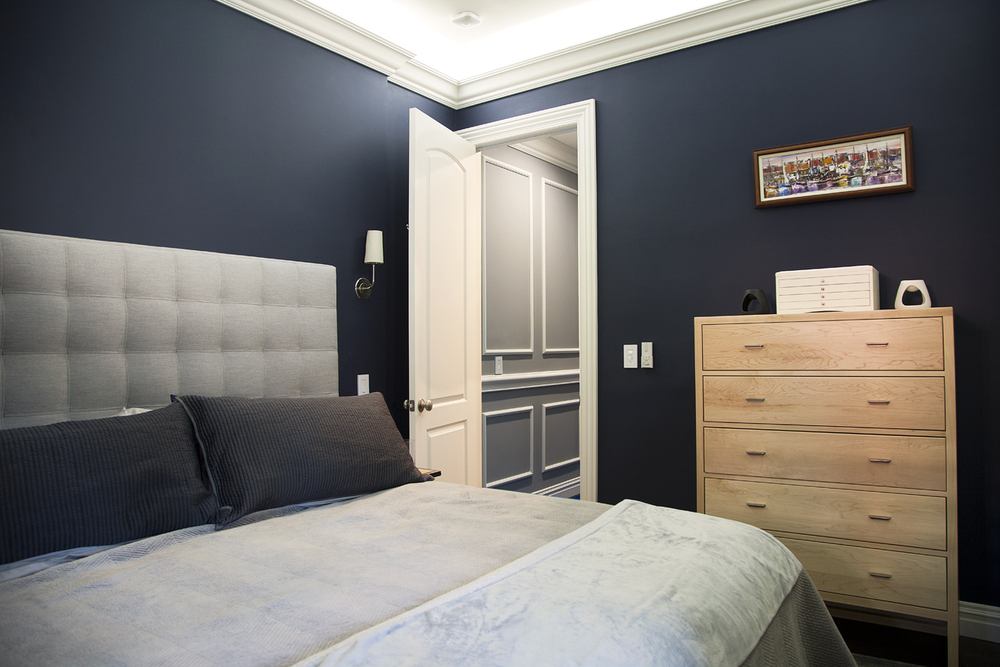 Make as many decisions in advance as possible
Adam and Kat hired a Bolster architect  to guide them through their design decisions before the project was underway.
Aaron says that when many  homeowners commit to a renovation, they simply draw up a floor plan and submit it to the Department of Buildings, "but when the homeowner does their due diligence before the project starts"—meaning they select and commit to details like fixtures, tiles, and other design features before the project begins—"the process goes more smoothly." Though it takes time to plan, he notes, the advance preparation is required for a successful project.
So what might you need to consider ahead of time? For this project, Adam and Kat took time to select their style of plumbing fixtures, tiles, finishing, seals, and crown moldings; they also determined what types of lights to put in and the locations of light switches, as well as the placement of appliances. Aaron suggests that you think about whether rooms like the kitchen are comfortable to work in, or could use some rearranging—being as methodical as possible is the best policy, he says. As Bolster is a new kind of general contractor, completing projects from consultation to design and build, their architects make this part of the process smoother.
Thoughtful, detail-oriented decision-making also makes for a more beautiful space. Creating the custom cabinetry for Adam and Kat's apartment was one of the most challenging, and enjoyable, aspects of the project, says Aaron. New crown molding in the living room was accented by cove lighting, which gave the space a relaxing, warm glow—these touches cost $6,254. Millwork around the fireplace brought it back to life, Borenstein observes; this work amounted to $4,534. Plus, a so-called "level-5" finish—a process of spackling, sanding, coating, and painting—made for the smoothest of finishes; all painting amounted to $8,561.
Such details meant that the pre-construction period lasted a couple months; "it's a misconception that arriving at a fair price is an art form, but it's actually a science," says Bolster founder and CEO Fraser Patterson. "You have to structure a project like this to ensure nothing goes wrong, and no two projects are ever the same." Bolster takes pricing seriously.  Learn more about Bolster's pricing on their FAQ page.
Navigating Design and Compliance is a highly technical job, hire an architect
An architect adds tremendous value. Even after you've gone to the showroom and have selected your new appliances, fixtures, and finishes, it still pays to hire an architect to see the vision through to completion. This ensures the project is completed on time, on schedule, and correctly. "For example, when you select your tile, you won't have a tile layout without an architect helping to lay the plans," says Aaron.
An architect will sketch out an exact formula beforehand, presenting images of your future apartment that leave no design or construction questions unanswered. "Architects lend rigor to the process of setting up the project properly," Aaron says.
"Just because someone may be able to go shopping and pick out a nice pair of shoes and pants, they don't necessarily know how to put together a great outfit," says Fraser. Taking all the design elements homeowners have selected, and creating a synthesis throughout the entire space, "is the domain of an architect," he says. Beyond design considerations, and on a more practical note, when you consider the inefficiencies you eliminate by having an architect, you realize that it's money very well spent."
Aaron agrees that collaboration between contractor and architect is essential: "There should be mutual appreciation between construction and design." Architect fees usually amount to ten to twenty percent of the total renovation cost; here, that meant $25,000.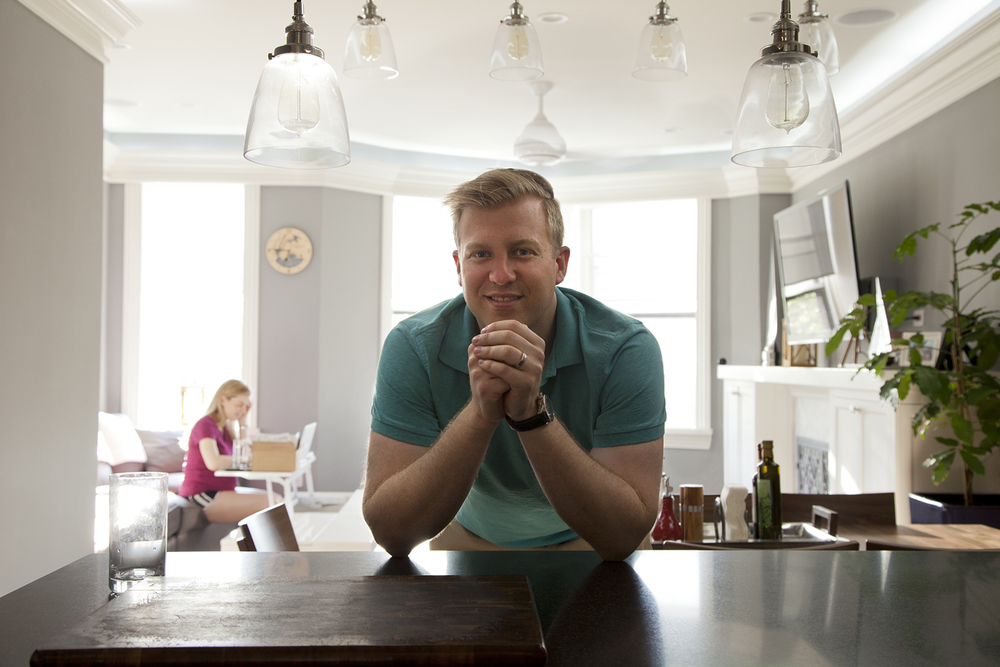 Understand insurance policies
Aaron notes that the plumbing on Adam and Kat's home was a large expense because the crew had to move risers—pipes that serve entire buildings—in the process of expanding the master bathroom. Plumbers, especially when they do such work in large buildings, have to carry huge insurance policies, he says, because liability is significant in the case of damages.
The correct amount of insurance coverage is crucial, Fraser says. Part of the value Bolster adds to their customer's projects is to reveal the logic behind these direct and indirect insurance costs. For Adam and Kat's home, the general liability insurance policy was $6,159, and workers compensation insurance was $3,867.
Factor your building's logistics into renovation costs
There are a number of factors that can add to renovation costs that might not occur to homeowners—for example, if you live in a walk-up, expect additional fees for the transport of materials up and down stairs. Even in an elevator building, the elevator's location—whether it's five feet from the front door, for instance, or down a long corridor—poses another variable. "Crews can spend a quarter of a day bringing in materials," Aaron points out, "which can cost more  in delivery fees." Protecting floors and materials, too, as well as handling garbage removal, adds to the costs; for this renovation, which was in a walk-up building, these fees amounted to $3,900.
Just as every project is unique, so is every building, much to the chagrin of owners. But doing a project the right way paid off for Adam and Kat, and they were able to move into their revamped home right when they had hoped to: just before the Christmas season.
---
Every year, New Yorkers waste over $700M following the usual renovation process.
Bolster has uncovered the drivers behind these inefficiencies and has developed a proprietary solution that applies to every home renovation project. Bolster is the first company to bring radical transparency, analytics, and accountability to the entire process. They promise that every project is thoughtfully designed and beautifully delivered for a fair price, on time, and on budget. To start your major home renovation project, visit bolster.us
Brick Underground articles occasionally include the expertise of, or information about, advertising partners when relevant to the story. We will never promote an advertiser's product without making the relationship clear to our readers.