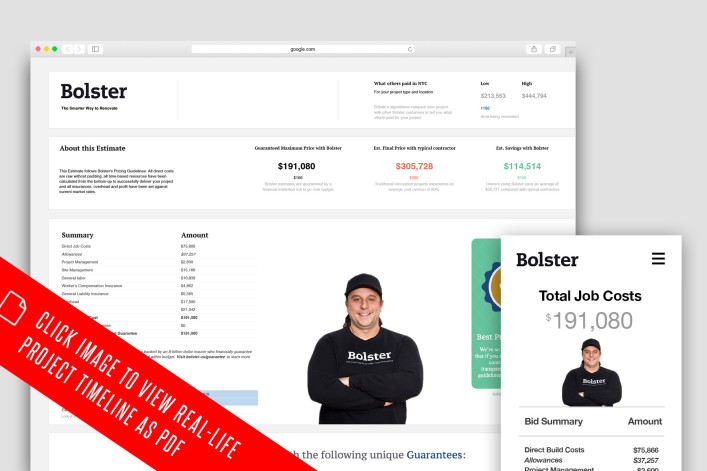 An apartment that seems ideal when you first purchase it can become less functional as your needs change over time—unless you do some serious revamping, that is. This was the case for Mansi, who purchased a two-bedroom condo in Downtown Brooklyn early in her career, in a building that had been recently converted from a commercial space. While the apartment worked well for her initially, once the executive and her husband had a baby girl, it became clear that the condo's layout was not perfect for a growing family.
Mansi considered purchasing the unit next door to do a combination, but after crunching the numbers, she decided that the smarter investment would be to improve the functionality of her current space so that her family could live there for years to come. She reached out to Bolster, a New York City company that empowers homeowners to control their major renovation by delivering industry-leading expertise and a radically transparent online platform, to make her vision a reality.
Mansi consulted with Bolster architect Agustin Ayuso to explore her options, focusing on the apartment's kitchen and flooring and researching fixtures, finishes, and appliances, and Bolster's Lead Project Manager Chris Amplo supplied the winning bid for the project at $191,080 ($166 per square foot).  (Click here to view the detailed bid.) Mansi's proactive approach was instrumental in allowing the project to go smoothly: "We put our hearts into every job we do," Chris says. "But when you work with such an involved and empowered homeowner, it makes the project that much more exciting and rewarding."
Read on to learn more about the noteworthy aspects of the project, and what it cost to optimize the condo for this young family.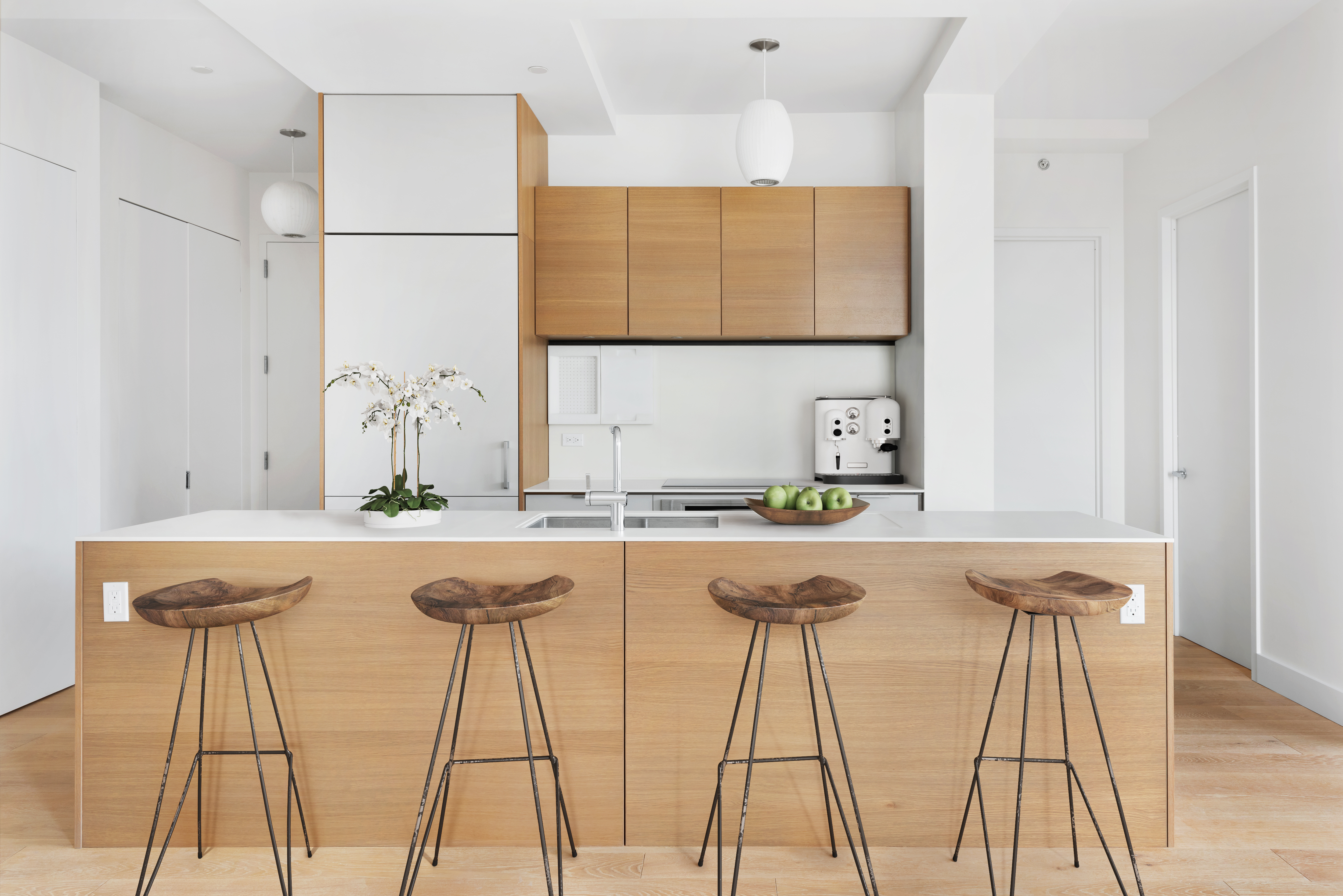 Finding firmer footing with new floors
When Mansi bought the apartment, the developers were in the process of converting the property. And while they did create a livable, residential space, there were aspects of the apartment that posed challenges for the family.
"It wasn't a bad condo, but it just wasn't optimal for a family lifestyle," Chris says. "In working around certain layout limitations, you have to be savvy. It's critical to capture all the space and usability in an apartment like this."
Installing new flooring was a major step in bringing the condo to life, as the original floors were oddly squishy, Chris says. Besides needing floors with a better grip, Mansi also wanted them to have a lighter, fresher look.
To accomplish this, the Bolster team tore out the flooring ($4,000 for demolition and $2,600 for debris removal). Here they ran into a slight snag: the adhesive attaching the floors to the concrete below was so difficult to remove that they had to use a concrete grinding machine to get it off.
But once the new wood floors were installed ($12,993 for materials, $6,875 for installation), Mansi was pleased with the results: "She was super happy she could walk on something that felt sturdier and looked beautiful," Chris says.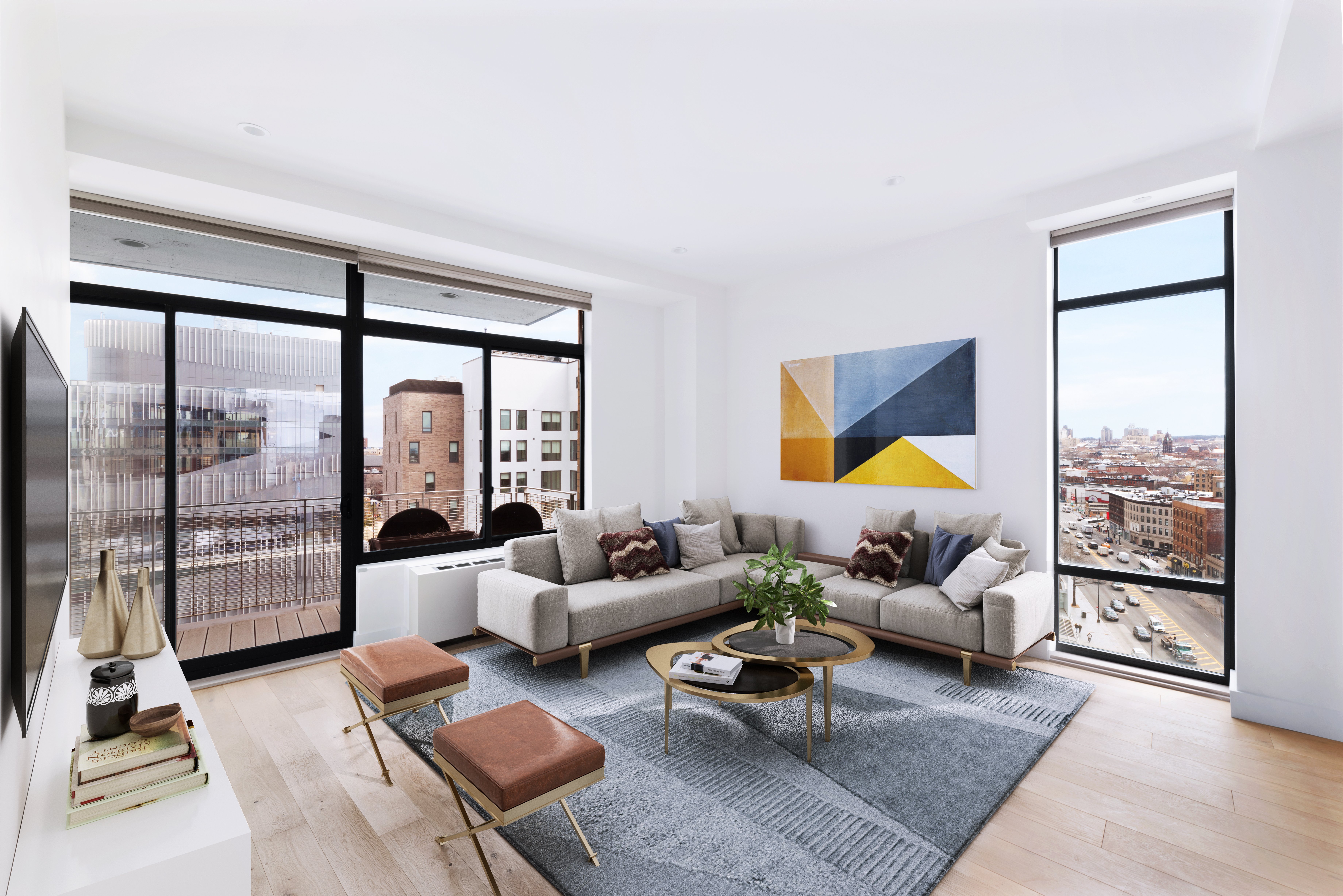 Creating a more stylish—and child-friendly—kitchen
Further improving the functionality of the space to accommodate the family entailed a kitchen overhaul. Mansi worked with Agustin to explore her options, deciding on a custom-built kitchen from Henry Built, a company that creates kitchens with homeowners' lifestyle and approach to cooking in mind.
Mansi's open kitchen was given a facelift to make it more stylish, convenient, and child-proof, with the installation of new cabinetry ($5,200) and countertops ($1,170). Mansi also chose high-end fixtures and finishes, including KWC kitchen faucets ($860), a Wolf oven ($5,307), Subzero refrigerator ($8,588), Bosch dishwasher ($1,269), and Wolf induction stove ($2,408), which she selected because there's no open flame, making it a more child-friendly product.
"The kitchen now has beautifully-made products with little accessories like an integrated cutting board, under-cabinet lighting, and a highly functional island sink," Chris explains. "It's customized to get the most use out of it."
Plumbing—including sink, faucet, dishwasher, and garbage disposal installation, and connecting the water line to new valves—came to $6,225.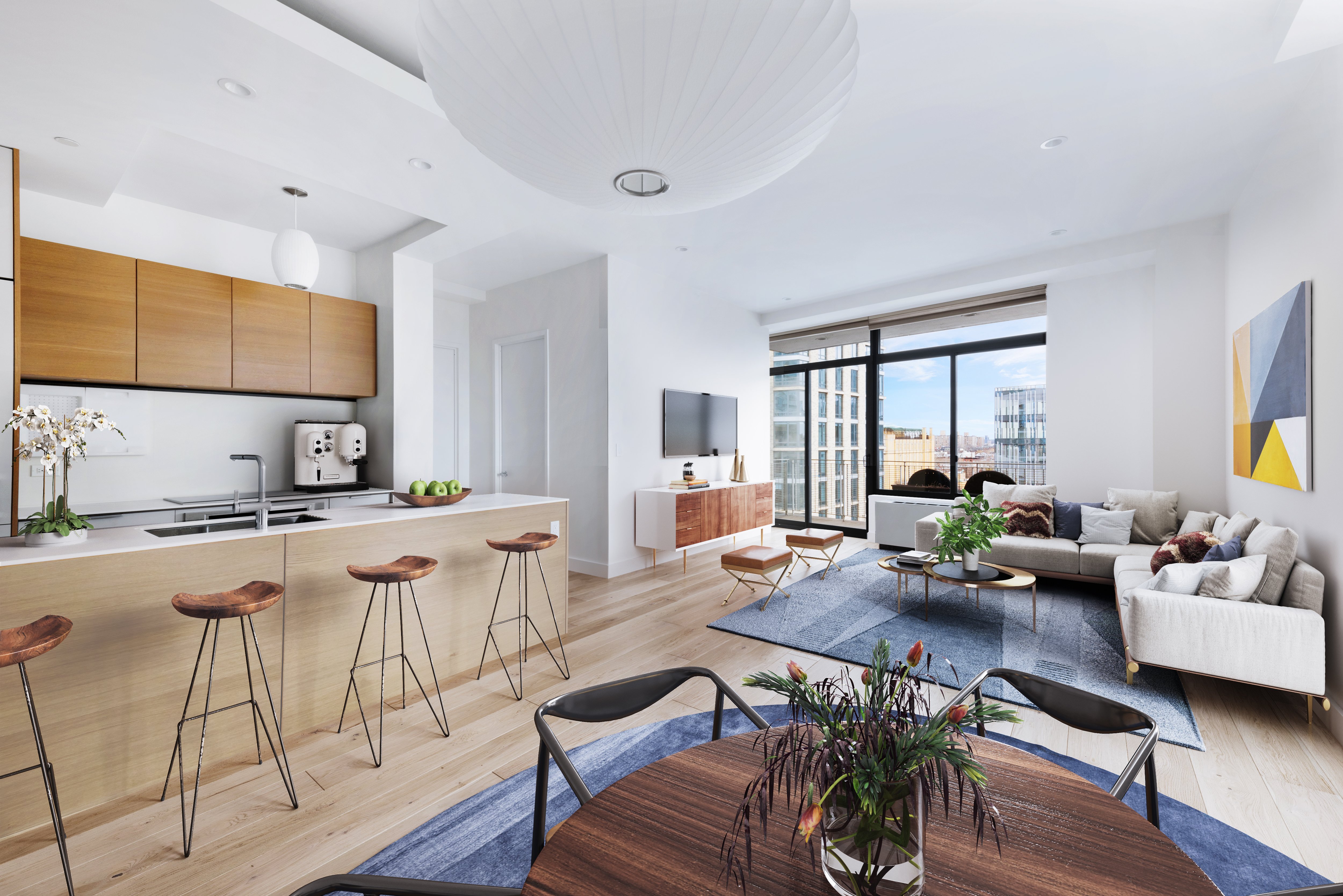 Brightening the space—and dealing with permits  
"There was a real lighting struggle there," Chris says of the too-dim apartment. To brighten the space, Mansi and the Bolster team opted to add recessed lighting to all the rooms in the condo; they also added some smart home features, including WiFi-enabled dimmers and switches.
"Rough in"—that is, framing and installation of the new electrical features—cost $19,260, while the fixtures and components of the recessed lighting was $3,510. New outlets and switches accounted for about $300.
Plumbing and electrical renovations can sometimes require homeowners to undergo a lengthy permitting process with the Department of Buildings, but because neither system was repositioned for this project, the filing went smoothly.
"We were able to pull the permits independently and send notification to the DOB rather than go through a whole review," Chris says. "We also worked with a great superintendent who made things painless."
Also helpful was that the condo did not have an extensive alteration agreement.
"It allowed us to keep things simple and move the process along pretty painlessly," Chris says. "The alteration agreement is key—getting that information up front will help along the entire design."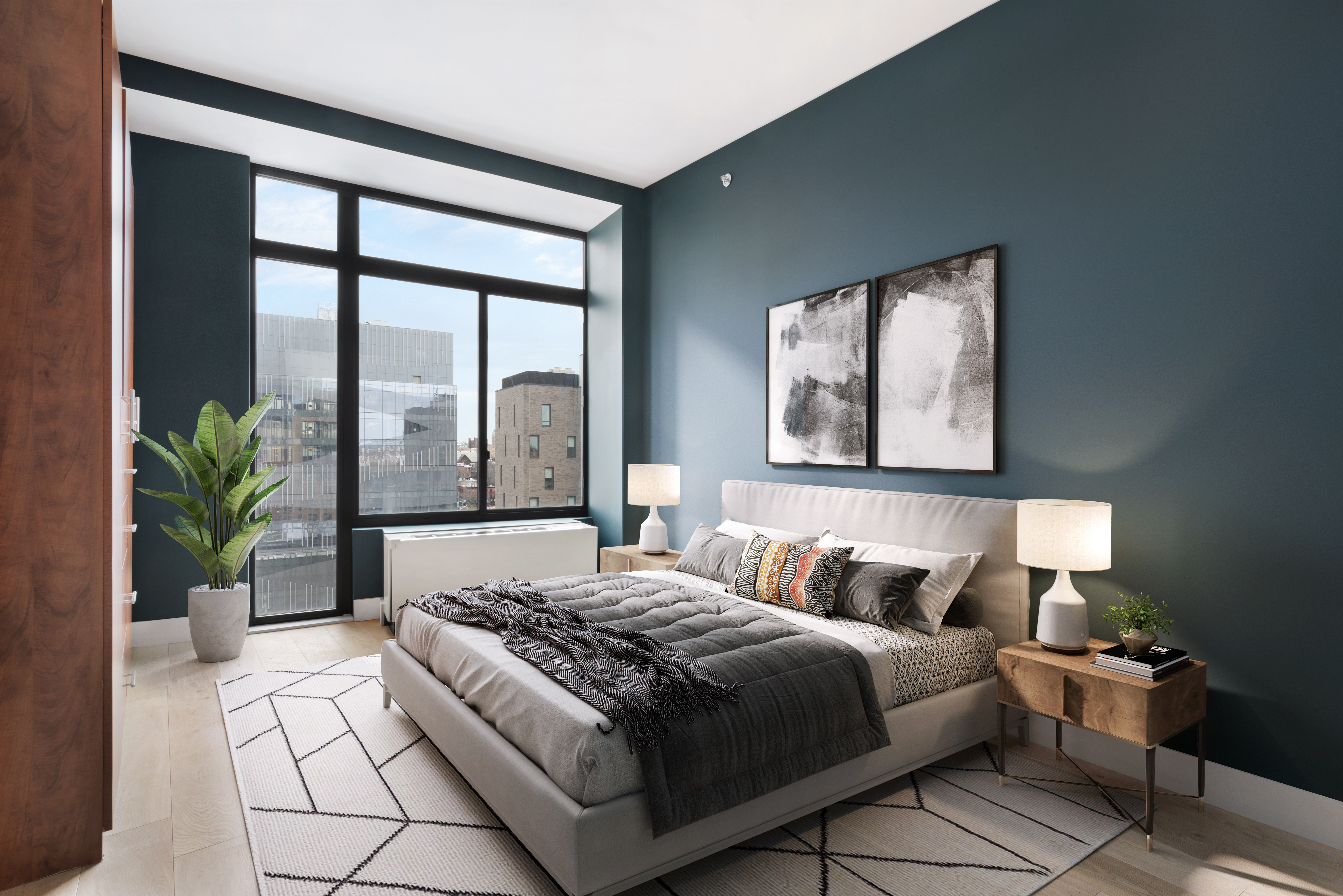 Beautifying the bedrooms and bathrooms
The bedrooms and bathrooms in Mansi's condo received some cosmetic updates as well, with the goal of making the most of the space and adding some much-needed storage.
In the two bedrooms, in addition to new flooring, Bolster installed new base molding and upgraded the base trim for a more refined look ($924 for materials and $1,836 for installation). Built-in shelving was added to some of the closets as well, to create more storage space for about $900.
"We also did a lot of wall repair," Chris says. "The walls had a plain look, so we upgraded that with a nicer finish and paint." Plaster repair and painting throughout the condo cost $2,800 and $15,000, respectively.
During the early stages of construction, Mansi had a change of heart–she wanted to revamp the master bath as well. (This room had been removed from the project plan during the design phase.) After accepting the change order, Mansi decided to convert her tub to a shower stall, which added some much-needed storage space. The bathroom was further beautified with new subway tiles on the walls and charcoal granite tiles on the floor for a more modern look. The brand new master bath cost $41,513 in total.
Preparing up front and asking the right questions
The renovation is scheduled to be completed soon; the project has spanned about three months, and it's been smooth sailing thanks in part to Mansi's advance preparation.
"She's been extremely helpful. She selected her materials quickly and confidently, and she gave us the space and time to do the work," Chris says.
Because of the extensive work done to the floors and walls, Mansi and her family needed to move out for the renovation. (Pro tip: the cost of a short-term rental should be something you factor into your project budget.)
The Bolster team stayed on time and on budget because so much planning was done in advance. But of course, some things are out of a contractor's hands. "The flooring came a little late and the plumber got delayed, but this is normal," Chris says. "We worked efficiently to ensure that, despite a few hiccups, the overall timeline was not disturbed. You have to be able to pivot with things that are out of your control."
Mansi travels frequently for work, but she had peace of mind during her time on the road, knowing that her condo was in good hands—and would soon become the stylish, functional space that her family was looking for.
---
Every year, New Yorkers waste over $700M following the usual renovation process.
Bolster has uncovered the drivers behind these inefficiencies and has developed a proprietary solution that applies to every home renovation project. Bolster is the first company to bring radical transparency, analytics, and accountability to the entire process. They promise that every project is thoughtfully designed and beautifully delivered for a fair price, on time, and on budget. To start your major home renovation project, visit bolster.us
Brick Underground articles occasionally include the expertise of, or information about, advertising partners when relevant to the story. We will never promote an advertiser's product without making the relationship clear to our readers.