The Winning Bid
Here's how much it costs to renovate the parlor floor of a brownstone in Crown Heights, Brooklyn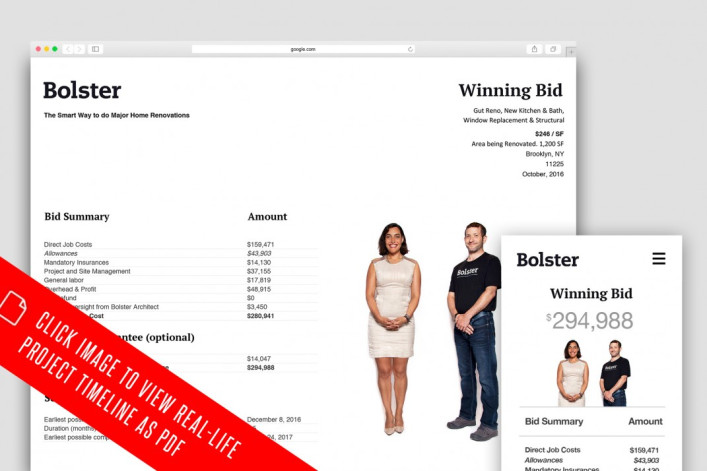 For many New Yorkers, "historic brownstone" roughly translates to "dream home." But renovating one can be prohibitively expensive if you do everything at once. That's why some owners opt to upgrade in stages, which allows them to prioritize their renovation wants and stay within a tighter budget.
One such couple decided to kick off the overhaul of their 120-year-old, Crown Heights, Brooklyn brownstone with a gut renovation of the ground ("parlor") floor, which they hope to rent out afterward.  The job will entail creating a new bathroom and kitchen, replacing windows and doors, and making structural upgrades.  
"This is a very budget-led project," explains Anna Karp, co-founder of Bolster, a New York City company that has designed a transparent and enjoyable process for NYC homeowners doing major renovations.
The fact that the gut renovation is in a standalone house is saving both time (the construction timeline is a mere two and a half months) and money.  The owners' attitude helps too.
"They weren't looking for all kinds of bells and whistles, and they were very easy to work with, which helped keep the budget in check," says Karp. "Then the fact that it was a house also helped—with co-ops and condos you also have to satisfy building management in most cases, but in this case there's only one interested party– the homeowner."
Bolster contractor Aaron Borenstein supplied the winning bid at $294,988, or $246 per square foot. (Click here to view the bid in full.) The project is scheduled to begin in mid-November and will be completed by the end of February. Read on for more details about the decision-making process and costs involved.
The potential challenges—and advantages—of renovating an older property
The first task was to dig up the brownstone's certificate of occupancy, which must be amended before any construction changes the use, exits, or occupancy of a home. Potential complication: Properties built before 1938—like this one—were not required to have a C of O, unless they were subsequently renovated, which this brownstone was. Fortunately, in this case, Bolster was able to track it down with the DOB.
Next, Bolster arranged for a structural engineer to visit the brownstone.  Happily for the owners, the engineer determined that the existing interior walls are not load-bearing, and therefore can be more easily removed.
"There are wood beams stretching all the way through the house, which is very uncommon in modern houses," says Borenstein, the contractor. "That means we are able to remove the interior partitions without causing any structural damage."
After brainstorming with Bolster architect Agustin Ayuso and looking through his sketches of design options, the owners decided to take down every dividing wall to create an open floor plan.
"There will be a huge open floor plan where you can see from the front into the backyard. We're also opening a back wall and putting in a lot of glass," Borenstein explains.
The demolition phase of this project will cost about $15,000, which includes rubbish removal, floor protection, and filtering to remove airborne particles. New interior framing also accounts for a large portion of the budget: removing the partition walls and putting in some new ones, as well as installing steel lintels to support the doors, will cost $22,360.
Taking down walls and opening up others requires the installation of new insulation and drywall ($9,200). It's also an opportunity to include soundproofing. Sound attenuation insulation will be installed in the ceilings in order to muffle the noise from people moving and talking on the higher floors.
An additional boon to the renovation team is that there's little emphasis on the preservation of historical details here, despite the home's age.
"The house has already undergone a couple of renovations, and a lot of the original details aren't there now," Ayuso says. "There's not that much to preserve."
(When it comes to revamping a landmarked historic property, by contrast, there's often additional hassle; see our story, "7 hidden costs of renovating a brownstone," for more info.) 
Forging a relationship between the indoor and outdoor spaces
Nowadays, many people seek a harmonious relationship between indoor and outdoor spaces.
"Old kitchens used to be dark and nobody would want to go back there, but now we want to make that area open with more sunlight," Ayuso says.
Additionally, Karp notes, family life tends to be focused around the kitchen, and an open plan helps to facilitate that. "For most of our projects, it's rare when clients are happy with a galley kitchen," she says.
Here, the kitchen is at the rear of the house, adjacent to a private backyard.An exterior wall will be replaced with double glass doors, and two windows will be made into one large picture window, creating a natural flow from indoors to outdoors. This requires the installation of new framing, as well as steel lintels for support ($1,650). Installing new windows and doors throughout the rest of the floor will cost an additional $10,496.
Modernizing the kitchen and bathroom
When the project is complete, the homeowners will have an upgraded, stylish kitchen and bathroom. The former will feature new wood floors, semi-custom cabinetry with a matte finish, and stainless steel appliances. The latter will have glass subway tile in the shower, and new sheetrock and plaster throughout for a clean, modern look.
Because this is a budget-driven project, Karp explains that one solution for keeping costs under control is to consider what level of details matter most to the clients. They'll get Caesarstone kitchen countertops for a sleek finish ($4,800), semi-custom cabinetry ($16,080), and new moldings ($2,050).
"There's always a dialogue going on with clients that's about figuring out what's important to them. We ask them what are the 'must haves' and the 'nice to haves.' There might be areas where they can save money," Karp says. In this case, the homeowners opted to go semi-custom rather than fully custom with some of the kitchen features.
In the bathroom, meanwhile, the team will install a new vanity ($2,795), shower enclosure ($1,250), and accessories and appliances ($10,857).
Plumbing, electrical, and HVAC in older properties
This type of work typically amounts to a large line item in a renovation budget, especially in old buildings. Borenstein explains that the team will open several walls in order to install new plumbing, electrical, and HVAC systems. "What drives the price up is we are trying to preserve certain walls," he explains. "We will have to snake new electrical lines up through the basement, which is a lot more laborious."
The installation of the new electrical system—which first entails removing plaster and sheetrock on the walls—will cost $16,832. Supplying and installing the plumbing, including a new tile shower pan (that is, the base), runs $16,632, while HVAC installation amounts to $2,500.
A pre-existing chimney stack in the kitchen should turn out to be helpful in this process: "We're taking the hollow space of the chimney and installing the vent from the kitchen all the way up towards the roof," Borenstein says. "That way, we can use that as exhaust for the kitchen hood and bathroom."
The completion of this project will represent the first stage in a longer process to eventually revamp the whole property; creating a separate apartment on the top floor and upgrading the basement will come later.
"They have a very good focus on what they want for their lifestyle," Karp says of the homeowners. "They're willing to get their hands dirty and be very engaged in the process." 
---
Every year, New Yorkers waste over $700M following the usual renovation process. Bolster is different, using a scientific approach to match you with the highest-quality professionals and financially guarantee your project is delivered beautifully for a fair price - all at no extra cost.
To start your major home renovation project, visit bolster.us or call (929) BOLSTER.
More from Bolster:
More articles in The Winning Bid series
Why are high-end bathrooms so low-tech? 
Here's how long it takes to gut renovate a three-bedroom apartment in NYC
Should you hire an architect or a contractor first? 
Brick Underground articles occasionally include the expertise of, or information about, advertising partners when relevant to the story. We will never promote an advertiser's product without making the relationship clear to our readers.