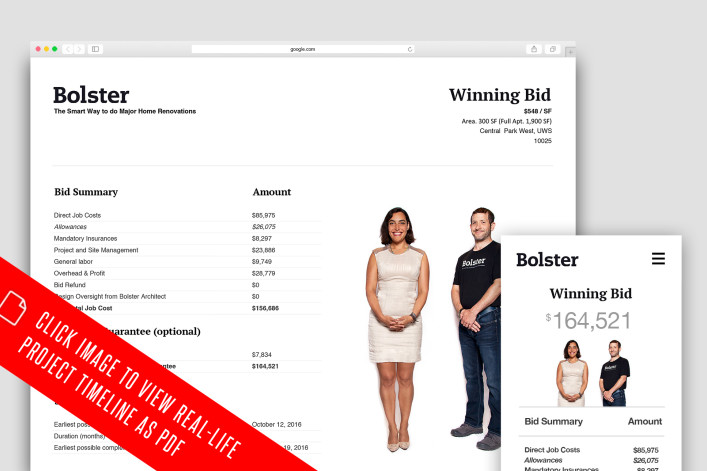 Two of the biggest pain points for buyers of older New York City apartments tend to be old bathrooms and kitchens renovated in an out-of-sight, out-of-mind era—a time when bathrooms resembled functional closets more than aspirational spas, and food prep was perceived as a dreary chore rather than an activity that could be enjoyed together with family and friends.
One couple who recently bought a Central Park West two-bedroom loved the gorgeous prewar layout but knew the seriously outdated galley kitchen had to go.
"This particular kitchen, like most we find from the early 20th century, was originally designed as a utility space rather than living space," says Bolster Architect Agustin Ayuso. "It was dark, hidden and not designed for people to linger and have conversations while being in them."
To transform the dark, cramped, and out-of-date space into a stylish, bright and open plan eat-in kitchen with a breakfast bar, a gut renovation would be necessary.
The owners, who with their three children split their time between NYC and Canada, decided to undertake a gut renovation of the 300-square-foot space with the help of Bolster, a New York City company that has designed a transparent and enjoyable process for NYC homeowners doing major renovations. Bolster cofounder Anna Karp introduced them to architect Agustin Ayuso and contractor Aaron Borenstein.  Borenstein supplied the winning bid at $164,521, or $548 per square foot; the project will begin next month and is expected to be complete by late December.  (Click here to view the winning bid.)
Over the course of about two months, Bolster's renovation team will give the kitchen a major facelift, turning it into a sophisticated, livable space. Here's a closer look at their process and the Bolster renovation process itself. 
Planning ahead
Because the scope of the work is limited to the kitchen area, planning for this renovation was relatively simple, says Ayuso. The kitchen includes several existing elements—a service entrance and walls with plumbing pipes inside, for instance—that cannot be moved, setting clear parameters for what could be accomplished. The owners did opt to knock down one wall to create an expanded, open plan space; floor tiling was chosen specifically to create continuity throughout the new layout.
"Right now, it looks like a kitchen out of an episode of The Wonder Years," Borenstein says. "There's an antique stove and sink, heavy plaster, thousands of layers of paint, and heavy casings around every door."
Ayuso met with the homeowners several times to discuss the overall project as well as the particulars, like the selection of materials, including cabinetry, tiling, appliances, and fixtures. "In this case budget was a big issue, but so was quality and durability," he says.
As their discussion evolved, Ayuso's presentation moved from rough sketches to detailed, three-dimensional computer graphics to provide the apartment owners a clear sense of what their kitchen would look like.
Architect fees generally account for 10 to 20 percent of a renovation's total cost; in this case, the owners will pay $16,000.
"Engaging a skilled architect for a high-end, design-driven renovation such as this one, and hiring a contractor to collaborate, in this case through a design-build firm, is essential for ensuring that your space is optimized and your project runs smoothly," says Bolster's founder Fraser Patterson. (For more information on how and when to hire an architect and contractor, click here.)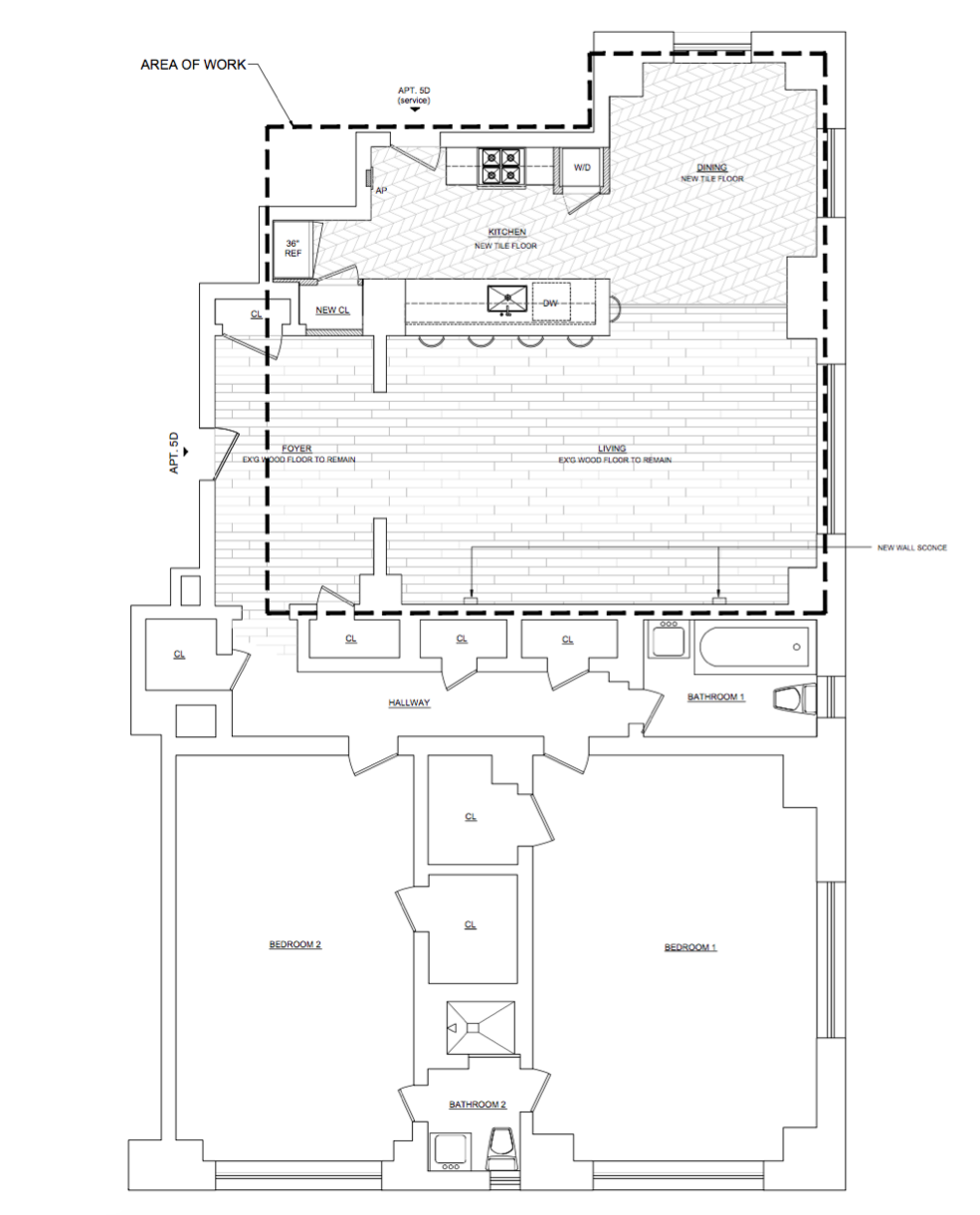 The layout of the apartment, with the work area for the proposed renovation highlighted. 
Assessing the risk and return on investment
Though the owners initially wanted to spend between $75,000 and $100,000, they adjusted their budget upward as the scope of their project became clear and as they gained a better sense of the positive impact their project would likely have on the resale value of their apartment.
"To help put costs in perspective and the return on investment, we provide renovators with an estimate of how their renovation will boost their home's resale value, which reveals the true cost of the project, thus demystifying the question of what a homeowner is really paying for," says Patterson.
In this case, publicly available data from accredited real estate consulting companies in Manhattan made it possible to estimate how much the apartment will appreciate in value for the duration of the time the homeowners live there. With its updated kitchen, the property is expected to appreciate by about $144,018--which would reduce the out-of-pocket costs of the renovation to only $20,503.
The owners also did not want to be exposed to unexpected cost overruns or an unreliable contractor.
"If you look at the traditional way of doing renovations, there's an endemic problem that frightens every consumer, because there's no process in place," says Patterson. "Customers are very sensitive about budgets, and want to understand exactly what they can do within their budget."
Construction projects are particularly high-risk endeavors due to the high potential for contractor failure: "There's a one in five chance they will go under, and take their money and everyone else's with them," says Patterson.
Additional risks come in when the costs of a project are miscalculated, leading to high cost overruns once the renovation is underway. "Consumers want the most value for their money, but there's no way  to really know what they're buying in advance because they can't see it—it's not like an iPhone," Patterson says.
That's why renovators are often swayed by lower bids—which a contractor may have deliberately underestimated in order to win the project.
"They then find themselves hit with sticker shock when the renovation goes way over budget, which could happen for any number of reasons, from purchasing that wasn't done on time, to materials taking longer to arrive than anticipated," says Patterson. "Bolster uses an algorithm to arrive at a statistically accurate estimate of a project's minimum and maximum potential costs. Renovators then purchase a financial guarantee--typically 2 to 5 percent of a project's value, which in this case is $7,834--that offsets any risk of cost overruns by transferring them to their insurance."
Taking the space from outdated to high-end
In order to bring an antique kitchen into the contemporary world, the first step is overhauling its infrastructure. As Ayuso explains, most pre-war kitchens were built with only one or two outlets and one light fixture, whereas the modern home cook will likely need multiple countertop appliances—toasters, coffeemakers, food processors, slow cookers, and so on—to be plugged into several outlets.
Moreover, the rough plumbing in a decades-old kitchen will need to be replaced, as it has likely outlived its projected life span. "Few owners would want to have to reopen walls in a few years to replace aging drain pipes when they just spent a considerable amount of money on their kitchen cabinetry and finishes," Ayuso points out.
Re-routing the plumbing and electricity in older properties often accounts for a large portion of a renovation's budget, especially when a construction crew needs to move the risers—that is, the pipes that serve the whole building.
In this case, Borenstein says, "Every phase of the project has its challenges, just because of the age of the building." The early stages of the renovation will involve a demolition of the kitchen and a leveling of its floors ($6,800), followed by the installation of new metal framing ($3,200), repairs to plaster and drywall, and the application of a level-5 finish, a process of spackling, sanding, coating, and painting outlined here ($6,500).
Just reaching the plumbing and electrical is time-consuming and laborious, Borenstein says, because it necessitates first removing plaster and sheetrock. The installation of the new electrical system, including outlets and switches, will run the homeowners $9,800; replacing plumbing back to the risers will cost $11,350.
Borenstein classifies this project as a high-end one, due to the use of top-of-the-line materials and installation of luxe appliances, as well as carpentry and tile work, which account for the largest portion of the renovation budget because of the high quality of products.
Throughout the kitchen, marble floors with a striking chevron pattern will be laid down ($7,600), custom countertops ($3,700) and lacquer-finish cabinetry ($17,400) installed, and new base molding applied ($500.) The supplying and installation of new appliances—a refrigerator, stove, dishwasher, microwave, and washer and dryer unit--will cost $9,925.
Working with apartment and building logistics
Every building in NYC is different; it helps, Ayuso says, that this is a well-organized and well-managed one. Renovators should begin by submitting plans to the management well in advance, so that the building's architects can ensure all regulations are being followed.  
Here, a building's age is a potentially complicating factor. One possible roadblock, for instance, is that the property management warned the renovation team in advance that it might encounter asbestos covering some of the piping. This is unsurprising, given that the toxic material was used in buildings until the 1970s, when it was discovered to be carcinogenic; many pre-war and even post-war buildings still have it present within their walls. If asbestos is found, the project's timeline and budget might be extended, as strict environmental regulations dictate how the material must be removed.
On the bright side, one convenient aspect of this project is that there will be scaffolding already installed by the property for window repainting, which the team will use as it penetrates an exterior wall.
"If we were to provide that ourselves, it would add an enormous amount of money," Borenstein says. "Now, while it's set up, we can use the scaffolding to install vents for the dryer." In this case, the process will only cost $650; other renovators might opt instead for an electric washer and dryer that are completely ventless, in order to avoid the cost of putting up scaffolding. 
Another consideration when undertaking such a kitchen renovation is whether renovators want to live at home during the project or not. Because the project involves taking down a wall to open up the kitchen, the work will overflow into other rooms. Plaster work will have to be repaired and repainted on adjacent walls and the ceiling, in order to make the shade uniform throughout the apartment.
The homeowners plan to stay in the unit throughout the renovation, as their apartment is laid out in such a way that they can remain comfortable despite the work. The apartment, for instance, includes a service elevator that goes directly into the kitchen, which means the contractors can come and go without disturbing the rest of the space. Plus, the bedrooms and bathrooms are located in another wing of the unit, allowing the entire work area to be sealed off. Furthermore, the family travels extensively and plans to be out of town during periods of heavy construction and to eat out while they're in the city.
"However, with most kitchen renovations in an apartment this size, people don't like living there," Borenstein says; in many instances, the homeowners will choose to rent elsewhere until the project is completed.
---
Every year, New Yorkers waste over $700M following the usual renovation process. Bolster is different, using a scientific approach to match you with the highest-quality professionals and financially guarantee your project is delivered beautifully for a fair price - all at no extra cost.
To start your major home renovation project, visit bolster.us or call (929) BOLSTER.
More from Bolster:
See more articles in The Winning Bid series
Why are high-end bathrooms so low-tech? 
Here's how long it takes to gut renovate a three-bedroom apartment in NYC
Should you hire an architect or a contractor first? 
How to find a great contractor in NYC
Brick Underground articles occasionally include the expertise of, or information about, advertising partners when relevant to the story. We will never promote an advertiser's product without making the relationship clear to our readers.