NYC Renovation Q's
Here's how much it costs to gut renovate a dated Upper West Side co-op
Electrical systems were upgraded and appliances switched from gas to electric for $41,700
Plumbing costs for gutting the bathroom and reconfiguring the kitchen were $50,405
Doorway arches were added throughout the space for an old-meets-new design aesthetic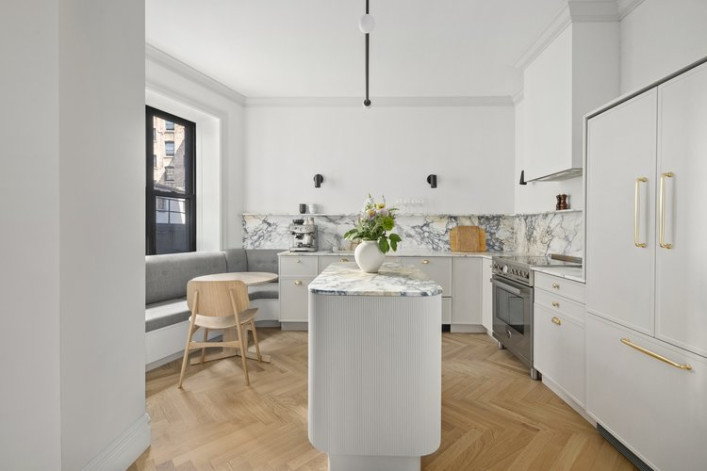 Amanda and her husband had been living in a studio in Midtown for a decade when they began their search for an apartment on Manhattan's Upper West Side. Unfortunately, so was everyone else: In summer of 2021, listings were at historic lows.
After narrowly missing out on an apartment in a building they liked, the couple decided to change their criteria. They pivoted from seeking a turnkey apartment to a space they could renovate and personalize themselves.
"A lot of the apartments we saw felt cookie-cutter and generic," Amanda says. "Although this makes them broadly appealing, we started thinking we wanted to put our own touches on a place and re-work it to fit our personalities and lifestyle."
When the couple changed their perspective to places they could renovate, they found a home that fit the bill. Expanding their search made it easy for them to move on quickly to their apartment, a small, dated place that was in the same co-op building as the unit they had missed out on.
"Once you start to envision a place you can make your own, it's hard to accept paying a higher price and living with another person's design and layout choices," Amanda says. "The means you're not put off or limited by those decisions, especially when inventory is low."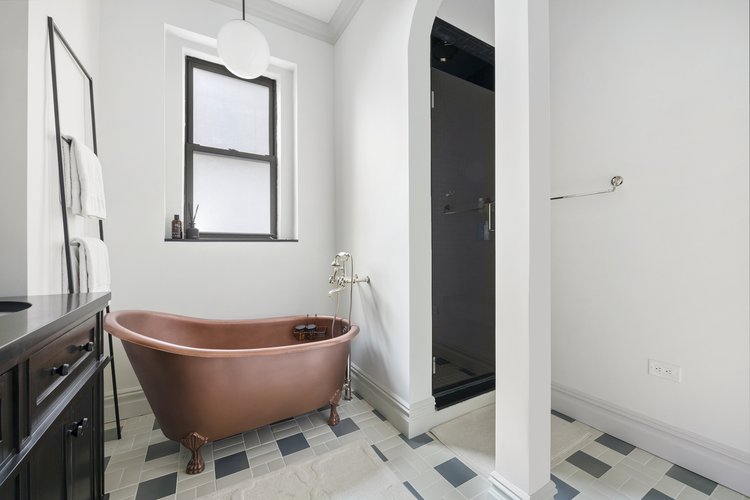 Choosing Design-Build with Bolster
Undertaking a renovation is always a daunting prospect, which Amanda and her husband were familiar with.
"Renovating in NYC is not for the faint of heart. I work in multi-family construction and went to architecture grad school at Columbia. We went into it wanting to do it and aware of the challenges we'd have and understood that even when you're well-prepared, a renovation is a bigger project than you'd expect," she says.
The couple had originally planned to go the traditional route by first hiring an architect and then bidding out their project to contractors but found it hard to connect with the right one (either their style was wrong, or they were too busy to give immediate attention to the project.) That's when Amanda and her husband began exploring Design-Build with Bolster, a data-driven design-build firm in NYC, as an option.
Bolster's model is designed to give New Yorkers a transparent and empowering renovation experience through its iterative pricing process. Each of Bolster's projects commence with full architectural design services and thorough pre-construction audits to ensure a risk-free delivery.
"I came across Bolster during my research, and it looked like the best of both worlds," Amanda says. "In addition to design vision, I also wanted detailed information about costs, and that's when I started exploring the design-build route. I figured that if I could find an architecture and contractor team that works together and get on their calendar, I could get early input on pricing and nail down our schedule."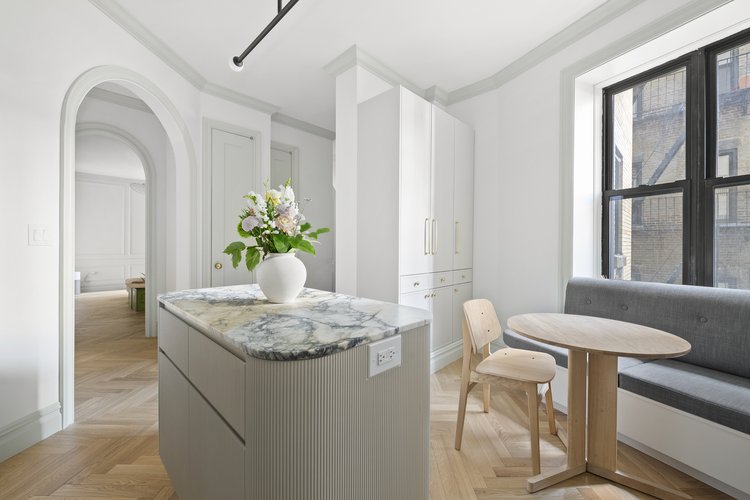 Defining design goals and scope of work
Though the apartment had good bones, the inefficient layout was the primary concern of the homeowners, who wanted to get more use out of their home's relatively small, 700-square-foot footprint. Their priorities included a dining area, a fully-functional kitchen for cooking, a welcoming entry, additional storage space, and a living room where they could entertain and host people.
"I dumped all this stuff on the Bolster team, and they came up with a lot of options," Amanda says. "One of the proposed layouts was really impressive because it was a smart, efficient layout that got me everything I was hoping for. I was excited we could even do it." 
The couple was impressed with Bolster's ability to understand and execute on their design vision. With that set, they were able to look at the work that had to be prioritized.
The most common cost drivers in any renovation are likely to be mechanical, electrical, and plumbing, which was no exception for this dated co-op. The homeowners opted for high-efficiency window A/C units instead of spending on new mechanical system, which likely saved them tens of thousands of dollars.
Major cost drivers of this renovation included:
Plumbing: The bathroom had to be gutted as it was in bad shape. Additionally, the kitchen needed to be reconfigured to transform it from a cramped and dark, galley-style layout to a more generous space ($50,405).
Electrical: The outdated electrical systems were given a full upgrade, and the kitchen was switched from gas to electric with an induction stove ($41,700).
Flooring: The homeowners chose wood floors throughout apartment with Havwoods herringbone engineered flooring in European Oak, as well as the tile in the bathroom ($34,700).
Walls: Because the layout was the homeowners' top priority, this part of the home had to be reconfigured. Additionally, the apartment received a fresh coat of Level 4 paint quality throughout ($41,250).
The Build Phase  
Over the course of a year, the homeowners' vision came to life. One of the most visually striking features of the updated apartment is the addition of beautiful doorway arches throughout the home. The arches add an elegant and unexpected touch and lend the space a sophisticated look. They were a perfect complement to the old-meets-new design aesthetic that Amanda was after.
Another feature that the homeowners were thrilled about is the spa-like bathroom with a clawfoot tub and dark tiled shower. The new bathroom feels like a luxurious escape, with the clawfoot tub as the centerpiece, and the dark tile adding a moody and relaxing vibe to the space.
The homeowners were overjoyed with their spacious new kitchen, which included the addition of a breakfast nook and elegant island. The nook creates a cozy spot to enjoy coffee or work from home, while the new layout maintains space for a large storage cabinet.
Lastly, the outdated and imposing millwork in the living room was removed in order to make way for a more elegant-looking molding. The result is a space that offers a mix of the old and the new.
"I like the classic elements of a prewar, co-op apartment, and prefer a simple, minimal design as far as the details like cabinetry and appliances. I didn't want to create a space that was overly ornate, decorative, or modern. I wanted a mix of the old and the new," Amanda says.
Despite the wins, there were some concessions and compromises that had to be made—this is to be expected with a major gut renovation.
"When you go into a renovation, you don't yet know what walls you can knock down and what sort of limitations there will be," Amanda says. "For example, we had to switch from gas to an induction stove, which is something I had to get comfortable with. But the goal was always the most optimal layout."
The final cost
Overall, Amanda was extremely satisfied with the renovation of her apartment and the way that the Bolster team brought her vision to life. The final total cost of the renovation was $558,000, or $600 per square foot.
The Bolster Smart Renovation Zero-Risk Guarantee
How can a design-build firm guarantee a Zero-Risk renovation?

Bolster has pioneered Smart Renovation. We apply quantitative analysis along with our proprietary technology solution to identify and quantify the performance risk on every renovation project. The result is a personalized strategic approach to each renovation that allows us to absorb 100 percent of the homeowner's risk. Your home will be beautifully designed, and delivered on-time and on-budget. That is our guarantee.

Smart Renovation & Zero-Risk means that Homeowners are now free to dream.

To start your major home renovation project visit bolster.us
The Bolster Promise video
Brick Underground articles occasionally include the expertise of, or information about, advertising partners when relevant to the story. We will never promote an advertiser's product without making the relationship clear to our readers.