NYC Renovation Q's
What you need to know about upgrading your electrical system when renovating
Older buildings typically need to be updated to meet the city's electrical and energy code
You will likely need to add outlets, which means hiring an electrician and getting permits
Owners may also need to increase the electrical load to handle new appliances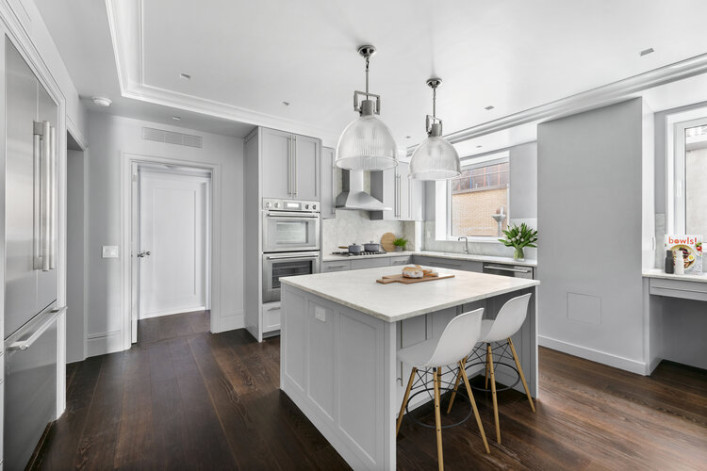 When undertaking a major renovation, many New York City homeowners might not anticipate the time and expense required to upgrade their apartment or brownstone's electrical systems. Especially in older buildings, it's unlikely that your current set up is in line with the city's electrical and energy codes, and you might also need to increase your electrical load to handle new appliances.
Electrical work can be complex and daunting to the average homeowner, but with the right design-build team, you can rest assured that your project will be delivered with everything in place and up to code. It's important to work with a renovation partner that is highly experienced in dealing with the complexities of upgrading electrical systems in New York City apartments—like Bolster, a NYC-based design-build firm.
Because no two projects are alike, Bolster provides homeowners with transparent and personalized estimates via an iterative pricing process so that they're clear on exactly what needs to be done to bring their vision to life. Bolster empowers homeowners to control their major renovations by delivering industry-leading expertise and a risk-free experience through the Bolster Promise, which absorbs any unforeseen project costs.  
Here's what to expect when revamping your home's electrical system.
Electrical code changes
The city's electrical code has been updated several times—most recently in 2011—which means that homeowners living in relatively modern buildings shouldn't assume that their electrical systems are up to date. Even in the simplest kitchen renovation there are often still costs associated with rewiring, even if it looks pristine from the outside.
Some of the changes made to the electrical code over the past 15 years concern the placement of outlets on kitchen backsplashes, the wiring of circuits, and other nitty-gritty details that will require homeowners to undertake significant updates, especially in their kitchens and rooms where new appliances will be installed.
This will affect the layout of cabinets and how you shift appliances and counter space around. Homeowners will likely need to add outlets, which means hiring an electrician and getting permits from the Department of Buildings.
Pro Tip:
Whether you're renovating a two-bedroom prewar co-op or a 4,000-square-foot brownstone, Bolster guarantees a beautifully designed home renovation risk-free and on-budget. "Expect flawless communication, white-glove service, and absolutely no surprise costs," says Bolster's CEO and co-founder Anna Karp. Ready to start your renovation? Learn more >>
Energy code changes
Whenever you're doing a renovation that includes updates to the lighting, the city's energy code also kicks in.
The code is designed in part to prevent overuse of electricity; it requires that residences have light switches in every room so that owners and renters have control over their lighting. The code also discourages the installation of inefficient incandescent fixtures and instead encourages LED and compact fluorescent lighting. Appliances, too, are regulated through the EPA's Energy Star program, which has a list of approved products for homeowners.
Before construction is underway, your architect will help you to choose appliances and products that will be in line with the city's energy code. Know that it's unlikely you'll even encounter appliances that aren't energy efficient: You can't go to the store and buy the kind of refrigerator you would in 1972, because they're just not manufactured anymore.
Furthermore, the inspection that comes at the end of a renovation will ultimately determine whether everything is up to code.
Smoke and carbon monoxide detectors
When your architect submits your renovation plans to the DOB for approval, one of the first elements of your plan they will look for is that your apartment has enough smoke and carbon monoxide detectors, and that they are in working order.
City law requires that each unit in a multiple dwelling building have at least one smoke and carbon monoxide detector, and that it be replaced whenever it nears its expiration date.
Your architect is required to put on the renovation plans that the smoke and carbon monoxide detectors are up to code (which they are more than likely to be—unless the apartment was built in the last ten years, which means you'll need to have an electrician install new ones and make sure they are interconnected and hard-wired).
Electrical load
Another factor of the advanced age of many NYC buildings is that their electrical loads are often too low to handle contemporary appliances, particularly central air conditioning. Older buildings may have been constructed when electricity usage was much lower than it is today, with only three or four outlets and 40 amps per apartment as the norm.
With all the modern amenities used today—such as air conditioning, and a variety of kitchen appliances, 40 amps is rock bottom. For context, one-bedrooms being built today will usually have at least 100 to 150 amps to satisfy the code requirements for usage.
This means that if you're renovating a pre-war apartment, and you'd like to add appliances like an in-unit washer and dryer or central air, you'll need to explore whether your building's electrical load has been upgraded.
System upgrade vs. service upgrade
If your building's electrical load has already been upgraded, it will be easier to increase your apartment's own capacity. This kind of system upgrade typically requires replacing old circuits, wiring, and electrical boxes.
It's internal to the apartment, so it's simpler, but it can be costly. Bolster estimates that an electrical system upgrade can amount to an investment of tens of thousands of dollars (depending upon your preferences).
In buildings that never increased their electrical loads, the process of upgrading the service to better serve residents' needs is more complex. First, you'll need to get building approval for the overhaul, frequently a lengthy and costly process.
An electrician must determine that the building has the capacity to supply the new demand for electricity, then upgrade the electrical equipment with a new meter and new breakers. A route must be made to bring a wire from the electrical source—usually in the basement—to your apartment. This can be difficult if your unit is located a dozen floors up from the source, or in a building that never upgraded service to any apartment.
Costs for this kind of involved work can vary but can run up to $25,000—which might encourage some homeowners to hang onto their window unit air conditioners and devote their budget to other aspects of their project.
Going all-electric
Most homes in the U.S. still use natural gas for heating, cooking, and hot water. Switching your gas stove for induction, upgrading your breaker box, and swapping your furnace for an electric heat pump can help reduce your climate footprint and reduce U.S. carbon pollution in the years to come. Plus, you may be eligible for incentives like tax credits and rebates.
Major renovations are a balancing act, but an integral part of Bolster's job is to help homeowners spend their budget intelligently. If Bolster sees an aspect of a project where its pricing will potentially eclipse the homeowner's budget, they'll use their data and technology to work with the homeowner to either re-allocate funds or to find a more cost-effective yet compliant solution, ensuring they hit their homeowners' target budget.
The Bolster Smart Renovation Zero-Risk Guarantee
How can a design-build firm guarantee a Zero-Risk renovation?

Bolster has pioneered Smart Renovation. We apply quantitative analysis along with our proprietary technology solution to identify and quantify the performance risk on every renovation project. The result is a personalized strategic approach to each renovation that allows us to absorb 100 percent of the homeowner's risk. Your home will be beautifully designed, and delivered on-time and on-budget. That is our guarantee.

Smart Renovation & Zero-Risk means that Homeowners are now free to dream.

To start your major home renovation project visit bolster.us.
The Bolster Promise video
Brick Underground articles occasionally include the expertise of, or information about, advertising partners when relevant to the story. We will never promote an advertiser's product without making the relationship clear to our readers.