Ask a Co-op & Condo Lawyer
Our building needs access to apartments to repair the façade. How do we minimize disruption for residents?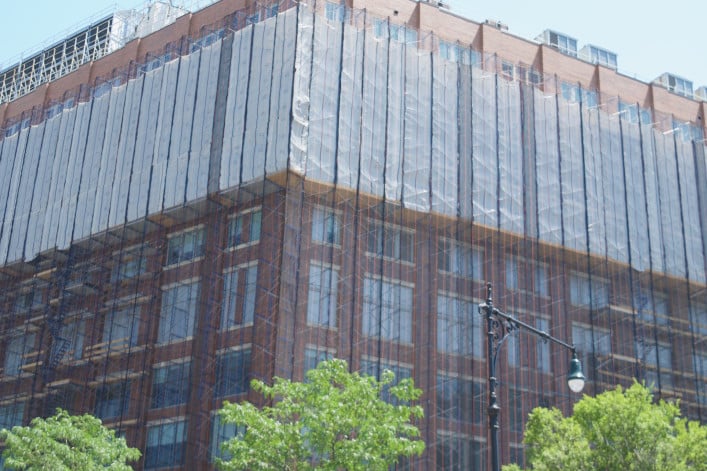 Emily Myers for Brick Underground 
Our condo building needs major facade work that requires access to apartments. This will be a big inconvenience to residents. How do we carry out the work and keep everyone happy?
"While it's rare, there are some situations where a façade cannot be repaired from the outside and the board needs to gain access to individual apartments to perform the repair from the inside," says Bonnie Reid Berkow, a real estate attorney at Adam Leitman Bailey, P.C. who has decades of experience representing co-ops and condos in New York City. 
It might mean owners have to completely empty one or two rooms of furniture and belongings for several weeks, which can be hugely disruptive. 
Your board does have rights of entry, even if it's a major inconvenience to residents, so in order to keep owners on your side it will be critical to communicate clearly with residents. You should be transparent about the work being done, how long it will take, assure them that their home and belongings will be protected, and consider offering some reasonable compensation for the disruption, depending on the circumstances.  
A board has rights of entry 
It's important to give owners—and their tenants where necessary—reasonable notice about the work that needs to be done. Most bylaws contain a provision that says unit owners have to provide access to their apartments if building repairs are necessary. 
"If the bylaws are silent on this or it's not addressed, you may want to look at the declaration of condominium," Berkow says. This is the document filed with the Attorney General when the building is declared effective. 
"It may contain language stating the condo has an easement within the apartment for the purpose of performing repairs," she says. 
While your board has a right of access to the apartment to perform repairs, it also has a responsibility not to unreasonably interfere with the use of the apartment. 
"If the façade repair needs to be done from within the apartment, the residents may find they cannot use the affected room or rooms for several weeks," she says. The level of inconvenience needs to be considered when a board evaluates whether to compensate owners for the lost use of a portion of the apartments. 
You should also make assurances that everything in the affected rooms will be restored to its original condition and any damage repaired. 
Communication and transparency is important
Your board should give written notice to all affected apartment owners outlining the type of repairs needed and explaining why interior access to apartments is necessary.  
Your bylaws will spell out how these notices should be delivered, Berkow says. Putting the notice under the doors of the apartments affected can help ensure information is delivered to whomever is occupying the apartment. 
"If there are tenants in place there's no reason why they cannot receive notice of an upcoming repair that affects their apartment," says Steve Wagner, Berkow's partner at Adam Leitman Bailey, P.C. "In an effort to communicate with everyone, you can also post a general notice in the lobby or other common area advising of the upcoming repair project," he says. 
Notice should also be sent to the sponsor—or the holder of unsold units, if there is one—as they need to advise their tenants that access will be needed to the apartments. It would be good practice to advise the sponsor and their management team about the repairs so they can notify tenants and work on getting their cooperation. 
Owners and tenants will have questions, so "you should set up an informational meeting shortly after the notices go out to provide answers about the scope of the work and what's required from residents," Berkow says. 
Communication with owners and tenants should emphasize the condo's good neighbor policy.  "It's important to recognize the significant inconvenience of the repairs while also sharing the expectation that residents will be understanding about what needs to be done and that they will cooperate," Berkow says. 
Owners should be given notice of access if a moisture test is needed at least 48 hours in advance. This is a fairly simple test involving a meter that can identify leaks in the walls. As you approach the actual repairs, and at least two weeks before the work begins, you need to deliver letters to all the affected apartment owners about the start date. 
"This gives residents time to clear out the room and make any other necessary living arrangements," Berkow says. 
Offer compensation for the disruption 
Your board's right to access also includes the obligation not to unreasonably interfere with the apartment's use. If a room in the apartment will be unusable for a period of several weeks, reasonable concessions would be recommended. 
This would be in line with the condo's good neighbor policy: Just as residents are expected to be considerate about work, so the board should offer some form of compensation for the disruption, inconvenience, or expenses residents will face.
"If there are tenants in rent-stabilized apartments, they may be eligible for a rent abatement," Berkow says. Residents must be treated fairly so all those affected are entitled to equivalent compensation. 
As a board, you need to discuss what level of compensation is appropriate. This could include a payment or a common charge credit. "The compensation might also include help with moving and storing possessions," Berkow says. The monetary value of the compensation will vary widely based on lots of factors including the amount of monthly common charges and the extent of the intrusion in the apartment. 
What happens if owners refuse a board's requests for entry
If an owner or tenant refuses to provide access, your property manager should follow up to further explain why the access is necessary. 
"If they are still not cooperative, another letter should be sent from your attorney, advising that if access is not provided on the date you've identified, a court order will be sought for access," Berkow says. 
This would also apply if a tenant of a unit owner refuses to provide access. Tenants must still abide by the building rules regardless of whether they are renting from an individual apartment owner or from the sponsor or are a non-purchasing rent-stabilized tenant. 
If access is denied by an apartment owner's tenant, the owner would have the responsibility to comply with access. The unit owner would assert refusal to provide access as grounds for terminating the lease and starting eviction proceedings. 
"The difficulty with this is that it would take some time and the work could face even further delays," Berkow says. 
New York City real estate attorney Bonnie Reid Berkow is a partner at Adam Leitman Bailey P.C.. She has more than 30 years experience representing co-ops and condos as well as individual owners and shareholders. Send Bonnie an email to ask about a legal consultation. To submit a question for this column, click here.
​​New York City real estate attorney Steven Wagner, a partner at Adam Leitman Bailey P.C., also has more than 30 years experience representing co-ops and condos as well as individual owners and shareholders. To ask about a legal consultation send Steve an email or call (212) 584-1973.
Brick Underground articles occasionally include the expertise of, or information about, advertising partners when relevant to the story. We will never promote an advertiser's product without making the relationship clear to our readers.