Improve
Been wanting to add some color to your bland apartment? Interior designer Moll Anderson is here to help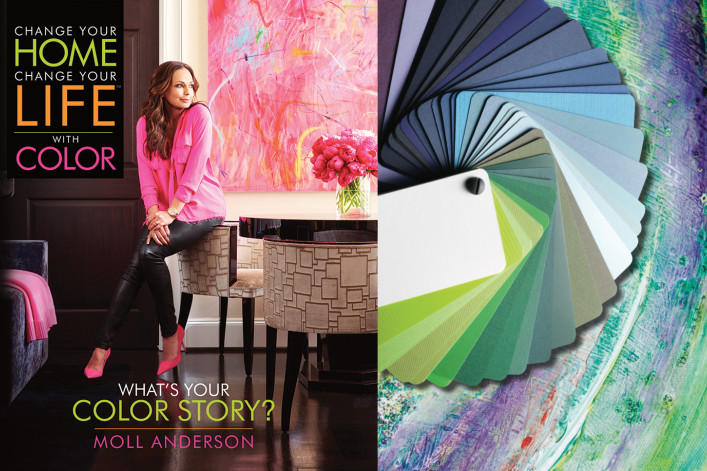 In theory, most of us know that a "pop of color"—or a full-on paint job—would work wonders to breath new life into our apartments. But according to interior designer Moll Anderson, the benefits don't just include a more Instagram-ready apartment; they extend to our emotional lives, as well.
"I've used the term 'prescription color' for years, because I believe that there's a color for everyone, for whatever is going on in their lives," Anderson tells us. "For instance, if someone recently went through a breakup and their partner moved out of the apartment, you might need a prescription of color to renew the spirit in the space. Or if you're feeling down, there are colors than can help pull you out of depression—more vibrant and energetic colors."
Ahead of the March release of her book, Change Your Home, Change Your Life With Color: What's Your Color Story?, we chatted with Anderson about how to find the colors you respond to best, utilizing bold pieces in a small space, and more.
Find what works for you
While Anderson is a firm believer that different colors can produce different emotional effects (orange is energizing, turquoise is reviving, black is grounding), this isn't necessarily a one-size-fits-all concept. (In other words, not everyone looking for a boost should immediately rush out to find orange accent pieces to place around their home.) "Someone might tell you that you need blue because it's calming, but you have a negative association with that color," says Anderson.
To determine what colors you respond to best, Anderson's book offers up a quiz to help you suss out your "color story."
"There are so many things that affect us," she says. "We have to get back in touch with our sense memories before we can figure out our colors." Bottom line: If your parents had a green couch that you always hated, don't re-do your living room in shades of green just because it was Pantone's color of the year. Know what looks and feels best to your eye, and stick with it.
Know your neutrals—and build from there
If, in the course of determing your color story, you discover that you absolutely adore hot pink, that doesn't mean you have to rush out and re-paint your entire apartment. Instead, Anderson recommends decorating using your preferred neutrals, then shifting brighter colors in and out using smaller accessories and pieces of art. 
"Especially when people are starting out in their first apartment, I tell them to go with whatever your favorite basic is," Anderson tells us. "For some people their neutral is grey, others black, cream, or brown. For instance, I did an office for my husband, and based on some suits that he loves, I picked out a grey flannel sofa." (In general, Anderson recommends taking inspiration from colors in clothing and artwork that often appeal to you.)
"The pillows and pops of color can be interchangeable, and these are cost-effective things that you can do in a day," she says. "Accessories are your way to bring color in and experiment. And then six months down the road, you might say, 'I'm feeling like I want to experiment with turquoise,' and buy a turquoise bowl and put it on your coffee table."
This technique also makes it fast and relatively inexpensive to change up the decor and vibe in your apartment depending on the season—perhaps deeper reds in the winter, and lighter blue toned pieces in the summer.
Don't be afraid of bold statements in small spaces
Counterintuitive though it may seem, if you live in a less-than-large apartment, big pieces and bold colors can actually have a way of opening the place up. "When people live in a small space, they think it can't take a lot of color," says Anderson. "And I think the other big misconception is that people think they have to do miniature furniture. But you'll get a much better effect if you create the room to scale and aren't afraid of size."
Instead of a cluster of smaller chairs, Anderson recommends an oversized chair or sectional sofa. Similarly, you might want to consider one large, statement light fixture, and larger pieces of art. "It's better to get one great, fabulous painting—it can take up the whole wall, it can even break the line and go down behind the couch," she says. "Make better investment choices instead of spending money on a bunch of smaller stuff."
Test out colors before you commit
Every design expert we've ever spoken with has emphasized the importance of great lighting, and Anderson is no different. Be sure to test paint colors in whatever room you plan on painting to see how they work in your particular space and with your lighting scheme. (This is not dissimilar to the way different perfumes or colognes change depending on individual chemistry.)
"The average person goes and buys a can of paint having checked based on a little sample chip they took home," she says. "But they don't realize where the light comes in, where the windows are, and how that will change the color of the paint. And if that room turns out much darker or brighter than you were hoping for, you'll be miserable."
Instead, Anderson suggests a more intensive vetting process for potential new paint. (Most paint stores will sell you sample-sized cans for this purpose.) "You've got to do big squares, and test the light at different times of day," she says. "And test it in different areas. It might look great in the living room and in the hallway it goes muddy."
If you find that in some areas the effect is a little off, she says any paint store worth its salt should be able to point you in the direction of another hue that's a few shades lighter or darker, but still similar to the original.
It might seem like a lot of work, but given how much time we spend in our apartments, says Anderson, it's worth putting in the effort. "I think it's really important that people remember they're the most important person who will ever step into their home," she says. "You can really use your home in a different way, and learn to create atmosphere."
Brick Underground articles occasionally include the expertise of, or information about, advertising partners when relevant to the story. We will never promote an advertiser's product without making the relationship clear to our readers.