In most renovations, you might expect a standard type of professional to be present throughout the duration of the project, such as the architect and contractor. But there are many other professionals required for their expertise in order to help guide the process, mitigate risk, and complete a renovation. These professionals are called 'third parties.' 
Third parties are design, compliance, engineering and build professionals outside of the immediate renovation team that are necessary in order to design and build projects without risk. They can include expediters and mechanical, electrical, and plumbing professionals. Below we're exploring third parties in more detail so you know what to expect during your New York City renovation.
Expediter (aka filing representative). This is the most well-known type of third party. An expediter acts as a liaison between homeowners, design and construction professionals, and the NYC Department of Buildings (DOB). The expediter's mission is to ensure the project is in good standing and filed correctly to avoid any code violations. 
Having a great expeditor is essential and helps save time, money, and effort from the very beginning of the project, since they are great resources on what can and cannot be done by code (to learn more about expediters, check out this Bolster blog on expediters). 
Along with vetting a chosen contractor and defining your scope of work, there are few tasks more important at the start of a home renovation than learning whether you'll need a permit (or two, or three). Permits are required by law. They are a crucial tool for maintaining public health and safety by requiring that any construction work be done according to code. 
In New York, permit expediters can help you navigate through and speed up the paper-pushing process.
Pro Tip:
Whether you're renovating a two-bedroom prewar co-op or a 4,000-square-foot brownstone, Bolster guarantees a beautifully designed home renovation risk-free and on-budget. "Expect flawless communication, white-glove service, and absolutely no surprise costs," says Bolster's CEO and co-founder Anna Karp. Ready to start your renovation? Learn more >>
Asbestos testing professional. A staple of pre-1970s construction, asbestos can often be found in window caulking, floor tiles, plaster, in radiator enclosures, and around heating pipes. The best way to prepare for asbestos is to do your due diligence before any kind of work starts (including design), so it's not a surprise. 
That's where an asbestos testing professional comes in. Bolster tests for asbestos before beginning a project, so there's no risk of any nasty surprises once construction has begun. If asbestos is found, a homeowner's project team will help determine what to do next, and how to budget for managing the issue. The cost varies depending on the amount of contamination found, and whether the course of action is containment or removal. Those are options that can be weighed based on the homeowner's design plan, during project development with an architect.
"The Bolster team has years of experience dealing with gut renovations in prewar apartments where asbestos is a common occurrence. Not only do we know how to deal with it if we discover it, but we usually know how to anticipate its presence in the earliest stages of planning, to help manage the homeowners' expectations," says Anna Karp, CEO  and co-founder of Bolster. 
Special inspectors. During the build, third-party inspections ensure all construction is done according to code. The project's architect will coordinate these special inspections to keep it all compliant. In some instances, a project architect can also function as a special inspector. 
Structural engineer. A structural engineer is a licensed professional responsible for ensuring the structural integrity of buildings. They are trained to calculate and understand the stability, strength and rigidity of any given structure, and their job is to assess factors that exert force upon a building and decide whether or not the structure is built to resist those forces. 
One common instance in which homeowners may need a structural engineer is a situation in which they are vertically combining apartments to create a duplex. 
MEP professional. Mechanical, electrical, and plumbing professionals (MEPs) are absolutely critical to the design development process, as they provide required calculations and plans necessary in order to action the build phase of the project. 
Asbestos abatement/ remediation professional. Once asbestos is detected and documented, it must be properly abated by a certified professional. In major renovations, there is the risk of asbestos becoming airborne during construction. Bolster will work with an abatement firm to come in and remove it.
Site safety superintendent. Site superintendents oversee the construction process and are responsible for overall construction activities within the established design, budget, and scheduling guidelines. Site superintendents also have a degree of personal liability and responsibility with regards to the sites they manage, meaning they fit perfectly into the category of third-party compliance.
Site superintendents are required by the DOB. Because Bolster does not have in-house site superintendents, they are run as a third-party requirement with full transparency regarding their cost. 
Other parties which are not included in the above list but have to be dealt with during a renovation (most times at a cost) are the following: 
Building's architect or engineer. For those living in a condo or a co-op, a building engineer may become a well-known party to the renovation. A building's architect or engineer is responsible for making sure that the building's requirements are met and as such have the capacity to 'sign-off' on plan approvals, construction work, and other renovation related activities. Oftentimes, renovators have to pay for the Building architect or engineer's fees. 
Code consultants. When doing a complex renovation, it may be advisable to hire a code consultant. NYC code can changes and these specialists help advise on approvals, how to navigate code, and how to remain compliant regarding safety, zoning or landmark issues.
"NYC building and zoning codes are very complicated, with multiple codes impacting design," says Bolster architect Michael Fasulo. "Code consultants are particularly critical when changing the use of a space or structure —for example, changing a doctor's suite to an apartment."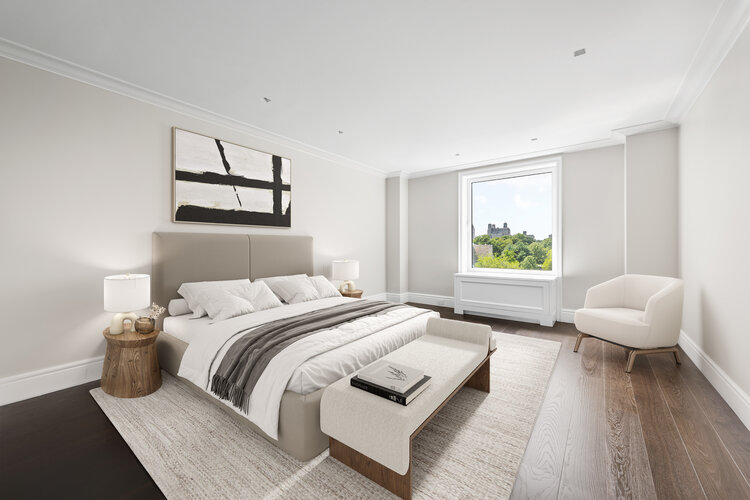 Who manages third parties in a renovation?
Third parties are managed by the design professional leading the project (with the exception of the site superintendent). 
The design development stage requires all hands on deck, from third-party engineers to regulatory city bodies. Beyond the aesthetic and structural designs, this stage includes a lot of logistics and administration. Everyone is managed by the architect, who serves as the homeowners' advocate and liaison, ensuring that all plans are compliant and approved by the powers that be.
In order to ensure designs are compliant and engineered correctly, an architect will coordinate all third parties, including structural engineers, expeditors, and mechanical, electrical, and plumbing professionals (MEPs). 
Even within an innovative framework like Bolster's, third parties (and their estimated cost)  are managed by architects because of their technical expertise.
Why are third parties necessary?
Many important decisions regarding renovation projects are built from findings of third parties, some of which are required by law. They are specialists that drill down to the details of the safety and compliance aspects of the project to ensure it is viable and safe, and their due diligence helps the core renovation team gather information in order to provide accurate costs. 
And, third parties are required for both traditional renovation models (what Bolster calls Build-Only) as well as Design-Build. Identifying and assessing third parties should involve the whole project team. This is important in order to accurately prioritize resources, allocate responsibilities, and monitor progress. 
How much do third parties cost? 
It's often harder to pin down the exact cost of third parties during a renovation, especially at the beginning of a project. This is in part because the type of work that different third parties perform varies greatly. 
For example, let's look at asbestos, a common fireproofing material used in construction. Any alterations or renovations in buildings built before April 1st, 1987, in New York City require asbestos testing before you can get approval from the NYC DOB for a work permit application. 
Both stages in the asbestos  discovery process—testing and abatement—will affect a homeowners's budget, scope of work, and project timeline. This is what makes third-party costs variable (and frankly, the most unwanted and unsexy costs of a renovation). 
In the traditional model, the cost of third parties often comes as a surprise as the project processes. Bolster uses an integrated design-build model, whose foundation is to provide certainty at every step for the costs that may be encountered in a project, so there are no surprises along the way.
Bolster includes all third-party costs and fees as part of their all-in estimates. Because third parties are usually managed by Bolster's licensed design professional partners, their cost is sourced and tendered directly by them. As Bolster gains clarity of the full scope of work, they are able to progress from an estimated cost to a final cost. Make no mistake, third-party costs can pop up at any stage of the project—even when reaching the finish line! 
Asbestos sampling and abatement is a classic example of a third-party cost.
"No amount of advanced prep or experience can predict how many samples are required or where the material could be concealed," Michael says. "That junk can be found anywhere: I've had sampling reveal asbestos in wall and ceiling plaster, in window glazing caulk, electric wire insulation, in tile mastic buried under several layers of construction, and in adhesive used to hold on mirrors. It's even shown up in spaces that had been gut renovated."
Why can third-party fees vary until the scope of work is finalized? 
The cost of third parties is a function of the scope of work, and any compliance requirements discovered along the way. Planning ahead is the key to understanding the full scope of a project and the associated costs. When a project is planned appropriately from the start, the areas where there may be a price increase are highlighted by the team. Most commonly, this includes asbestos, structural engineering, or electrical updates.
Historically, it's been difficult to predict renovation costs in totality. Many professionals can be steeped in their knowledge of the build phase of a project, but perhaps they don't specialize in design or third-party costs. Others might have a general totality of knowledge, but they've never jumped into the deep end to see how it all connects. Given those circumstances, it's extremely difficult to accurately predict true costs without exploring the depth and the breadth of the whole process. (Curious what your renovation may cost? Try Bolster's renovation calculator, which factors in third-party costs). 
---
The Bolster Smart Renovation Zero-Risk Guarantee
How can a design-build firm guarantee a Zero-Risk renovation?

Bolster has pioneered Smart Renovation. We apply quantitative analysis along with our proprietary technology solution to identify and quantify the performance risk on every renovation project. The result is a personalized strategic approach to each renovation that allows us to absorb 100 percent of the homeowner's risk. Your home will be beautifully designed, and delivered on-time and on-budget. That is our guarantee.

Smart Renovation & Zero-Risk means that Homeowners are now free to dream.

To start your major home renovation project visit bolster.us.
The Bolster Promise video
Brick Underground articles occasionally include the expertise of, or information about, advertising partners when relevant to the story. We will never promote an advertiser's product without making the relationship clear to our readers.