Renovation
A Morningside Heights co-op needed a full gut renovation. Bolster kept the work on budget
Stephanie reached out to Bolster about a unique renovation project: She was in the process of taking ownership of an apartment in a 1920 Morningside Heights co-op building that had never been updated and was in a severe state of neglect. 
The 600-square-feet, two-bedroom, one-bath co-op was owned by the estate of a family member who had passed away. Stephanie was in the process of transferring the fifth-floor apartment to her name via a court order and was working to get the transfer past the building's co-op board. 
The previous owner of the apartment had lived alone for many years and the place needed a head-spinning number of updates, including major electrical work, ceiling repair, new floors, asbestos removal and more.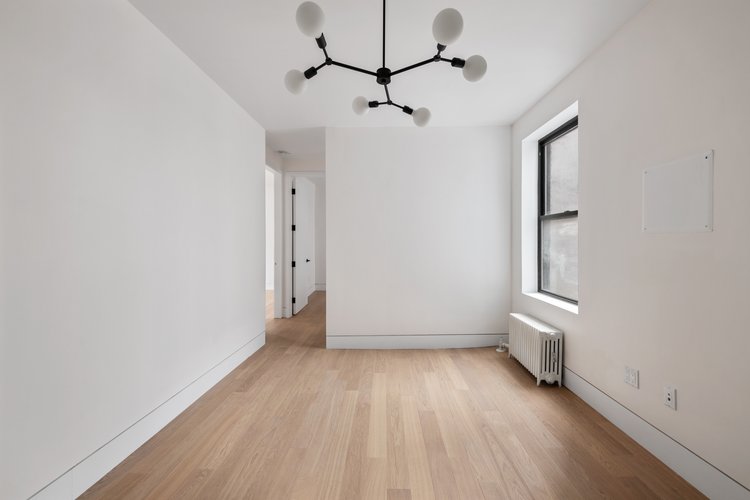 Current conditions
Stephanie provided detailed information regarding the apartment's condition and had a realistic scope and budget in mind for her project. She also did her research and spoke with both the building and other tenants in the building who had done work in the past to get an idea of what was feasible for her own renovation. Being prepared allowed her to move quickly through the process with Bolster.
Some of the main issues in the original apartment included: 
Electrical: Almost every outlet in the home was two-prong, and there was only one outlet per room—except in the guest bedroom and bathroom, where there were no outlets at all. The lights were all activated by pull-cord, some of which no longer worked properly. 
Walls: The apartment had unsalvageable plaster and lath walls in very bad condition, and parts of the ceiling were falling. Due to the age of the apartment, there was a high likelihood of lead paint. 
Floors: The wood floors needed to be replaced, as they were warped and deteriorated throughout the apartment.
Kitchen: Stephanie knew that some of the apartments in the building had an underlayer of asbestos tile in the kitchen; therefore, her apartment would have to undergo asbestos testing. The kitchen also had a defunct, boarded-up dumbwaiter that she wanted to use for a non-vented, combination washer/dryer with storage. Finally, the kitchen had outdated appliances that were more than 30 years old, and no cabinetry.
Plumbing/Bathroom: The bathroom had an old, claw foot tub that did not fit the compact space, as well as unsalvageable fixtures and tile. 
Pro Tip:
Spend less, build faster with Bolster. "We deliver risk-free, on-time, on-budget renovations," says Bolster's CEO and co-founder Anna Karp. "We give you a fixed-priced cost up front, and absorb all unforeseen project costs after the demolition phase. Bolster--not you--is responsible for any and all surprises." Ready to start your renovation? Learn more >>
Setting a budget and priorities 
When Stephanie inquired with Bolster, she wanted to know what type of renovation would best fit her needs as well as how much her project would cost. 
To get started, Bolster first recommended that Stephanie use Bolster's Major Renovation Calculator as understanding the all-in cost for her renovation was important to her. Bolster's Major Renovation Calculator helps NYC homeowners figure out the cost range for their major gut renovations. Bolster's proprietary calculator has been developed with historical data from all of its projects and is accurate within 10 percent.
Because the apartment was in estate condition, Bolster CEO and co-founder Anna Karp noted that it would need a full gut renovation. Because the square footage was small, the homeowner would have a higher-than-average all-in price per square foot.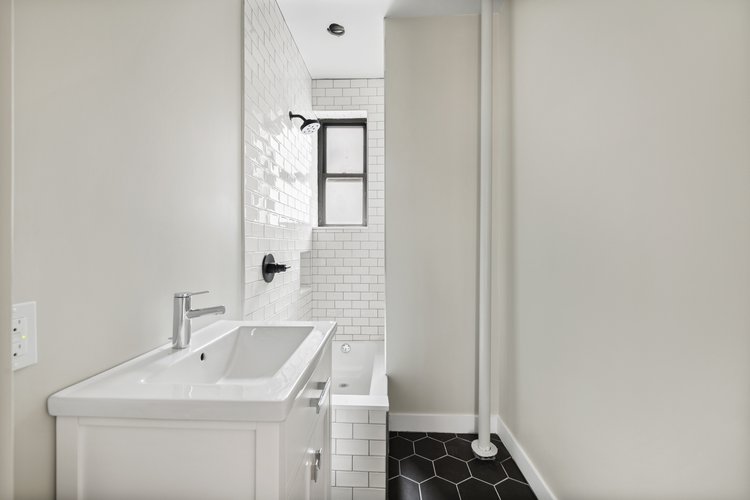 Design and cost 
Stephanie's renovation is exactly the kind of project that Agile x Bolster caters to. Agile x Bolster is a proprietary renovation method that provides homeowners with a clear roadmap to tackle the essential stages of Design-Build with precision. Bolster's in-house designers bring a homeowner's vision to life while advising them on how to maximize their construction budget. 
Because Stephanie had to maintain her budget for addressing some of the apartment's more serious issues, like walls, floor, plumbing, electrical work and asbestos abatement, she felt strongly that the apartment's finishes were functional and solid, but not high-end. She only wanted a few custom finishes, opting instead for a simple, modern design. 
Because the apartment is on the smaller side, Stephanie wanted to select paint and finishes that made it seem more open. Stephanie opted for Benjamin Moore paint, choosing Gray Owl and Eggshell paint shades for the bathroom, and Chantilly Lace and Eggshell for the living room. Stephanie also selected eye-catching overhead lighting to draw the eye and introduce more light into the apartment. 
Using the same tile and stone in the bathroom and kitchen provided a sense of continuity throughout the apartment. In the kitchen and bathroom, the wall tile is a glossy glazed ceramic 3-by-6-inch subway tile. For the kitchen counter and the bathroom niche, Stephanie selected a polished finish Caesarstone in Empira White.
In the bathroom, Stephanie chose a bold 7-by-8-inch hexagon floor tile in matte black by Merola. She also elected to replace the dilapidated clawfoot bathtub, which didn't fit the small space, with a white porcelain enamel alcove bathtub. (Anna recommends keeping at least one bathtub in a New York City home, because it generally improves resale value). 
Finally, the engineered European oak wood flooring offers a fresh and modern light hardwood look to the home. The homeowner elected to replace but not re-level the floors in order to save her budget.
Final costs 
As expected, the main costs in Stephanie's renovation were plumbing ($27,000), which included updating and installing plumbing fixtures and appliances throughout the apartment; walls ($24,000) which included Level 4 paint; and electrical work ($20,000), which included updating and installing fixtures, outlets, switches, and appliances. 
Stephanie also invested her budget in flooring ($15,400), which included the materials and installation for engineered wood floor and soundproofing; millwork ($10,900), which included mostly kitchen built-in millwork and installation; and stone ($10,000). 
For this project, Bolster scheduled three months for the design phase and four months for the build phase. In total, Stephanie's estate condition transformation cost $305,000 (or $500 per square foot) which included just over $60,000 for design and $240,000 for the build phase.
---
The Bolster Smart Renovation Zero-Risk Guarantee
How can a design-build firm guarantee a Zero-Risk renovation?

Bolster has pioneered Smart Renovation. We apply quantitative analysis along with our proprietary technology solution to identify and quantify the performance risk on every renovation project. The result is a personalized strategic approach to each renovation that allows us to absorb 100 percent of the homeowner's risk. Your home will be beautifully designed, and delivered on-time and on-budget. That is our guarantee.

Smart Renovation & Zero-Risk means that Homeowners are now free to dream.

To start your major home renovation project visit bolster.us.
The Bolster Promise video
Brick Underground articles occasionally include the expertise of, or information about, advertising partners when relevant to the story. We will never promote an advertiser's product without making the relationship clear to our readers.