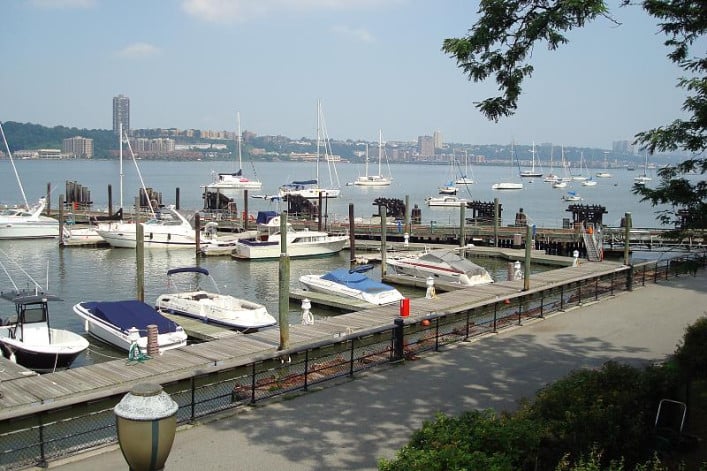 Plenty of New Yorkers covet properties with waterfront views and access, but what about a property that's actually on the water? As the "tiny home" trend has heated up over the past few years, house boats have been getting their due, as well—the New York Post and Mel Magazine have both profiled city dwellers who have given up dry land in favor of floating residences in areas like Jersey City, Jamaica Bay, and College Point Marina in Queens.
And why not? Once you acquire a boat of your own, docking fees at city marinas cost just a fraction of the rent you'd pay for a traditional apartment, and you have all the charm and peace of a waterfront residence. One note of clarification here: rather than the large, semi-permanently docked type of house boat you'd see in, say, Sleepless in Seattle, in New York City, houseboat options are almost always what are known as "liveaboards," small boats or yachts that can be moved at any time, but have living space, as well, explains Isaac Halpern, a broker with Halstead (and also an avid boater).
"Traditional houseboats are kind of less common these days," notes Halpern. "You can move a houseboat, but it's not easy—you have to tow it. Whereas there are liveaboards where people dock them in one spot and kind of never leave, and there are liveaboards that often go out sailing. It really depends."
And this being a city of islands, there are plenty of places to dock. One of the most famous is the West 79th Street boat basin on the Upper West Side (which has a years-long waitlist, Halpern notes), and you'll also find numerous liveaboards further south along the Hudson; in Jamaica Bay near the Rockaways; in Jersey City, which has several piers; and in Port Washington, out on the North Shore of Long Island.
"A few brave souls even live on Newtown Creek," says Halpern.
The dockage fees are certainly cheaper than traditional rent—at the West 79th Street basin (as well as the Sheepshead Bay Piers and the World's Fair Marina), fees for dockage between May 1st and October 31st are $120/linear foot or $3,000, whichever number is higher. (Halpern notes that usually, most people set 40 feet as the minimum boat size for a livable space.)
But, as you might expect, the relative freedom of living aboard a boat also comes with certain upkeep hassles, particularly if you're looking to do it year-round. "You really have to want to do it, because it's a space constraint. And in the winter, for instance, you have to put plastic over the top to keep out the cold, and think about how you're going to heat it," says Halpern. You'll need to be docked at a houseboat-friendly marina, as well, since the marina itself must take extra steps, such as pumping bubbles into the water to keep it from freezing during the cold months.
"You have to be a little crazy, I think, but the people who do it love it, and it's a whole community," Halpern notes. (Ineed, the Times has previously profiled a couple, now married for decades, who met when they were both single houseboat dwellers at the 79th Street basin.) "But the big advantage is that in the summer, you can just get up and decide to sail to the Hamptons."
Below, a few options whether you're looking to spring for a liveaboard boat of your own, or simply want to rent someone else's for a seaside summer getaway: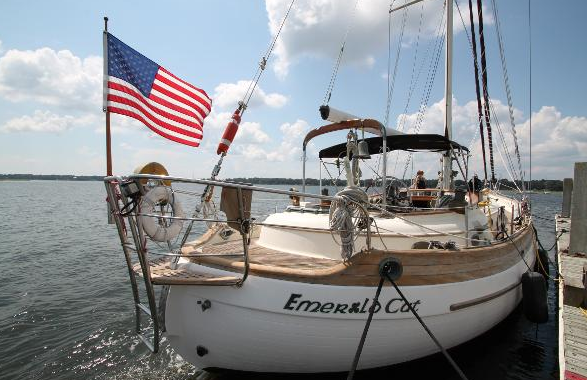 This 48' boat, built in 1987, is for sale in Connecticut for $196,995, and includes living quarters with room for a bed, small kitchen and dining table, and even a small TV.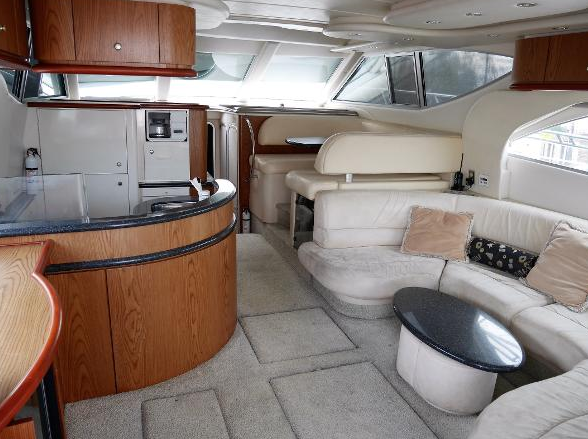 For sale up in City Island, this $154,995 2000 Maxum boat measures 46', and has room for two small sleeping areas, as well as a living room and kitchen.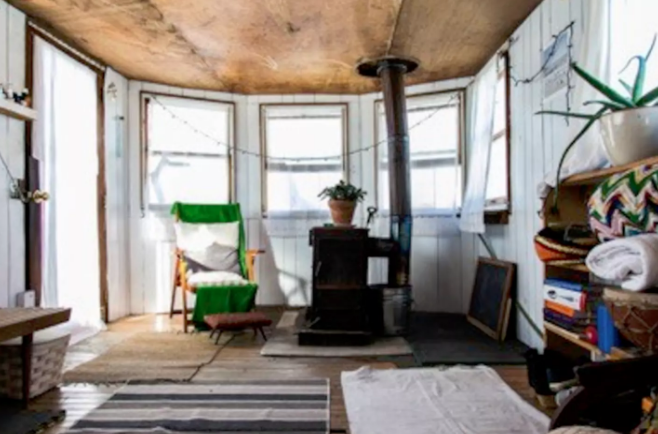 For $200/night, you can stay in this "Houseboat Hideaway" in the Rockaways, which has a full working kitchen, and easy access to boating in Jamaica Bay. Fair warning: to use the bathroom or shower, you'll have to step outside the boat to the facilities in the marina.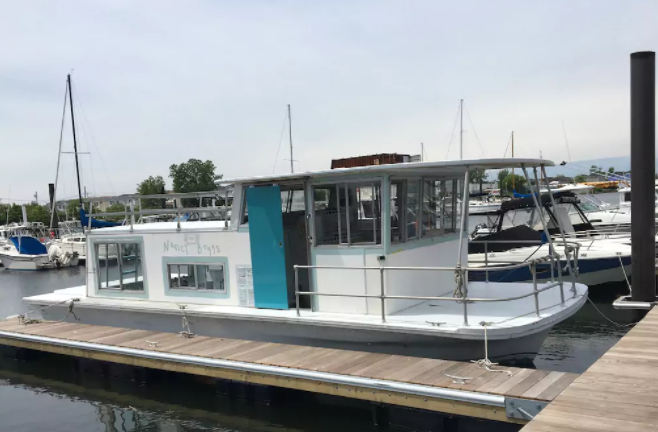 Another Rockaway rental option: this $175/night houseboat with two-double beds, a fully-equipped kitchen, close access to the marina bathroom, and charmingly retro 1960s decor.
Brick Underground articles occasionally include the expertise of, or information about, advertising partners when relevant to the story. We will never promote an advertiser's product without making the relationship clear to our readers.