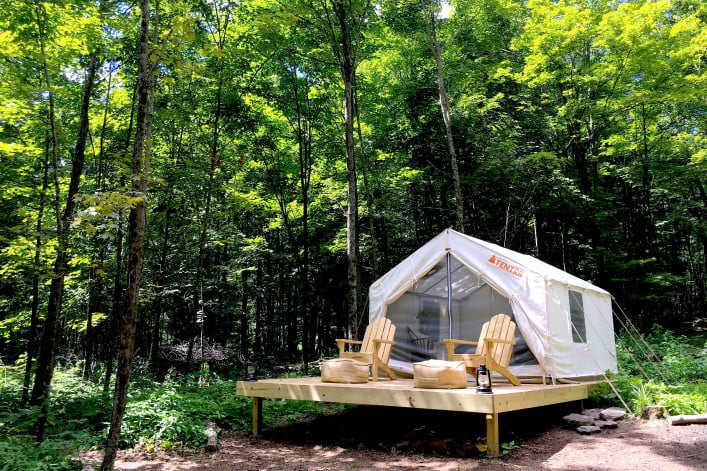 In these waning weeks of summer, you don't need a list of reasons to squeeze the most out of the Great Outdoors (yes, with capital letters). But what if, like many New Yorkers, you don't have all the gear—or the budget and bandwidth to wrangle it—to camp out in the Catskills for a getaway that has you communing with nature?
Enter Tentrr, a new service that pairs would-be campers with the most crucial and basic of needs: the perfect site, and the actual equipment with which to set up camp.
**This story first ran in August, 2016, and was updated in June 2017**
Confession: While I love to hike and especially run on trails, I'm not much of an outdoors overnighter. My camping resume includes just a few days in college with my best friend in a campground by the dunes of Michigan (which did involve setting up a tent and cooking over an open fire), as well as a handful of stints in high school with a family who owned camping trailers, which meant we could sleep indoors, albeit in cramped—but still fairly cushy—quarters.
Besides, my idea of fun doesn't include having to struggle with stakes and poles and cryptic instructions after a long drive to get out of the city. The initial cash outlay—a few hundred dollars for a decent tent with room for five, plus more for the pots, pans, plates, lanterns, collapsible tables and chairs—is off-putting, too, especially considering that, like many other city dwellers, I have neither the square footage nor storage space to hold onto said equipment. And while official campgrounds usually have flushing toilets and warm-ish showers, and recreational perks like kayaks and canoes, it's not much fun to fall asleep to the din of someone else's radio, conversations about the last season of Game of Thrones or, worse, actual full-blown arguments. (Also, as an introvert, I like my space.)
Still, I did long for more than the day trips that my family usually takes. Yes, we could stay in a cabin or hotel, but those fill up fast—not great for last-minute types like us—and often require minimum-night stays in high-season summer. A hotel or a B &B also doesn't fulfill the yearning to stare at the sky for hours on end, spotting constellations we don't normally see in the city. And I don't know any VRBO-er who'll let us have a full-on cookout in their woods. 
So when I spotted an ad for Tentrr—the crisp, beige branded tents in the photos caught my eye—I found myself quickly falling through their branded camping rabbit hole.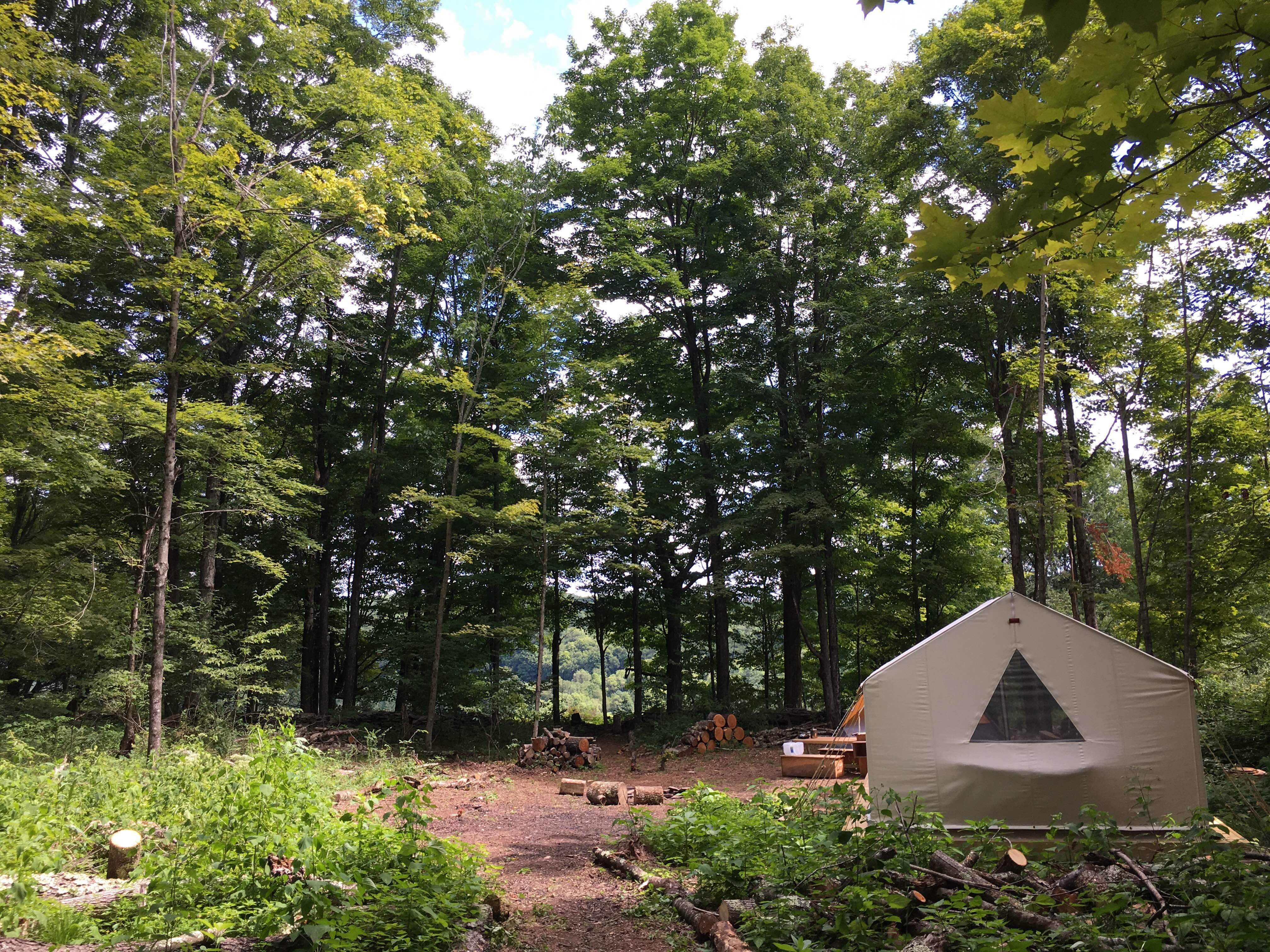 Our campsite on a farm between Callicoon and Jeffersonville. (Photo: SJR)
How it works
First, the basics: Just like Airbnb, Tentrr connects would-be visitors with landowners who have the acreage to spare and want to make money off their land. The pitch, per the website, is this: "Your extra land can earn you extra money. It's probably your most underutilized asset—except for that really ugly sweater in the back of your closet." A handy calculator comes up with a possible revenue of $2,200/month for a landowner in Sullivan County's Barryville. (It's similar to the west coast-centric Hipcamp, which also works with local landowners, only without the uniform white tents; on Hipcamp, you can rent anything from an empty beach spot to a yurt.)
Tentrr calls property owners who sign up "campkeepers." Only those with at least 10 acres of property can list on Tentrr, and the site must be fairly easily accessible, "a short walk or hike into camp." It's important, too, that it looks and feels like a place you'd want to savor and spend time in—why would anyone bother camping someplace that abuts the town dump, or is in a swampy, musty corner of the woods? 
Once a campkeeper signs up, Tentrr shows up and installs a platform on which will sit a canvas tent, as well as a wooden table and benches that double as storage. They also include a "toilet"—more on this later—and a place to build a fire. Photos are taken, and the property goes live on Tentrr with a per-night price, a portion of which goes to Tentrr (which is how they make their money). The service also charges a booking fee, which, the website explains, "helps us maintain the Tentrr platform so that you can enjoy nature in a whole new way."
For the most part, the Tentrr website is fairly easy to navigate: One click on the "explore now" button and 28 options (the site's adding more) came up for us, all with seductive, magazine-worthy photos—more uniformly appealing than Airbnb's pictures, anyway. Drill down to each and you get a description about the location, as well as nearby activities (kayaking, swimming, horseback riding), and a short bio about the campkeeper.
To get started with an actual booking, the user creates a login, or connects via Facebook. (No word yet on whether an FB login will mean you can, like Airbnb, check if friends have already been at the camp you're considering, which helps with due diligence.)  As with other home rental sites, a calendar tells you if a place is available, and options can be filtered by the aforementioned activities, ease of views ("views," "forest," "meadow"), ease of access ("drive up," "short walk," "hike in"), and degrees of seclusion from campkeepers and civilization ("right nearby," "comfortably close," "zombie proof").
Actual mileage may vary
At the moment, the "featured destination" is the Catskills, and it seems to be pretty much the only one right now (save for an outlier here and there), so if you were hoping for New Hampshire or Vermont, or even a ton of Adirondack listings, you're out of luck, though I suspect that'll change as Tentrr expands its reach. My search turned up options all over and near the Catskills, from Lumberland due south of Catskills Park to Hannacroix further north closer to Albany. The actual locations are, to a one, picturesque, including a brookside tent in Long Eddy (that stream and waterfall!) and a mountaintop aerie in Ellenville. 
Though each listing featured high-quality photos that showed off each spot to its fullest, a deeper dive yielded some takeaways: At first glance, the options seem quite similar, but upon closer inspection, some were less spartanly furnished than others. While all the tents were on a platform and included a pump-up double bed that, to some, elevates Tentrr camping to glamping, some offered homespun—and welcoming—extras, like extra pillows, side tables, a rug, and maps and guidebooks. (The little details do often count.)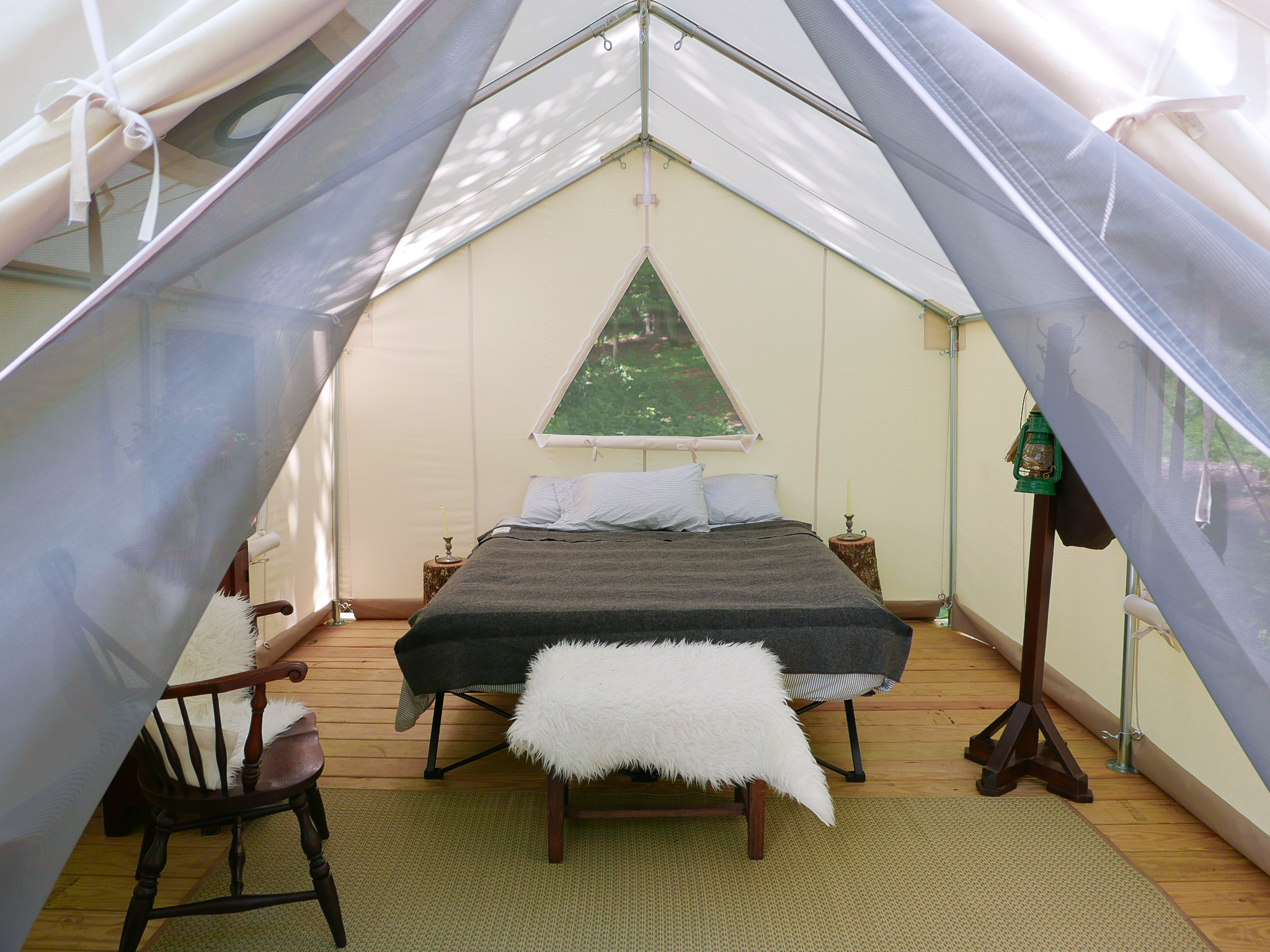 A peek inside our tent, which was furnished with more care than other listings. (Photo: SJR)
Given how new the site is, many of the listings were still waiting to be reviewed—important for those of us who rely on others to get the real scoop about vacation rentals—and information about the campkeepers ranged from nonexistent to scant to comfortingly detailed. One campkeeper literally had nothing—no text—right next to his, or her, name, which is discouraging; as with Airbnb, it's good to know more about your host when you're relying on their hospitality and expertise about the area (and basically at their mercy since you're on their property.)
A pond-side tent that my husband and I initially requested had been snapped up while we were scrolling through other listings, so we went with another choice: a sylvan spot called Little Woods Farm situated between Callicoon and Jeffersonville, two Sullivan County towns we'd previously visited and enjoyed. The bio wasn't particularly extensive, but what was there sounded warm and genuine.
And as it turns out, we were proven right: Soon after we booked, we received an email confirmation, which enabled us to communicate with our campkeepers, who cheerfully answered our questions about how many the main tent will fit (four or five, no problem, which worked for our family) and what time we could show up (technically, check-in is at 1 pm, but we were good to show up anytime, though a heads-up was preferred). 
Once we arrived, we were heartened to see that our hosts were just as gracious as their emails hinted they would be: To start, they immediately put us at ease with a welcome treat as well as a quick tour of their barn, which housed their "honor market," which included a refrigerator with cold beer and shelves full of chocolate, graham crackers, and marshmallows (for smores-making), as well as a bowl of farm-fresh eggs—they also run a free-range poultry farm—that made breakfast the next morning a wholesome, locally sourced day-starter. They even helped us haul our belongings to the site, which required a five-minute walk through uneven terrain in the woods.
As for the site itself, it was every bit as pretty as the pictures; our hosts even had another regular tent up, in case we needed more room. The air bed was more comfortable than a sleeping bag on damp ground—it had rained the night before—and the view, upon waking, was breathtaking.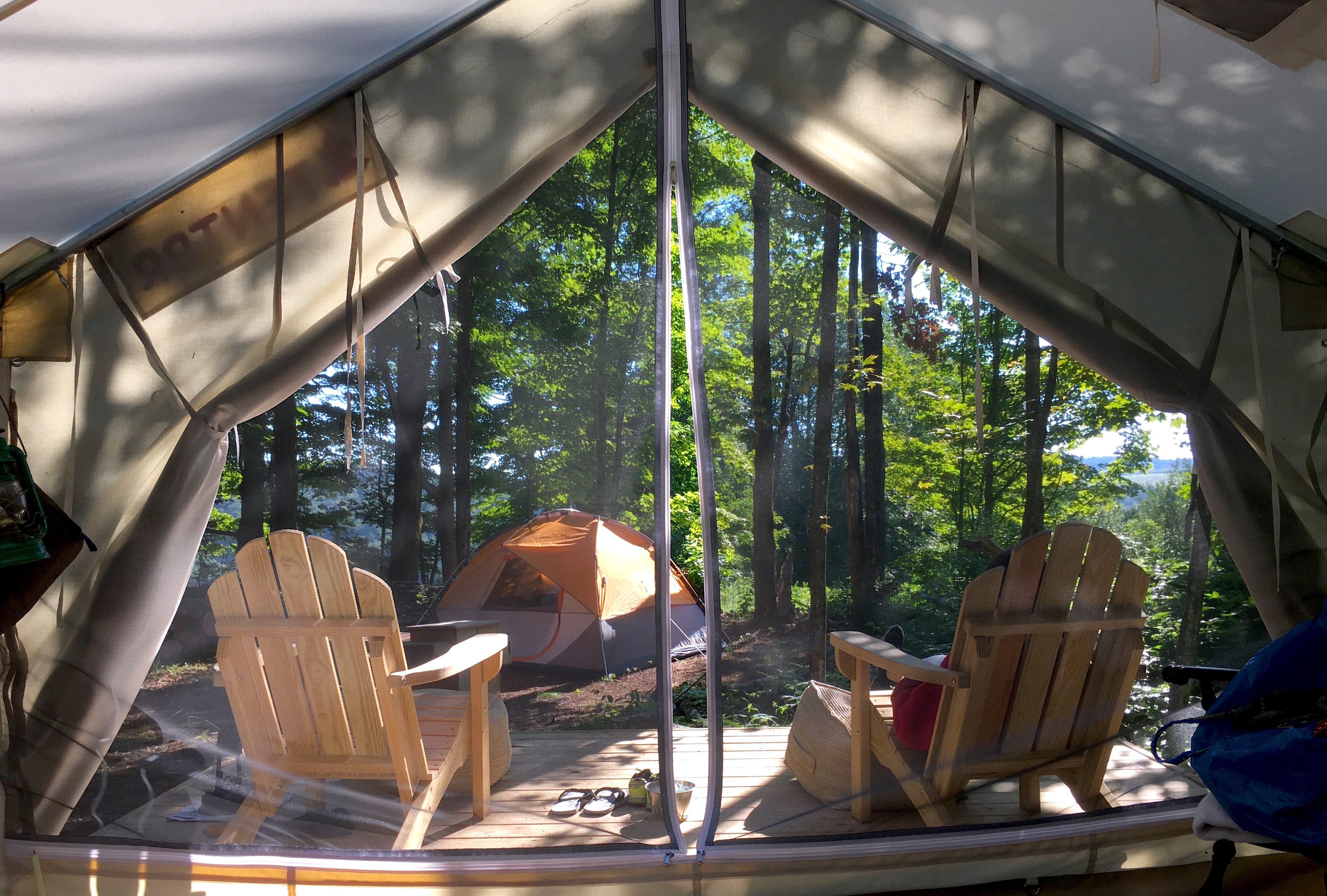 The view upon waking. (Photo: SJR)
To remember for the next time: Though the site had plenty of firewood (gratis, we might add, which isn't the case for all Tentrr locations), it had neither pots nor pans, which you'll need to bring, nor cleanup supplies like soap and running water. (Our hosts lent us a cast-iron pan and a spatula, and we brought our own water jugs.) 
The only complaint, really, was the toilet, which was as basic as they come: a wooden box that held a pail, which we lined with a trash bag. (We thought it would be a composting toilet, for some reason.) Needless to say, gathering the "trash" the next day was the least popular chore of the day. Still, it's a step up from finding a poison-ivy free corner of the woods, though. (And hey, it's camping—what did we expect?)
In short, Tentrr did not disappoint. Then again, we suspect not every Tentrr experience would be as friendly and embracing as this one. Which isn't to say you shouldn't give it a try. But like anyplace else, choose your accommodations wisely. We're glad we did.
The takeaway
Go for it, but just as with Airbnb, HomeAway.com, and other vacation rental sites, be picky and ask a lot of questions. And though Tentrr is more affordable than typical weekend getaways, it's pricier than a weekend at a campground or national park. We paid $120 for one night, plus a booking fee of 15 percent, but a nearby campground, Kittatiny, was charging $11 per site, and $15 per person 12 years and older, $7.95 for children between the ages of 6 and 11; and kids under 6 years of age are free.
But for a private campsite that's all your own, with (hopefully) helpful hosts nearby—not all campkeepers may be as reachable, however—the extra premium may be worth it. Ours certainly was.
Brick Underground articles occasionally include the expertise of, or information about, advertising partners when relevant to the story. We will never promote an advertiser's product without making the relationship clear to our readers.