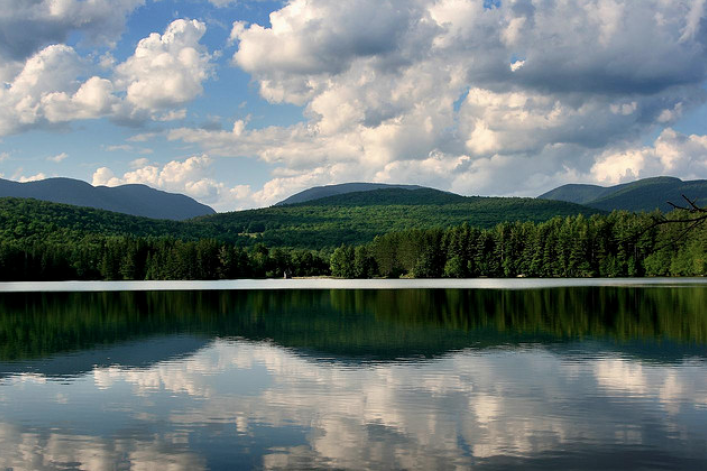 When someone mentions the Catskills, these likely come to mind: untold sprawling acres of green hills and mountains, Woodstock (and hippies!), music festivals, and maybe even the old glory days of the Borscht Belt. The Hamptons it's not, and neither is it manicured, meticulous Hudson Valley. In reality, this huge expanse of land two hours north of New York City has a style and rhythm all its own.
The first thing you should know? Geography. That's according to long-time Catskills real estate broker David Knudsen, who says the sheer size of the Catskills is overwhelming to those thinking the area is somehow compact like the Hudson Valley. New York has five boroughs, the Catskills have four main counties, but each has dozens of towns within the lines of delineation. And the Catskill Forest Preserve — nearly 290,000 acres of protected land — runs through each of them.
The second thing? "You probably need to think about the Catskills in the same way as you do about neighborhoods in Manhattan or the Bronx," Knudsen adds. "There are some areas that are run-down, and there are some areas of what they're thinking of as an ideal country getaway." Translation: New Yorkers should do their homework before deciding on a getaway.
The basics: The Catskill Mountains (or Catskills, meaning "Cat Creek" in Dutch) is around 100 miles northwest of New York City and spreads across Sullivan County to the south, Ulster to the east, Delaware to the west, and Greene to the north. It has inspired everyone from explorer Henry Hudson to the writer Washington Irving, who wrote of Rip van Winkle's epic nap in these legendary mountains. Generations later, the Catskills were the backdrop for no-Baby-in-the-corner classic, "Dirty Dancing."
Since the decline of the Borscht Belt in the 1970s and 1980s, the region has once more become a hotspot for weary urban dwellers hoping to disconnect from their smartphones and reconnect with nature.
Getting there: There's no way around it — it's easiest to get to the Catskills by car, though some public transportation options will get you there. Amtrak and Metro North lines service nearby Poughkeepsie with transfers available to buses and taxis. Several bus lines, including the Trailways bus service, whisk you from the Port Authority Bus Terminal to several Catskills locations like Kingston and Saugerties, with several other stops along the way. Also check out Wanderu, which aggregates all the different bus and train options from the city.
DELAWARE COUNTY
This county sits on the northwest side of the Catskill range, making it a longer trek from the city, but it's well worth the effort for the cuisine alone. It's no secret that great food abounds all over the Catskills, but the town of Bloomville might have the ace in the hole thanks to Table on Ten, the much-lauded locavore restaurant founded by carpenter Justus Kempthorne and former Dutch model, now chef, Inez Valk-Kempthorne. Their 28-seat restaurant boasts a bevy of savory pies and pizzas, with all ingredients sourced within a 10-mile radius. Guests who eat (or drink) themselves in a stupor can stumble upstairs to the charmingly furnished Whole Attic on Ten. Other towns like Delhi and Bovina have attracted similar young talent for those seeking haute cuisine in a pastoral setting. Delhi also hosts an annual Taste of the Catskills Festival, featuring tons of locally-sourced goodies; this year's event will take place in early October. 
New Yorkers looking for non-gastronomic activities (hey, we're not all foodies!) would do well to take a ride on the historic Delaware & Ulster Railroad, which departs from Arkville, New York and travels to Roxbury. The historic train, which operates on a route from the 19th century, features a host of events, from nights of music from local bands like Onkor and Blues Maneuver to simulated old-timey train robberies. If you'd rather travel by foot, the Catskill Scenic Trail offers smooth paths for hiking and biking, and gorgeous mountain views.
Stay a while: Rentals in the area are varied, ranging from fully appointed homes like this four-bedroom, 1800s farmhouse on 90 acres, available for $295 per night, to "roughing" it in a two-bedroom tent at Feather Down Farm, where you get to live out your "Little House on the Prairie" fantasies by grinding coffee, scouring for eggs, and cooking breakfast on an old stove. On Vrbo.com, rentals range from a hundred dollars a night to the mid- to upper-five figures a week.
SULLIVAN COUNTY
Go south of Delaware and west of Ulster, and you'll find yourself in Sullivan County, the quintessential "Catskills" experience that was once home to many now-shuttered Borscht Belt-era resorts.  "A lot of city people love the idea of the country, but they're terrified of not having enough to do," Knudsen says. "In the city, they're used to always having entertainment at their fingertips. In the Catskills, you can kayak on the Delaware, go to summer festivals, go hiking." The same, he says is true in Sullivan, home to cultural institutions like Woodstock and the Bethel Woods Center for the Arts.
Make sure to check out the Woodstock Museum, which offers an interactive walk-through of the notorious festival that put a sleepy Catskills town on the map. Perhaps more importantly to nature lovers are the abundance of lakes here. The region's biggest — and arguably, best lake — is the Swinging Bridge Reservoir. At nearly 900 acres and with 17 miles of shoreline, there's enough water for everyone, offering plenty of swimming, boating, and fishing for walleye and bass. Fishing is also "fly" at the Neversink River, a tributary of the mighty Delaware.
And though the Finger Lakes region is better known for its wine trail, Sullivan County is no slouch in the beverage department: check out this map of area distilleries, wineries, and breweries to keep your visit well-lubricated. Food-wise, The Heron in Narrowsburg is beloved for its elevated American dishes, like buttermilk fried chicken (locally sourced, of course). Narrowsburg also hosts an annual music and art festival called Riverfest; check with the Narrowsburg Chamber of Commerce for details.
Stay a while: A house on the reservoir that sleeps eight (and offers modern amenities like dishwasher, washer and dryer, and the less modern one of a working wooden fireplace) costs about $400 per night during peak summer season.
ULSTER COUNTY
Ulster County, too, has benefited from a new crop of earnest city transplants, hipsters, and luxury-inspired business owners who have transformed some of the sleepy hamlets to hot spots. The small town of Marlboro boasts several wineries, including Stoutridge Vineyard and Benmarl Winery at Slate Hill Vineyards.
City dwellers hoping to get a fresh fruit and veggie fix must check out some of the county's farms that are Greenmarket stables — DuBois Farms and Prospect Hill Orchards offer pick-your-own fruits like peaches, pears, apples, nectarines, and later, pumpkins.  Check out Meet Me in Marlborough for more information on what to do and see here.  There's also the weird and wacky artist's town of Rosendale, home to the Women's Studio Workshop and a zombie festival in September (yes, you read right.)
Ann Dyal, a broker with Houlihan Lawrence who specializes in the Woodstock area, says that the region remains a major destination for creative types. The Woodstock Film Festival draws independent film fans each fall, for instance, and the Center for Photography offers summer workshops and events.
Furthermore, the scenery is quite striking: "What I am so taken by in that area is the incredible natural beauty, which is very different from the east side of the Hudson River," Dyal says
New Paltz is home to the massive—and expensive—Mohonk Mountain House, a resort with the look of a castle where five U.S. Presidents have slept. Day guests can purchase passes to hike the resort's 85 miles of trails, including the challenging "Labyrinth and Lemon Squeeze," which entails rock climbing and squeezing yourself between rocks. And when the exhaustion of hiking, eating, and drinking well catches up to you, take your 40 winks at the nearby Buttermilk Falls Inn at Milton. 
Stay a while: Spending the night in Ulster County, especially in prized towns like New Paltz, can be on the pricier side, especially for New Yorkers chasing their own personal "Funny Farm" fantasy. (Instead, expect remnants of the Borscht Belt in various states of renovation or ultra-modern homes like this for $800 a night). In the summer months, rentals are obviously pricier, but you can find modern homes like this one, in the hip town of Phoenicia, for $125 a night; quaint cottages like this one (shown above) that sleeps two can be had for less than $180 a night.
GREENE COUNTY
Named in honor of the Revolutionary War general Nathanael Greene, this county is home to some of the most breathtaking views in all of the Catskills and is the best place for nature-hungry New Yorkers to go. If you're craving an adrenaline rush, try a zipline tour at Hunter Mountain where you zip 600 feet above the mountains. Or if tranquility is more your speed, make sure to visit the Kaaterskill Falls, outside of the town of Hunter. The falls is breathtaking in and of itself, but has the added bonus of being one of the first tourist destinations in the U.S, and inspired a generation of naturalist landscape painters. There are plenty of summer festivals for every taste up north, including the Taste of Country Music Festival, Bluegrass Festival, and Catskills Irish Arts Week. And for visual artists, the Hudson River Art School Trail follows seven of the regional sites that inspired 19th-century painters.
Fishing is also great here, with Greens Lake, Colgate Lake, and even the Hudson River as prime spots.
Stay a while: Those wishing to stay in Greene can expect a little more space and great access to the great outdoors. A cute Victorian like this one (shown above) starts at about $400 per night, has its own waterfall and can accommodate up to six people. For about $250 per night, there are places like Bluff House in East Durham, a mid-century relic with a Pinterest-inspired makeover, or this Catskill home with stunning Hudson River views for $350 a night.
One last thing to consider no matter which county you choose: Much of the allure of these getaways is the art of getting there  — and proceeding to do nothing at all.
***Updated on June 1, 2016 with additional reporting from Alanna Schubach. This article was first published on June 26, 2015
Brick Underground articles occasionally include the expertise of, or information about, advertising partners when relevant to the story. We will never promote an advertiser's product without making the relationship clear to our readers.