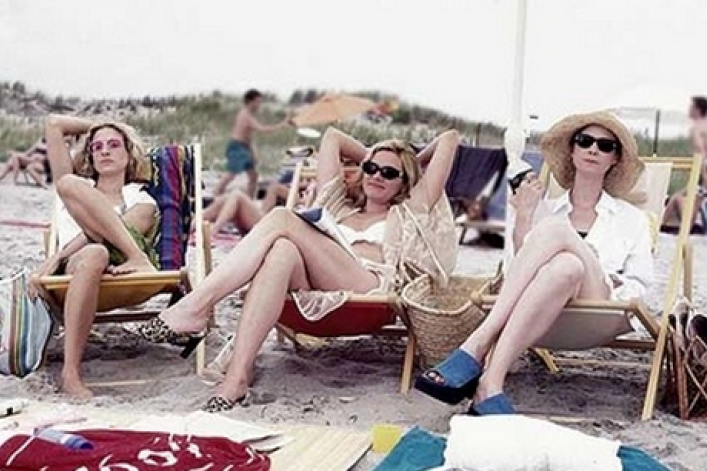 For those of us who don't have $60,000 to drop on a summer rental—that's most of us, yes?—the summer share house is something of a rite of passage. (Or at least a serious option.) Whether you're looking for a packed-to-the-gills party house or just an affordable way to spend your warm-weather weekends with others, there are ways to make this work for just about all tastes and price ranges. Below, a primer on how to find a house you love, and stay sane while living with a half-dozen other people, this summer:
WHERE TO LOOK—AND WHAT YOU NEED TO KNOW ABOUT THE HAMPTONS
As with short-term vacation rentals, these days, a lot of renters looking for a seasonal share house—and landlords looking to rent them out—eschew brokers altogether in favor of sites like HomeAway, Airbnb, VRBO, VacationHomeRentals.com, SummerShareHouse.com, and FlipKey. There's also Four Season Getaways if you're looking in the Catskills or the Berkshires, and of course, good old-fashioned Craigslist.
While most of us think "Hamptons" when we think of shared summer party houses, areas like Fire Island, Shelter Island, the Catskills, and the Jersey Shore are all popular with the share house crowd. But if you do want to go the classic Hamptons route, tread lightly: Many Hamptons areas have rules against big share houses, and have been cracking down on illegal rentals, booting renters and fining landlords.
For instance, East Hampton authorities recently conducted a sting of sorts on illegal share house properties, saying in a statement that the crowded homes "severely impact neighbors and lead to complaints of environmental impact from litter, debris, and septic overload, as well as issues relative to excessive noise and vehicle parking."
"I've heard of people who are straightforward about what they were doing but still got kicked out after the fifth week," says Citi Habitats broker Jennifer Blanchard, who has spent many summers renting share houses in the Hamptons. "There was a notorious party house where the landlord knew what was going on—30 people in 12 bedrooms—but the cops cracked down, and they had to leave without getting their deposit back." 
Often, these rules are based around how many cars are at a property—frequently, there's a limit of four at a time before authorities start to get suspicious, Blanchard notes—so check your desired hamlet's rules ahead of time and plan accordingly before you sign on the dotted line.
THIS IS A STORY ABOUT SEVEN STRANGERS PICKED TO LIVE IN A SHARE
While a lot of share houses are organized between friends, plenty of people also rent with people they've never met before, either finding roommates through friends of friends, mixers, or Craigslist. (A cursory search of "share house" on Craigslist's vacation rentals section pulls up near-bottomless options).
This can be a particularly good option if you're single and, well, looking to mingle, says John Blesso, author of Sharehouse Confidential who spent years running a house in Fire Island. "It's obviously a little riskier, but the payoff can be a lot higher because you're meeting new people," he says. The key here is to make sure you're compatible with the other people in the house and, above all, to meet them ahead of time. "You wouldn't want to join a house that would take you without meeting you in person," he notes.
To figure out if a share with relative strangers is a good fit, says Blesso, ask about the general demographic (age, how many people are single, etc.), and a lot of the typical lifestyle questions you'd use to suss out any other roommate: how much people cook, how late they stay up, what a typical weekend is like, etc. (We've got a bunch here.) Lest you feel nosy, the listings themselves are often forthcoming with these details, like this Hamptons listing for a share house with "very upscale, classy and social people" in their 30s and 40s.
MINDING HOUSE RULES (AND HOW TO KEEP THE PEACE)
To make sure you get along with the people you're renting with, even if they're established friends, setting ground rules—and managing expectations—from the onset will save everyone a lot of headaches.
"The best way to make sure things go smoothly is to outline the rules right from the beginning," says Blanchard. "Things can get ugly if they're not established ahead of time." A few areas in which you'd be wise to come to an agreement ahead of time:
Guests. "There's always going to be that person who feels like they're going to pay for themselves, but will bring their significant other every weekend without contributing," says Blanchard. "With my house, the rule was that you could have one guest every weekend. Everybody got a free pass, and if they came out again, they'd have to pay a guest fee of $50 or $100 to cover things like food and beer for the house." Maybe your ideal house is more lenient, but regardless, figure out the plus-one policy ahead of time.
Food, wine, and other substances. Some houses are an every-man-and-woman-for-themselves operation, and others are communal affairs, with big grocery trips, shared dinners, and a fridge stocked with beer and wine—figure out which yours will be ahead of time and if it fits your personality. "I also always had a rule about no hard drugs," adds Blesso, noting that rule would also help appeal to certain renters—and discourage others.
Extras. Many summer rentals also come with the option of perks like cleaning and gardening services. Decide up front what you and your roomies are—and aren't—willing to shell out for.
Timing. Not every rental will allow you to be on-site 24/7, and Blesso recommends checking whether or not midweek access is allowed. "Some shares have your week start Friday morning and go until the following Friday evening," he says, while "others don't allow midweek access." If you're divvying up time, a standard "half-share" model  involves splitting up eight weekends with someone else. "You'd be paired up with someone in the opposite share and you'd be there every other weekend," explains Blesso.
​BILLS, BILLS, BILLS
The payment policy for a typical share house is essentially the same as that for any other Hamptons rental—your landlord will generally want the entire rent paid up front, as well as a hefty security deposit. 
Where things get tricky is with subdividing the rent—and figuring out whom to pay, and when. Again, this is an area where you can be spared a lot of drama by arranging things up front. "Everyone handles payments differently," says Blesso, "You just want to know what they are and what the payment schedule is. You want to see a lot of clarity." Mercifully, this is all much easier in the era of services like PayPal and Venmo, particularly if one person handles the payments then collects from all the other renters.
One extra you'll need to keep in mind: renter's insurance. "In addition to the security deposit, the new thing now is that a lot of people require you to get renter's insurance," says Blanchard. "It's easier for you to get renter's insurance than to pay an extra month's security."
It's also almost certainly cheaper. "To extend your existing liability coverage to a secondary residence is very inexpensive, and the charge can be pro-rated," says apartment insurance broker Jeff Schneider of Gotham Brokerage. "Twenty dollars or less—the price of a good margarita or two—should take care of the entire summer." However, it's best for each renter to take out their own individual extra coverage rather than having one person trying to handle coverage for the whole house. "If you're running the house, that's an excluded business activity," Schneider explains, where as if you're just participating in a share and list your rental location, that twenty dollar add-on to your regular policy means you'll be covered for any personal liability incurred. 
With that out of the way, you can get back to the very important business of grilling, sipping drinks, and working on your tan with peace of mind.
Related: 
Your everything guide to finding a long-term Hamptons rental this summer
Hamptons a la carte: how to pull off a short-term rental on the East End
How to hunt for a vacation home outside the city
The price of a Manhattan one-bedroom goes surprisingly far in the Hamptons
Brick Underground articles occasionally include the expertise of, or information about, advertising partners when relevant to the story. We will never promote an advertiser's product without making the relationship clear to our readers.