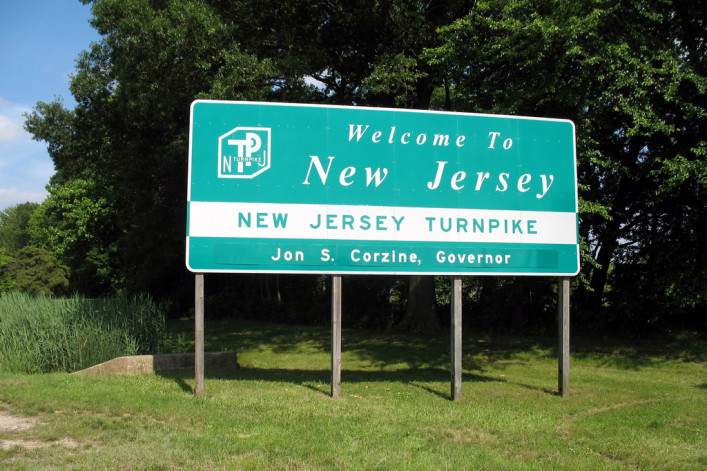 So, you want to move to New Jersey. Or at least, have realized that the real estate prices there compared to the city are too enticing to pass up.
Besides the mental shift of leaving the five boroughs, even if you're just crossing the water into Jersey City, there are some very real logistical concerns to consider if you're moving to an entirely new state. (And that's not including the Chris Christie jokes you'll now have to endure.) Below, five factors to keep in mind before you make your move:
The taxes
This is where you'll want to do the most careful calculation, because once you leave the city, the money you save on housing costs can be canceled out by what you end up paying in taxes.
"The first thing people are always surprised about is the difference in the real estate taxes," says Douglas Elliman broker Lisa Poggi. Property taxes are higher in New Jersey—the highest in the country, in fact—at an average rate of 2.19 percent versus New York's 0.72 percent, according to data from SmartAsset. However, you'll avoid paying New York City's expensive taxes for residents, and Jersey's income taxes are lower than those in NYC. In short, whether or not you'll be saving, breaking even, or paying more will depend heavily on the particulars of your personal financial picture.
"I always advise people to speak to their accountants and figure out where you land," says Poggi. The New York Times also has a guide to calculating city-versus-Jersey expenses here, and SmartAsset has a property tax calculator for prospective New Jersey buyers to play around with.
The bottom line on this one: You'll certainly get more bang for your buck on the purchase price, but take your taxes into account before assuming you'll be netting huge monthly savings.
Pro Tip:
Wondering whether Jersey City, Hoboken or another Gold Coast town is a good fit for your budget, commute and lifestyle?  Triplemint's Gold Coast Guides are standing by to answer your questions, help you figure out which town makes the most sense for you, and show you apartments that fit your needs. Click here to speak to a Triplemint Gold Coast Guide or view apartments online. >>
The full cost of your commute
Often as the MTA raises the price of a monthly Metrocard, if you plan to commute into the city every day for work while living in Jersey, it'll cost you.
If you're driving, there are tolls to get into the city (though not to go back out into New Jersey), on top of gas and parking. But even if you're taking the transit, there are expenses beyond the cost of your monthly commuter pass (which you can calculate the cost of here).
"Sometimes people buy assuming they'll take the train, but later realize they can't get parking by the train, or that there's a years-long waiting list for the town's free parking near the train, so they have to pay for private parking," says Alison Bernstein, founder of Suburban Jungle, a service that helps New Yorkers identify suburban towns that fit their needs. Carefully scope out your town's train and parking setup as part of your due diligence.
To that end, moving to Jersey also tends to mean getting a car—or more than one. "People are shocked by the amount of driving they end up doing, even in towns that are very walkable and commutable," says Bernstein. "We find that people who have no car end up really needing one. And if you have kids or are commuting, logistically, it can be hard to make it work with just one."
Add in the cost of upkeep, insurance, and gas, and you're looking at a hefty extra monthly expense.
The house
If you're making the move from an apartment to a full-blown house, you're going to be looking at a very different set of expenses. And while you won't be paying maintenance or common charges, there are other costs to take into account.
"Very few people think to ask to see utility bills before they own a house," says Bernstein. And as such, they're often blindsided by the high cost of, say, heating. "And no matter how big it is, the amount of care a lawn needs takes people by surprise." Gutters tend to be a big source of unexpected hassle and expense, too.
Whether you're going to be taking on these maintenance tasks or paying for someone else to do it, it's a good idea to talk to your broker about a home's potential upkeep year-round, so you go in with eyes wide open about any extra sources of effort and expense.
"Even if you don't invest in a large property, it ends up being a lot of work," says Bernstein.
Brick Underground articles occasionally include the expertise of, or information about, advertising partners when relevant to the story. We will never promote an advertiser's product without making the relationship clear to our readers.