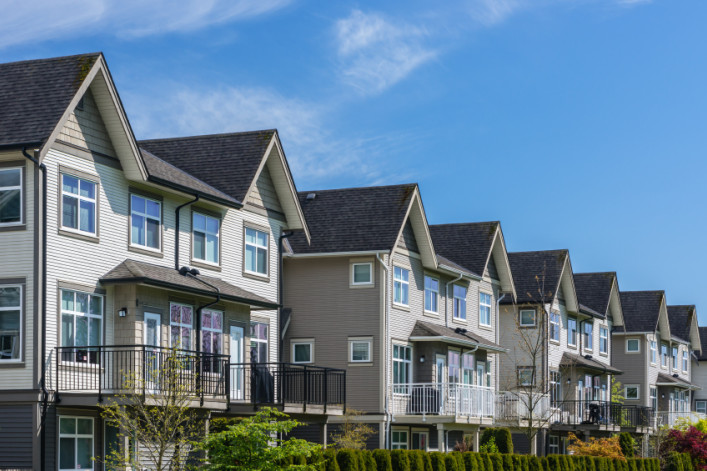 So, you're thinking about fleeing the city for the suburbs. While New York's suburbs are a bit of a sore subject at the moment, you'll hardly be the first—or dare we say, the last!—New Yorker to make this call. After all, more space for less money? Kind of an enticing prospect.
But house hunting in the suburbs is a whole different ballgame than searching for an apartment within the five boroughs, and if you've spent your entire real estate life in the city up until now, the process can come with a lot of unexpected pitfalls.
Besides the fact that you should resist the temptation to write a Times column about your new, million-dollar house, here are four key factors to keep in mind before you start your search:
CONSIDER THE TOWN AS CAREFULLY AS THE ACTUAL HOUSE
While it's understandable to get excited about your potential new backyard (!), basement (!!), and garage (!!!), finding the right neighborhood is just as important as tracking down a house you like that's in your price range. 
"It's far better to find the right fit for a town and ultimately upgrade, than to put all your eggs in one basket, buy your dream house, and then realize you're in the wrong place," says Alison Bernstein, founder of Suburban Jungle, a service that helps New Yorkers identify suburban towns that fit their needs. 
While specific questions about local schools, demographics, and political affiliations violate fair housing laws, there are plenty of ways to get a sense for whether a community will be the right fit for you and your family. 
"I tell people to come and make a day of it—go apple-picking, check out estate sales, familiarize yourself with the area," says Sotheby's agent Cindy Hammerquist, who made the move from Brooklyn to Huntington, Long Island, and recently hosted an event geared towards Brooklyn buyers eyeing the suburbs.
In her own search, she says, she spent time walking around prospective neighborhoods to get a sense of diversity and local vibe. "In Huntington, people were out walking, kids were riding bikes," she adds, "and in more affluent areas you don't always have that."
If you're coming with kids in tow, Bernstein recommends finding out how many parents stay at home versus commute into the city, and what kind of childcare options are popular (au pair? full-time nanny? full-time stay-at-home parenting?) to get a sense of what a neighborhood's family community is like, and whether or not you'll have company during the day, if, for instance, you're planning to stay home with the kids.
"What moms wear to school dropoff is even a big indicator," she adds. "Are they in heels? Workout clothes? There are certain cues that we work off of in terms of getting to know a family and what will work for them."
Since you'll likely be confined to scoping out towns on the weekends, Bernstein recommends budgeting as much time as possible for your search (two years, in a perfect world) instead of trying to lock down an option in a rush.
BUDGET FOR THE EXTRA COSTS
Financially speaking, you already know the good news: You'll get a lot more bang for your buck in just about any suburb, compared to options in the city. (New Jersey-based Halstead agent John Frezner estimates that in Montclair, for instance, you can get a historic six-bedroom house for the price of a two-bedroom apartment in the city.)
But there are also extra expenses to take into account that you wouldn't find with a city apartment. Namely, the notoriously high taxes in the suburbs, which, as we've written previously, can be up to twice as much as they'd be on a comparable house within the five boroughs. "Some parents will calculate the cost of private school versus moving to an area with higher taxes and sending their kids to public schools," says Frenzer.
On top of that, you may find yourself wanting to renovate, particularly in areas with older homes. "When homes here are newly renovated, they fly off the market," says Frezner. "But a lot of people want to do their own, and you have to have extra cash put away for that.
For instance, at least $20,000 for the bathroom alone." If your dream home is of the fixer-upper variety, you'd do well to come by with a contractor before settling on the final price.
TAKE THE COMMUTE INTO ACCOUNT
This is especially true if you plan on coming into the city for work during the week, but even if you only plan on the occasional weekend visit, take your transportation proximity just as seriously as you would when apartment-hunting in the city. "Think about where your office is," says Frenzer. "When it snows, you want to be able to get to that bus or train easily, not a half mile walk." 
"We once had a buyer who bought a $5 million house with a one-car garage, not realizing that on a cold winter day they weren't going to bike to the train station [and would want a second car]," Bernstein concurs. In addition to figuring out the fastest local bus or train route into the city (if a town has both, all the better), check schedules, so you don't end up blindsided by news that, say, your local train doesn't run into NYC on the weekends. 
YOU CAN LOOK WITH LESS CASH ON HAND
One of the biggest perks of buying outside the city: freeing yourself of the financial albatross that is the expectation of a 20 percent down payment (plus more cold, hard cash in liquidity to pass a board interview).
As a rule, you won't be expected to offer more than 10 percent down on a home outside the city, says Hammerquist, and sellers are also more flexible when it comes to mortgage programs like SONYMA that let you buy with an even lower down payment. "My very first sale here, the buyers had an FHA loan and offered five percent down, and I was convinced it wouldn't work [after coming from Brooklyn]," says Hammerquist.
"But it was fine, and it all went through." 
**This post originally ran on November 2, 2015.
Related:
Getting past the down payment problem—probably your biggest hurdle to buying an apartment
Suburbs in the city: buy a house, get a yard, save majorly on taxes
The 3-percent-down mortgage you've probably never heard of that's available in NYC
Prospect Heights vs. Hastings on Hudson: so what can you get, anyway?
This updated Victorian has river views, a walkable downtown and a quick commute to the city
Six reasons to be (sort of) jealous of your friends in the suburbs
Here's how much it'll really cost you to raise a family in NYC
Brick Underground articles occasionally include the expertise of, or information about, advertising partners when relevant to the story. We will never promote an advertiser's product without making the relationship clear to our readers.