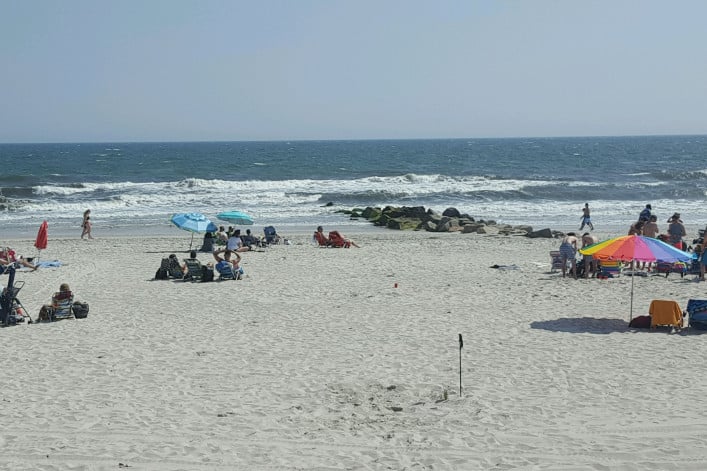 Billy Joel once famously said of coming of age on Long Island, "You either date a rich girl from the North Shore, or a cool girl from the South Shore." No offense intended to the north side, but the southern part of the island—and particularly its barrier beaches—does indeed have the kind of chilled-out vibe that's ideal for those seeking a low-maintenance getaway.
[Note: This post first ran in June 2016, and was updated in June 2017.]
While getting to the Hamptons or Fire Island can be a bit of a schlep from the city, Long Beach and its bordering towns of Atlantic Beach and Lido Beach are comparatively accessible, easy to navigate, and affordable. Thomas Tripodi, who leads a team with Douglas Elliman that specializes in the area, says, "some people are unaware of what's 52 minutes away by train. The mentality in these beach communities is different from the rest of suburbia—you have an eclectic group of people, and it's a comfortable life."
And though the area was devastated by Hurricane Sandy in 2012, the last few years have seen impressive reconstruction efforts, and the comeback has brought the residents of these tight-knit communities even closer together. On the real estate end, Tripodi says he has seen an explosion of interest in the beach towns, as well as dozens of new businesses opening locally.
Megan Casey, a Long Beach resident, says she's seen new investments in the area. "We're seeing a lot more people coming home," she says, "and a lot of businesses are back. Now people are going out to restaurants and bars, and having a good time again."
Getting around
The easiest way to get to Long Beach is by the Long Island Rail Road, which runs there on the hour. The LIRR sells packages for $26.25 that include roundtrip fare from Penn Station or Atlantic Terminal, discounted beach passes, and coupons for local vendors. By car, the trip will also take about an hour (provided there's no traffic). Note that if you're not buying an LIRR package, you'll have to purchase a $15 daily pass to access Long Beach beaches, which is available at designated entrances only. (Check the city's official site for more info.)
To reach Atlantic Beach to the west, or Lido Beach and Point Lookout to the east, a car may be your easiest—though not your sole—option. As an alternative, you can use the local, 24-hour Long Beach bus for $2.25, which has several routes that leave from the train station and stop in the city's west end, Point Lookout, and more.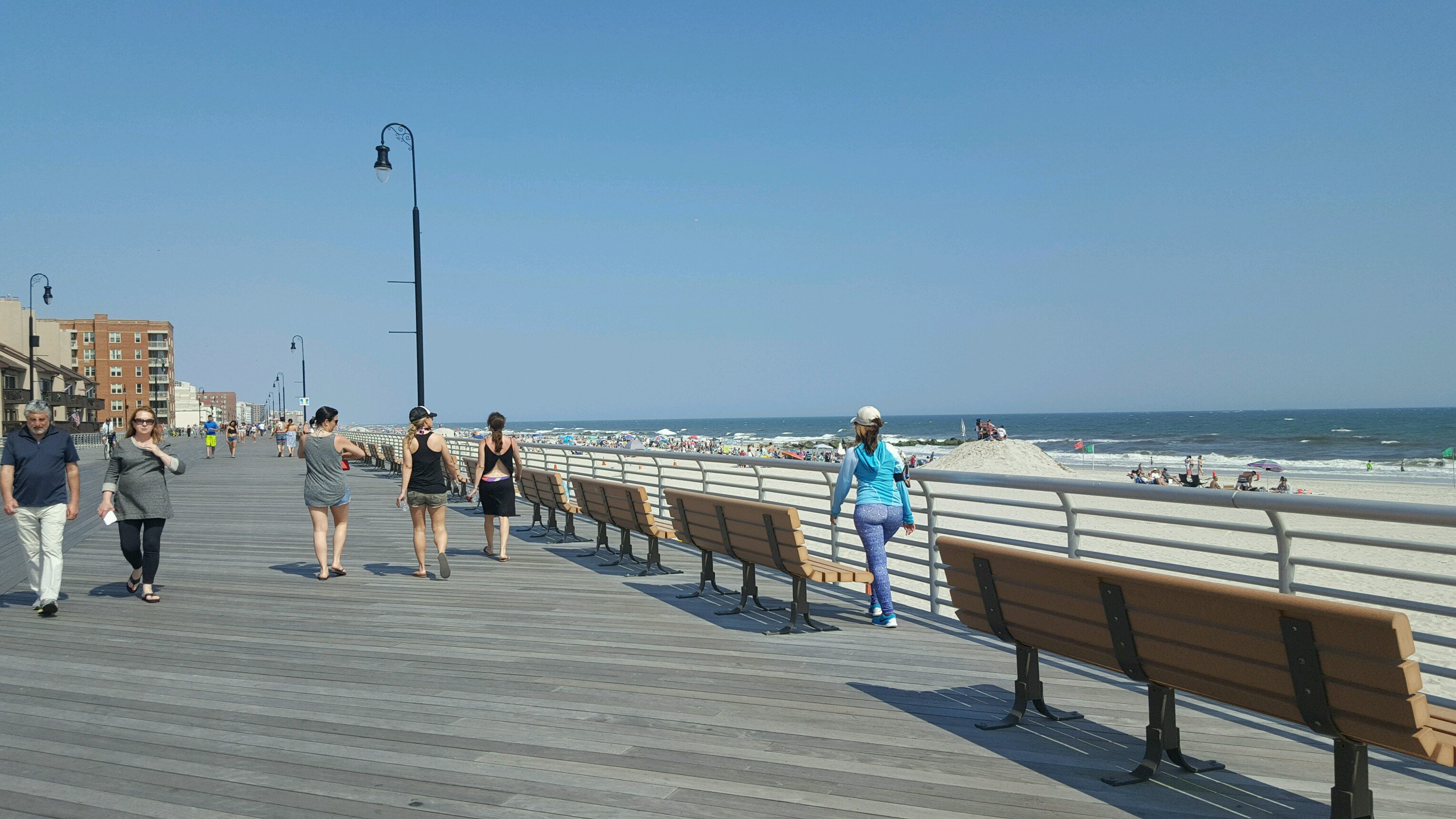 Long Beach
This relaxed—but not sleepy—beach community has its advantages over more coveted destinations further east. In fact, says Tripodi, he has encountered many buyers coming from the Hamptons. "They don't want to do the commute to the city anymore, or spend the money, when they can get amazing beaches here for so much less," he says.
The 3.5-mile beach is picturesque, featuring soft white sand and a 2.2-mile boardwalk that was completely redone after the storm. Along the boardwalk, you'll find mostly apartment complexes but scant hotels; elsewhere, there are detached homes and plentiful bungalows. The town includes several micro-neighborhoods, each with its own character: the west end is "a party place," Tripodi says, with the busiest nightlife, while the east end of town is quieter. The main drag, Park Avenue, is a few blocks from the beach, home to the majority of restaurants and retail.
Anthony Dalto, who runs the Long Beach blog Sea by the City, says your ideal neighborhood depends on a few factors. "The West End has mostly bungalows and multi-family homes. That's where you will find bars, restaurants and nightlife, but with that comes crowds," he says. "High-rise apartments on the boardwalk will give you a nice view and you'll be closer to the LIRR. The East End, the Canals, and other parts are family-oriented areas with larger lots and, if you're lucky, a yard."
The character of the beach, too, can change from block to block, but it's especially busy around Edwards and National Boulevards, as these streets border the train station and are usually city folks' direct route to the sand. You'll also find crowds around Riverside Boulevard, home to Shoregasboard, Long Beach's answer to outdoor food festivals: several food trucks gather here, hawking everything from Korean tacos to kosher deli sandwiches. 
Megan Casey knows the vibrant West End well: she's a longtime resident and her husband owns Shine's, a century-old bar and neighborhood gathering place. "Looking at Long Beach from a visitor's perspective, it's unique because it combines urban life with this beach community," Casey says. "There's something to offer everybody."
As for local entertainment, apart from Shine's—which Casey says she suspects is the oldest bar on all of Long Island—she recommends eating at Lost & Found, a New American spot that opened in 2015, which she calls "the upper echelon for foodies." There's also Swingbelly's for barbecue cooked in a rotisserie pit, The Saloon, a classic Irish pub with outdoor seating, and plenty of other bars and eateries in the area.
Dalto says his favorite hangout is Gentle Brew Roasters, which has a brick and mortar coffeeshop, as well as an outpost on the boardwalk. 
Casey recommends renting a bike from Social Bicycles, Long Beach's bike share program (find station locations here) and pedaling your way around town. "The way the city is set up, it's super bikeable," she says.
Sporty types can surf at a number of beaches—there's a list here—or try their hand at high-flying trapeze. For the sedentary, there are movie nights and music performances on the beach on summer evenings.
Stay a while: Thomas Tripodi says that summer rentals in Long Beach usually start from $18,000 per month, though you can find bungalows in the West End for anywhere from $5,000 to $10,000 per month. If you're renting by the day, you have a wide range of options in Long Beach, from this oceanfront duplex with furnished decks facing the sea, for $1,300 per night, to a three-bedroom West End bungalow one block from the beach, for $350 per night.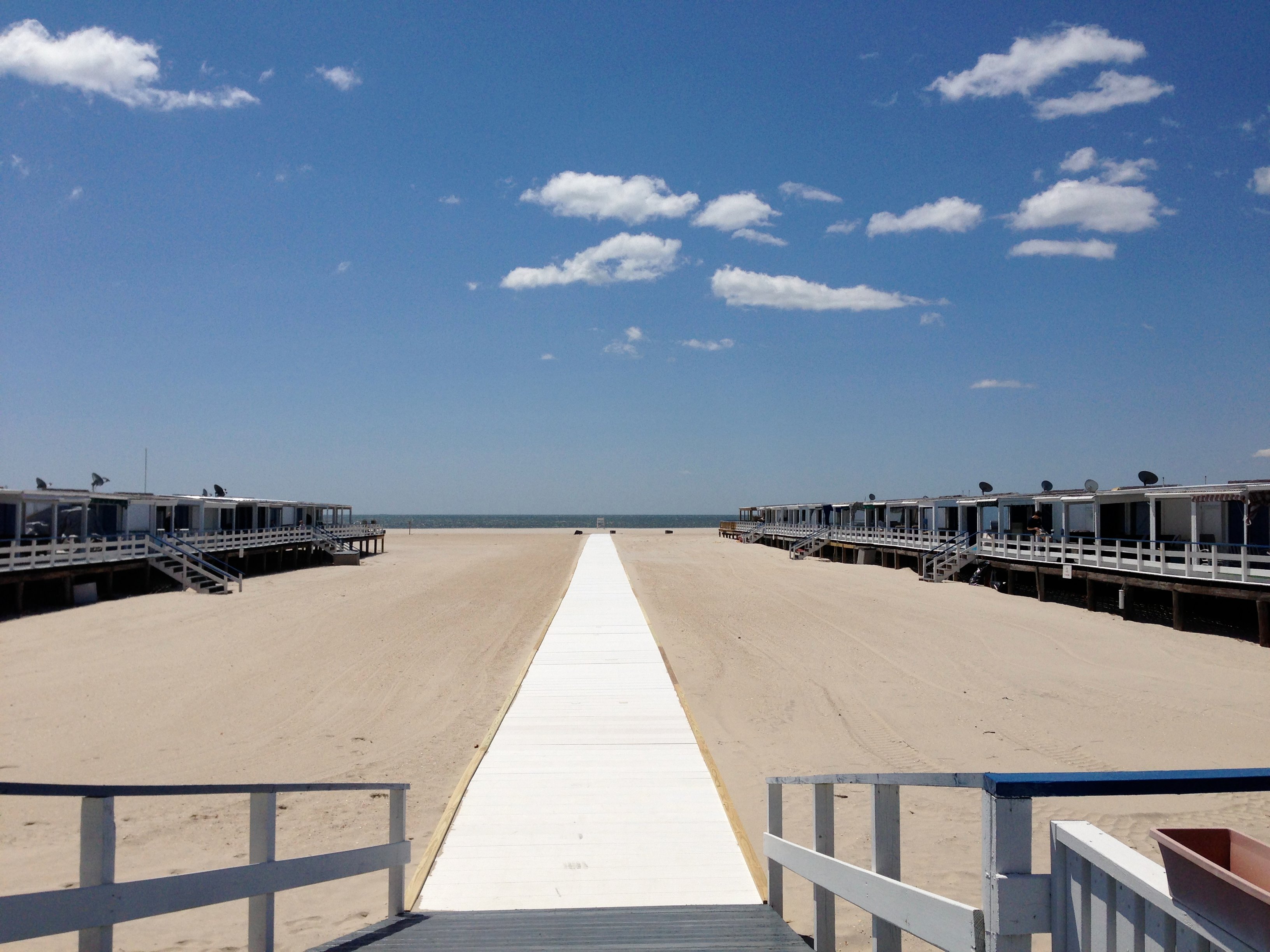 Atlantic Beach
Dalto characterizes Atlantic Beach to the west, and Lido Beach to the east, as much quieter places. "Lido Beach and Atlantic Beach don't have train stations, so you'd have to take a train to Long Beach, then hop on a bus if you want to go to either of them," he says. "They are more closed-in experiences. Atlantic has beach clubs and a quieter boardwalk. Lido has great park facilities, but you generally park your car in a lot, so you aren't really part of the neighborhood."
Atlantic Beach is close to the Rockaways, and can also be accessed by driving across the Atlantic Beach Bridge. The small village's beaches are also exclusive: Per the town's official website, only local homeowners and their immediate family are permitted to purchase beach passes. Another option is private beach clubs like Silver Point, which are outfitted with pools, cabanas, tennis courts, and more, though membership isn't cheap. (Check out our recent guide to Atlantic Beach's clubs that still have cabanas and lockers available this summer.) 
If you don't want to make that kind of investment, your best bet in this family-friendly area may be to rent from a local and use their beach passes while you're in town.
The area has limited options in the way of shopping and dining, and many locals make the quick trip to Long Beach for entertainment. One intriguing new spot in town is Beginnings, a literary-themed bar and restaurant with menu items inspired by great works of literature.
Stay a while: It seems there are those willing to pay handsomely for the level of privacy and peacefulness Atlantic Beach offers—Thomas Tripodi says that last year, an Atlantic Beach home rented for the summer for a record-breaking $85,000. Generally speaking, though, "You can rent a nice house in Lido or Atlantic from $10,000 to $25,000 per month," he says. Your options also include homes like this four-bedroom, with comes with a large, modern kitchen, and access to a private beach, for $575 per night.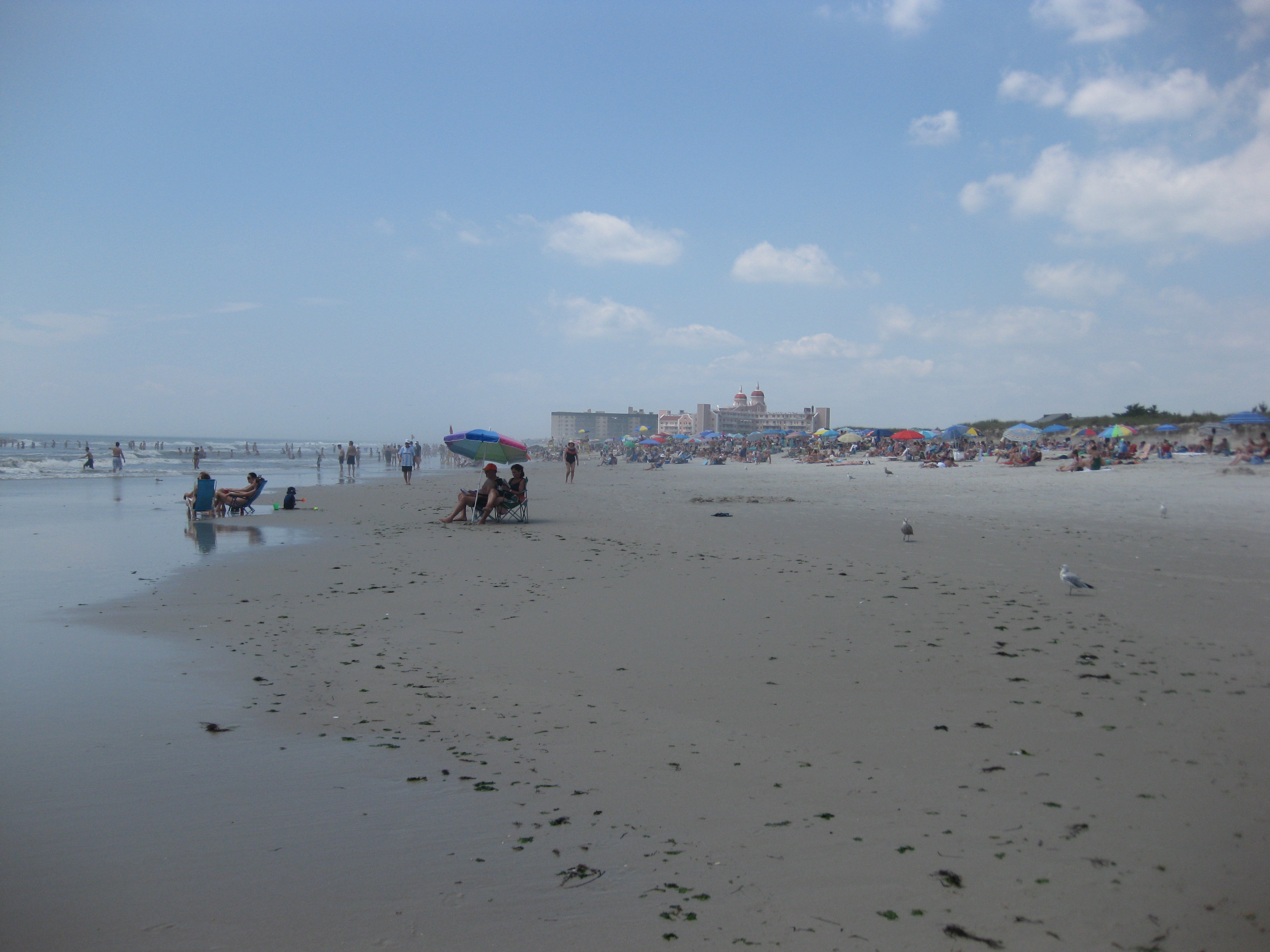 Lido Beach
At the east end of the barrier island, you'll find Lido Beach and the tiny town of Point Lookout. Like Atlantic, Lido Beach is on the quiet side, though its beaches are open to the public and therefore busier. Parking at one of the beaches here is $25 per car for non-residents, so if you bring a crowd, it's a better deal than Long Beach's day passes. Nickerson Beach Park is particularly family-friendly, with cabanas, a playground and kiddie pools.
Beyond the beach, you'll find the Lido Golf Club, with a course that runs along the bay. Also on the bay is Fisherman's Catch, a seafood restaurant ideally situated for watching the sunset.
Stay a while: Tripodi explains that prices rise along with the summer months, but there are reasonable deals to be found in Lido: "You can get a nice house with a pool that's not on the ocean but in a great area near the beach. June might be $8,000, July $12,000, and August $15,000 or $16,000," he says. "It's simple here. Come with family and you're not spending a fortune."
The offerings on Airbnb, though, are rather luxe, like this oceanfront home with a roof deck and room for eight people, for $1200 per night; VRBO has a listing for a home abutting a golf course, one block from a private beach, for $621 per night. 
Brick Underground articles occasionally include the expertise of, or information about, advertising partners when relevant to the story. We will never promote an advertiser's product without making the relationship clear to our readers.