Second Homes
How to care for your vacation rental property when you don't live nearby
Many New Yorkers rely on rental management companies to run their vacation properties
These companies create listings and handle reservations, housekeeping, and maintenance
They charge 20 to 25 percent of the rental income and you only pay when the property is rented
Owning a vacation rental in the Berkshires or upstate New York can be a source of extra income, but managing your investment is no easy feat—especially while living in New York City. 
You never know when a sink will get clogged or the wifi will go out, among countless other inconveniences or catastrophes. Plus you need housekeeping and routine upkeep—mowing the lawn, cleaning the gutters, and all the rest.
Thanks to the rising popularity of Airbnb, enterprising businesses specializing in managing vacation rentals are cropping up in popular tourist areas. Some were founded by people who were trying to rent their own properties out and realized there was a void in services.
Ray Vargas, co-founder of Home Sweet Hudson, a rental management company in the Catskills, bought a second home in Rosendale, NY about four years ago while living full-time in Brooklyn. Because he and his partner traveled a lot for work, the house was vacant much of the time.
"We loved staying in Airbnbs, so for fun we decided to list our house on the platform and it was booked every weekend. That's when we realized we needed help—and that there was a need to professionalize management specifically for vacation rentals," he says. 
You may wonder if these businesses are worth the extra expense (after all, many owners are renting their homes to cover the mortgage), but most companies take a cut of the proceeds—meaning you only pay when your property is rented. And you'll be tapping into their expertise in helping your property stand out from the pack for a greater return on your investment. 
Importantly, you'll avoid inconveniences and outright catastrophes from ruining your guests' stay—and your reputation. 
"When you're not nearby, having help with your rental is indispensable," says Amy C., who lives in Westchester County and recently bought a second home in Great Barrington, Mass (shown at top). She outsources the rentals to Berkshire Rental Properties and year-round caretaking to Posto Property Management. "Keeping your guests happy is the most important thing for good reviews and repeat bookings, If there's an issue, even a little one, that isn't resolved well or quickly, it can affect your income," she says.
One other note, per Amy: If you're looking to get in the short-term rental scene and will be buying a property, use a broker who knows the business. "They can steer you to the properties with the greatest potential—that's what my broker did for me!" she says.
Here's what you need to know about the kinds of businesses you can turn to, how much they cost, and what you can do to maximize your ROI. Even though the following is focused on the Berkshires and upstate NY, you can apply the same guidance no matter where your rental property is located.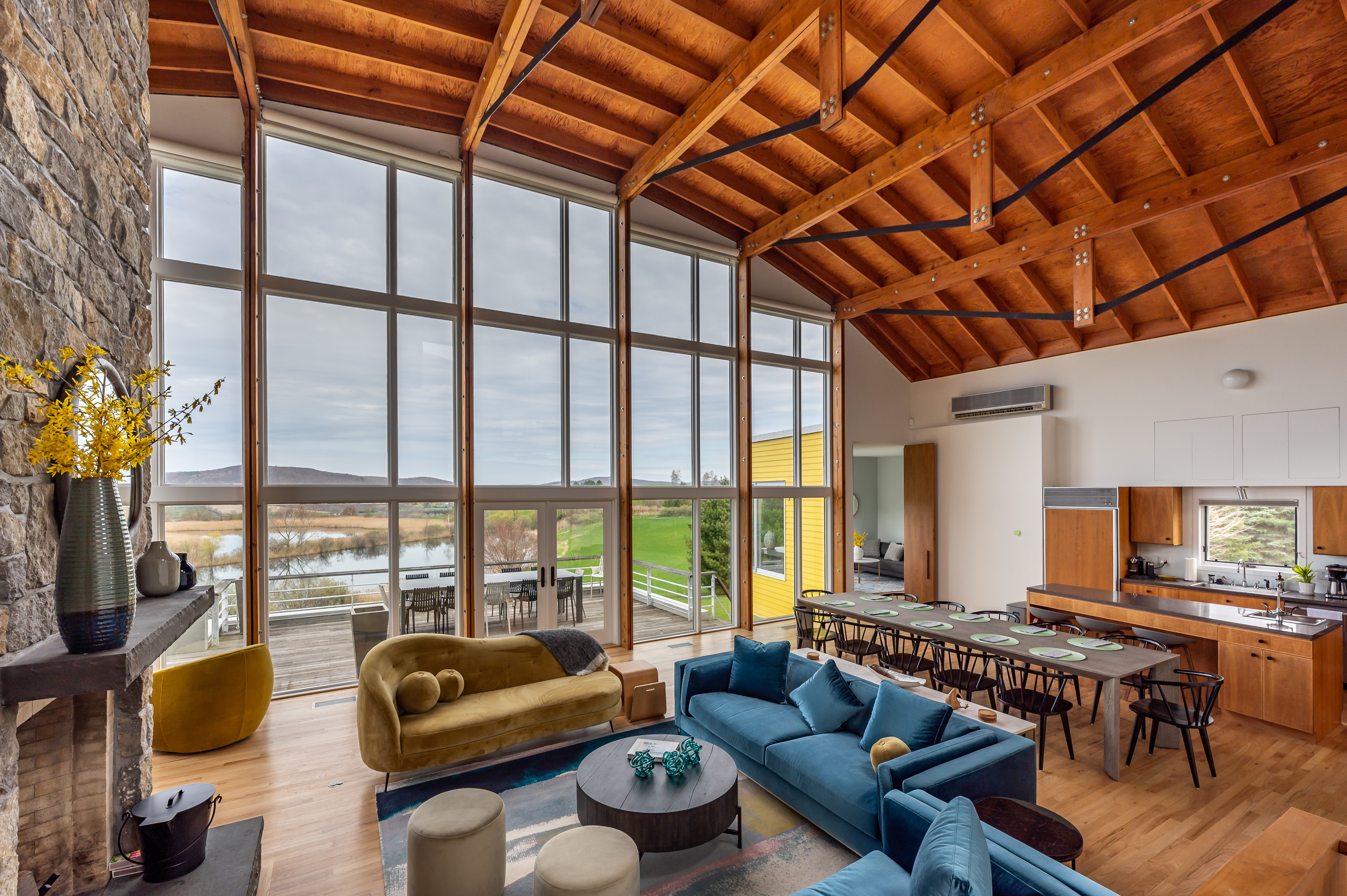 What services does a rental management company offer?
Although lots of DIY types handle their own Airbnb accounts, there is good logic in outsourcing this to someone with deep knowledge of the local market who will know how to position your rental to attract the most guests.
That's especially true now that the market has been flooded with owners who bought during Covid but are no longer using their places as much and are renting them out instead. Plus new buyers are still entering the fray. Claudia Laslie, founder of Berkshire Rental Properties and a broker at Lance Vermeulen, is working with three clients who are looking to buy homes that can be vacation rentals. "The rental market is more competitive than ever before, and I started my business in 2005—six years before Airbnb!" (That said, the demand is keeping pace with the supply; there's plenty of rental income to go around.)
Besides pushing out your rental to other platforms, these companies tap into their own extensive networks by posting listings on their own websites. Hence, they get more eyes on your prize.
Vargas says 60 percent of its business comes from Airbnb, 20 percent from VRBO, and 20 percent from the Home Sweet Hudson website.
As such, these folks are savvy about getting your property noticed on Airbnb. "We are constantly playing with the algorithm and requesting guest reviews to push our listings closer to the top," says Madeleine Maggio, general manager of Posto.
Rental companies also stock the home with basics for the kitchen and bath and interface with guests and handle all the logistics (payment, checking in and out, etc.). "We have a reservations team that fields inquiries and asks people what they want to do in the Hudson Valley so we can create a custom itinerary and offer concierge services," Vargas says. (Think private chefs, massage therapists, and yoga instructors who will come to the house.)
Finally, they provide housekeeping and routine maintenance, with at least one handy person on call 24/7 to tackle problems—and call in a specialist when necessary (see more on this below). 
Technology-based businesses like Posto and Home Sweet Hudson have even created their own apps to streamline the whole process. 
Maddy describes the Posto app as the one "source of truth" with all the information about the house, and owners can reach out directly through the app. It also keeps track of tasks that need to be accomplished—such as power-washing the deck or swapping storm windows with screens.
"Besides New York, we have clients who live in Texas or out of the country, and being able to share what's going on in real-time with photos is much easier than going back and forth with emails when you don't get the full context," Maggio says.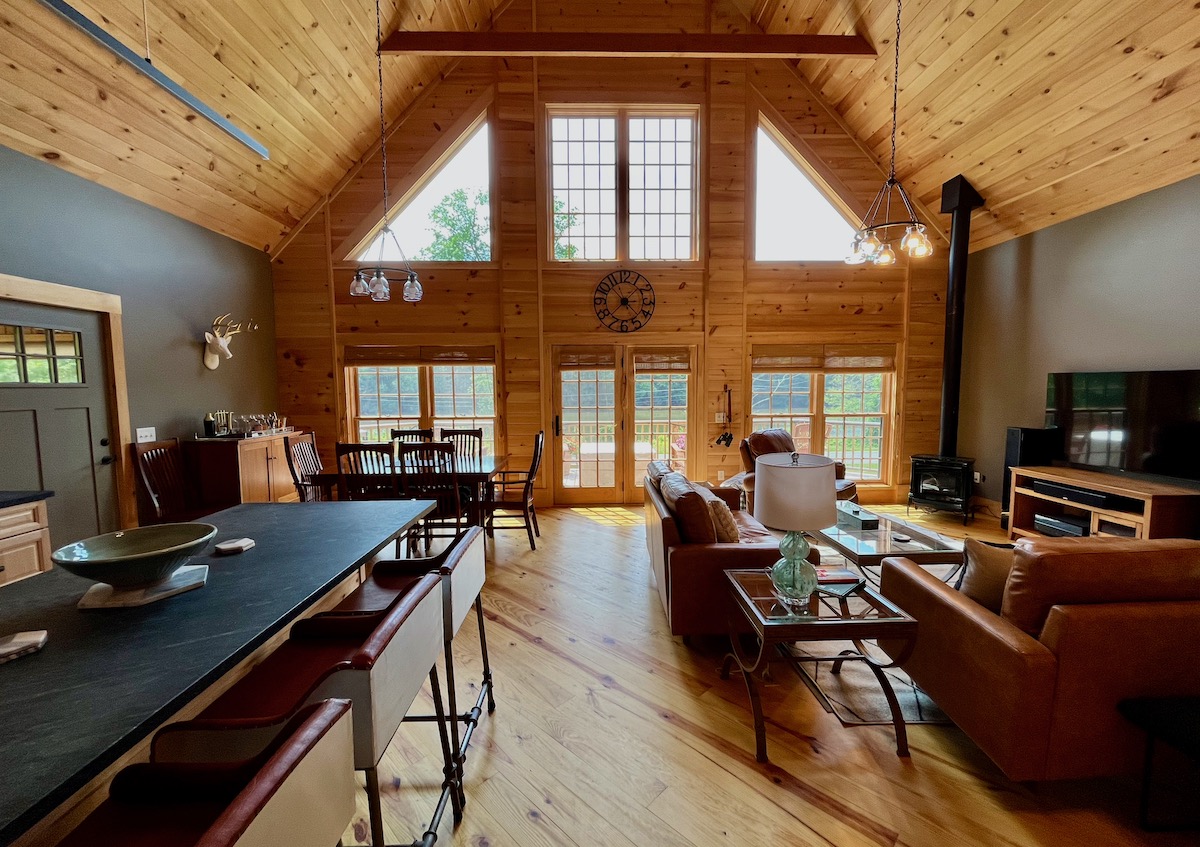 Do they help get the rental ready for listing?
Yes. It's their way of getting the biggest return on their own investment. 
"We help our clients choose how they set up their homes and provide them with guidance on what is going to make their home stand out," Maggio says. "We also have access to wholesale and designer discounts at all the top home furnishing brands that we extend to our clients to help keep costs down." Depending on your budget and ability, you can take their recommendations and buy all the goods yourself or let Posto do the staging (for a fee, based on time and materials). 
Laslie consults on every property she manages, making recommendations on furnishings and decor. "It has to look clean and fresh! The worst thing is when people say they are going to use furniture they inherited from their parents," she says.  
She also encourages owners to work with an agency before a renovation. "What often happens is that people buy a house and without consulting anyone make major changes that absolutely hurt the rental potential, like removing the downstairs primary suite so it's now three bedrooms instead of four—and then filling each one with full beds when you need a mix of twins, a queen, and a king." 
Another common no-no: You should not take photos until construction is complete and the place is ready to go. "Guests will not sign on unless they see photos of every room so they know what they are going to be doing and where they are going to be sitting," Laslie says.
The same goes for seasonal photos, given rentals often book six months out. "If you don't have any pictures of the pool before September and October when leaves are still on the trees, you won't have those high rates the first summer but you will them next year," she notes, adding, "my biggest job is managing expectations." 
Don't underestimate the power of pricing—too low and you are leaving money on the table, too high and renters will look elsewhere. 
Know that nailing the price is trickier now that at least some towns are taxing short-term rentals. "Homeowners need to know that taxes and Airbnb surcharges are making the prices much higher for guests," Laslie comments. "A $375 nightly rate can end up becoming a $1,200 booking for two nights." 
Maggio and Vargas say their companies use "dynamic pricing" (like on Kayak) that fluctuates on a daily basis depending on location, time of year, day of week, special event, etc. "Literally, if a snowstorm is coming in the next three days, we can manually go into the program so the rates go up for houses near Wyndham by the mountain," Vargas says. "That's a huge value over having a flat seasonal rate." 
Why you may want to also hire a property management company
For the most part, companies that specialize in rental management do not provide caretaking services like mowing the lawn or snowplowing. 
"We are a hospitality business that's more focused on creating unique experiences for our guests, though we do manage service providers on behalf of our homeowners," Vargas states, noting that he grew up in the area and many of those folks are his childhood friends. "We throw them enough business that we tend to get priority service."
Depending on your budget and energy level, it's worth poking around to find a one-stop company like Posto that offers both rental and property management.
According to Maggio, clients (like Amy) can just use it for property management. though anyone who signs on for rental management must also do property management "because we want to get the house into a state where it is ready for guests or owners at any time, no matter what." 
And as a beginner in the short-term rental area, Amy says she likes having help with both the bookings and the maintenance. "My team makes the experience stress-free!  But you can do just one or the other depending on your comfort level and contacts in the area for any service needs."
Posto is also able to connect owners with other providers—plumbers, electricians, what have you—and then coordinate with the pros directly to schedule the work. "We have relationships where they will prioritize us," Maggio says. "Things can always go wrong with a house, especially during the winter when storms cause trees to come down and we can get someone in the house on a Sunday morning." 
Amy recounts an emergency situation last winter when the temperature dipped below zero. "My heat went out when I had guests in the house! My property managers were there with space heaters right away and arranged to get the problem fixed."
Note that there are plenty of property management companies that aren't necessarily geared toward vacation rentals but have long served the second homeowner community. 
How much do these companies cost? 
Rental management companies typically charge a percentage of the rental income. Based on the companies we spoke to, you can expect to pay 20 to 25 percent. 
According to Vargas, their 25 percent fee covers all the responsibilities that come with officially managing properties—stocking the house with everything it needs as well as safety compliance. "There's a ton that goes with onboarding, too. The team actually stays for a couple of days and pretends we are guests so we learn all the quirky things that people will have questions about, like where the grill spatula is stored." 
Laslie charges an additional onboarding fee of $599 (subject to change). "I only started doing this because I would put in over 40 hours of upfront work and then people would say, 'Sorry we've decided to rent it out ourselves.' I also want them to have a stake in the initial part—they need to have skin in the game." 
Posto has a separate subscription service that starts at $350 per month for "full-stack property management," which covers a twice-monthly health check and routine maintenance. 
"Your property managers take care of all your house needs, right down to buying supplies like paper towels and soap," Amy says. "It's easy to rely on them for every last thing, but remember that you're paying for their time. If you stock up on supplies when you're at the house, you're not paying their shopping surcharge." 
Make sure you find out about any restrictions around your own use of the property, for example, if you want to be in the Berkshires for Tanglewood in July and August or the January/February ski season. 
Posto does not have any such restrictions, while Berkshire Property Rentals requires at least 10 months of availability and preferably homeowners limit their use to the "quiet times" (i.e., November until the holidays and the end of March through the end of May). 
Home Sweet Hudson takes clients who agree to a minimum of 30 weeks per year and generally at least 50 percent of all holidays, though Vargas says that's decided on a case-by-case conversation. 
And remember, you can also use the property whenever it doesn't get rented out. "Owners can block out specific dates on the calendar so our housekeeping staff can go in and turn over the property with linens and other custom needs," Vargas says. 
How to find a reputable company
Word-of-mouth recommendations are always a good start—reach out to everyone you know with experience in the area. Post your request on social media. 
Otherwise, you can get a feel for rental companies by exploring their websites and listings. Often enough, brokerages in hot tourist areas have a vacation rental arm. 
And if you are still hunting for a vacation home, Vargas recommends starting with rental companies, which can offer guidance in terms of the most desirable locations and amenities. Amy says she gave Berkshire Rental Properties a call to ask about the short-term rental business in the area when she was first thinking of buying a vacation house. "Claudia was generous with her time and gave me lots of great info—and then said she is also an agent doing sales so she helped me find my property." Laslie also referred Amy to Posto for property management services. 
And a great way to test the waters is by staying at various rental properties to gauge the level of service by different agencies—and get a sense of your competition. 
"We've had a lot of people renting houses while they are looking to buy, including a couple who is staying for a month this summer," Maggio says. 
Brick Underground articles occasionally include the expertise of, or information about, advertising partners when relevant to the story. We will never promote an advertiser's product without making the relationship clear to our readers.