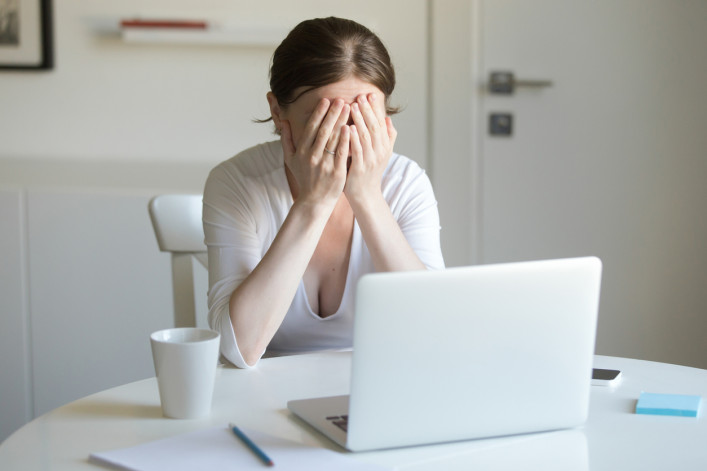 Losing thousands of dollars on a rental scam can feel like a punch in the gut. Jane Bauer should know: She recently wired $4,000 to someone she thought was the owner of a rural property in New Hampshire, only to find the house was already rented through a management company who had never heard of the person Bauer was dealing with.
It's not a new scam. Bauer, who asked that we use a pseudonym, found the property on Craigslist and communicated with the person she thought was the owner mostly via email. In retrospect, she says that the contract she received looked like it was thrown together with clipart. Another red flag: She was also asked to wire the deposit for the property via a banking app. 
Fear of coronavirus as well as stress and uncertainty about the future can make you more vulnerable to rental scams. You may feel the pressure to get out of the city as soon as possible, and as a result, fail to check out a listing thoroughly. Scammers can take advantage of this sense of urgency. By her own account, Bauer says she was "so fixated on trying to figure everything out" that she rushed to book something without doing her homework.
Anticipating a long summer in Brooklyn with two kids, a dog, and working from home in a 700-square-foot apartment, Bauer hoped she might be able to convince some friends to expand their socially isolated circle with her in a rental property outside the city. The plan was to share childcare and take advantage of some extra space. Instead, she's lost money, and is still trying to find solutions for the months ahead. 
To avoid scams outside the city, you need to follow the same advice as you would renting short-term in NYC. Here are some important tips.
Do a reverse image search 
Finding the address on a GPS map is helpful but doing some background research online can help you identify if the place pops up elsewhere on the internet. If nothing comes up using the address, you can also search using an image. On Google, navigate to the image search section and click on the camera icon. At that point you can upload a picture of the place and see what comes up. When Bauer reverse searched pictures of the New Hampshire house she was led to a management company. When she called them, they confirmed the scam. 
Talk to the owner on the phone
Not only should you talk to the person on the phone before transferring any money, you may want to FaceTime them to see them in person. Few of us are strangers to video calls these days. As soon as Bauer spoke to the person on the phone she said she got a "bad vibe," and it made her question whether the person was even in the U.S.
At other times she said she was "yes-ed" when she asked questions about the house. Yes, there was a yard, yes there was access to the beach but she wasn't given any other details. A legitimate owner or management company will be able to give specific information. 
If a deal is too good to be true, it probably is
If you're not very familiar with area you are looking to rent in, you probably don't know the median rent. Even so, the asking rent shouldn't be too good to be true. This is where you need to put some time in looking at other rentals to see if what you're being offered is in the right range. Bauer was offered a monthly rate that equaled $1,100 a week, which she assumed was the going rate for the area. Don't be fooled by your own wishful thinking. 
Use a listserve with some accountability
Shady Craigslist deals are nothing new and Bauer was told by the police who she reported it to that it's a very old scam. Using a reputable listing site can add a layer of protection to your vacation plans.
Make sure you see and evaluate the lease
Always ask for a copy of the lease if you are subletting—but be aware they can be faked. If it doesn't look legitimate it might be a red flag, as it was for Bauer. Verify the contact details of the owner and cross check as many details as possible. 
Don't wire money
Avoid wiring money to a complete stranger. Sites like HomeAway and VRBO have safe payment systems (though not every host opts in), and it's best to seek these out whenever possible.
Many of us are familiar with Venmo and Zelle to transfer money to friends or colleagues but be wary if you're being asked to use these systems for a rental payment. For Bauer, it was her bank that flagged the payment and made her question whether it was legitimate. Consider whether your bank might send you an alert about the payment and if so, keep doing your research until you are 100 percent sure it isn't a scam. 
Trust your gut
If anything seems shady—proceed with caution. Do all your homework before handing over any money or financial information, and just walk away if something doesn't seem right.
Brick Underground articles occasionally include the expertise of, or information about, advertising partners when relevant to the story. We will never promote an advertiser's product without making the relationship clear to our readers.