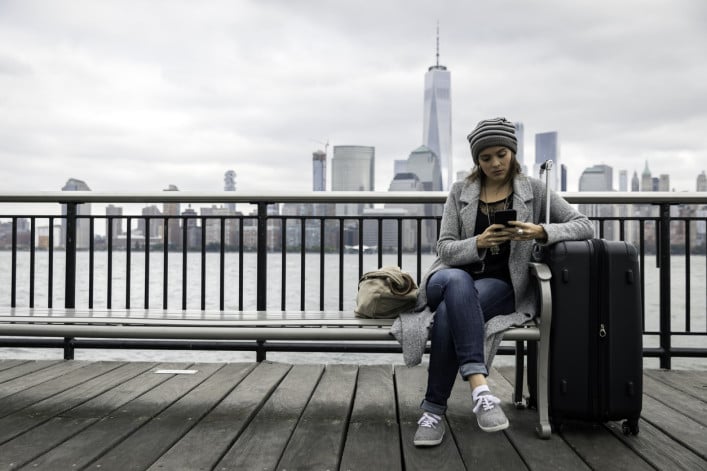 I travel often, usually to tropical locales or big cities for site-seeing trips, but I have never stayed at an Airbnb. For me, part of the fun is staying in a hotel so someone else can make my bed, pick up my towels off the floor and provide fresh ones as if by magic. Sure, it may cost more, but for me the pampering and peace of mind is worth it. 
However my friends sing the praises of Airbnb travel. They find it more cost effective and point out it makes you feel less like a tourist. My friend Zach has stayed in Airbnbs all over the world, and prefers to share a place with the host to get a better feel for a new destination.
If you're in vacation mode, and planning an Airbnb stay, you'll want to go into it with your eyes wide open. I asked around for some first-hand accounts of Airbnb nightmares so you can be prepared for when things go wrong and what you can do. (You can also read Brick Underground's "How to rent a short-term, furnished apartment without getting scammed," which has advice on how to spot illegal listings.) 
Of course some of the weird stuff here defies imagination—like the host who believes she's had sex with aliens—and not every tale comes from a traveler: Some hosts have nightmares of their own to share here, too. In fact, one host didn't even know she was a host until she found someone sleeping in her bed. Another was dismayed to find her house turned into an ad hoc brothel.
Read on for tales of Airbnb stays gone bad. Very bad.
Locked out
I've only used Airbnb one time and it was such a questionable experience that I won't use it again. My husband and I stayed at an Airbnb in Bed-Stuy for three nights. The rental was the second bedroom of a condo with a private bathroom. It was nice, clean, and appeared as advertised. On the second night, when we got back to the condo at about 3 a.m., we found ourselves locked out. There was no mention of a curfew and we had our own keys, so we were very surprised. The owner was obviously home because the chain was latched from the inside. We knocked, rang the buzzer, phoned, and knocked again. We got no response.
After 30 minutes we gave up and walked half a mile to a Best Western and got a room. The hosts gave us a lame apology in the morning and reimbursed us for our hotel but had nothing to say about what happened. We stayed the third night because we didn't know what else to do. It was very weird. I've stuck with hotels ever since. —Rae
But it's not even my birthday
We stayed at a three-bedroom Airbnb walkup close to O'Connell Street in Dublin that was over a casino. Every morning when we'd come out, I'd find change all over the sidewalk in front of the building. I made like $15 the three days we were there. The Airbnb was about $210 a night. However, its charm wore off fast: My daughter found a half-eaten birthday cake in her nightstand drawer. Also one of the amenities listed was "hot water," but we soon realized a god-awful sound would emanate from the pipes whenever you'd use a certain bathroom faucet. It was so bad we took a video of it. —Tonia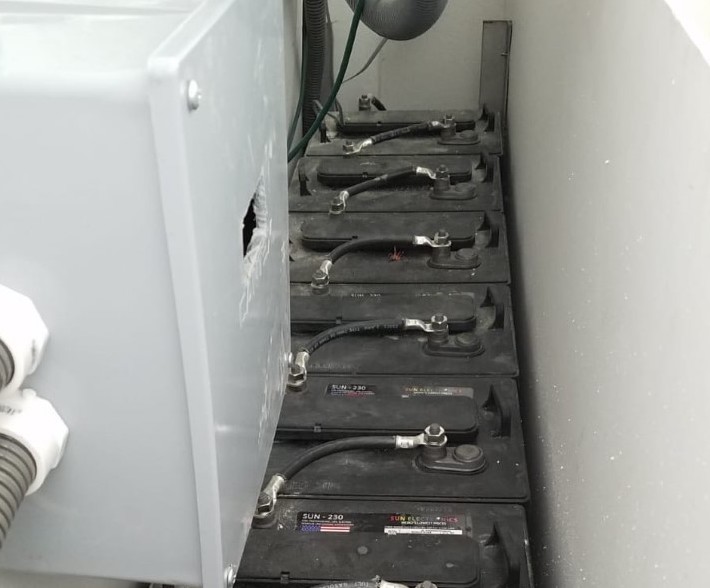 The kids' room came with warning signs
We booked this two bedroom apartment in the Puntas neighborhood in Rincon, Puerto Rico. The property was comprised of two separate buildings with a pool and ocean view. We asked the host to give us best unit for families with kids— one that would be safe, comfortable, and quiet. 
When we arrived we saw an exposed power accumulator [shown in photos above]—which made noise and smelled bad—in the kids' room. This was never pictured or mentioned. The host tried to convince us that it was safe and that the children could sleep and play there. Yet there were signs saying 'danger' all over the room.  
Because there was nothing else available in such a small town that New Year's week, we were forced to stay for five days. We locked that room and moved the kids' beds to the living room. Later in the trip, when another unit—sans machinery—was free, we were allowed to move into it. —Maria
Gone to the dogs
I have two Airbnb horror stories, both relate to dogs. In the first, I was traveling with my mom to New Orleans and we rented two rooms in a house with a private bathroom for two nights. The Airbnb had good reviews but when we arrived, the place was disgusting. One room had a blow up mattress (not a real bed). The whole place smelled like smoke and dog pee. The bathroom was moldy and not private. The Airbnb host also had someone living in a shed in his back yard. My mom and I went out to eat and when we came back, one of the owner's dogs had pooped on my mom's bed. We informed our host and he gave my mom some paper towels to clean it up. We ended up sharing my bed and leaving very early the next morning. I requested a refund through Airbnb and the host deleted his entire account within 24 hours. 
I then traveled to Sedona with a friend. We rented a bedroom and private bath in a house with great views. On the Airbnb listing, the host was clear that she had alternative beliefs (most were alien related), but we knew Sedona was weird. The space was nice and clean, so we were pleasantly surprised. The host had to leave for most of the weekend to attend a chemtrail protest. Before she left, she lectured us about the dangers of chemtrails and government conspiracies for an hour. 
She also told us her dog was a bit sick, and asked us to text her if we noticed anything strange. Once she was gone, we looked around the living room and found she had several books for sale that she had written. Most were about her sexual experiences with aliens that visited her at night. We also found multiple notepads with erotic drawings.  
We went to bed early and were woken up by a loud howling. I found the owner's dog lying on the floor howling in pain, surrounded by urine and feces. I called the host to let her know her dog was in distress. She said the dog would do that sometimes and it was fine. The dog did not seem fine. My friend and I cleaned up around the dog and decided we would take it to a vet, but then dog was up and moving like nothing had happened so we let it be. The same thing happened the following night—I felt like I couldn't leave the house because I was on deathwatch for the host's dog. She texted me a few weeks later asking if I had taken any photos of her dog because it had passed away. —Lynn
Gunshots and power outages
We stayed at an Airbnb in Columbus, Ohio that looked great. However it was not what we expected. This particular Airbnb was a multi-room rental, meaning each room in the house had a keypad to the room, but kitchen and bathrooms were shared. This was new to us, but that wasn't really the problem.
At the top of the stairs there was a jar filled with disposable foam earplugs. We didn't take any because when we arrived, it was not noisy.
As we settled in the lights in the house went off. The power was out but we heard other guests tending to it so it didn't seem like a big deal. We fell asleep and were awakened by gunshots, which seemed to be several houses away. We never heard police cars come. Maybe this happened a lot and was the reason for the ear plugs? 
The power issues continued throughout our stay; each time I would try to use my hairdryer it would go out and I had to go into the basement to find the fuse box and flip the switch. One time when I flipped the breaker switch I saw a spark. Luckily a fire didn't happen. —Jennifer
Who has been sleeping in my bed? (Part 1) 
For work travel, a co-worker and I were booked at a nice-looking Airbnb in Atlanta. We arrived at the apartment, and it reeked of weed before we even opened the door. Okay, fine, we'll light a candle and get over it. Except as we stepped inside, we discovered a shirtless man sleeping in one of the beds. As two young females, we were immediately creeped out. The man woke up, looked around very confused, said he was there to clean—he even pointed to a little pile of debris he had swept in the corner—and that he got tired so took a nap. In the sheets, under the covers.
When he got up, we realized the beds were air mattresses. He showed us how to re-inflate the one he was just sleeping in. He also let us know there was no washer or dryer in the unit but assured us the sheets were clean and we'd be fine to sleep in this bed. What?
The best part: As he's leaving he tells us: 'Oh, and by the way. Airbnb isn't allowed in this building, so if anyone asks you, tell them you're here watering Marley's plants.' We documented all of this and got out of there quickly. Our employer had to fight the host to refund the $1,500 they paid. —Fran
Watch your step
I stayed in an apartment in Paris, which had impressed us with amazing pictures but turned out to have dirty, smelly mattress, an incredibly dirty kitchen and a separate WC outside of the flat. But I was ok with everything until the host gave us headlights to wear when using the bathroom at night (there was no light in the bathroom during our entire stay because of a conflict between the host and her landlord, who wouldn't fix it). She had set out pesticide and mice traps that we weren't supposed to step on—in the dark! We reported the place to Airbnb and it got shut down immediately. —Mel
Don't let the bed bugs bite (Part 1)
The business I run is bootstrapped to the extreme. Airbnb had always provided decent, if not astounding, accommodations for a fraction of the cost of hotels. The place I had in Philly while I attended a trade show seemed decent at first blush. 
By day two, my lower legs were itching a bit but I was so amped up on running my booth solo and hobnobbing with my industry friends that I was able to ignore it.
The third and last day, I woke up with intensely itchy lower legs. At first I thought it was bedbugs and this set off a chain reaction of panic. I had to do the show with the notion that my clothing, car, booth, product, and me were all potentially infested. My aunt lives just outside Philly, so when I went there at night, I bought garbage bags, duct tape, and clothes and stripped in her driveway so as to not cross contaminate her house.
The next summer, we had a litter of stray kittens that were hanging around our back door and we ended up with an infestation that turned out to be fleas. The bites were exactly like the bites from Philly. After my stay in there, I had requested a full refund plus the remediation of my dry cleaning and new clothing. The owner said he didn't have bedbugs and refused. Guess he was right, but he's still a jerk. —Chris
Don't let the bed bugs bite (Part 2)
A friend of mine who lives in Northern California booked four nights at an Airbnb in Palm Springs for a girls trip. She sent the link to the house. It was a kitschy '60s mod home with private pool and several bedrooms. Looked super cute. 

While I was en route, my friend called me to ask if I minded sleeping on a couch. She explained one of the other girls had bugs in her bed so we were short a bed. I pulled over because I wasn't on the freeway yet. I told her to check all of the beds under the sheets. They were infested with bugs. 

I told her not only was I not coming but that they needed to get the hell out of there and put their clothes in the dryer and take showers before getting in their cars or they would probably take what I guessed to be were bed bugs home. I heard one of the girls scream in the background when my friend relayed the message. They all beat it out of there. Later she told me the place was filthy and looked nothing like the website. She described it as a house that had seen one too many frat parties. 

Cost of the rental: $2,400 non-refundable, because the owner said we vacated before they could determine the house wasn't habitable.  —Melissa
Weird smells, unexplainable stains
The first time I stayed in an apartment rented by Airbnb was a complete disaster. I was with my girlfriend on a trip to Nice, France and we were so happy and confident that our experience with Airbnb would be so cool. 
When we landed at the airport, I told the owner that we will be there in a few hours, but he said he left the key under a stone in a small park near the residence. I had thought we were meeting with the owner to show us the apartment and to give us some tips on the hottest places in town. 
It was all good when we found the key, but when we got to the apartment it was a disaster. It was not at all as clean as many people wrote in the reviews, and it was a weird smell coming from a corner of a room, so we left the window open when we went out to eat something. Our stay was only two days so we thought could survive some dust and hair on the floor. 
When we returned in the evening from the city, I noticed that it still smelled, and saw that the mattress we was terribly stained and the smell was disgusting. We decided to sleep on the couch, which, after taking off the blanket, had the same weird stain! After I put some clean bedding on the couch I could close my eyes for a few hours. The next day we left after we sent the owner photos of my discovery. —MM
When your superhost is a fake
Last summer I booked an Airbnb apartment in Tangalle, Sri Lanka for four nights. It had about 40 five-star reviews and was managed by a superhost. What could go wrong?
In a word: everything. The entire listing was fabricated, and the superhost wasn't even affiliated with the property. He worked at a restaurant down the street and was one of the few locals who spoke fluent English, so he set up the listings and handled communication. But once you arrived at the property, you were on your own as no one there spoke English. That's not generally a big concern for me; I know I'm a guest in another country, but it was difficult to ask about missing amenities. 
The property was supposed to have air conditioning, a tv, hairdryer, elevator, and wifi. In reality, the 'air conditioning' was a wobbly old fan, the tv and hair dryer simply didn't exist, and the 'elevator' was a fire escape you had to climb with your luggage. There was wifi but the signal didn't reach the apartment from the main house. In addition, the mosquito netting around the bed was full of rips and holes so I was eaten alive with bites by morning. 
When I was finally able to get an email to Airbnb, they simply forwarded it to the superhost and asked him to deal with it. Needless to say, I requested a refund from Airbnb and left the next morning. Because I received a refund for the unused nights, Airbnb would not allow me to review the property. I can only assume this is how they keep their five-star rating. —Leslie 
Turning the tables
Renters are not the only ones who walk around with nightmares. Hosts (and hosts that don't even know they are hosts) also experience disasters. Here are some of them.
A flood of epic proportions
I own multiple rental homes and used to Airbnb them but now I just rely on long-term leases. The guests were causing too much damage. I blame the nature of the transactions and type of tenants Airbnb rentals attract. 
In my case, I've had Airbnb tenants break electronics and glassware, pee on mattresses and ruin pool tables. In one case, a tenant chipped the tile in shower so badly that he created a hole. Naturally, the tenant didn't say anything, and the hole ended up causing thousands of dollars in water damage. The water even started leaking down into the garage. It was a shit show. —Matthew
Toenail clippings and dirty socks
I used to Airbnb my Philly apartment that I also lived in part-time. I came back after a couple stayed for a weekend. They left toenail clippings in a pile in the bed—like, on the sheets, not on top of the blanket—and kicked off dirty socks at the foot of the bed. (I burned those sheets.) —Alexis
Who has been sleeping in my bed? (Part 2)  
I've been splitting my time between Brooklyn and Toronto for a couple of years. When a friend of a friend in Brooklyn decided to move to Toronto to be with her long-distance boyfriend, I invited her to be my roommate. We quickly became friends.
So when I showed up at the apartment and found an Airbnb guest, I was both appalled at the betrayal and the fact that she'd didn't kick the guy out before I returned home, even though I'd texted her that I was on my way. My room was a mess—someone else's clothes were scattered everywhere. And apparently there were more bookings scheduled!
When I contacted Airbnb to ask that they cancel the bookings, since I was planning on sleeping in my bed, they let me know I was a third party and it was not their problem if my roommate was renting my bed without my knowledge. I followed up to clarify that I wasn't some angry landlord, my roommate was renting out my bed that I planned on sleeping in. They said they understood and it still wasn't their problem.
A normal person would have called the police when they found a stranger in their home and, in retrospect, that's what I should have done. I guess I didn't want some unsuspecting Airbnb guest to end up dealing with the cops on their vacation. The guy I kicked out of my bedroom left a positive review. —Cori
'This kind of thing happens on Airbnb'
My home is a Craftsman bungalow in Southwest Atlanta that I listed through a property management company, Airbnb Made Simple, while I was attending graduate school.
My third guest was a young woman who reserved the home for a week for one person. Not only did more guests arrive than originally indicated, she repeatedly covered my doorbell camera with duct tape so we couldn't see who was coming and going. She removed the tape after being told she would be asked to leave immediately, and it became obvious that there were different people coming and going at all hours of the night, mostly men. 
I told my property manager I didn't want to have a party house. Her response was that this kind of thing happens on Airbnb and that I should rethink listing my home on the site. I put my foot down and had her tell the guest that she couldn't have extra guests there. Before she vacated, a man walked out in front of the camera holding a small child and a note, which I assume was a threat of some kind (I couldn't see it well enough to read it). When I came home two days after she left, not only did my home reek of pot, various men banged on my door every four hours for the next two nights. —Trista
Brick Underground articles occasionally include the expertise of, or information about, advertising partners when relevant to the story. We will never promote an advertiser's product without making the relationship clear to our readers.