Your Next Move
What you can get for $1 million in Fulton/Seaport, a historic area with new developments that's ready to take off
Housing is mostly condos, including luxury developments and converted warehouses and office buildings
Prices range from $500,000 to well over $2 million for new condos, with a median price of $1 million
Access to transportation, the waterfront, parks, and the South Street Seaport are the major draws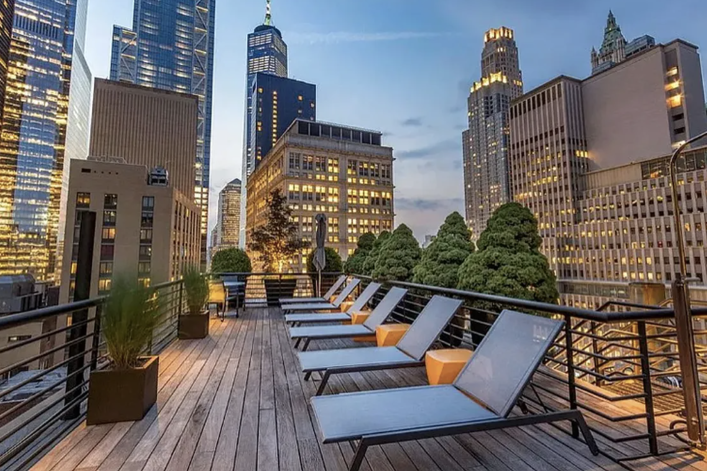 Have you always wanted to live in Fulton/Seaport but assumed you were priced out? In this new series, Brick looks at listings in New York City's most in-demand neighborhoods for under $1 million—roughly the median sales price for Manhattan co-ops and condos—as well as higher-priced options below $2.5 million. 
If your goal is to live large, think small: Buying a studio or one bedroom is a way to net the nabe of your dreams. New to buying NYC real estate? Be sure to wrap your head around the difference between co-ops and condos. Co-ops are generally less expensive but also are older and have fewer bells and whistles than condos—plus more rules. With that in mind—happy hunting!
In this week's Your Next Move, Laura Burns Wolfman, an agent at Douglas Elliman, and Tara King-Brown, an agent at Corcoran, give us the inside story on Fulton/Seaport, a historic community that's attracting a lot of new development.
What draws buyers to the neighborhood?
"People move here to 'borrow' Tribeca," which is right next door, Wolfman says. "Fulton/Seaport is bustling by day because it's the home of Pace University, but it's quiet at night. It attracts a lot of families—we have City Hall Park and South Street Seaport. The architectural relevance is huge—there are lots of landmarked buildings. There also are new luxury condo developments."
With its history that references the city's past as a merchant trading port, cobblestone streets, and retail shops and restaurants, South Street Seaport is the prime attraction, King-Brown says. "The neighborhood is an enclave of tranquility," she adds. "You have subways at your fingertips, you're surrounded by water and parks, and there's also the value proposition—you're in the heart of New York City, but you can still find properties at $1,000 to $1,500 per square foot."
What are housing and pricing like?
Although a few co-ops are found here, the most prevalent type of housing is condos in a variety of price points in styles—including in converted warehouses and office buildings.
Condo prices typically range from $500,000 to about $2 million without factoring in the new luxury developments, which are significantly higher, Wolfman says.
She notes median prices are $965 per square foot, with the median sales price being $1 million.
There are only 80 properties on the market, according to StreetEasy.
"Inventory is hugely scarce, not only in Fulton/Seaport but in all of Manhattan," she says. "Buyers and sellers are sitting and waiting."
Co-ops typically run $1,000 to $1,250 per square foot, King-Brown says, adding that if the units are renovated, have outdoor spaces, and are on high floors, the price can reach $1,500 per square foot.
What type of property can I get for under or around $1 million?
You can find a one-bedroom, one-bath condo in an older building, Wolfman says. Choices are limited—StreetEasy lists only 24 for sale at this price point.
I can stretch my budget. What can I get for $2.5 million?
This price range gives buyers more leeway, Wolfman says, for properties like a two-bedroom unit with two full baths, a half bath, and some outdoor space. However, "there aren't many in this price range on the market now; prices of the current listings are skipping from $2.4 million to under $4 million."
Are there any newer condo developments I should check out?
Newer condos typically offer the most luxurious amenities and finishes, features that attract many buyers.
King-Brown points out that units in the new, amenity-laden developments can command well over $2,000 per square foot. "So many of the new developments are at $1,800 to $2,200 per square foot, and they have been very successful," she says.

Opened in 2022, No. 33 Park Row, the first New York City residential project by Pritzker Prize-winning architect Richard Rogers, Rogers Stirk Harbour + Partners, has 23 stories and 30 units overlooking City Hall Park. Amenities at the full-service building include a fitness center, resident lounge with kitchen and library, craft workspace, screening room, rooftop deck and lounge, and bicycle storage. The least expensive active listing is a 935-square-foot one bedroom with one full bath and one half bath for $1.875 million.
130 William, designed by architect David Adjaye, opened in 2020. The 66-story development, which has 241 units, comes with a variety of amenities, including a private IMAX theater, golf simulator, spa with an infinity-edge swimming pool, fitness center, and rooftop terrace. Of the properties listed, the least expensive is an 1,852-square-foot unit with three bedrooms and three baths. It's on the market for $3,595,990.
The 49-story 25 Park Row, which opened in 2019, has 110 units and features a pool, media room, playroom, gym, garden, and patio. At $3.965 million, a 2,115-square-foot three bedroom with three and a half baths is the least expensive available unit.
Which attractions do you show buyers who have never been to the area?
King-Brown takes clients to South Street Seaport and points out Pier 17, South Street Seaport Museum, Tin Building by Jean-Georges, Fulton Stall Market, McNally Jackson independent bookstore, and The Paris Café.
Her tour also covers key sites in the neighboring Financial District, starting at the corner of Wall and Broad Streets. Other stops in the area include Hudson River Park, Oculus Center, SeaGlass Carousel, and Statue of Liberty.
Wolfman's tour starts on the rooftop of her own building, where she points out all the main buildings in sight, such as City Hall, Manhattan Municipal Building, Woolworth Building, Freedom Tower, and 8 Spruce, the residential skyscraper designed by Frank Gehry. "This gives them a chance to quickly pinpoint their location in real time," she says, adding that she follows this up with a walking tour of the neighborhood.
What are the nearby neighborhoods, and are they less expensive?
The surrounding neighborhoods, such as Tribeca and the Financial District, are much more expensive than Fulton/Seaport, Wolfman says. "With all the new condo developments, Fulton/Seaport is a neighborhood that's getting ready to be on fire. It hasn't yet caught up to the other communities around it."
Check out these listings that are around $1 million in Fulton/Seaport.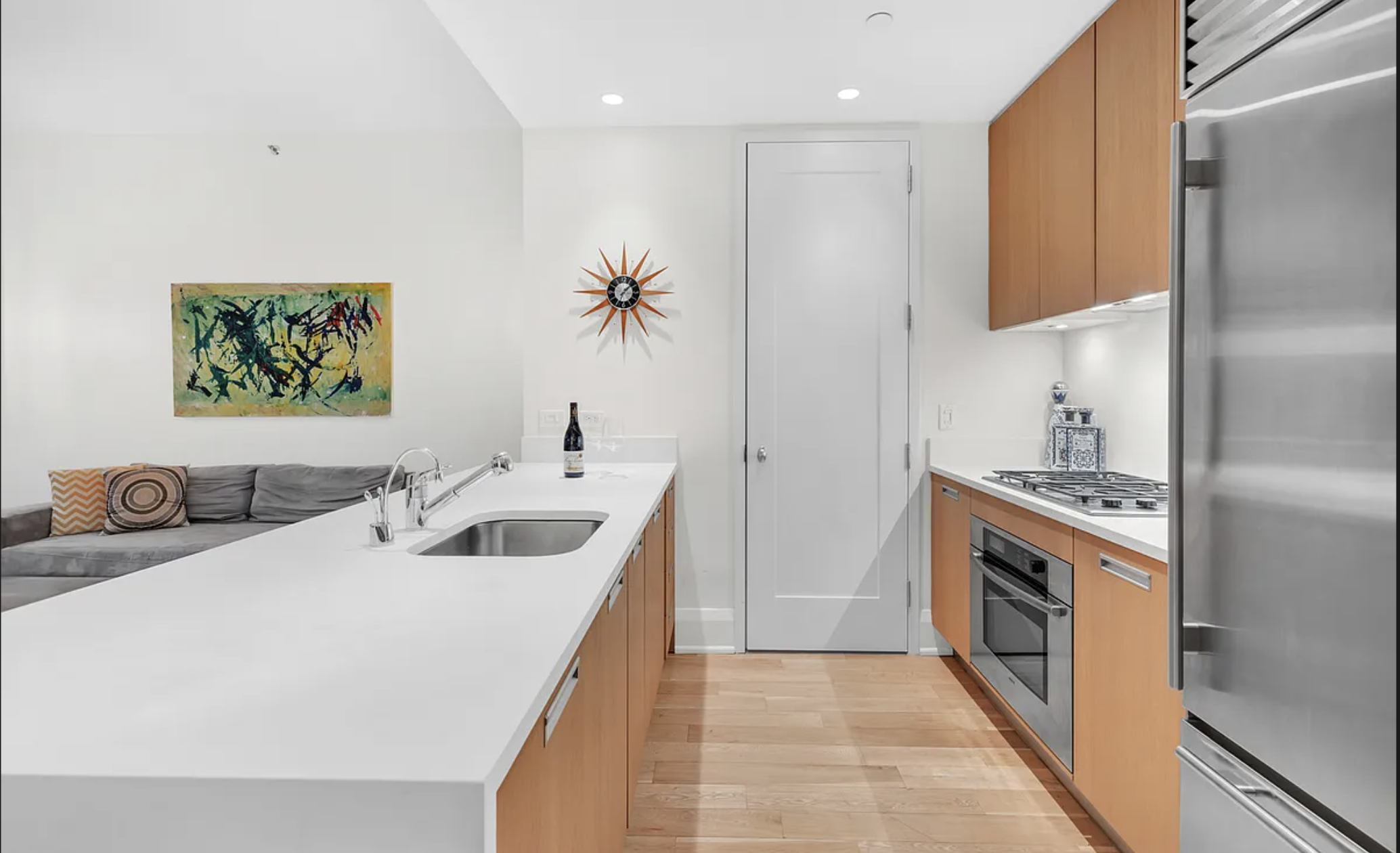 Originally listed for $995,000, this 813-square-foot one-bedroom condo is now on the market for $925,000. It has an open-plan kitchen, wide-plank oak floors, oversized windows, a washer and dryer, and an architectural steel column. Dating to 1905, The Croft Buildng has 52 units, 16 stories, a 24-hour attended lobby, roof deck, and fitness center.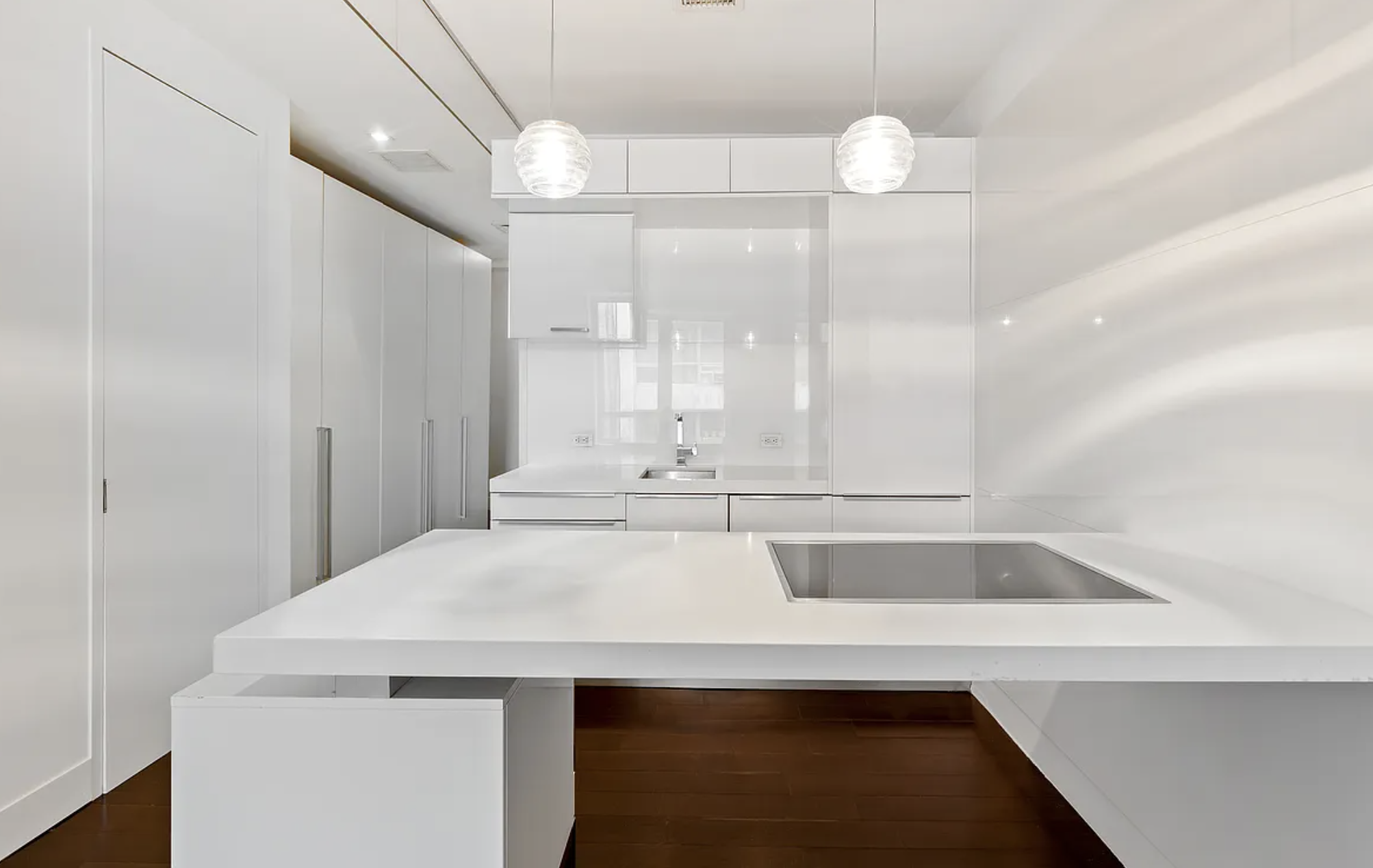 This 580-square-foot studio unit, listed for $675,000, has 12-foot ceilings, a high-end kitchen, and washer/dryer. It's located in The District, a 10-story building with 163 units that opened in 1940 and was converted into condos in 2007 by architect Karl Fisher. Amenities include a fitness center, roof deck, lounge, billiards room, and screening room.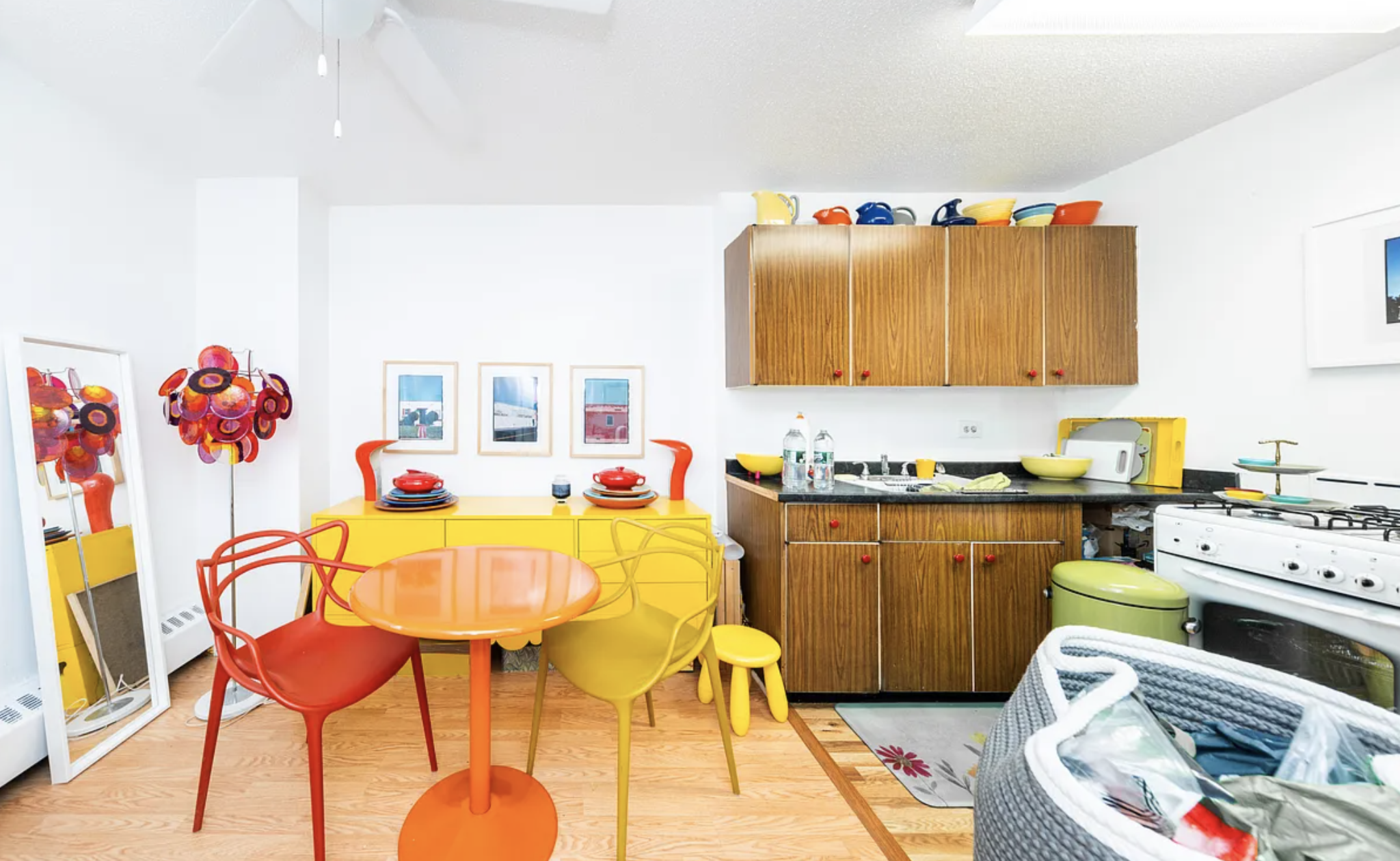 This studio co-op, listed for $550,000, has a new floor and a private patio. It's in a complex that was built between 1961 and 1971 and has five six-story buildings and four 27-story buildings. Amenities include 24-hour security, a laundry room, basketball court, recreation center, and two playgrounds.
Listed for $888,000, this one-bedroom, one-and-a-half-bath condo has hardwood floors, a washer/dryer, and gourmet kitchen with a dishwasher. The boutique development is in a restored 1919 building topped by a steel-and-glass tower, has a part-time doorman. 
This one-bedroom condo, which is 754 square feet, is listed for $935,000 and has wooden floors, 11-foot ceilings, large windows, and a kitchen with stainless steel appliances and a dishwasher. The art deco building, which opened in 1933, has 25 stories and 439 units. Amenities include a roof deck, garden, valet, doorman, and supermarket on the ground floor.
Nancy A. Ruhling is a freelance writer based in New York City.
 
Brick Underground articles occasionally include the expertise of, or information about, advertising partners when relevant to the story. We will never promote an advertiser's product without making the relationship clear to our readers.