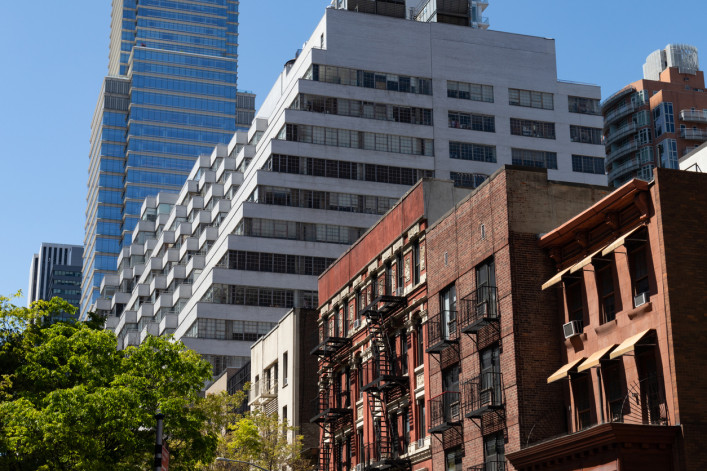 Buying an apartment or house in New York City right now requires a certain level of comfort with uncertainty, but with mortgage rates at record lows, it could also be a major opportunity to get a deal.
What we are seeing in the market is "maximum fear and maximum dislocation," says Mark Chin, CEO of real estate brokerage KWNYC. However, if you are willing to bet there will be a vaccine for the coronavirus in the not-too-distant future, you can perhaps envision a time when New York City rebounds.
That would mean the best buying window you'll have is in the next six months before a vaccine is developed. So what's the best type of housing buy you can make right now? And where are you unlikely to get a deal? We asked brokers to weigh in. 
Pro Tip:
Did you know you can receive a buyer's rebate from your broker? Buying with Prevu you'll pocket a rebate of two-thirds of the commission paid to the buyer's broker at closing.  On a $1.5 million condo, you'd receive up to $30,000. Click here to learn about Prevu's Smart Buyer Rebate.
It's all about the seller
Most buyers have an idea about what type of property they want and in which neighborhood they are looking. Finding a deal during the unique circumstances of coronavirus means being "a bit of a truffle hound," Chin says. By that he means every owner has their own hot buttons, fears, and financial situation. So deals are more likely to come about if the seller is "a distressed owner" or someone who—for their own personal reasons—is done with the city and wants out.
This is where a talented broker can produce dividends, says Lisa K. Lippman, a broker with Brown Harris Stevens. She works primarily in Manhattan and says finding a motivated seller starts with scouring listings that have been on for six months or a year where there have already been a couple of price reductions. She says a listing that has been on the market a long time doesn't always mean it is a good price—it can also point to a seller unwilling to negotiate. 
Sellers won't advertise in flashing lights how motivated they are, says Jared Antin, director of sales at Elegran. "If the buyer puts a low offer in, and the seller comes back with a favorable counter, that is an indication the seller wants to play ball. However, if the seller only comes down a little, or doesn't counter, that indicates the seller isn't highly motivated to negotiate much," he says.
Another indicator might be when the apartment last changed hands. Antin says owners who bought their apartments before 2013 are more likely to be sitting on a decent amount of equity, and if they've moved out of the city, may be thinking about selling and saving the monthly maintenance. 
Prime, developed neighborhoods
There are some neighborhoods that have been unattainable for many buyers, such as Tribeca, Soho, and Midtown in Manhattan; Brooklyn Heights, and Park Slope in Brooklyn. Aleksandra Scepanovic, managing director at Ideal Properties Group, recommends keeping "prime, developed neighborhoods in your cross-hairs at all times during the pandemic."
A motivated owner might just want to sell at a discount that puts these prime areas within your reach. "The idea is to upsize on the neighborhood, while keeping costs the same or comparable." Bear in mind that less established neighborhoods often lose value faster, she says.
She says this is a formula you could apply in every borough, so for example, rather than only scanning  listings in Crown Heights, you may want to include Prospect Heights, its neighboring, more established and traditionally more costly neighborhood in your search. Where you are unlikely to get deals, however, are on Brooklyn townhouses under $2 million, which are "hot," says Chin, as people seek outdoor space, privacy, and enough room to work from home. 
In Manhattan, Lippman says buying in "tried-and-true" neighborhoods will serve you well and now might present the perfect opportunity to get an apartment as close to Central Park as you can or buy a place with a view that might previously have been out of reach.
At the moment, Antin says local New Yorkers are the predominant buyers, with investors and foreign buyers of pieds-à-terre holding back. He says that's resulted in reduced demand in neighborhoods that are seen as more touristy—Sutton Place, Midtown, Times Square, and the Financial District.
Pandemic-tarnished apartments
The pandemic has taken the luster off smaller apartments in large buildings with high-end finishes and access to lots of shared amenities. Chin says two-bedroom apartments, from about 975 to 1,100 square foot, in tall buildings are "under pressure" right now. But that means deals are possible. He says buying the type of apartment that is currently "out of favor" might be a smart play if you believe the narrative that a vaccine will see the market, and NYC, bounce back.
If your finances are strong enough perhaps you buy two, he says. "For a totally different way of living, have one as your home office or leave the nanny in one with the kids to get some separation."
Lippman says these kinds of apartments do present an "opportunity" if you subscribe, as she does, to the idea the city will be back as strong as ever. However, she wouldn't recommend speculating on brand new development that you can't see right now, unless you are getting a very good price.
New development sales—that have already been constructed—have been struggling for a while. Teresa Stephenson, president of Platinum Properties, says developers with lots of units to sell are willing to offer different kinds of concessions—"there's rent-to-own, price reductions, and we are continuing to see sponsors paying more of the closing costs than they would have traditionally." 
Brick Underground articles occasionally include the expertise of, or information about, advertising partners when relevant to the story. We will never promote an advertiser's product without making the relationship clear to our readers.