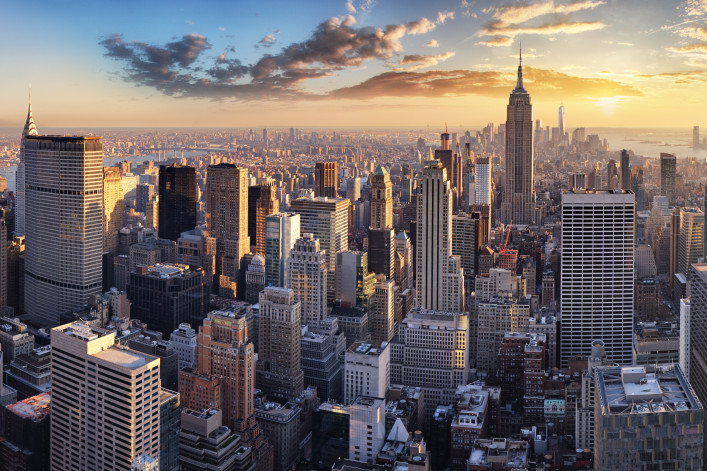 In spite of a fairly strong economy in the U.S., the chatter about a possible recession has become louder in the past few months. It's notoriously hard, perhaps impossible, to predict a recession, and the question for many New Yorkers is: What happens to property prices and rents if the current real estate downturn becomes a full-blown recession?
For most, the frame of reference is the last crisis a decade ago, when a massive correction followed a surge in property prices. Jonathan Miller, president, and CEO of appraisal firm Miller Samuel, says conditions this time are different and housing isn't a leading force as it was during the sub-prime crisis. 
"Last time it was all about leverage, this time it's about affordability," he says. 
Data on employment, interest rates, manufacturing, and consumer confidence all play a part in forecasting for the economy. You may have heard talk of the inverted yield curve. This happened earlier this year—it's when long-term rates for U.S. government bonds fall below short-term rates—and, according to many, including Miller, it suggests "weaker economic conditions ahead."
What buyers need to know
Signs of a slowdown in New York City residential real estate have been evident since 2016. Mark Chin, CEO of Keller Williams Tribeca, says, "Our market has been in a shift, both in unit count and price pressure, for quite a while."
That slowing of the market is what Miller calls "the heavy lifting portion of the downturn." He says it suggests NYC probably still has a "slow grind" ahead but there is "no sense that we are teetering on some sort of precipice because leverage is pretty tight and the economic base is fairly solid."
Anyone selling a property over $10 million knows there have been substantial resets in price in the past two years. "Even two or three years ago, the average [price per square foot for] new development was north of $3,000, now it's solidly [around] $2,000, and that gives an idea of what's going on at that end of the market," says Chin.
It is clearly a buyer's market. "Recessions don't last forever so if you can afford your monthly payment after buying you should fare well post-recession," says Compass broker Michael J. Franco. But don't hold your breath for the stellar condo in a prime location with a price tag of $1,000 per square foot.
Chin warns, "If you are overly aggressive on trying to get the best possible deal of the century, what's going to happen is you are going to miss your opportunity."
New York City's co-op inventory plays a role in cushioning the impact of any economic downturn. 
There are nearly three times the number of co-ops compared to condos in New York City and strict financial requirements—which include substantial post-closing liquidity from co-op buyers—protect the market as a whole, Chin says.
"When the downturn comes, say someone gets laid off, [that means] they can afford to ride it out until they get another job, but if you are right at the edge [financially] you immediately start defaulting on your mortgage," he says. Because of the strict liquidity requirements placed on NYC co-op buyers, a job loss doesn't automatically mean foreclosure. As Chin explains, "it flattens out the volatility of the market because you don't have the sharp corrections as you would in the stock market where a whole lot of people are forced to sell and the stock market craters." 
By that token, don't expect to see foreclosures in Manhattan, Brownstone Brooklyn or Long Island City. Chin says in the last recession, short-sale activities were virtually non-existent there. "In outer Queens, Staten Island, and the Bronx you saw it, but elsewhere people were waiting for the other shoe to drop and it just did not." 
How sellers behave in a downturn
In any downturn, sellers take longer than buyers to adjust to the new market conditions. 
"Buyers go out and see 20 apartments in two weeks and know exactly what's going on in the market. Sellers go by what their neighbor sold their apartment at last year, so it takes much longer for sellers to come to grips with the fact that their unit is 20 percent overpriced," says Chin. 
Steven Gottlieb, a broker with Warburg Realty says, "Sellers are becoming more realistic," and as buyers settle into the political and economic uncertainty they are "coming out of the woodwork."
Brokers agree, however, that weathering a recession by holding onto your NYC apartment is likely the most sensible choice. "Long termers in this market always make money," says Chin. 
If you are forced to sell, you'd be well advised to pay for professional staging, photography, and floor plans, and find a broker who can organize professional open houses and is prepared to answer questions about your co-op's financials if that's relevant. Chin says the best broker is one who is "actively finding buyers, not passively waiting for people to show up at the open house—someone who's going the extra mile."
What renters should watch for
The majority of New Yorkers are renters, however, the rental market is impacted by the sales market. Current market uncertainty means people are choosing to rent rather than buy, and that has resulted in a competitive rental scene with rising prices. Since the rental market is flooded with well-heeled, would-be buyers, landlords are feeling less pressure to offer concessions (those freebies like a free month or no broker fee).
However, Gary Malin, president of the brokerage Citi Habitats, says not every concession is reported. "There are shadow incentives. If you show up at a building and behind the scenes, the owner says, 'if you sign on the dotted line today, I'm willing to do this', it's an effective closing tool."
In a recession, when renters are less willing or able to pay the rental prices landlords are asking, Malin says owners really have only two options: "Either they offer concessions to make the net price more affordable, or they just lower their prices." In the last recession, Malin says it was a "heavily incentivized market."
In such a scenario, where renters rather than landlords have the upper hand, it may be an opportunity to improve your rental circumstances. Malin says the recession a decade ago saw New Yorkers finding deals, "paying the same but getting a better location or apartment size in areas that hadn't before had vacancies." 
Brick Underground articles occasionally include the expertise of, or information about, advertising partners when relevant to the story. We will never promote an advertiser's product without making the relationship clear to our readers.