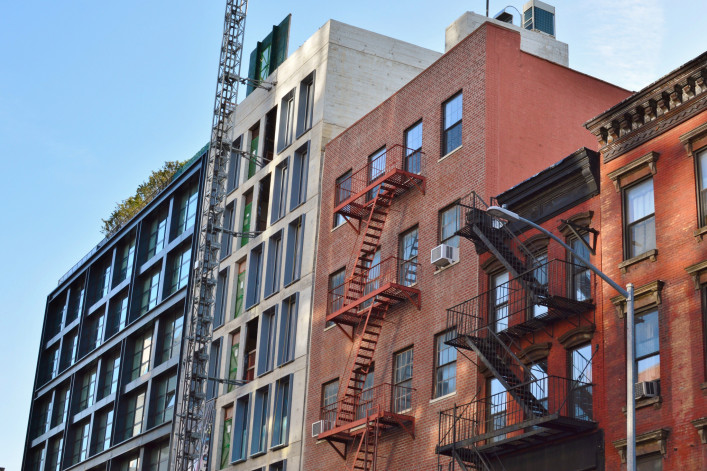 If you're thinking of buying an investment unit to rent out or small multi-family building in NYC, the changes to New York's rent laws have complicated the landscape for smaller landlords. The hard-fought reforms, aimed at maintaining rent-regulated housing inventory, also expanded tenant protections to those living in market-rate apartments and means there are changes for both small landlords and individual owners that you should know about.
Because the rent reforms ended vacancy and high-income decontrol on rent-stabilized units and put caps on how much a landlord can recoup from apartment and building-wide upgrades, multi-unit rental buildings aren't the potentially lucrative investments they once were. Aleksandra Scepanovic, managing director of Ideal Properties Group, says "the [rent] changes have practically eliminated the properties' upside potential and increased the amount of time, effort, and money required to run them." 
Big institutional landlords operate on margins that can better adapt to the changes in the rental landscape while smaller landlords, like Craig Roche, say the new rent laws, along with tenant advocates' desire to extend them even further, hurt small investors. He says it also makes it "extremely worrisome if you plan on buying a three-family, renting it, and taking over pieces of it as your family grows." 
Individual units that can be rented out at market rate have also been affected by the rent reforms. In the past, landlords accepted larger security deposits to offset tenants who were seen as a credit risk, now the deposit is capped at one month's rent. There are additional requirements, like walk-throughs at the beginning and end of the tenancy and a tighter two-week deadline for returning the security deposit at the end of the lease, that have been added to a landlord's obligations.
It's worth noting that prime New York City real estate has a consistently low capitalization rate (aka cap rate)—Mark Chin, CEO of Keller Williams, Tribeca, says the rate of return on your investment is generally 2 or 3 percent. Chin regularly finds himself educating buyers not to be put off by this. 
"The total return is going to be higher because you are going to sell for a figure higher than you paid and you are parking your money in a stable blue-chip asset," he says. He also points out that in spite of rent reforms, median rental prices for market-rate apartments just keep going up.
Individual apartment purchases
There is plenty of uncertainty around the new rent reforms including whether a tenant risks the security deposit if the lease is broken, and whether a cap on rental application fees applies to brokers. "Everyone is waiting for the laws to be tested and clarified," says Douglas Wagner, a broker with Bond New York. 
The luxury market for condos has been slow for a while due to an oversupply of new development but Wagner says condos in NYC are now "the only tool that gives a small property investor any flexibility." 
Advice for would-be investors is to buy in well-known NYC neighborhoods like Manhattan's Upper East Side or the iconic brownstone neighborhoods of Brooklyn.
Melissa Leifer, a real estate broker with Keller Williams in Brooklyn, says so many neighborhoods in the borough are in demand, from Greenpoint to Bay Ridge, and they are a popular choice for small investors. "Condos in Brooklyn are flying for people who are purchasing to rent them out," she says.
Citi Habitats broker Andrea Pedicini specializes in condo purchases for investment buyers in Manhattan and says he isn't yet seeing any impact of the rent reforms on free-market condos being purchased as investments. 
Even so, market uncertainty has been a hallmark for a while and Wagner says a lot of condos are being priced "very aspirationally," above what buyers are willing to pay, and that leaves them lagging on the market. 
Just as would-be buyers are camped out in the rental market, Roche believes "marginal buyers" will be put off by the rent reforms, especially if they aren't on-site or at least based in New York. Being a long-distance landlord is now more complicated with requirements like walk-throughs at the beginning and end of a lease. If you're not in NYC, Wagner says you probably have to pay for a management company to take care of your property and that's on top of the sublet and maintenance fees often required by the building.
Condos have long appealed to international tenants or those without U.S credit. This is because individual landlords were happy to take additional security to offset the credit risks, but now that is no longer an option with security capped at one month's rent. Wagner says this is another reason for investors to hesitate: It's more difficult for small investors to find the right tenant as "the market of possibility has tightened around that kind of owner."
Potential investors are well-advised to assess the risks and do their due diligence on both their NYC condo purchase as well as their new tenant.
Two- to three-family buildings
NYC apartments in buildings with under six units are not subject to stabilized rent regulations but are still affected by tighter tenant protections, including security deposit caps, walk-throughs to itemize the condition of the unit at the beginning and end of a lease, plus the cap on late fees. The eviction process was already fairly slow in NYC, the rent reforms slowed it even further. 
Some NYC buyers structure their homeownership by financing a two- or three-family building and offsetting their costs by renting out the other unit. The rent reforms have created some uncertainty for these buyers.
Wagner says he is fielding buyers' concerns that they "will have a limited pool of consumers from which they can select tenants, and that they have fewer rights if the tenant doesn't perform." 
Multi-family dwellings
Without the windfall of stabilized apartments cycling out of regulation to be rented at market rate, landlords see their margins capped. In addition, capital improvements are harder to recoup.
Leifer says she saw the price of a small multi-unit building she was trying to sell drop $400,000 in the week after the rent reforms. "What people are willing to pay for it now is not what it is worth—and not what it was worth in May [before the reforms]," she says. 
In addition, Scepanovic says pressure on the independent landlord has increased in so many ways, "the pool of interested buyers has shrunk overnight."  She says multi-unit properties are lingering on the market, "and rendering these properties practically unsellable at their original price points." 
For those motivated multi-unit buyers, this may present an opportunity. Leifer says if owners of small buildings with six to 10 rental units are unable to refinance, they are going to have to let their properties go at a very low price. "For the buyers, it's a very good opportunity but at the seller end, it's heartbreaking. People worked their whole lives and poured everything into these buildings, and their livelihood has been slashed," she says. 
Brick Underground articles occasionally include the expertise of, or information about, advertising partners when relevant to the story. We will never promote an advertiser's product without making the relationship clear to our readers.